Has 2012 Team USA Changed International Hoops on Any Level?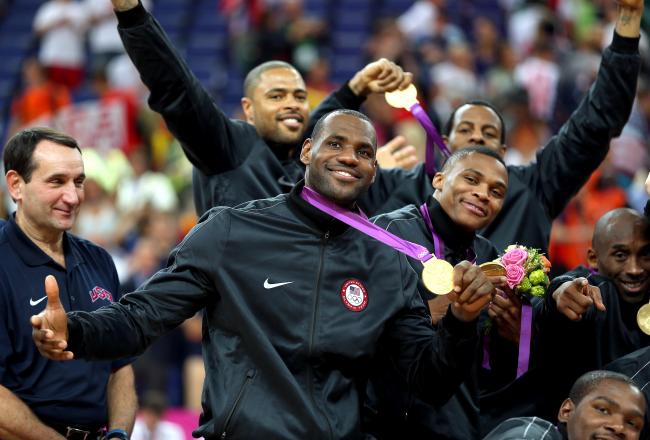 Christian Petersen/Getty Images
If the 1992 Dream Team is lauded for its influence, the 2012 squad is merely praised for maintaining the American basketball empire abroad. If the current team is broadly influential, it could just as easily be telling the international community to stay away from the game.
I am ambivalent on this topic. On the one hand, I take some small amount of vicarious pride in how effective my country is at basketball. On the other, more negative hand, I worry about the sport's progression.
The globalization of basketball was a positive phenomenon for my favorite sport. Not only did it better-connect the world in some small way, but it opened up the NBA to new styles and new means of hoops expression.
Before Manu Ginobili—someone the Dream Team documentary cited as having been influenced by the '92 squad—no American NBA player had made the Eurostep a staple. For those who do not know, Eurostepping is to take the two steps that basketball permits, and go lateral with the move. Specifically, the goal is to move laterally one way, and back in the opposite direction. Manu can instruct you on the particulars.
This was an enrichment of the sport, one that has fundamentally altered how almost any guard moves. The move has already come to somewhat define the careers of American stars. Take Dwyane Wade, for example (though he calls it a "two-step").
See? We're all learning from each other, the world over. But my fear is that this world is over. The United States was dominant for the third straight international competition, which would seem more rewarding and thrilling had we not invented basketball itself.
Our preening dominance can't even be milked for some good old-fashioned publicity and triumphalism. NBC refused to air all games except for the gold-medal match against Spain, electing to air Olympic hoops on their minor cable channel. The network does not have a vested interest in giving publicity to the NBA.
ESPN/ABC owns national basketball rights, and NBC gains little from basketball's popularity. Remember, the peacock is building a sports empire on the idea that hockey will become wildly popular. So the American airing of such Olympic basketball leaves little domestic footprint. The BBC was a popular world destination for the games, but hoops isn't exactly a British past time. It is doubtful that, great as the Americans were, they had the impact of those '92 basketball gods.
Team USA may have changed one thing, and that's international strategy. The shorter FIBA three-point line is under scrutiny after the Americans made a mockery of it. Either the rules must change or the strategies used to exploit such rules will continue to be employed.
Coach K's squad was versatile and sweet-shooting, two qualities that are interconnected in an era where floor spacing is so vital. America may have stumbled into the blueprint on account of injuries to Dwight Howard and other big men, but this particular squad was devastatingly effective. While this was our imitation of what we assume international basketball to be, the America's spin on it may change the game abroad. Who knows what coaches out there are gleaning from one of Team USA's best versions?
This article is
What is the duplicate article?
Why is this article offensive?
Where is this article plagiarized from?
Why is this article poorly edited?