What We've Learned About Every Positional Unit During the 49ers Preseason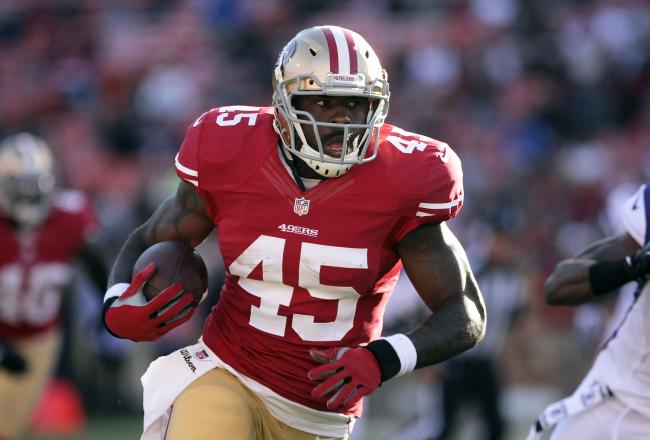 Kelley L Cox-US PRESSWIRE
Football is back! Jim Harbaugh and the San Francisco 49ers wouldn't want it any other way.
The regular season doesn't start for another month or so, but at least football has returned to the masses.
While the different angles and storylines are in abundance, the 49ers have a few concerns of their own.
After experiencing huge success in 2011, can the 49ers play up to expectations in 2012? The talent and cohesiveness will determine that.
How about Alex Smith? Will Randy Moss make a difference? Will this defense play at historic levels once again?
Questions, questions, questions. Here, how about I give you some answers, answers, answers.
Alex Smith Is Comfortable
Smith completed three passes for 16 yards and a single touchdown. This statistic shouldn't blow you away, but if you watched Smith operate in the pocket last Friday, he looks different.
Some consider his outstanding play in 2011 to be a formality or fluke, and if so, my eyes are playing a cruel trick on me.
Can Alex Smith Lead the 49ers to a Superbowl Appearance?
Forget statistics. Just look Smith's demeanor and the way he carries himself. It's all changed. He seems confident in not only his own ability but also in the organizations' comfort with him leading the way.
Folks, this is a different Alex Smith. This is the quarterback that could potentially lead the 49ers into their first Superbowl appearance since Steve Young and Jerry Rice donned a San Francisco Jersey.
Running Game Looks Sharp
This 49ers team is rooted in the ground-and-pound philosophy—and rightfully so.
When you win 13 regular season games and fall one game short of a Superbowl appearance, you do what works, and for this 49ers team, running the ball makes sense.
While many expected the 49ers to address the receiver position––and so they did—the running back position was also revamped to a certain degree.
While both Frank Gore and Kendall Hunter return, Jim Harbaugh and company decided to add former-New York Giant Brandon Jacobs and college star LaMichael James to the running back corps.
As previously written, I've been outspoken about my doubts regarding the quantity, not quality, of the running back position. More specifically, would this somehow affect Frank Gore?
Thearon W. Henderson/Getty Images
While I still fear this "running-back-by-commitee" approach, friday's preseason matchup quelled my concerns.
The 49ers looked sharped as ever in the ground game. Anthony Dixon, who many expected to be cut before the start of the regular season, was solid.
Rocky Cartwright, a likely special-teams contributor, was turning heads. Kendall Hunter, who I consider a promising star, also looked solid, though he struggled at times during the game.
The real star, though, was none other than Brandon Jacobs. In his first game donning the red and gold, Jacobs looked refreshed and motivated. His play and body language reflected so.
Many fans tend to forget that Jacobs was once considered one of the more difficult covers in the league. For a 6'4'' fellow, his speed and athleticism was remarkable at times during his tenure with the Giants.
Jacobs should have a huge role as the 49ers designated red-zone back.
Offensive Line Will Need Time to Gel
Alex Boone could potentially start at right guard for the 49ers after spending most of his career playing tackle. His ability to adapt will play a major role in this unit's success.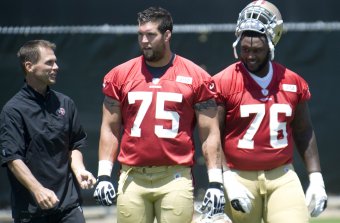 Ed Szczepanski-US PRESSWIRE
As many fans witnessed last year, the consistency of Adam Snyder made a real difference in the play of this unit. While I expect major improvements across the board in the guys upfront, can Alex Boone play consistent football?
That remains to be seen.
Defensive Line Is Special
The heart and soul of this team is the front seven. Jim Tomsula, the 49ers defensive line coach, is one of the best in the biz.
Many tend to forget that Tomsula was a part of the Mike Nolan and Mike Singletary eras a few years back.
The 49ers felt Tomsula was too valuable, and Jim Harbaugh made the decision to keep the veteran coach in-house.
Jim Harbaugh made the right decision. Tomsula has this unit playing at a high level. Led by Justin and Aldon Smith, this is a unit that strikes fear into opposing teams.
With Aldon Smith likely starting in the upcoming season, expect this line to be in top shape.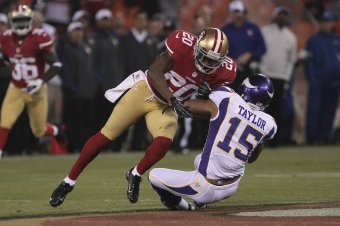 Kelley L Cox-US PRESSWIRE
Defensive Backfield is Promising
The 49ers secondary was a turnover machine in 2011. The Niners led the league in turnover differential in 2011 and should continue this trend in 2012.
The 49ers have a few young studs in their secondary, including Tarell Brown, Chris Culliver and Tramaine Brock.
However, the addition of Perrish Cox will put this unit over the top in 2012. The young and promising cornerback has had some serious off-the-field issues, but no one can deny his talent.
Expect great things from this unit in 2012.
Special Teams
This was a laughable unit before Jim Harbaugh and special-teams coach Brad Seely landed in San Francisco.
In 2011, Seely turned a simply terrible unit into the league's best.
David Akers and Andy Lee both proved to be the top players at their respective positions. In addition, the 49ers punt and kick coverage units were astounding.
The loss of Blake Costanzo will hurt this unit, but the 49ers covered for their losses by acquiring another special teams standout in Rocky Cartwright.
Overall
Expect this 49ers squad to be even better in 2012. While their schedule will increase in difficulty, this is a team that has improved in several areas of concern.
This article is
What is the duplicate article?
Why is this article offensive?
Where is this article plagiarized from?
Why is this article poorly edited?

San Francisco 49ers: Like this team?