Miami Dolphins: 5 Reasons They'll Regret Cutting Chad Johnson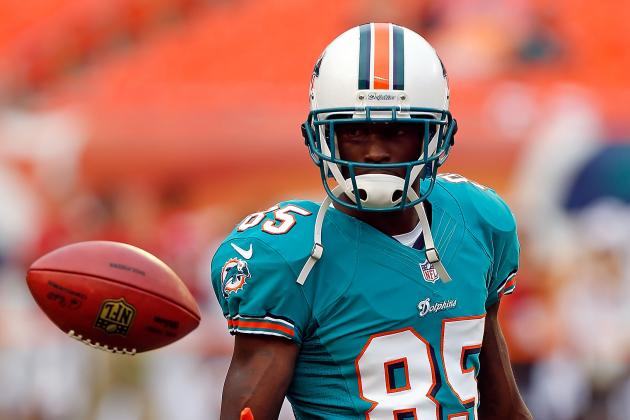 J. Meric/Getty Images

After only spending two months with the Miami Dolphins, the newly reformed Chad "Johnson" has been cut by his hometown team.
Following his arrest over the weekend for domestic battery, Johnson finds himself without a job with the regular season less than a month away.
As for the Dolphins, the decision to cut ties with Johnson so quickly raises the question as to who really wanted him out.
According to first-year head coach Joe Philbin (via espn.com), the decision to cut the six-time Pro Bowl receiver was not solely based on his arrest.
Philbin to espn.com:
"When he came in on June 11, we sat down and we talked. I was very clear the expectations of the program, and it just didn't work out. It's more about the fit. In my gut, I didn't feel the fit was going to be beneficial for either party in the short-term or long-term."
Regardless of whether it was strictly based on his arrest or not, the fact of the matter is that the Dolphins are significantly worse without Johnson on the roster.
Despite his abysmal season with New England last year, Johnson seemed energized and ready to redeem himself for the Dolphins.
After trading top-receiver Brandon Marshall in March, Miami filled the void by signing Johnson a few months later. Now, Johnson's out, and the Dolphins offense will struggle to keep up with the other teams in the AFC East.
Here is a list of reasons why Miami will regret cutting Johnson.
Begin Slideshow

»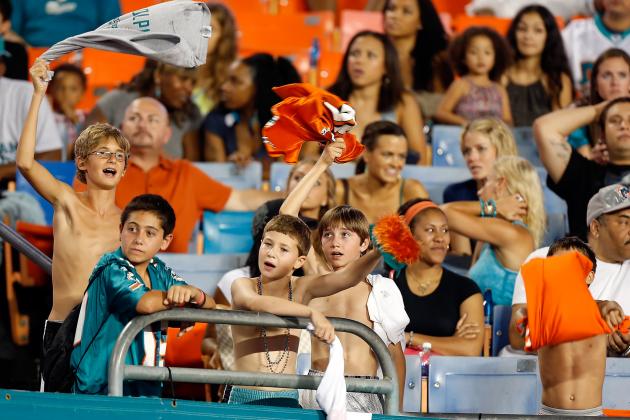 J. Meric/Getty Images

When the Miami Dolphins decided to cut Chad Johnson, they took a hit in the marketing department as well.
Miami finished last season 23rd in the league in average attendance, filling up 90 percent of Sun Life Stadium for all home games.
Johnson, probably the best self-promoter in professional sports, brings a big name to a team that doesn't have a stand-out player on its roster.
Sure, he also brings his antics, but it's those antics that make him so popular. Are the people of South Beach supposed to flock to Reggie Bush now?
Bush may have dated Kim Kardashian, but Johnson made himself a future Hall of Famer jacket, performed a different touchdown celebration every week and even bought a pet tiger while on the Cincinnati Bengals.
If that doesn't get the people talking, then I don't know what will. Even though the rest of the league may find his self-promoting ways "annoying," the fact is that he doesn't care. He does what he wants to do.
When you sign Chad Johnson, you sign all of Chad Johnson.
He brought ticket sales to Cincinnati and would've brought them to Miami as well.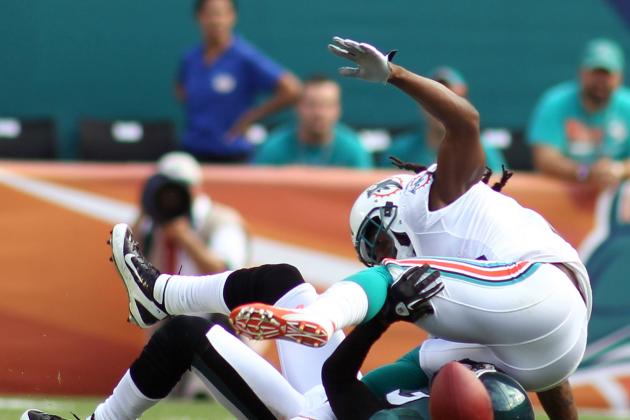 Marc Serota/Getty Images

Without a doubt, Chad Johnson was the most valuable wide receiver on the Miami Dolphins roster.
Trading Brandon Marshall to later acquire Johnson was an equal trade-off. Now, Miami is without both Marshall and Johnson, a serious downgrade.
Legedu Nannee is now the most experienced receiver on the Dolphins depth chart with five years under his belt. Miami's other two "featured" wide receivers, Davone Bess and Brian Hartline, both failed to catch for more than 600 yards last season.
With an inconsistent Reggie Bush leading the running game, the Dolphins will need a strong performance from their passing game if they want to have any shot at the postseason.
Not only did they make it that much more difficult to make the postseason after cutting Johnson, they made themselves one of the most depleted receiving cores in the AFC.
Watch out for those double teams on Bess, I suppose.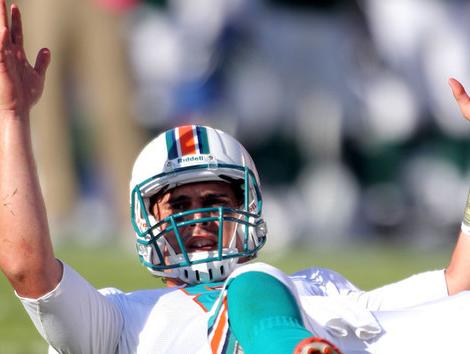 Out of all four teams in the AFC East, the Dolphins' offseason remains the least productive of the bunch.
New England signed Brandon Lloyd, former-Dolphin Will Allen and highly praised first-round draft pick Dont'a Hightower.
New York signed LaRon Landry and traded for the versatile but not-so-efficient quarterback Tim Tebow.
Buffalo signed Mario Williams, Tashard Choice and re-signed Fred Jackson.
Miami was able to sign David Garrard in the offseason but took on a quarterback who hasn't played in the NFL in more than a year when the team inked him to a one-year deal.
Not to mention that Garrard's latest knee injury puts his opening day status in question.
With the exception of acquiring an aging, mediocre Garrard, all Miami did was sign a bunch of unproven rookies.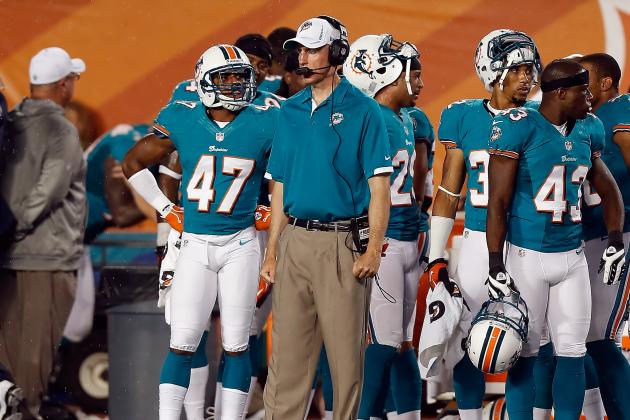 J. Meric/Getty Images

Every time a high-profile player gets cut, especially as quickly as Chad Johnson was, the comments are going to fly.
Dolphins linebacker Karlos Dansby spoke about the team's decision to cut Johnson (via the Sun Sentinel):
"Man, it's going to be a bigger distraction now because we let him go. We had to stand behind him even though the situation came about. I just hate the fact he didn't get that third strike, and that's just me personally."
Upon hearing Dansby's comments, head coach Joe Philbin responded (via the Sun Sentinel):
"You have a boss; I have a boss. I don't always agree with what the boss says every single time. I'm of the opinion you should keep things in house in that regard."
Philbin also said in the press conference that he didn't think Johnson was a "good fit" with the team from the beginning.
With negativity like that floating around the locker room so early, it would have been difficult for Johnson to succeed at all with Philbin at the helm.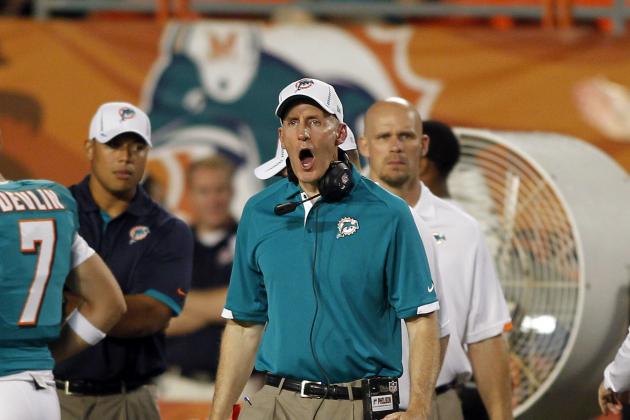 Robert Mayer-US PRESSWIRE

Even with Chad Johnson on the team, the Miami Dolphins were going to have a Herculean task in trying to make the postseason this year.
They finished 6-10 last season and did nothing in the offseason to benefit themselves heading into 2012.
The Raiders, Broncos and Chiefs all improved during the summer, and three out of the four teams in the AFC North have the ability to finish with at least 10 wins this year.
Having to play in the same division as the mighty New England Patriots, the only shot Miami has at a postseason birth is by taking one of the two wildcard spots.
That's just not going to happen.
Joe Philbin has made it clear this is a new regime in South Beach. Unfortunately for him, it's going to take the Dolphins a few more years before their regime is actually relevant.