Why AJ Was the Wrong Choice for GM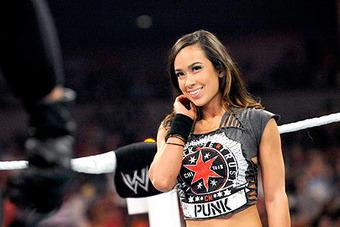 photo from wwe.com

It didn't come as a surprise when, on Raw's 1,000th episode two weeks ago, WWE appointed AJ Lee as the new GM of the red brand.
For one thing, it has been clear for some time that the company adores her and views her as their next big female star, in the same vain as women like Sable, Sunny or Miss Elizabeth, all of whom are legendary names in WWE history.
Indeed, at a time when most Divas are steadily neglected by the booking team and struggle to get air-time or any decent storylines, AJ has been plastered all over WWE television and made a top priority.
As her love triangle with CM Punk and Bryan Daniel fizzled out after Money in the Bank (AJ officiated the pair's match at the event, generally causing as much trouble as she could) the company looked to find a role in which she could continue to heavily feature.
This came in the form of the Raw GM position, which will see the former NXT star run the show and attempt to keep all these rough, gruff men in check.
Alas, while AJ may be charismatic, good-looking and brimming with personality, she has not succeeded in this role.
Indeed, a few weeks in and her flaws are readily apparent for everyone to see. At a time when WWE's flagship show is already struggling with an expanded three hour time slot that gives them more time than they can effectively fill, GM AJ simply serves as another hindrance.
There are a few reasons for this. The main issue is that the quirky, eccentric AJ character simply isn't suited to a serious office role like GM.
Oh, they've tried: she comes out dressed in ill-fitting power suits, in an attempt to look like a serious businesswoman (no doubt she'll be coming out scribbling frantically on a clipboard next). They also script her to order main eventers like John Cena and CM Punk around in an deeply authoritative manner and, whether they want to or not, these guys almost always back down and acquiesce to their new boss .
But all this doesn't work. In fact, the recent changes to the AJ character are as transparent as they are hilarious. WWE are attempting to tell us this inexperienced, naïve girl, previously famous for wearing her heart on her sleeve, has now turned into a scary corporate Alpha female capable of running the most chaotic show on television and standing up to men twice her size.
It's not so much that AJ can't act (some of her facial expressions and line delivery in the love triangle storyline were very good), she just simply can't pull off this role proficiently.
She looks like she's trying too hard and is out of her depth; the idea that guys like Punk and Cena would back down from her is ridiculous.
Her predecessor John Laurinaitis was at least be credible in the role of GM during his stint. It wasn't hard to buy him as a domineering corporate heel ruling over the show with an iron fist—he may not have been the best GM ever but he was at least believable. He didn't undermine his serious position by skipping around everywhere, either, like AJ does.
On the blue brand, Booker has just been appointed new GM. While the jury's still out on whether he can perform well in the role (hey, at least it got him away from commentary), at this point he could make it in the position, thanks to his charisma, presence and long-established connection with the fans.
Unlike AJ, he hasn't been over-exposed on TV either, meaning viewers will be willing to give him a chance.
Another thing: The decision to appoint her made little sense in the angle, too. Why would WWE owner Vince McMahon choose a woman, who had a long track record of crazy and unstable behaviour to run his prized flagship show?
Furthermore, what do the Board of Directors, who have gotten rid of authority figures like HHH and Vince himself over what they perceived as erratic and unreasonable behaviour think of this? Even appointing her in that position was a giant logic loophole that you could drive a truck through.
There are other problems. Judging by the anaemic crowd reactions to her on recent episodes of Raw, it seems the fans are struggling to connect with their new GM.
Oh, AJ is strongly liked by a certain subset of fans—and she's has been pushed so much most people seem to get she's a significant personality on WWE TV and that they should pay attention to her—but, overall, members of the WWE Universe aren't exactly clamouring to see her. They might be pushing her like Sunny or Sable, but she isn't over anything close to as much as they were in the '90s.
For all of AJ's talent—and despite bad booking, she remains an intriguing personality—this is very much a case where WWE, not the fans, have decided someone is a star. Whether or not AJ becomes the next big star, like the promotion hopes, remains to be seen. But it appears doubtful she will be able to accomplish this in her current role, which she just doesn't seem cut out for.
This article is
What is the duplicate article?
Why is this article offensive?
Where is this article plagiarized from?
Why is this article poorly edited?