Hannover vs. Manchester United: 6 Things We Learned from Preseason Friendly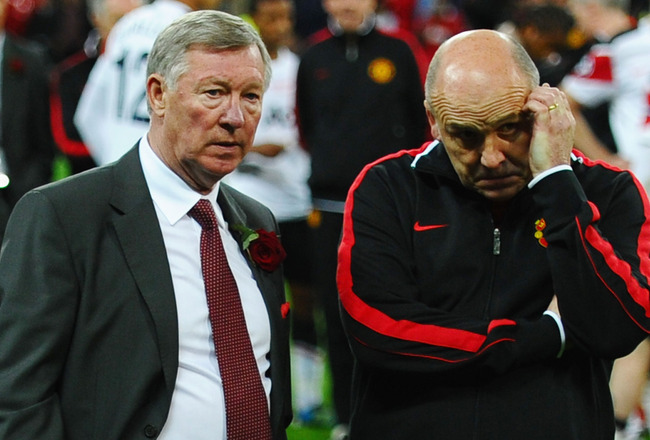 Laurence Griffiths/Getty Images
Surely I can't be alone in not being convinced by Mike Phelan as assistant to Sir Alex Ferguson? He fits the mould as an ex-United player, and apparently, the players love him. But United haven't been the same since Carlos Queiroz left.
OK, so apart from the Portuguese Under-20s, he has never convinced as a manager, but while he was at United, they won eight trophies in five years.
Some people seem to think Phelan is the Coach, or even Sir Alex himself, and although the Gaffer has the final say, the first team and technical coach is Rene Meulensteen. Since his appointment as the former, United have won 10 trophies.
There always seems to be a slight air of uncertainty when Phelan is in charge, and even when Ferguson is on the bench, he probably only uses Phelan as a sounding board, making the actual decisions himself.
Sir Alex was away at Old Trafford for the last two preseason friendlies against Barcelona and Hannover. They got a creditable draw (but lost on penalties) against a wall of possession in the Barcelona match (which they could have won if Rooney had converted in normal time).
Against Hannover, they may have won, but their defending was woeful. With Phil Jones the latest injury worry, this does not augur well for the start of the Premier League against a combative Everton side.
Nevertheless, and despite having Michael Carrick as a makeshift centre-back, there were schoolboy errors at the back, which a better team would have savaged.
However, there were at last some positives to take away from the match.
The Attack Is Back
Wayne Rooney has been poor in the previous friendlies, looking rusty and unfit.
This all changed in the Hannover match. He still looked like he would struggle to make middleweight, but he was sharper, faster and looked like he was enjoying himself.
He also likes new signing Shinji Kagawa and the modified formation.
Chicharito has also looked pretty woeful in the earlier matches, particularly the number of times he was still getting offside. That started to look less like enthusiasm and more like incompetence.
In the Hannover match, he looked back to his best, scoring one goal and unluckily being denied another by an excellent save.
Rooney scored twice: converting a penalty at last and placing an exquisite 25-yard free kick in the top left hand corner of the net with the keeper rooted.
Whether it was the formation or playing time together, United at last looked like an attacking force, having had pretty much a goals drought in the earlier matches.
Kagawa Is a Better Buy Than Hazard
You don't need to watch a video of Kagawa's preseason. Take it from me that he looks like one of United's best signings of all-time.
He has hardly put a foot wrong, has scored twice and fit seamlessly into the United team.
Many United fans were gutted when Sir Alex missed Eden Hazard, but rumblings of a near-miss started to emerge as early as Hazard's comments on signing for Chelsea.
Fans of each player's previous team had alluded to the selfishness of each of them. I have seen no evidence of that with Kagawa.
You only need to look at the video above to see the alarm bells for Hazard: already diving all over the place and some comical mis-kicks, at least one of which has a place in the 2012/13 bloopers this early.
He himself has stunningly warned that he could turn out to be an expensive flop.
Kagawa, meanwhile, looks like a young Paul Scholes. He has pace, great technical skill, an uncanny awareness of colleagues, the ability to be in the right place at the right time...and he scores goals!
Midfield Is Sorted
Three months ago, Benfica fans created this video when they thought Anderson was coming to their club.
If he can re-create this sort of form this season, he could not only answer United's need in midfield, but could also find himself back in the Brazil national side.
There has never been any doubting his talent; before he broke his leg as a teenager, he was regarded as one of the brightest young talents in the world.
Why would you want Lucas Moura or Ganso if Anderson can do these things? He has also added steel and tackling ability since he arrived at Old Trafford.
He is determined to repay Sir Alex's faith after an injury nightmare. If he can carry on his preseason progress, United are halfway to the midfield they need, both in Europe and the EPL.
Thanks to Team GB, Tom Cleverley also seems back to where he was exactly a year ago, and that is really good news.
We've mentioned Kagawa earlier, and he can play as one of two up front, in the hole, between midfield and a front two, or even in a midfield four, through the middle or even on the wing.
So when you add in the "pivotal" Michael Carrick, the evergreen Paul Scholes and Ryan Giggs, the precocious Nick Powell and the power of Valencia, Nani and Young on the wings, midfield looks as if it could be sorted, even without any new signings.
Now if Modric or Moutinho were added as well...
De Gea Should Be No. 1
Like Tom Cleverley, David De Gea has benefited as well as being disappointed by the Olympics.
Just one mistake by Anders Lindegaard against Hannover, however, convinced me that De Gea must be No. 1 this season.
He has a first season under his belt; he knows what to expect in the Premier League. He has played against top opposition in the Olympics and looked good.
With Anders signing a new four-year contract, we are blessed for the foreseeable future.
Vidic Can Be Even Better
Of course, he's easing himself back in, which is understandable after such a bad knee injury.
But particularly when he has played alongside Ferdinand in preseason, it has looked like old times are back.
Of course, he didn't look quite so certain alongside Carrick, but that was a scratch side with Michael Keane at right back.
Aside from two ghastly misses, Michael Keane looked like he can do a job in the first team if necessary, and it might be if Phil Jones is now out. Keane will score goals as well as save them if he's played this season. He is a certainty to play for England in future.
But that brings us back to Vidic. He may have blasted the ball over against Hannover, but at least he was in position to do so.
It is a constant source of frustration that United don't score from corners. Ferdinand in particular is good enough, but doesn't.
Vidic, however, is fearless, and that is equally important in both boxes.
Last season, United scored from all over the park. This time, we've got Vidic back and Kagawa's bonus. With an out-and-out integrated attacking style, the captain's contribution will be crucial.
Carrick's Not a Centre Back
But he could be United's MVP this season.
Sir Alex has already said that he could be pivotal this season.
He is like Marmite. You either love him or hate him. Personally, I love him.
People say he only passes backwards or sideways. Rot. He does, however, hardly ever give the ball away, and his pass rate is in the 90s.
He had one of the best interception rates in Europe last season. Of course, he has been overshadowed by Scholes; who wouldn't be? But he makes incisive passes and reads the game extraordinarily well.
I think he'll be used in three different ways this season:
As a central part of a midfield four
As a holding/defensive midfielder behind a very attacking formation
As an emergency defender.
However, although he does an excellent job for a non-defender, tackles and heads the ball well, he should not consider a career as a centre-back.
He was out of position too many times against Hannover, however well he did otherwise. He'll do a job for the Boss if asked, but if he's in central defence against Everton, we could be in trouble.
Keep Reading

Manchester United: Like this team?