How LeBron James Has Transformed What We Expect from NBA Superstars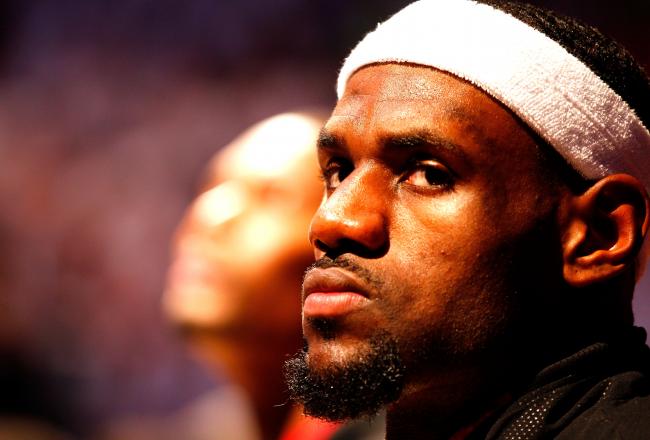 Mike Ehrmann/Getty Images
Once upon a time, a guy like Carmelo Anthony might have gotten a nod as one of the league's five best players. Steve Nash even managed to take home two MVP awards.
Never mind that neither of them played a lick of defense. The former is an exceptional scorer with a sometimes tenacious presence on the glass, and the latter is a legendary passer with one heck of a jump shot.
By today's standards, though, they seem just a tad one-dimensional.
Now that we've witnessed LeBron James do it all so consistently and superlatively, we expect something more from our superstars.
Even Kobe Bryant feels ever-so-lacking. In 16 seasons, the Black Mamba has never made more than 47 percent of his field-goal attempts. In just nine years, LBJ has already bested that mark in all but his rookie campaign.
Bryant has never averaged more than six assists (a mark he reached or neared just twice). James has averaged seven or more five times. Their disparity on the glass isn't even close, and LeBron's defense has the edge too.
LeBron triple-double in Game 5 of the NBA Finals was emblematic of his versatility.
LeBron has proven that it's possible to dominate the game at virtually every level. He doesn't take possessions off, and he doesn't sacrifice defensive intensity in order to focus on his scoring.
Nor does he waiver between shooting or passing the ball too much. His decision making is every bit as exceptional as his talent and physical tools.
Of course, that unique combination of talent and physical tools has done its part to revolutionize what it means to be an MVP as well.
For starters, it's not every day that a man this size so effectively distributes the ball. The comparisons to Magic Johnson couldn't be more appropriate. In his prime, Penny Hardaway similarly proved what oversized point guards were capable of doing.
LBJ makes one of the best passes you'll ever see.
But neither Magic nor Penny did their damage with the athleticism and strength that James brings to the table.
That means more than bragging rights in the weight room.
It also means James can do things on the defensive end that other distributors can't, namely guarding virtually any position on the floor with complete competence. LBJ serves as floor general in the true spirit of Scottie Pippen, the quintessential "point-forward."
Like Pippen, his length enables him to make passes of which true point guards can only dream. Unlike Pippen, however, his core strength allows him to body up against even the most powerful 4s without giving up ground.
James takes the bigger Pau Gasol completely out of the offense.
James can overwhelm guards on the perimeter while he just as adeptly pushes bigger forwards off their preferred spots in the post. And, thanks to his supreme mobility, he's the perfect candidate to shadow big men in pick-and-roll situations.
LeBron has changed what it means to dominate the game on both ends of the floor, and his three MVP awards prove as much.
How many guys LBJ's size can move their feet this well?
James isn't the purest of jump-shooters, but he's incredibly dangerous from any range when he finds a rhythm. More importantly, his size and arsenal of moves at the basket ensure that he doesn't have to rely so exclusively on a sometimes elusive perimeter game.
You won't find him forcing long-range buckets when they aren't following. He doesn't need to.
Oh yes, he can score from anywhere.
Instead, LeBron is quick and decisive enough to get into the paint at will while either finishing with authoritative dunks or clever layups. In the process, he's also gotten to the free-throw line 8.8 times a game over the course of his career.
Whether he has the same scoring ability as Michael Jordan or Kobe Bryant remains open to debate, and an impassioned debate at that.
To even elicit such comparisons, however, suggests that James is one of the very few historical specimens to single-handedly elevate the bar for superstardom.
Standing out as the league's next world-class superstar just got a little bit harder.
This article is
What is the duplicate article?
Why is this article offensive?
Where is this article plagiarized from?
Why is this article poorly edited?

Miami Heat: Like this team?