Miami Heat: 7 Reasons We Can No Longer Dispute the Decision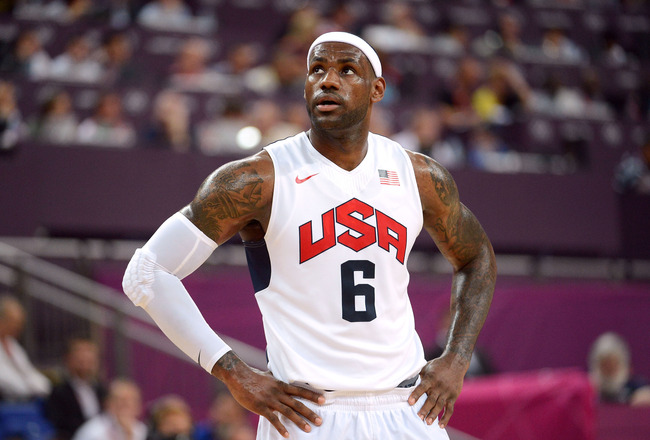 Harry How/Getty Images
Call 2012 the Year of the LeBron.
After finishing up a tour tearing down cities and pillaging towns in the United States and Toronto, LeBron James recently took his talents overseas to London, where he helped lead the USA basketball team to an undefeated mark in the Olympics and, eventually, a gold-medal victory over rival Spain.
Before winning his second gold medal, (the first came in 2008), James was busy polishing off the Miami Heat's Larry O'Brien Trophy and the Finals MVP award he earned after averaging 28 points, 10 rebounds and seven assists in the team's 4-1 series victory over a powerful Oklahoma City Thunder squad.
It was the second consecutive visit to the Finals for James, and his third overall, but this was his first win, in case you didn't already know. With the elusive first championship under his belt, James has proved why leaving the Cleveland Cavaliers for the Miami Heat was the right idea.
Had he not left for Miami, we may have never seen one of the best years by an individual since Michael Jordan picked up similar hardware in 1992.
With seven reasons loaded and ready, we fire off why LeBron James' decision to leave Cleveland for Miami has been justified.
He Won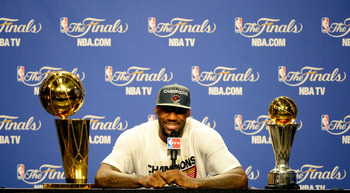 Ronald Martinez/Getty Images
Why else would LeBron James leave the friendly confines of Cleveland for his new abode in Miami except to win?
It was the only reason why James left for the Heat in the first place. He felt they gave him the best chance to win an NBA championship.
The Miami Heat offered Dwyane Wade and Chris Bosh, while the New York Knicks could only offer Amar'e Stoudemire.
The Cavaliers could only guarantee some more regular-season success.
James choosing the Heat was an obvious business move. He felt as if the Cavaliers didn't do enough in the first seven years of his career to help him win a championship, and he didn't feel like they would in the future, either.
With the Heat offering a significant chance at winning, James felt compelled to favor winning over loyalty and money.
Why fault him for that? You don't see Carmelo Anthony and Chris Paul, who left the Hornets after only six years, getting lambasted in the media for leaving the teams that drafted them in order to win a title with a different franchise. Not to mention that they also joined rosters that were just as complete as the Heat's in 2010.
Maybe LeBron shouldn't have held a TV special in his own honor that raised $3 million for charity.
It might have taken two years, but LeBron is a winner for the first time in his NBA career. It only took him one year to make it all the way to the NBA Finals with the Heat.
In seven years with Cleveland, he only made it once, in 2007. The Cavs were swept by a balanced San Antonio Spurs team.
After winning both the Larry O'Brien Trophy and the Finals MVP trophy, it's safe to say that James made the right decision.
Have You Seen Cleveland Lately?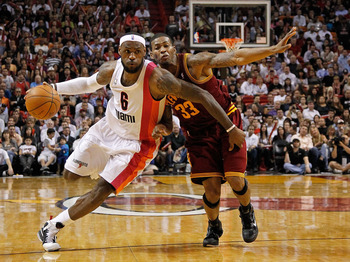 Mike Ehrmann/Getty Images
If a franchise has any shot at winning a title, it needs to prove that it's capable of surviving anything, including losing its best player.
On a championship roster, the team should be able to hold its own long enough for the superstar to return. Take a look at the 2011-12 Chicago Bulls and how well they played without Derrick Rose; that was a championship-caliber team up until Rose's torn ACL in the first round.
Even without their best player for half the season, they still managed the Eastern Conference's top record.
The Bulls even fared well enough to make the playoffs when Jordan retired. With Scottie Pippen leading the way the season after Jordan retired, the Bulls went 55-27, finished with the third seed in the East and made it all the way to Game 7 of the semifinals.
They finished 47-35 the year after, with Jordan returning near the end of the season.
Compare those two teams to the Cleveland Cavaliers once LeBron James left. With mostly the same roster, sans LeBron, the Cavs finished a paltry 19-63.
They managed to set a record for the most consecutive losses in an NBA season with 26, also good enough to tie the record for consecutive losses among all sports.
That just goes to show how mediocre the talent was surrounding James. It also shows just how significant LeBron is; it's astounding how losing one player can turn a team from a perennial championship contender that won 66 games into a cellar-dweller that's going to be scooping up lottery picks for the next five years.
Humbled in 2011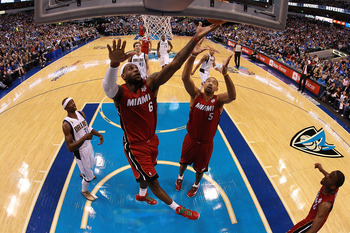 Ronald Martinez/Getty Images
As it turns out, losing the 2011 NBA Finals wasn't as bad as you may have thought for LeBron James.
In fact, as James has said, it was the best thing to ever happen to him. Losing to the Dallas Mavericks on the NBA's biggest stage was so much more than the Miami Heat not winning a title or a continuation of the "title-less LeBron" narrative.
What it meant was that James was knocked off the pedestal we all built for him.
LeBron is a player who relies heavily on his confidence. If he's feeling confident, you'll see a better jump shot in rhythm. You'll more than likely see him play more aggressively and get the sense that he's unstoppable.
We've seen him play like this before; the legendary game he had against Detroit is a prime example.
His teammates rely heavily on the confidence he emits as well. When James is playing well and making the correct passes, his teammates have a tendency to play better. It probably explains why you saw Mo Williams and Daniel Gibson featured in more prominent roles than they're featured in today—they were playing heavily off of James.
When James played against the Mavericks, they took away his confidence by taking him out of his comfort zone. Because the Mavericks featured a strong zone that created heavy emphasis at the top of the perimeter, James was forced into more jumpers than ever.
Since that's not the strongest part of LeBron's game, he played inconsistently. In late-game situations, his confidence became a non-factor.
Humbled by the Mavericks, James worked to become a better player, which is something that we might not have seen had he stayed another year in Cleveland.
Growing Experience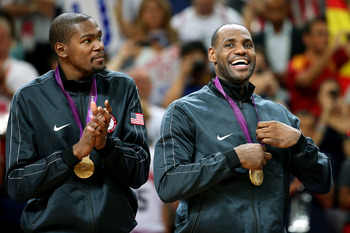 Christian Petersen/Getty Images
The Dallas Mavericks' comeback in the Finals changed LeBron James for the better. We may have never seen the LeBron we have today if not for the way he lost.
If LeBron's performance had been average—thriving in isolation plays, relying on hero-ball three-pointers and not utilizing his physical attributes—he would have continued to play the same way.
He would have had no need to improve on anything, having become an NBA champion. There's no need for heavy training over the summer if it was that easy to win a title in one year.
Sure, he would have finally won his championship after only one year in Miami, but he wouldn't have had anything to build off of.
The Mavericks made LeBron expand his horizons when it comes to facilitating. The Mavericks exploited the fact that James was an inconsistent jump shooter, thriving on isolation plays that didn't require teamwork and ball movement.
They showed LeBron that not only was it going to be difficult to win a title, but that he would have to be more of an all-around player in order to come out on top.
Instead of going into the season with his head held high, he came back on a mission and equipped with a brand-new post game that would ultimately end up winning his team an NBA title.
With the post game, James is able to utilize his body more, get to high-percentage scoring areas, create more opportunities for his teammates and find new ways to score outside of isolation plays from the top of the perimeter.
Mostly, however, it's a new way to facilitate. With James working out of the post, he becomes nearly impossible to defend in a one-on-one situation. He can beat his opponents when they throw a double-team at him because of how well he can pass and find the open man.
Reliable Teammates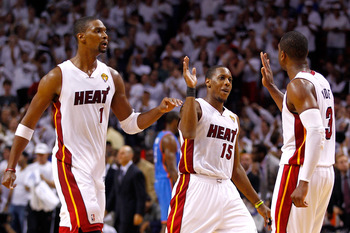 Mike Ehrmann/Getty Images
There has never been a superstar that won an NBA title on his own.
That is why whenever someone uses the argument that "LeBron needed help," you need to make sure that the person can't contribute to the future population.
The argument makes absolutely no sense because every Hall of Famer has needed help to win a title, including the best player in the history of basketball.
Don't forget that Michael Jordan was 1-9 in the postseason before Scottie Pippen joined the team, and Wilt Chamberlain didn't win a title until he partnered up with Hal Greer in Philadelphia.
So, yes, having reliable teammates does have a lot to do with winning a title. As good as LeBron James was, he was on an inadequate roster in Cleveland. Even the year that he and the Cavaliers made it to the NBA Finals, that team was described as one of the worst rosters to ever make it that far.
The "star players" on that team alongside LeBron included Larry Hughes, Zydrunas Ilgauskas and Drew Gooden. The best players James played with in his time with Cleveland were Hughes, Ilgauskas, a 34-year-old Antawn Jamison, Mo Williams and a 37-year-old Shaquille O'Neal.
Carlos Boozer played with James his rookie season.
Compare that to what James has in Miami. He first joined the team when Dwyane Wade and Chris Bosh were the only recognizable stars, but now the team is equipped with Shane Battier and Ray Allen, as well as role players who have stepped up, like Mario Chalmers, Norris Cole, Udonis Haslem and Mike Miller.
Having reliable teammates takes a lot of the pressure off of the superstar. As good as any superstar may be, he can't always be relied on for 82 regular-season games and then 16 postseason games. It's not fair to that player, who would have far more energy and far less pressure with at least one legitimate All-Star playing alongside him.
Consistent Success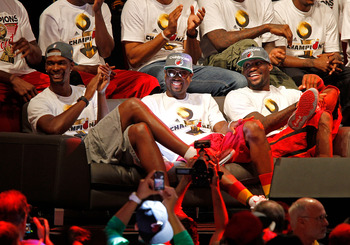 Mike Ehrmann/Getty Images
Since LeBron James is part of a great core and his team has only built off their success in 2012, the Miami Heat are the favorites to win next year's title.
Despite the Los Angeles Lakers' best efforts, the Heat remain the favorite to win because of the momentum that LeBron James will carry into next season.
Proven champions under any amount of pressure, the Heat have made the necessary improvements to continue furthering their trek toward becoming a dynasty.
You can't help but get excited for the NBA season with Ray Allen and Rashard Lewis on the perimeter. Even preseason would do for now, but let's just feel fortunate there's not another December 25 start.
Plus, as often as people point out injuries that ravaged a few postseason teams, the Heat had to deal with their fair share of injuries as well.
The team's third-best, and possibly most significant player, Chris Bosh, missed nine games and was ailing throughout the Finals.
Dwyane Wade had his knee drained in between Games 3 and 4 against Indiana, and Mike Miller was a non-factor due to back injuries up until his historic Game 5 performance.
The great thing about this Miami Heat team is that they are a huge draw for free agents. This team is built mainly of free agents, and the majority of the players that have signed have taken significant pay cuts in order to join.
Since the end of the 2010-11 season, Shane Battier, Ray Allen and Rashard Lewis have all taken pay cuts in order to join the Heat.
With veterans like that in tow, the Heat can look forward to immediate success, and can continue looking for more free agents once they gain that success.
Playing alongside LeBron James, Dwyane Wade and Chris Bosh has become one of the big tickets in the NBA, and it has already drawn in three solid veterans.
Matured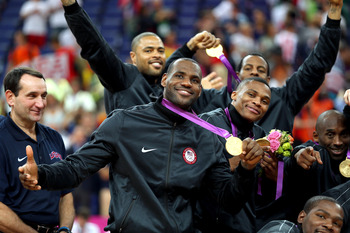 Christian Petersen/Getty Images
As much as people wanted to make a story out of everything LeBron James does, the three-time MVP has certainly made it a much more difficult job to find tabloid-worthy quotes.
Since departing Cleveland, James has really done everything in his power to stay out of the public eye when he's off the court.
Outside of dunking on a few kids at a basketball camp, LeBron hasn't really seen much negative press, and it stems from him not giving the media any quotes to run with. You may remember some of those classic quotes he made while with Cleveland, and even some in his first year with Miami.
Who could forget such gems as James referring to himself in the first person, saying that he would return to Cleveland if there were an opportunity and criticizing his teammates' defense?
The 2011-12 season was probably the most low-key year of LeBron's loud career. He hardly gave the press anything worth quoting and allowed his game to do the talking.
As a result, James quietly won his third MVP award and led the Heat into the postseason as the second seed. Once the postseason came, James was nonexistent off the court and gave average answers to loaded questions.
The trend continued once LeBron won the title.
Since joining the Heat in 2010, many people have doubted James' abilities. For two years, these masses had nothing better to do than criticize everything James did or didn't do and claim that he was never going to win a title, because their crystal ball was a lot clearer than ours.
So when James won the title, of course he was asked: "Do you have anything to say to your critics and doubters?"
Throughout the post-title media tour, James constantly dodged the question. Why? Because he didn't want to give anyone any fuel to add to burning embers that would create negative publicity.
Well played, LeBron.
After joining the Heat, LeBron became a far more mature player. There wasn't any unnecessary showmanship that required him to take family portraits with his team prior to every game, nor were there any extended dancing sequences in the middle of his team's victory, although this was hilarious.
We got a player who was hell-bent on winning a title and wanted no outside distractions. Being paired with a proven champion in Dwyane Wade has completely changed LeBron for the better, and it shows in the brand-new hardware he's got only two years after leaving Cleveland.
Keep Reading

Miami Heat: Like this team?