Miami Dolphins: Favorite Hard Knocks Moments so Far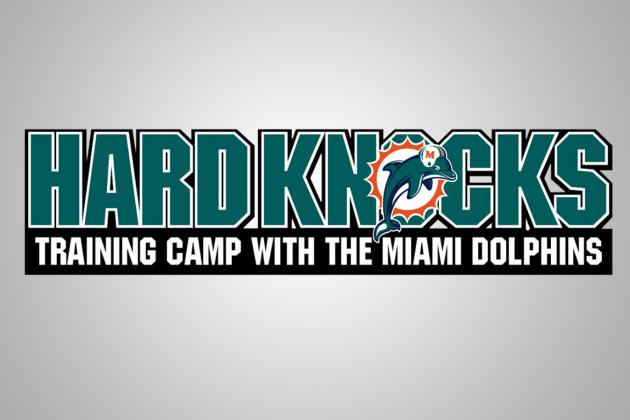 courtesy of HBO/NFL Films and Miami Dolphins
There's only been one episode of Hard Knocks: Training Camp With the Miami Dolphins, but what an episode it was.
From Tannehill's contract battle (greatly exaggerated for the purposes of dramatic storytelling in my opinion) to the antics of Chad Johnson (whose final episode will air this Tuesday), episode one of the hit HBO/NFL Films reality show was much more explosive than anyone envisioned when they heard that it would be the Miami Dolphins profiled on the show.
So why not take a look at some of the best moments of the first episode while giving a preview to what's to come?
Begin Slideshow

»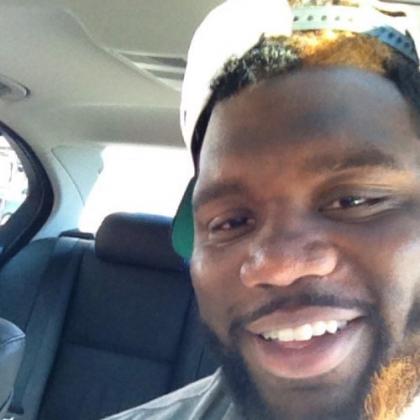 photo courtesy of Derek Dennis' twitter feed @6BONECRUSHER3
Hard Knocks provided us with a shocking cold-opening sequence.
We see undrafted rookie free agent Derek Dennis show up at the Dolphins training facilities in Davie, followed by him checking in to his hotel room where he plans on staying throughout the duration of training camp.
Dennis is talking about how he could "get used to this" as he looks at the new Dolphins locker room as well as how in his first NFL training camp, it's going to be a "long month for me," and then later on adds, "hopefully, I'll stay in Miami and make this 53-man roster".
Interspersed with this footage is footage of Jeff Ireland and the Dolphins coaching staff deciding to release Derek, making him the first casualty of Dolphins camp. The plan was to let him run the conditioning test; then afterwards, he would most likely be cut.
Dennis then claims that he's "as ready as I think I could be, I don't know how much more ready you could be for something like this," then later added, "not everyone can do stuff like this."
After seeing a snippet of the conditioning test, we cut to Jeff Ireland welcoming Dennis into his office, followed by Ireland asking Dennis to take a seat. We don't actually see Dennis getting released (Dennis was released to make room for Eric Steinbach, then he was picked up by the New England Patriots on August 2); it is implied right as the show's opening montage came up.
This quick immersion into the dog-eat-dog world that is the NFL was a powerful opening and will surely be remembered, especially when Dennis is doing a good job of containing Cameron Wake in December while playing for the Pats.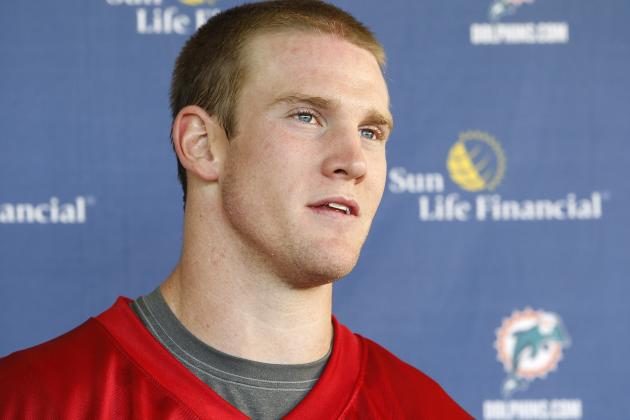 Joel Auerbach/Getty Images

"I expressed to him that, where we sit at the moment, based on both our positions, Ryan will not be a Miami Dolphin this year"

-Dawn Aponte, Senior VP of Football Operations in a telephone conference with head Coach Joe Philbin.
While during the holdout itself, I was a little worried that had it gone longer, Ryan Tannehill's career would be adversely affected, the prevailing thought throughout the media was that Tannehill would be in camp by the first Monday of training camp.
He wound up reporting to camp that Sunday Night, but Hard Knocks would have you believe that the Dolphins were on a "Cuban Missle Crisis"-type watch for him worried that Tannehill wouldn't sign. It was a prevalent theme throughout the first half of the show.
Later on in the show, we see Coach Philbin asking if there's been any progress made, along with Jeff Ireland stating that the holdout is "driving him nuts."
Finally, after three days of training camp—at 11:04 p.m.—Tannehill reports to Dolphins camp to sign his deal. He talks to Coach Philbin about competing for the job, then runs his physical.
After seeing what Tannehill has done in his first scrimmage and his first preseason game (and how impressive he's looked in both), it feels like it was nothing, and the reality was, it was nothing. But if you only knew of the Tannehill's holdout through Hard Knocks, you would've thought that Tannehill was never going to sign until you saw him show up.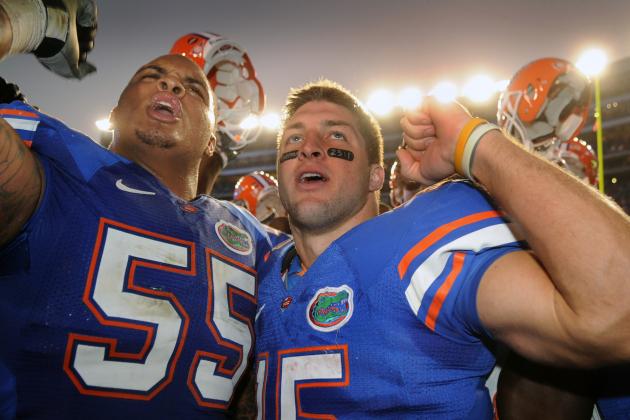 Al Messerschmidt/Getty Images
From teammates to rivals: Dolphins C Mike Pouncey and Jets Special Teams ace Tim Tebow
Did we really need this?
Can we talk about the NFL without mentioning the name of Tim Tebow?
In what was undoubtedly Skip Bayless' favorite segment of the show, Mike Pouncey got into a debate with a massage therapist over Tebow.
The masseuse was talking about watching Jets practice on ESPN (if you're interested, ESPN runs this from 8 a.m. til 8 p.m. with limited interruption from real sports news) and described that Tim Tebow was "missing everything."
Of course, Pouncey had to defend his teammate:
"Man, don't give my boy Tebow a hard time man; Tebow's a winner."
Somewhere in Bristol, Skip Bayless cracked a smile, then went on to continue cursing the names of Aaron Rodgers, Russell Westbrook and LeBron James.
Why did they include this part? Well, under NFL rules, you cannot discuss the NFL without bringing the name Tim Tebow (at least I'm assuming based off of this short scene as well as the NFL coverage on ESPN), and I guess HBO had to fulfill that. It wouldn't surprise me one bit if the masseuse was fed that line when working on Pouncey, just to get that reaction.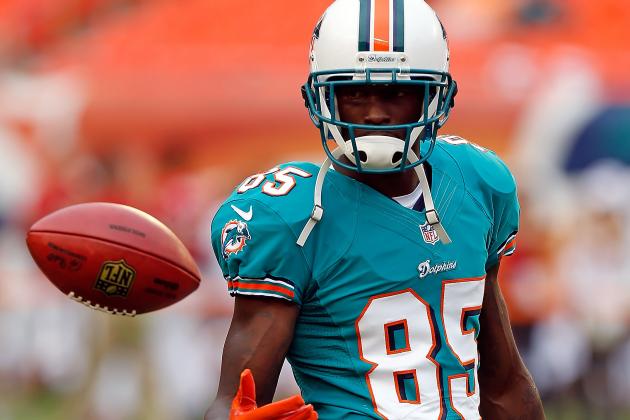 J. Meric/Getty Images

Chad Johnson was not only expected to be the No. 1 receiver, but also the star of Hard Knocks when he signed.
Now released, Johnson fulfilled one of those roles in the first episode.
Chad didn't dominate the first episode the way he did while with the Bengals in 2009; however, he was a welcome breath of fresh air and vulgarities when he did pop up on screen.
His introduction came during a coaches meeting when he came through and talked about how he didn't have a place to stay since his wife Evelyn wouldn't let him come home during training camp. This is followed by him explaining his sex life—or lack thereof—last season to the cameras.
The next time we see Chad is when he is playing FIFA 12 against former teammate Reggie Bush. The score on the screen indicated a tie, but Chad wasn't too happy with how he was doing and even accused Reggie of "cheating."
This felt like a conversation I'd have with my friends while playing FIFA, and because of this, I challenge both Chad Johnson AND Reggie Bush to a FIFA match at any time and any place.
Later on, we see Chad walking out with his now infamous and eerie comment: "Sue, I promise I'm gonna get arrested while we're off."
It wouldn't happen for another week, but you knew this comment would wind up being replayed, as he actually did get arrested for striking his wife.
As for his wife, I wasn't familiar with her work prior to Hard Knocks, but she doesn't seem like a good person. I did advocate the Dolphins release Chad Johnson following his arrest, and I'm glad they followed through with it. However I didn't advocate this because of the arrest, but instead because of the distraction around it.
After looking into the case more, I'm also of the belief that his wife was actually the one that headbutted him since apparently, she has a bit of a reputation as head-case to begin with.
I'm not doubting the character of Chad; however, this should go to show everyone to be careful with whom they associate with. You don't want any bad influences in your life, and Evelyn Lozada-Johnson seems to me like she's a troublemaking influence who potentially cost Chad his NFL career.
It has certainly killed Hard Knocks, as Chad was a dynamic presence on the show and made it an exciting one.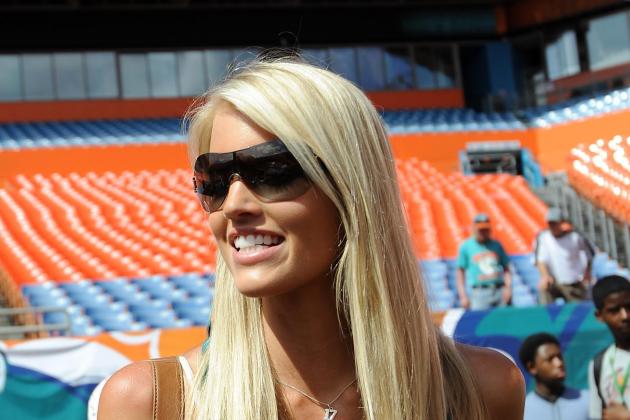 Steve Mitchell-US PRESSWIRE
Hopefully we'll see more of Lauren Tannehill...
Now that episode one is in the books, what should we expect for this week's show?
A lot!
How can we not talk about David Garrard's knee injury? Once expected to start the year, Garrard now might not be on the roster come Labor Day thanks to the injury and surgery. I'd like to know more details as to why he elected for surgery now, and I'm sure we'll get an answer.
Also, the Dolphins-Buccaneers preseason game will be looked at. Hopefully, they'll show Philbin and the coaching staff point out what the first team did wrong. The main focus should be on defensive coordinator Kevin Coyle working with the defense on actually making tackles. Work is especially needed in the secondary, which has more question marks than any other unit on the Dolphins.
Tannehill working with the first-team offense in practice would also be a nice thing to see, as would Lauren Tannehill.
Then there's the Ochocinco drama. We're guaranteed at least one more episode with him, as well as the meetings with Philbin, Ireland and the rest of the staff might have had on Sunday discussing what to do with him. Hopefully, we'll also hear his side to the story prior to his release.
It's too bad that Chad Johnson has too much pride, though, because it would be very interesting for the last few episodes of Hard Knocks to see him come back to Dolphins camp every week begging for his job back and figuring out new schemes to get back with the team, followed by Dolphins security throwing him out of the building a la Jazzy Jeff on The Fresh Prince of Bel-Air.
But sadly, this isn't a sitcom, even though many Dolphins fans might believe it is after Friday night's performance.