WWE: Is Sheamus Being Taken Seriously as a Top Performer?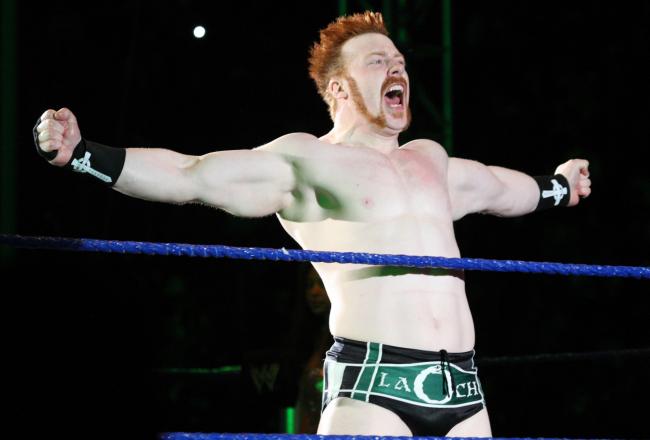 Gallo Images/Getty Images
Sheamus is the current World Heavyweight Champion, but based upon the manner in which he has been featured on WWE programming and how far he has resided on the card, it has been very difficult to view The Great White as a key player in the company.
Sheamus has everything that you look for in a top superstar as he pulls off a unique look, possesses prototypical size, has excellent in-ring ability for a man of his dimensions and is even comfortable on the mic. On top of that, the fact that he is Irish gives him plenty of international appeal, which is something the WWE looks for now that it has a global product.
Despite all of those fantastic qualities, Sheamus has been utilized as something that resembles a mid-carder more than a main-eventer. Sheamus has been a dominant world champion since beating Daniel Bryan for the strap in 18 seconds at WrestleMania, but I can't help but feel like Bryan is the one who gained more momentum from it.
I have no doubt that Sheamus will eventually establish himself as one of the faces of the WWE, but that isn't overly apparent right now. The focus is on the rivalry between John Cena and CM Punk, as well as the impending match between Triple H and Brock Lesnar at SummerSlam, and since the creative team is incapable of focusing on more than two story lines at once, Sheamus has taken a hit.
I don't blame Sheamus for the perception that he isn't a main-event guy, rather I believe it is the fault of the writers. Half the battle when it comes to being a legitimate star is going up against other stars and rising above them. Sheamus' initial feud as champion with Bryan was very good, but it was short-lived as there was only one true match between the two of them.
Aside from that, Sheamus has been bouncing around from pointless feud to pointless feud. He had a fatal four way against Randy Orton, Chris Jericho and Alberto Del Rio that resulted in him retaining, and since then he has had feuds with Del Rio and Dolph Ziggler.
The Ziggler feud could have been good, but Ziggler was never made to look like a serious threat and he was merely a fill-in after Del Rio suffered a concussion. It would be fair to say that there haven't been many less eventful three-month feuds in the history of the WWE than Sheamus vs. Del Rio.
I will say that the creative team has tried to make Del Rio look strong by having him get the better of Sheamus on a few occasions, but he has never seemed like a true threat to beat Sheamus for the belt. That is because Del Rio wasn't built well heading into the feud, so he was clearly inferior to Sheamus.
The World Heavyweight Champion can only take himself so far until he needs someone else to push him. Sheamus has clearly reached that point. There is a major lack of main-event heels in the WWE right now, so Sheamus doesn't have a lot of options. As I see it, Sheamus' best bet would either be to have a program with Randy Orton or a returning Wade Barrett.
Since Sheamus' match against Del Rio at SummerSlam was canceled, my best guess is that he'll have to defend against Del Rio, Orton and Barrett in a fatal four way. A feud between four people can't be sustained over a long period of time, though, so the creative team will have to settle on one guy moving forward.
Do you take Sheamus seriously as a top performer?
Orton is obviously a good choice since he is an established main-event star, but he's also a face. I wouldn't mind seeing a face vs. face feud that leads to an Orton heel turn. Then, if Sheamus is able to go over a heel Orton, he'll come out looking great and will be much closer to being a top-of-the-card star than he is now.
Barrett would also be successful since his physicality is equal to that of Sheamus. Barrett isn't anywhere near as established as Orton and has never been a world champion, but he has immense potential and was on a roll prior to getting injured. The vignette for Barrett's return seems to be playing off his past as a bare-knuckle boxer, so Barrett can easily be made to look like a legitimate tough guy who can beat Sheamus.
Sheamus may not be at the same level as a guy like Cena, Punk or even Orton yet, but good booking can cure a lot of ills. Sheamus has all the tools to be an elite WWE superstar, but until he is put in some programs that push him as a wrestler and overall performer, he will be relegated to the role of mid-card world champion.
Follow @MikeChiari on Twitter and listen to him on Ring Rust Radio.
This article is
What is the duplicate article?
Why is this article offensive?
Where is this article plagiarized from?
Why is this article poorly edited?