5 Things Learned from TNA Hardcore Justice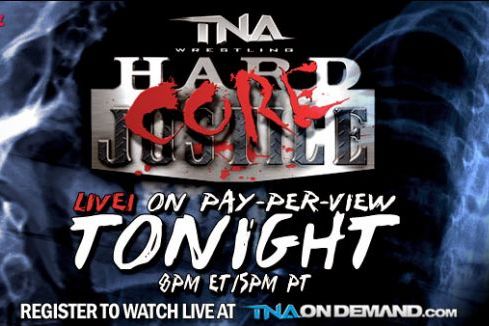 Photo courtesy of WrestleEnigma.com
I was excited going into Hardcore Justice. Why wouldn't I be, either? There was three BFG Series four-way matches, each with their own special stipulation, and, the rematch we were all waiting for, "It Factor" vs. "Greatest Man That Ever Lived" part II.
TNA's 2012 edition of Hardcore Justice is now resting in the history books, and it was one great pay-per-view.
In the end, I feel as though this pay-per-view taught me a few things for the future. Some important lessons and some not so important lessons were learned on our road to TNA's biggest pay-per-view of the year, Bound For Glory.
Here's what I learned from Hardcore Justice.
Begin Slideshow

»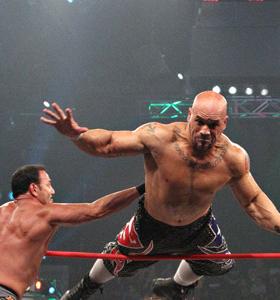 IMPACTWrestling.com
It's pretty obvious that TNA's tag-team division is no longer what it once was. The days of Beer Money, Team 3D, Motorcity Machine Guns and LAX are long gone.
Now, it seems like TNA only has one true tag team. And yes, they're the World Tag Team Champions...of the world (Daniels and Kazarian would want me to say that).
However, the tag champs have no challengers. Until now, that is.
Chavo and Hernandez vs. Kash and Gunner was a solid way of starting the show. Guerrero and Kash are two well-traveled veterans, and Hernandez and Gunner are no strangers to tag-team wrestling.
These four worked a nice opening match last night, and they gave a glimmer of hope for an otherwise dull tag-team division.
Now, after their win, I'm somewhat expecting Chavo and Hernandez to use this into their favor and get a tag-team title match at No Surrender.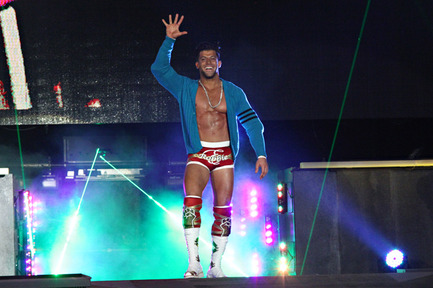 IMPACTWrestling.com
Before you get all mad about this one, hear me out.
Last night at Hardcore Justice, there were two spots where Robbie E could've won his match. The Pope, on the other hand, didn't even compete because he was taken out by Aces and Eights.
It's pretty hard to argue that TNA has more faith in Pope than they do Robbie at this point.
You can point out Robbie E's table botch (Storm and Hardy had Bully Ray in a double suplex, but Robbie didn't push the table away quick enough and the corner broke), but will people really remember that?
Or will people remember when Robbie E was standing tall over Jeff Hardy, James Storm and Bully Ray all at once? Robbie E, in my opinion, definitely had a good showing at Hardcore Justice.
It's a strange case with Pope. He was originally advertised to face RVD last Thursday on IMPACT, but he was replaced by Magnus at the last minute. Pope was originally advertised to compete at Hardcore Justice, but he was taken out at the last minute.
Does Pope have a legitimate injury holding him back? Or does TNA no longer have faith in him?
If you're still debating with yourself over who TNA has more faith in, allow me to take the cheap and easy route.
Robbie E debuted in TNA around late 2010, and he's been an X-Division Champion and Television Champion.
The Pope debuted in mid-2009 and has yet to win a singles championship.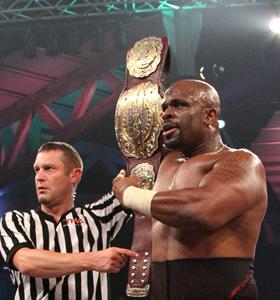 IMPACTWrestling.com
A little bit over a week ago, WrestlingINC reported that the contracts of Bully Ray and Devon were set to expire within three weeks. They also reported that the man re-negotiating the contracts, Bully Ray, was not happy.
It was said that many within TNA were, in fact, expecting Bully Ray and Devon to leave the company.
Well, this news took an interesting swerve at Hardcore Justice last night. After being pinned by Kazarian on Thursday's IMPACT, Devon was forced to defend his Television Championship on pay-per-view.
Devon had a great performance, one of his best matches all year, and he retained his championship. Not only that, but Bully Ray also won his BFG Series tables match for a big 20 points.
Both guys picked up huge wins just when the wrestling world expected them to lose. With both of them picking up major wins at Hardcore Justice, surely it's a good sign for their status within TNA.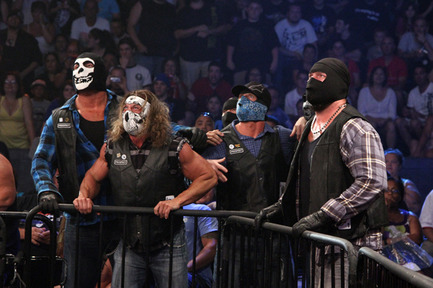 IMPACTWrestling.com
The masked gang known as Aces & Eights made their mark at this pay-per-view without stealing the spotlight or taking away any major part of the show. It was nicely done.
They made their first move by taking The Pope out of his BFG Series match, then focused on the man they targeted on Thursday's IMPACT, Bully Ray.
During the tables match, Aces & Eights would jump the barricade, surround the ring and stalk Bully Ray. They distracted Bully enough just so Storm could catch him off guard with a Last Call superkick.
With Storm taking out the gang's target, each member gave "The Cowboy" a thumbs up before starting to leave the ringside area.
If that wasn't strange enough, they returned to distract Jeff Hardy from putting James Storm through a table. This allowed Storm to give Hardy a Last Call superkick as well.
Bully Ray would sneak back into the ring, toss Storm over the rope and power bomb Hardy through the table for the win.
Evidence continues to stack up against "The Cowboy" James Storm.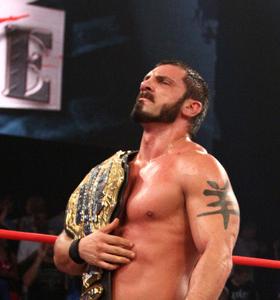 IMPACTWrestling.com
If this match wasn't suspenseful, I don't know what is.
Bobby Roode claimed for weeks that Aries' World title win at Destination X was a fluke. In an attempt to disprove Roode's claim, the two would have a rematch where the loser doesn't get a rematch.
After a double-pin controversy, the match was reset. Roode had Aries right where he wanted him, until Aries got Roode in a roll-up pin to get the win.
Roode was in disbelief as Aries once again defeated him for the TNA World Heavyweight Championship.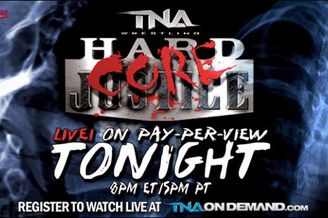 WrestleEnigma.com
That's just what I learned from Hardcore Justice. Five quick, little things I thought after watching the pay-per-view. So, as a quick recap, here's what I took away from Hardcore Justice.
1) The tag-team division got a little jolt of energy.
2) TNA has more faith in Robbie E than Pope.
3) Devon and Bully Ray winning is a good sign.
4) Aces and Eights made their presence felt.
5) Austin Aries is no fluke.
That's just a short list of what I learned. If you'd like to share what you learned, your thoughts on this article or your thoughts on Hardcore Justice, feel free to do so in the comment section below. Thanks for reading.