WWE SummerSlam 2012 Matches: Why You Can't Miss Dolph Ziggler vs. Chris Jericho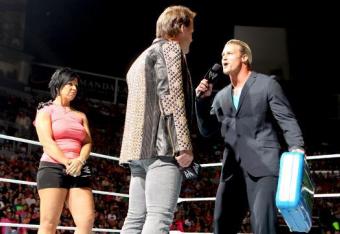 Courtesy: WWE.com

The WWE has been working hard to push the match between Triple H and Brock Lesnar. CM Punk is doing everything in his power to help the WWE title match get top billing. The match that will rise above the rest, however, features Dolph Ziggler and Chris Jericho.
Even though the match was only added to the card last week, it's been building up for a while now and should be a tremendous pure wrestling match. Ziggler and Jericho are two of the best workers in the business, and they'll get a chance to show it on one of the year's biggest shows.
It's no secret that Jericho probably won't be hanging around the WWE much longer—he gets ready to head out on the road with his band Fozzy. In a recent interview, he talked about touring following the release of their newest album (via iconvsicon.com).
That means there's a strong chance it will be the last high-profile match Jericho has for quite some time. He's always welcomed with open arms by the WWE Universe whenever he returns, but everybody understands how important music has become to him.
Since coming back in January, Jericho has been on the losing end in most of his marquee matches. That includes a memorable encounter feud CM Punk leading up to WrestleMania. Despite the losses, Jericho is still a key figure.
A victory over an elite superstar like him is exactly what Ziggler needs before he cashes in his Money in the Bank briefcase. Since both guys are clearly heading in different directions in terms of the WWE, the result isn't really in question.
Ziggler should pick up the victory. Afterward, perhaps Jericho will admit Ziggler was right when he talked about him losing his touch as a way to write him off television.
The fact that everybody knows what the likely outcome will be without it having a major negative impact on the anticipation factor shows how much respect people have for Jericho and how much interest there is in Ziggler's rise.
Which of these matches will be the best?
It's clear the "Show Off" has been gaining a lot of support in recent months, similar to what happened with Punk and Daniel Bryan last year before their meteoric rises to the top of the card. It seems like Ziggler is following in their footsteps.
He still needs a marquee victory to solidify his push, though. Beating Jericho at SummerSlam—in what should be a battle capable of stealing the show despite not getting the same type of build as the other matches—would be perfect.
It would be exactly the type of win Ziggler needs, and it will allow Jericho to help put another talent over before going back to Fozzy. It should be a terrific match that gets the crowd involved for those other hyped matchups.
Even though it's probably not the match people will buy the pay-per-view to see, it's the one they'll likely walk away talking about.
This article is
What is the duplicate article?
Why is this article offensive?
Where is this article plagiarized from?
Why is this article poorly edited?