Dallas Cowboys: Blood in the Water; Why Tonight's Game Will Be Feeding Frenzy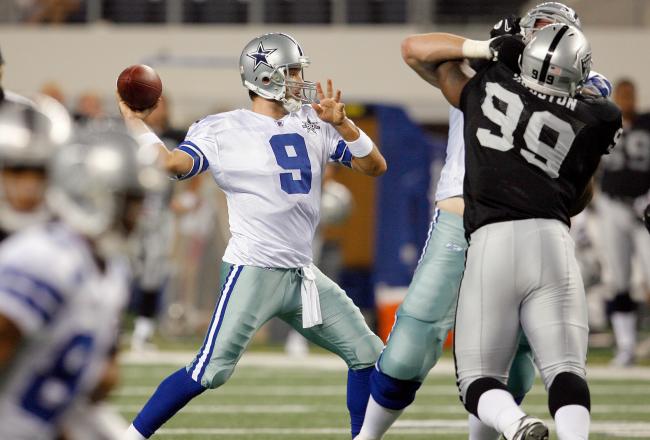 Tom Pennington/Getty Images
The Dallas Cowboys kick off the Bill Callahan era tonight against the Oakland Raiders, a team he took to the Super Bowl in 2002. I am sure that Callahan has had this date circled for some time and for a number of reasons.
Although 2002 was a decade ago, Callahan probably still remembers the sting of being fired one season after leading a team to the ultimate game. It made little sense then, and it still seems odd now. Chalk it up to another weird chapter in Al Davis' empire and a learning experience for Callahan.
It's unorthodox to call it the Callahan era, given that Jason Garrett is the head coach, but I do so to call attention to the importance of the offensive line and the positive influence that Callahan could have, given the right players.
Callahan broke offensive records as head coach for the Raiders and as head coach of Nebraska, and he broke rushing records as line coach for the New York Jets.
He has always managed to assemble great offensive lines wherever he has been. He is respected as perhaps the top technical instructor for offensive trench warfare in the NFL, and he has a great wealth of experience.
Unfortunately for Dallas, however, he has never experienced such a ridiculous rash of injuries precisely in the spot he was most desperately trying to fix. As I wrote yesterday, the entire center of the Dallas offensive line should be declared a disaster area.
Meanwhile, on the other side of the ball tonight, we have the Oakland Raiders, a team that has been working diligently on their pass rush. Oakland, like all the other teams in the NFL, is full of defensive players that are locked into a desperate struggle to make their team.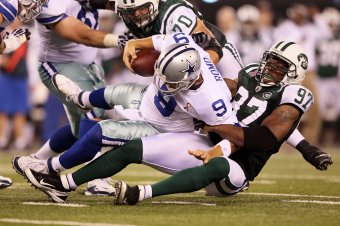 Elsa/Getty Images
For these players, making a play or two in tonight's game could be the difference between an NFL life of luxury and working at Home Depot. Their family and extended family are all counting on them to make plays and make the team.
In this context, it should be easy to understand why putting Tony Romo out there in tonight's game is synonymous with snorkeling in shark-infested waters.
What greater way is there to capture a coach's attention than to knock Romo out of the game? In this era of player safety (which I wholeheartedly agree with), you won't find a coach who will admit he's looking for players with "knock out" ability, but the truth is, they all are.
And every player trying to make a squad knows it. Romo's well-being is the last thing on their minds. They are fighting for a better life, and if he's collateral damage, so be it.
This is why it's important to have quality offensive-line depth going into training camp. If your center finishes the year ranked No. 30 in the league and you have little or no depth behind him, you take massive action in the offseason.
But Dallas didn't do that. Yes, they have had an unprecedented string of bad luck, but they also tempted fate with the roster they took to camp.
Tonight Dallas faces the choice of risking further injury to Costa's back, or starting a center with no starting experience in the position.
Bungled snaps have been as common as seagulls in Oxnard, California this summer. Dallas knows it, their division rivals know it and the Raiders absolutely know it. The chaos the Cowboys are experiencing in their line is like a dangerous undertow for quarterbacks.
Tonight may be the best highlight-reel opportunity for pass-rushers in Raiders history. The blood is in the water.
Which is why Romo should sit this one out. The team can say he has tightness in his back or throwing shoulder or elbow or left pinkie toe—it doesn't matter. Just keep him out of the water until the lifeguards are back on duty.
This article is
What is the duplicate article?
Why is this article offensive?
Where is this article plagiarized from?
Why is this article poorly edited?

Dallas Cowboys: Like this team?