NBA Rumors: Sixers Shouldn't Count on Andrew Bynum Signing Long-Term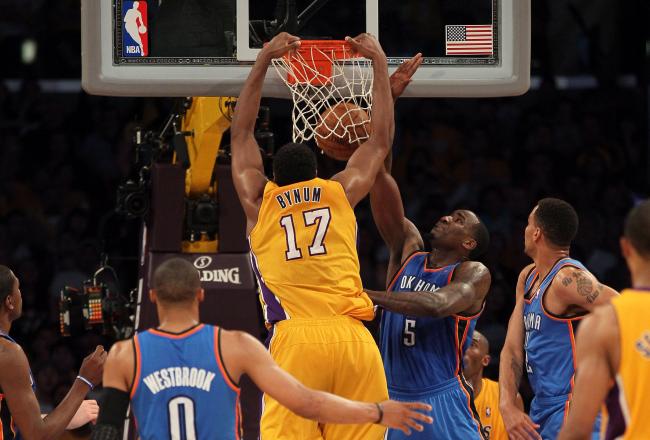 Stephen Dunn/Getty Images
Philadelphia 76ers president and general manager Rod Thorn is very confident that Andrew Bynum will spend the next several years of his career in Philadelphia. But why does he have any reason to be?
The Sixers acquired Bynum from the Lakers on Friday in a blockbuster four-team deal that also sent Dwight Howard to L.A. and Andre Iguodala to the Nuggets. The only downside for Philly is the fact that Bynum's current contract expires at the end of the 2012-13 season, and he has offered zero guarantees that he'll sign an extension rather than test the free-agent market next summer.
But still, the Sixers brass is confident about its chances of convincing him to stick around. On Friday, Thorn told CSN Philly's Dei Lynam:
Our feeling is that we will have a very good chance to sign Bynum for several reasons. Andrew was very happy about being traded to us. He thinks we have a good team. Secondly, he is from New Jersey and he is more of an East Coast guy than a West Coast type of guy and we think he will be very happy here. You never know until it happens, but I feel he'll like it here and want to continue his career here.
In signing an extension with the Sixers, Bynum would be turning down the opportunity to explore a free-agent market that would be very, very kind to him next summer. Especially if Howard ends up signing an extension with L.A., Bynum would be the marquee free agent on the market.
Even if Howard doesn't sign and also hits free agency, there is such a dearth of dominant centers in the NBA that both of them will likely receive huge contracts.
Would Bynum really give up the opportunity to have his pick of teams? Would he really give up the opportunity to see just how much the league thinks he's worth—knowing that there are so few players out there who are capable of doing what he does?
Bynum is no Howard, and a big part of the reason the Lakers were willing to part ways with him is because he's often perceived as apathetic and injury-prone, but the 2011-12 season was something of an awakening for him. After six seasons of showing off his potential but never fully living up to it, Bynum came alive in 2011-12, tallying 18.7 points, 11.8 rebounds and 1.9 blocks per game.
If he can keep up that kind of production in his one (guaranteed) year with Philly, Bynum would be crazy to commit himself long-term before testing his worth on the free-agent market. He could be costing himself millions of dollars. He could be costing himself an opportunity to play for the team he really, really wants to play for, whatever team that is.
Will Andrew Bynum sign an extension with the Sixers?
There's also the issue of whether or not the Sixers are truly going to be able to compete over the long-term. Bynum isn't going to commit himself to a franchise that isn't definitively trending upward, and the Sixers have yet to prove that they're capable of competing with the Celtics, the Knicks, the Nets and the abundance of teams in their division who have also made significant improvements this offseason.
We all know it takes more than one player to create a championship contender, and Bynum can't save the Sixers all by himself.
This situation would be different if Bynum wasn't a center. As it stands, though, he's one of two centers in this league who are going to be worth the huge money and huge contracts they're likely to receive next July. In the NBA, Howard and Bynum are the centers who can make or break a season or a playoff run.
Even if he does end up testing the market only to stay put exactly where he is—a la Deron Williams this summer—Bynum is going to at least see what else is out there.
He'd be crazy not to.
This article is
What is the duplicate article?
Why is this article offensive?
Where is this article plagiarized from?
Why is this article poorly edited?

Philadelphia 76ers: Like this team?