Why SummerSlam 2012 Will Define CM Punk's Place in WWE History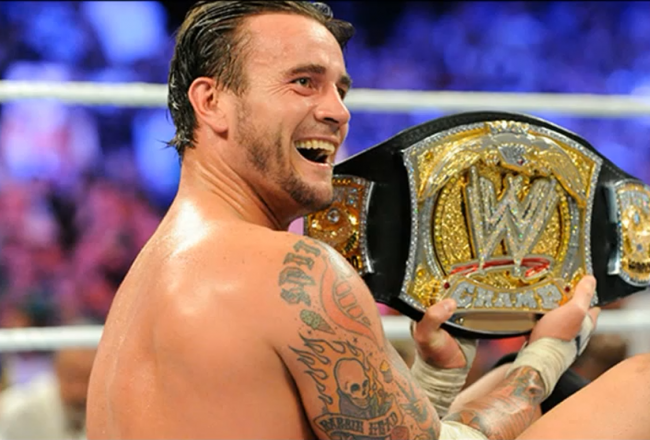 Courtesy of WWE.com

CM Punk has had an inauspicious run as WWE champion for the last nine months. SummerSlam will represent the first time that he is, presumably, in a main event since December, and that is only happening because John Cena is his opponent.
Sure, WWE decided to throw Big Show into the mix for reasons that still don't make much sense, but this whole match comes down to Punk and Cena.
For Cena, everyone knows what to expect from him. He is the biggest star in the company. He headlines every pay-per-view because that's how WWE wants to put the card together—putting him above the championship.
Here is a look at pay-per-view main events since last November's Survivor Series, which is when Punk won the championship.
| PAY-PER-VIEW | MAIN EVENT |
| --- | --- |
| Survivor Series | John Cena & The Rock vs. Miz & R-Truth |
| Tables, Ladders and Chairs | CM Punk vs. Miz vs. Alberto Del Rio |
| Royal Rumble | Rumble Match |
| Elimination Chamber | John Cena vs. Kane |
| WrestleMania 28 | John Cena vs. The Rock |
| Extreme Rules | John Cena vs. Brock Lesnar |
| Over The Limit | John Cena vs. John Laurinaitis |
| No Way Out | John Cena vs. Big Show |
| Money In the Bank | John Cena vs. Kane vs. Chris Jericho vs. Big Show vs. Miz |
The one pay-per-view that Punk did main event—Tables, Ladders and Chairs—was the only event that John Cena was not booked in a match.
For Punk, SummerSlam is going to determine exactly what his legacy in WWE is going to be. Right now, he looks like another good wrestler who was given an extended title run because the company had other plans for the star that it really wants to be champion.
In a long, strange way, Punk is a transitional champion. Granted, he has held the title for nine months, so it is a drawn out transition, but everything has been built simply as a way to put the title back on Cena, not to make Punk look like a dominant wrestler.
Punk and the WWE championship have been made to look secondary for so long that fans have caught on to the pattern and will view him as someone not nearly at the level of Cena, which is a shame because he is an incredibly talented performer.
One reason that it made sense for WWE to turn Punk heel heading into SummerSlam is because of the way he has been used as a face.
Think back to when Punk was a heel; he was really good on the microphone. As a face who had to make the audience like him, the creative team had no idea what to do with him. He was out there touting (no pun intended) the WWE Universe and everything he would deride just a few months ago.
He even showcased his sense of humor on Twitter, while at the same time building to his (presumed) match against The Rock at the Royal Rumble with this picture sent via Twitter.
@therock #rocktalk twitter.com/CMPunk/status/…

— CM Punk (@CMPunk) August 12, 2012
That was a great moment and it shows what Punk is capable of. It is funny, while at the same time staying true to his character and builds, in its own way, a match that has a lot of potential if/when it happens.
But Punk has to be allowed to get to that moment. He has to be allowed to be the performer we all know he can be. Therein lies the biggest problem with everything that we have seen from Punk since he first won the WWE championship at Money In the Bank over one year ago.
What Is CM Punk's WWE Status?
We don't know what kind of performer Punk is going to be. Is he the catchphrase spouting, secondary champion that everyone knows is below Cena on the totem pole? Will he be successful in this title defense against the No. 1 star in the company, and if so, will he do it on his own or will it be a fluke pin thanks to Big Show?
WWE has to do something with Punk that showcases him as a star at the main-event level. SummerSlam won't turn everything around instantly, but it can be the pay-per-view that tells us everything we need to know about what the company wants him to be.
If he loses this match, the world will see that Punk is nothing more than a stop-gap champion used to get the big star over.
If Punk wins this match—and by win, I mean pins Cena clean in the middle of the ring—it will go a long way towards establishing him as the champion WWE needs but rarely allowed him to be. SummerSlam is Punk's time for WWE to remove his shackles and let him go.
Cena doesn't need the rub, because he is always going to be the top star. Big Show is not at a point where he can advance above the level he is at, though WWE tried with him earlier this year.
Punk has to be the star of the show at SummerSlam. His legacy as champion and a potential top star depends on it.
Check back for more on the WWE as it comes, and check out Bleacher Report's Wrestling Page to get your fill of the WWE. For more WWE talk, check out Ring Rust Radio for all of the hot topics you just can't miss.
This article is
What is the duplicate article?
Why is this article offensive?
Where is this article plagiarized from?
Why is this article poorly edited?