Which Washington Redskins Are Having the Worst Training Camps?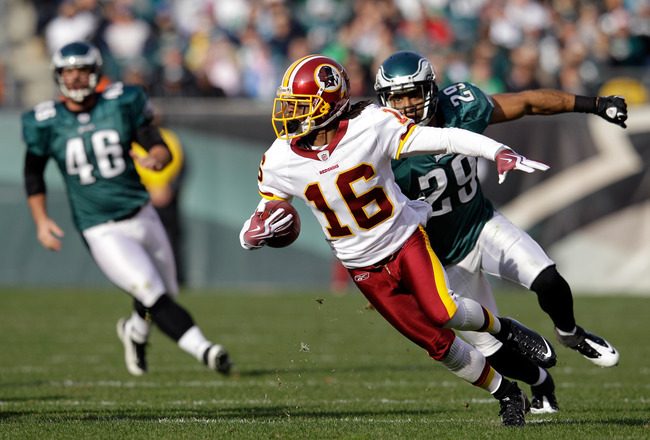 Increased competition for roster spots inevitably means that some players will get left behind.
Rob Carr/Getty Images
Although this year's training camp has been much more successful than in previous years, not everyone has been showing the improvement that is required of them.
Although no players have looked terrible, there have been a couple of worrying signs that don't bode well for the season.
This article isn't about blame, or deciding that a certain player doesn't deserve a roster spot based entirely on their camp performance.
It's more about highlighting the players who aren't developing as much as initially hoped, as well as taking into account the importance of their position and the depth at that position.
Josh LeRibeus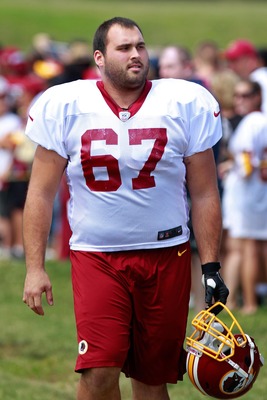 Josh LeRibeus has looked more like a rookie than most.
Geoff Burke-US PRESSWIRE
There were more than a few eyebrows raised when the Redskins took LeRibeus in the third round. It was felt to be a stretch for a player whom many had predicted to go undrafted.
So far he hasn't done much to appease his doubters and hasn't looked like the player his draft status would suggest. For every victory there has been a defeat, which doesn't suggest that he is adapting to the speed of the NFL as quickly as he needs to.
On August 3, John Keim reported from practice that LeRibeus and others were getting "destroyed" by the backup defensive line, and on August 4, Keim reported that LeRibeus could not get "off his block of a defensive lineman to stop ILB Bryan Kehl's stunt on one pass play."
LeRibeus continued to struggle against the Bills in the preseason opener last week, looking the very definition of a rookie against a much wiser Buffalo defensive line.
In contrast, fifth-rounder Adam Gettis has looked much better, with good technical knowledge of his position and the technique to back it up. This has enabled him to overcome some of the weight disadvantage that he has and it will serve him well in the future.
LeRibeus shouldn't be counted out, and has in fact looked better as camp goes on, but the inuries to the offensive line mean that he needs to step up his game and show he can be relied upon. So far, he has not quite done that.
Brandon Banks/Aldrick Robinson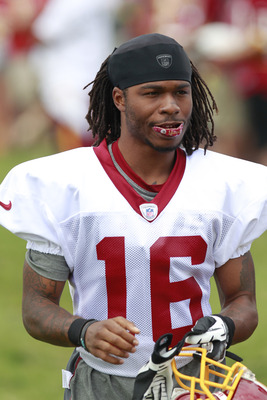 Brandon banks needs to improve after his poor performance against the Bills.
Geoff Burke-US PRESSWIRE
Given an ultimatum by Mike Shanahan prior to camp, Brandon Banks looked to be responding appropriately. Reports from camp made reference to his speed and ability to get separation from defenders, so it looked as if Banks would prove himself as a viable receiving threat.
Unfortunately, this was undone by his performance in the Buffalo game on Thursday.
It has long been a criticism of Banks that his height prevents him from making big-time plays, and Rich Campbell added weight to that theory when reporting on the game for the Washington Times:
He lost two jump ball situations on deep passes. It's also difficult for Banks to shield defenders with his body. He dropped one pass when a defender popped him from behind as the ball arrived.

On a third quarter running play, FS Delano Howell simply ran through Banks' block and helped stop RB Alfred Morris for only 2 yards.
Campbell did mention Banks' ability to get separation with his pace, however, and it is this that may yet convince Mike Shanahan to keep him on the roster.
Aldrick Robinson is the man who now stands in his way, as he possesses the same attributes as Banks, with the added benefit of a good preseason performance.
Robinson had been inconsistent in camp leading up to the Bills game, but now it seems that he might have the edge on Banks following some useful cuts to gain a couple of first downs at key moments. He also has a three-inch height advantage over Banks, which may yet prove to be crucial as the season draws near.
Tim Hightower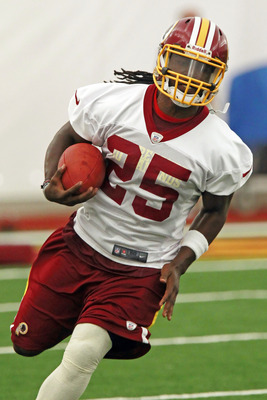 Tim Hightower is in danger of losing his starting place to Royster or Helu.
Geoff Burke-US PRESSWIRE
I was hesitant to include Tim Hightower, as there have been many other players who have suffered injuries that left them limited in training camp.
The reason Hightower made this list is because of what it means to be a running back on a Shanahan-coached team, added to the fact that he is supposedly the starting back.
Being forced to watch practice when he knew Evan Royster and Roy Helu were getting the carries must have been hell for Hightower. Both players are no longer rookies, and the added experience they've gained from Hightower's injury last year has made them better players.
It's assumed that Shanahan will continue with his strategy of going with whomever has hot hands, and with the emergence of rookie Alfred Morris, the competition just got even more fierce.
Hightower's individual skill remains in pass protection, with both Royster and Helu more limited in this regard. Royster's involvement in the botched handoff against the Bills probably helped Hightower's cause a little, but he will still be anxious to get back on the field.
Keep Reading

Washington Redskins: Like this team?