Toronto Blue Jays: Predicting the 2013 Starting Rotation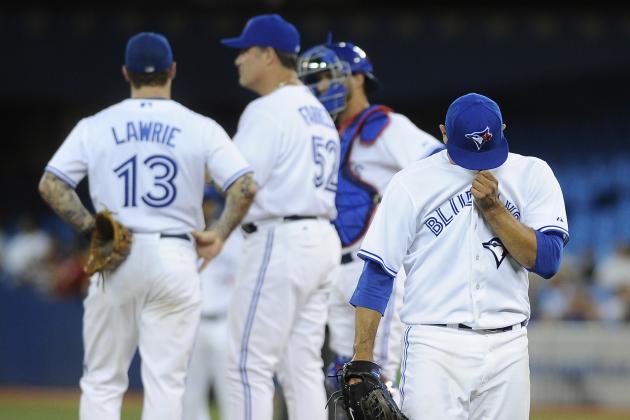 Brad White/Getty Images

It has been a tough year for the Toronto Blue Jays. Injuries have been plentiful, and with each injury the frustration grows among the fanbase.
Many thought this was the year the Jays see playoff baseball because of the addition of a second wild-card spot. It appears it won't happen due to some bad luck, but as Toronto sports fans are used to saying, there's always next year.
The Blue Jays have a great farm system, their young talent has been producing at the major league level and if they can stay healthy, they may be able to finally get into the playoffs.
It all starts with pitching, though. Here is my projected starting rotation for the Blue Jays coming out of spring training next year.
Begin Slideshow

»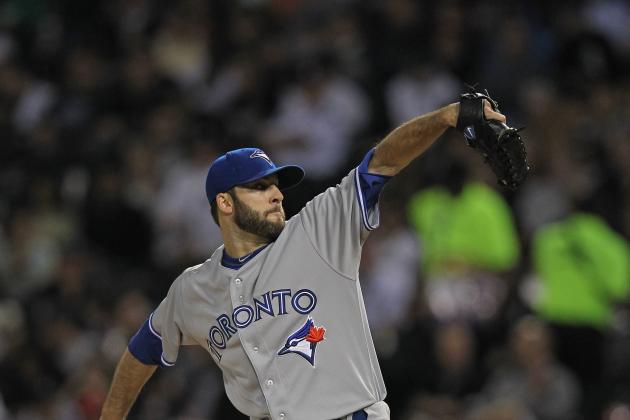 Jonathan Daniel/Getty Images

Before Morrow got injured this year, he was 7-4 and by far had the best stuff in the Blue Jays' rotation.
Despite being the second pitcher coming out of training camp, Morrow looked like the team's true ace and will get the opportunity to prove he can handle the responsibility next year.
Morrow had three of his seven wins by complete-game shutouts.
Morrow is 28 and is in the prime of his career. He deserves a chance to prove he can be the rock of the Jays' lineup, and I think he will earn that opportunity next year.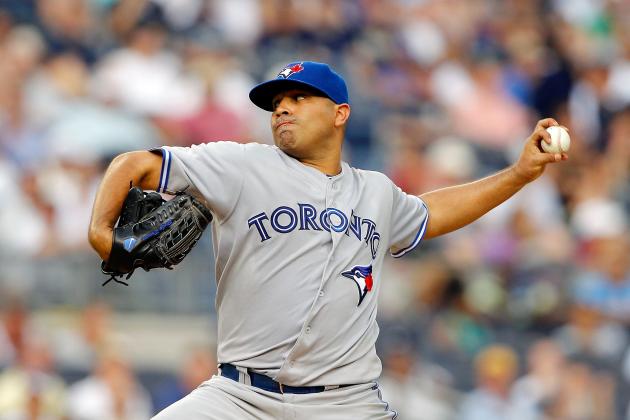 Jim McIsaac/Getty Images

It's no secret Romero struggled this year.
In 24 games, he has gone 8-9 and has had some serious trouble pitching well in the second half of the season.
That being said, he is just one year Morrow's junior and is also entering the prime of his career. He has proven that he can pitch and the talent is there—he just went through a rough patch this year.
It won't be the case where Romero loses the No. 1 job, it will just be that Morrow earns it. Farrell will give it to Morrow to relieve some of the apparent pressure that led to Romero's struggles this year.
Romero can still be an effective pitcher in this league and will have a better opportunity to prove it while knowing he's surrounded by strong arms next year. Look for this pitching duo to be a fearsome one-two punch in the AL.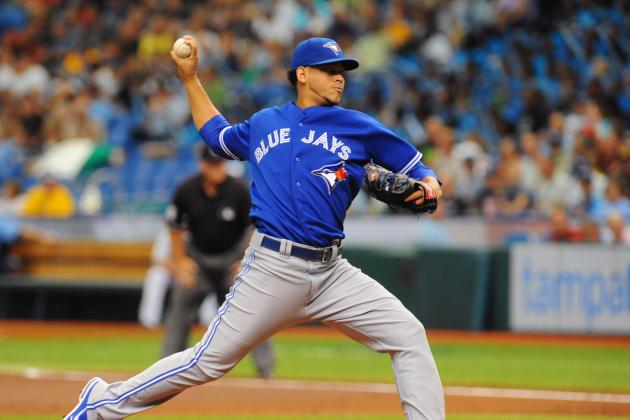 Al Messerschmidt/Getty Images

When the season started, it was a dog race to see which young pitcher could seize their opportunity in the majors.
Injuries to Drew Hutchison and Kyle Drabek made Alvarez the last man standing, and he has fared decently.
He's not putting up awe-inspiring numbers, but he is putting up promising ones.
In his first full year in the majors, Alvarez has a 7-9 record and a 4.58 ERA, but he is just 22 and will continue to improve.
Alvarez may not have the most impressive stat line, but he did record his first complete-game shutout this year, and remember that he has a lot of development ahead of him. A full spring training with a roster position that is his to lose will be key to his improvement.
I think the Jays take another chance on him.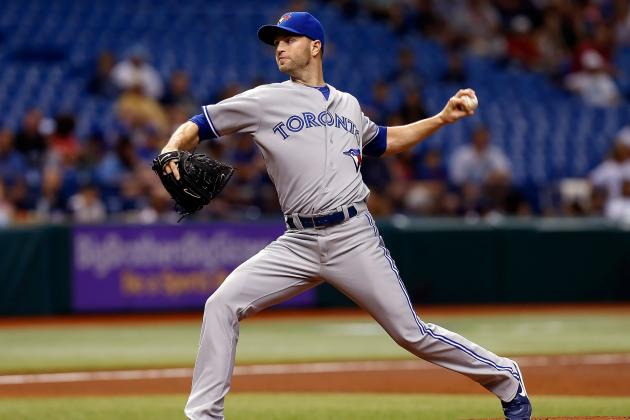 J. Meric/Getty Images

After acquiring J.A. Happ, the Blue Jays used him primarily out of the bullpen, but he has since been inserted into the rotation.
He is likely to stay there and start next year there as well.
Happ did not fare well in his first start with the Jays, but that is hardly enough of a sample size to judge him on. He is a 29-year-old veteran who will bring some stability to the Jays' rotation out of the four spot.
A full year with the Blue Jays and a training camp working with pitching coach Bruce Walton will help Happ get settled in Toronto. They have him under contract and will do everything in their power to keep him with the club.
Although he may see some time in the bullpen later in the year, look for Happ to start the year as the fourth starter.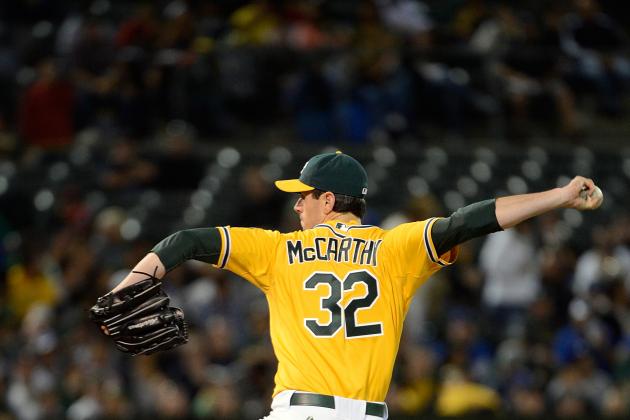 Thearon W. Henderson/Getty Images

Heading into spring training, the fifth starter's job will be up for grabs.
There are a number of candidates who could fill the spot, including signing Shawn Marcum, Derek Lowe or Canadian Erik Bedard.
It could also be won by Dustin McGowan, who before going down with yet another injury re-signed with the Jays in spring training. Clearly they liked what they saw enough to ink him to a deal, and maybe he can stay healthy next year.
Don't be surprised to see Alex Anthopolous make a free-agent signing to help his rotation. Your guess is as good as mine, but if I had to guess I think it may be Brandon McCarthy.
McCarthy spent a good portion of this year on the DL with a shoulder injury that made it nearly impossible for Oakland to trade him. At the end of this year, he is set to become a free agent and could be a pitcher that general manager Alex Anthopolous targets.
Sure, there are bigger names out there, but McCarthy is 29 years old and can be locked up for a few years at a reasonable rate.
After changing his pitching style, McCarthy is enjoying his best year as a pro with a 2.68 ERA in 13 games. He will get paid somewhere near the $5 million a year range, and Toronto has that kind of money to spend.
Let's chat baseball @applebyinc