PGA Championship 2012: 5 Things to Take Away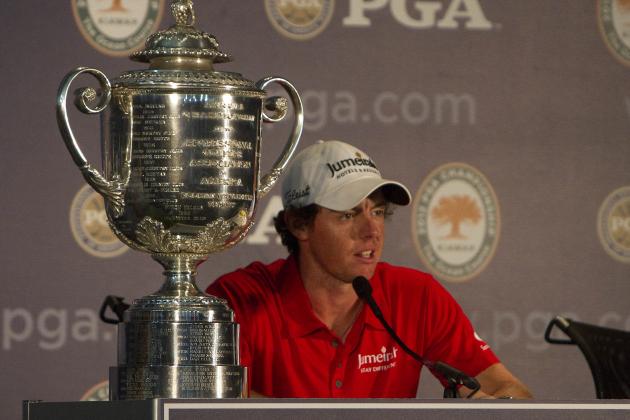 Joshua S. Kelly-US PRESSWIRE

As the dust settles on 2012's last major, it is time once again to look at five things to keep in mind from the 94th PGA Championship at Kiawah Island and into the future.
This year's PGA may be another turning point in the long history of the game after Rory McIlroy's devastating eight-stroke victory over Englishman David Lynn.
To the PGA's credit, it generally draws the strongest field of any event of the year, and this year was no exception.
No less than 102 of the top 103 players in the Official World Golf Ranking played at Kiawah this weekend. At 98th in the world, the little-known Lynn took full advantage of his PGA invite and turned it into an automatic invitation to The Masters next spring with his top-six finish. That paycheck for his solo second will be pretty handy as well.
As we turn now towards the PGA Tour Playoffs and the Ryder Cup next month, here are five things to keep in mind.
Begin Slideshow

»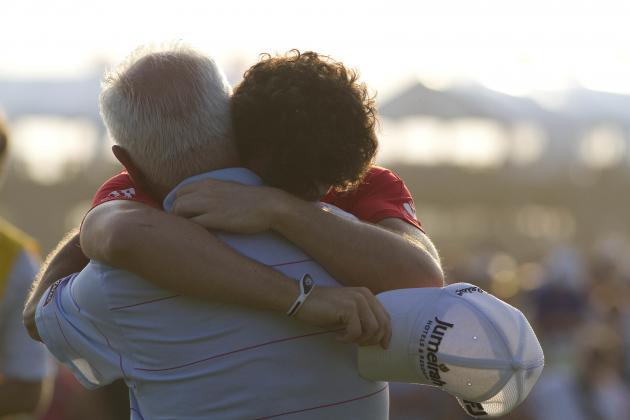 Joshua S. Kelly-US PRESSWIRE

The best moments in golf are the ones you do not see coming.
Really not considered a favorite coming in despite being ranked third in the world, McIlroy seemed lost after shooting that wind-blown three-over 75 on Friday. He had seemed to have Kiawah figured out after starting out with a 67 on Thursday, but it looked like it was the same aloof Rory come Friday night.
We could not have been more wrong.
Yes, the CBS cameras were lucky enough to see his tee shot go into a dead tree branch Saturday on the third hole, but he got up-and-down after having to take his one-shot unplayable penalty, and it was game over at that point.
The course was there to be had, and Rory obliged in ways that reminded us of Tiger Woods' conquests a decade ago.
There were no Sunday second thoughts. He just flat-out played the game and flourished.
What may have been the most impressive part of his win was his ability to dictate his score no matter where his tee shots landed. He simply understood the concept of "take what the course gives you."
Not many 23-year-olds understand that about life, let alone the mental challenge of golf.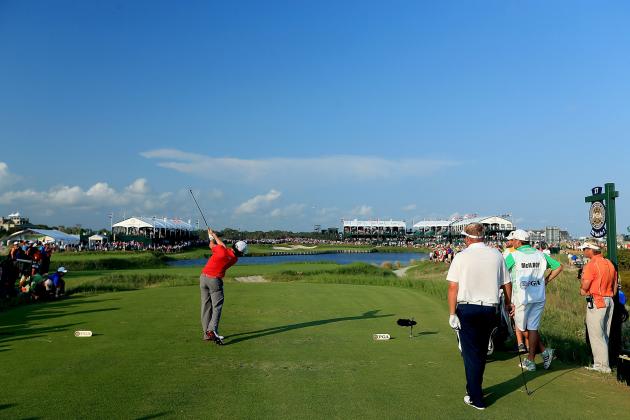 David Cannon/Getty Images

It might have looked good on television, but this course was just plain awful.
While the PGA usually does not care what the final score is in relation to par, if the wind had not destroyed Friday it would have probably been close to 20-under for the winner. That is not major championship golf.
Kiawah had no defenses except the wind, and that just turned the place into a cartoon.
The Open Championship link courses are dependent on wind to a degree for scoring as well, but they also have bunkers and rough that are the equivalent of a half-shot penalty when you find them.
Kiawah's sandy areas were incredibly easy in comparison. That was not sand, it was hard dirt and nearly impossible to get a ball to settle at all. Without the trees to get in the way, too many easy par approaches could be made with a missed green.
The whole tournament was set on it being windy. When it came Friday, it turned too extreme the other way.
Add the traffic jams to the place, and this was the lone major to be played here.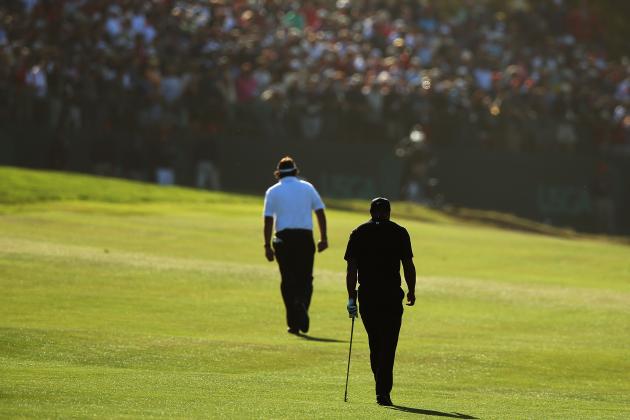 Ezra Shaw/Getty Images

The torch has been passed this weekend.
Phil Mickelson spent another weekend hoping to be in contention by putting himself too far out on Thursday to be a factor, and Tiger Woods' confidence is so fragile that a couple of leaky shots take him completely off his game.
Of the two, Woods is in better shape. He survived Friday with a 71 and again had himself in contention on the weekend.
However, Tiger failed miserably to take advantage of a course that suits him well and limped in with a 74 Sunday morning. It seems that Tiger still expects the field to tremble in fear by the very sight of his name on the leaderboard come Saturday.
It has been four-and-a-half years now since Tiger has won a major. The days of the rest of the field rolling over and playing dead because he is wearing his red shirt are gone.
He still has the game to win. However, the killer instinct is still in hibernation—he is going to have to trust his game more if he wants to beat Jack Nicklaus' record of 18 majors.
Phil just has not been mentally prepared all summer. His putting, shot decisions and general play have been nothing short of awful.
We know he can play Superman, but like the shortstop that can turn the great double play while booting an easy grounder, Phil has to come out and play basic golf—fairways and greens—and do the routine to make his creativity score instead of just saving par.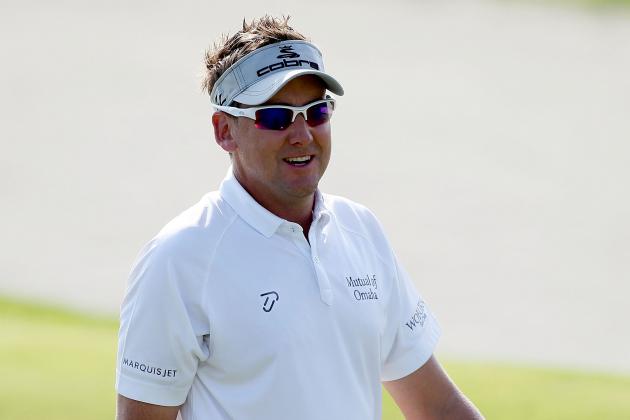 Sam Greenwood/Getty Images

We have been waiting for Ian Poulter to play like this for a while now.
On a course that ideally was way too long for his game, Poulter showed he was more than just a fashion idol and had nine holes of putting for the ages. He shot a front side of 31 Sunday because he drained his putts.
Ian should flourish next year at the short U.S. Open at Merion outside of Philadelphia. McIlroy was not going to be caught Sunday, but Poulter gave it his best effort to try.
Carl Pettersson was a relative unknown to casual fans until Sunday. After firing a opening round of 66, Pettersson hung in there on Friday and stuck around and was in the final group Sunday.
After missing his opening tee shot on the first in a hazard, Pettersson was found to have technically grounded his club in that hazard and given a two-stroke penalty.
Some of the hazards at Kiawah gave enough room for players to actually play out of. That was the case with Pettersson at the start. The rule here is pretty clear that you cannot dislodge anything attached in a hazard on your back-swing or address of the ball. Pettersson hit an attached leaf on his back-swing and waited two more holes to find out his fate.
Understandably upset, Pettersson made those two shots back up with birdies early and was a factor until McIlroy just ran away with things late.
Pettersson played the week of his life, made all the more impressive due to the uncertainty of his penalty.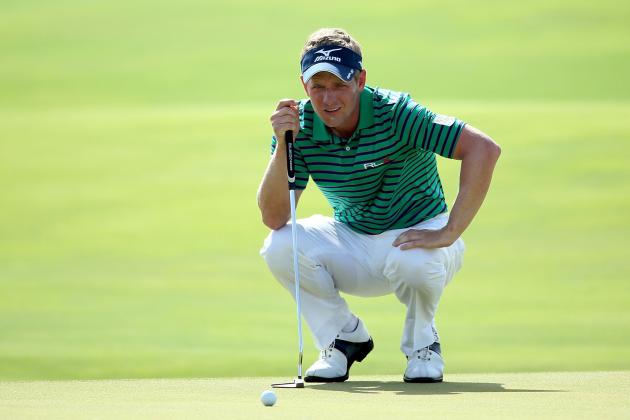 Andrew Redington/Getty Images

Going into the week as the No. 1 player in the world, one has to wonder at what point Luke Donald will stand up and try to play to his status.
After getting the golden opportunity to play the weekend after the cut line fell below his six-over 36-hole score, Donald had the chance to make a run. He started early Saturday on a course where a good score could be had but fell backwards with a two-over 74 instead.
While trying to deflect the blame on the design of the course, Donald has yet to seriously contend at a major this year. Yes, he did get a backdoor top 10 at the Open Championship, but he started that last round 10 shots behind Adam Scott.
We know Donald can play. He has won on both sides of the Atlantic this year and can be a force to reckon with. He has yet to be that force when it counts, though.
Casual fans do not care what a player's ranking is; they want to see what a player can do down the stretch on a Sunday afternoon.
This summer, at least, they had to get up pretty early Sunday morning, if he played at all, to see what Donald could do. That, sadly for him, was not all that much.