Auburn Football: Deciphering the Jovon Robinson Transcript Saga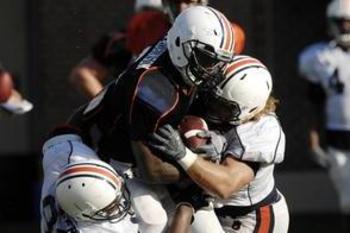 Todd Van Emst | Auburn University
On August 10th, word began to spread that Jovon Robinson had received a falsified transcript from his high school in Memphis, Tenn. The charge came after a guidance counselor at Robinson's school resigned, stating that they had created a falsified transcript to help Robinson land at Auburn.
So what could this mean for the Auburn Tigers football program?
Auburn has not been implicated of any wrong doing to this point and Auburn fans everywhere are concerned by the allegations that Robinson may have had grade changes, but where could Auburn have gone wrong?
There are a number of scenarios that could lead in a number of different directions for both Robinson and Auburn, but here is what is known, and the possible scenarios that could happen once the dust settles around this charge.
Breaking Down the Accusations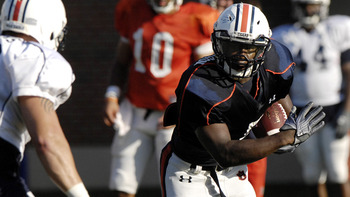 At this point, it has been reported by the Memphis Commercial Appeal that Auburn freshman running back Jovon Robinson had grade changes during high school to make him eligible to play this coming football season.
Auburn was looking for Robinson to make a possible impact, but at this point it doesn't appear to be going that way.
Robinson is a big-bodied back that brought a lot to the table for the Tigers' running game this season, but the allegations of falsified documentation have gotten him to the bench indefinitely. What does this all mean for Auburn?
What does this mean for Auburn?
The Birmingham News
To this point, this means nothing to Auburn outside of losing a major player for an instant impact role with the team.
Robinson—a 6'2", 227 pound back—was fighting for playing time this fall but he was going to earn that time behind a stable of running backs that are in line before him. Auburn has lost a running back option to this point, but the Tigers have not been implicated of any wrong doing in the situation.
Auburn is in a holding pattern while it waits for the NCAA to decipher the issues and to make a decision about the eligibility and the future of Robinson at Auburn.
What does this mean for Robinson?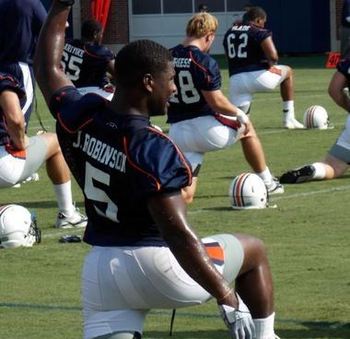 Photo via al.com
Robinson is now sitting on the sideline unable to practice because of these transcript issues. To this point, he will not play or practice with the team before this is resolved.
With the current stable of backs that Auburn has on roster, it was unclear if Robinson would earn a spot as a consistent playmaker for the Tigers this season, but he was making a charge—mainly due to his size and athleticism.
This could be a major issue for Robinson if he did in fact know about the changes made to his transcript. This could also be an issue that is centralized to the guidance counselor—a decision that was made outside of Robinson's knowledge.
Auburn and the NCAA are unsure about that at this point, but his continued presence with the team would lead to the conclusion that Robinson claims to have been unaware of the situation.
Worst Case Scenario for Auburn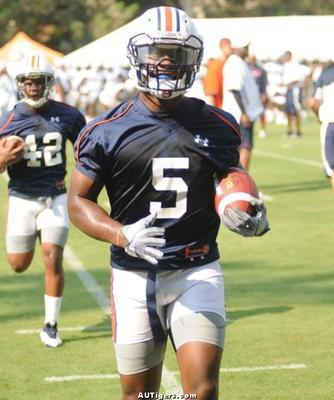 Photo via autigers.com
The biggest question surrounding this situation is who knew what and when did they know it.
Robinson never played a competitive down of football at Auburn, so that clears Auburn of any wrong doing or issues that they could face for having a competitive advantage by having him on the field.
That is the good news for Auburn.
What if someone inside the program did know about the issues that surrounded the transcript? Even worse—what if someone inside the program pushed for Robinson's grades to be changed?
If someone inside the Auburn athletic department knew about the grade changes, they would be immediately relived of their position and Auburn would have a lot of explaining to do before the NCAA. Sanctions would likely follow for the Tigers' program.
Breaking the ethical code of conduct to help land an athlete is a severe accusation and in this instance could end a career of a coach or administrator.
This is an absolute worst case scenario. It is highly doubtful that Robinson's grades were fixed at the request of an Auburn employee or coach, as the consequences would be far worse than the expected reward in landing one player to the program.
Auburn could face sanctions, but at this point it doesn't seem likely.
Best Case scenario for Auburn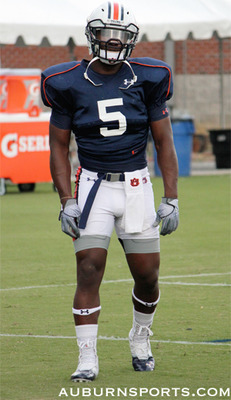 Photo via auburnsports.com
The best case scenario for Auburn at this point will be if Robinson can stay in school and remain on the team. If Auburn had nothing to do with the alleged fixing of grades then the program will not have a thing to worry about.
Robinson is a good player, but his time was going to be limited as a freshman—nothing changes there on the surface.
The best case scenario is that Robinson comes out not knowing about the allegations and that Auburn had no clue that Robinson had a transcript that did not match his classroom performance.
Auburn may wait to see him hit the field, but Robinson is worth the wait. Robinson did well this past summer semester at Auburn, so the issue with qualifying status looks more complicated than just the high school transcript.
Auburn has not been implicated of any wrong doing, and Robinson is still on the team. Both are good signs but this is a very fluid situation.
As this situation moves, updates will come.
Keep Reading

Auburn Football: Like this team?