Philadelphia Flyers: Five Biggest Questions Facing Philly's Defense in 2012-13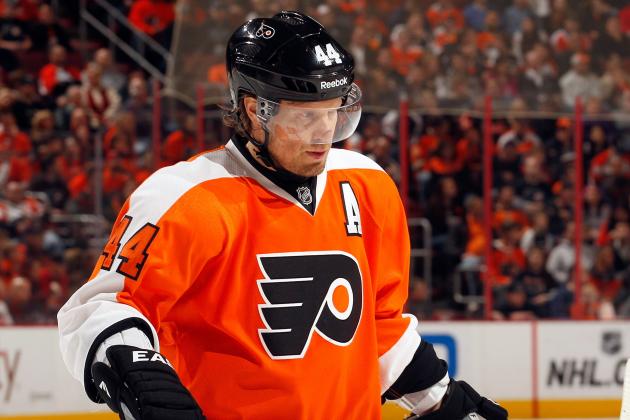 Rob Carr/Getty Images

For the Philadelphia Flyers, the biggest question mark in their lineup is the entirety of the defensive corps, and that question has been lingering since the middle of the 2011-12 season.
It began with the season-ending injury to Chris Pronger and continued well into the playoffs, when the team gave up 26 goals in six games against the Penguins and went on to be humiliated by the cycling of the Devils' offense.
Free agency and offseason injuries have taken additional tolls, and now the Flyers find themselves wondering just how the blue line can hold up in 2012-13.
Here are the five biggest questions facing the Philly defense as they prepare for a new season.
Begin Slideshow

»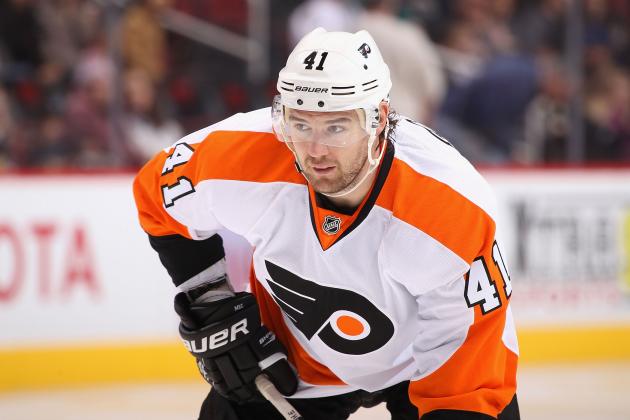 Christian Petersen/Getty Images

Andrej Meszaros is by no means the most important defenseman on the Flyers' roster.
However, his presence is vital for the team, as he rounds out a solid top four unit that would bear the majority of defensive responsibility while defensemen like Luke Schenn, Erik Gustafsson and Marc-Andre Bourdon get comfortable on the third unit.
Meszaros tore his Achilles tendon while training in Slovakia, an injury that has him sidelined indefinitely. The recovery could keep Meszaros out the entire regular season, with CSN Philly's Tim Panaccio reporting that a source called a return for the playoffs a "realistic goal."
However realistic, that goal sounds extremely discouraging.
It is hard to picture the Flyers not needing Meszaros's size, shot blocking and offensive abilities before the postseason rolls around.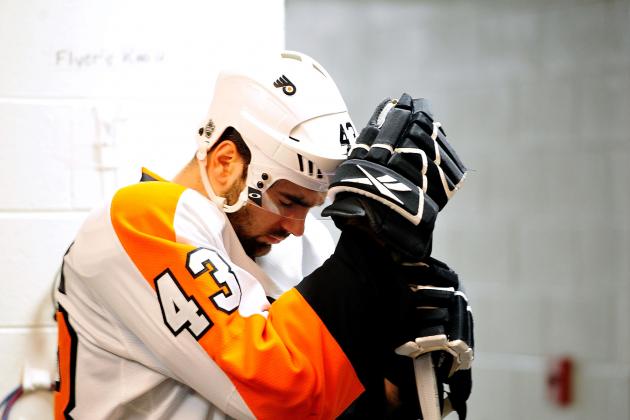 Grant Halverson/Getty Images

With Pronger, Meszaros and Andreas Lilja all sidelined for significant time with injuries, the Flyers will have three of their six defensive spots filled by players like Marc-Andre Bourdon, Erik Gustafsson, Luke Schenn, Bruno Gervais and Brandon Manning.
Bourdon and Gustafsson have yet to play a full season in their young careers, and Manning has skated in only four NHL games. Gervais has played in more than 60 games in a season only twice in his career.
Schenn's development is a huge question mark, and could make a major difference on the squad if the change of scenery allows him to take a great leap forward.
Young players are always expected to develop from year to year, but for the Flyers' newbies, the pressure to play at an NHL level is going to be higher than most.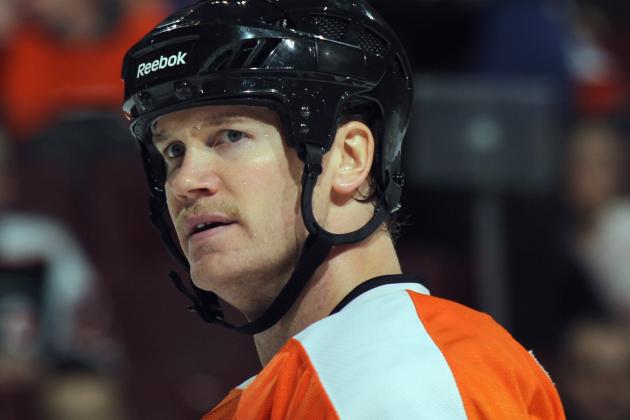 Bruce Bennett/Getty Images

At this point, you would have to be the world's most starry-eyed optimist to believe that Chris Pronger will ever play another game in the NHL.
The Flyers' faithful have seen the first-hand effect on more than one occasion, and no report released this summer has given any indication that Pronger is working his way back to the ice.
But even if we assume Pronger will never play again, whether he retires is a major point of concern for Philadelphia.
Pronger has an annual cap hit of $4.9 million that the Flyers will be stuck with even if he retires, under what is commonly known as the "35 and older" clause of the current CBA.
If he does not retire, the team can place him on long-term injured reserve after the first day of the season, effectively freeing up that cap space.
Pronger may choose not to retire, as the team will have to continue paying him his annual salary. However, remaining "active" would put off his eventual Hall of Fame induction.
Unless the NHL decides to use an amnesty clause in the new CBA, the Flyers will be hoping that Pronger keeps his active status so they can circumvent the "35 and over" rule.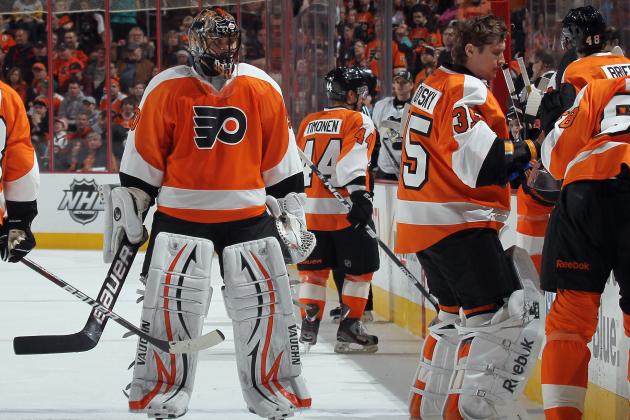 Bruce Bennett/Getty Images

It is impossible to talk about the team's defense without talking about the biggest scapegoat on the Flyers, Ilya Bryzgalov.
Goaltending issues are not new to the Flyers, and all eyes will be on Bryzgalov to see whether Mr. Universe seems like a space case again, or if he can recapture the cosmic magic of his March shutout streak.
If Bryz begins to live up to his nine-year, $51 million contract, the defense can breathe a sigh of relief.
But if Bryzgalov does not make strides in his second year in Philadelphia, the task of making up for Bryz's flaws may be too much for a defense with so many injury concerns.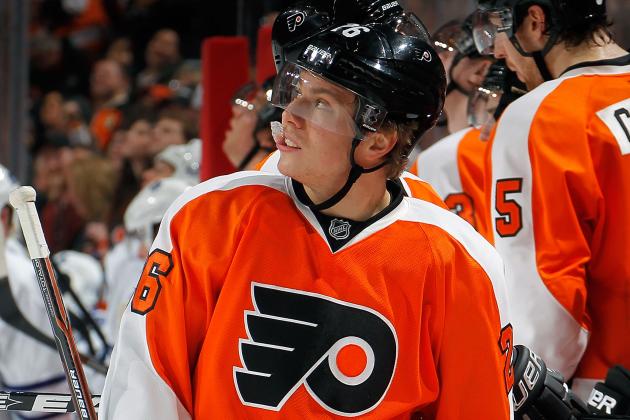 Paul Bereswill/Getty Images

As the Flyers whiffed on Ryan Suter and Shea Weber while losing Matt Carle to the Lightning, the one optimistic thought fans could fall back on was, "well, at least we're deep on the blue line."
The team had an anchor of four proven defensemen (Braydon Coburn, Andrej Meszaros, Nicklas Grossmann and Kimmo Timonen) to cycle in its top two pairs. Newly-acquired blueliner Luke Schenn, brother of Brayden, seemed a lock for the fifth spot.
The last spot could go to a mid-level veteran like Gervais and Lilja, or to one of Philly's developing defensemen like Gustafsson, Bourdon or Manning.
Only weeks removed from losing out on some of the best defensemen in the league, the Flyers have seen Meszaros and Lilja require surgeries that will cost significant portions of the season.
Suddenly, Schenn's responsibilities are greater. Timonen's age is a bigger concern, as his burden of responsibility becomes greater as the defensemen around him become less reliable.
There is pressure on Gervais to look like a veteran and pressure on Gustafsson and Bourdon to look NHL-ready.
To the optimist, the Flyers once looked like a hierarchy of defensive ability, with a strong corps overseeing depth players and rising stars. Now, to the realist, the Flyers are looking more like a ragtag assembly of the guys who were available.