Fantasy Football Mock Draft 2012: Round-by-Round Expert Projections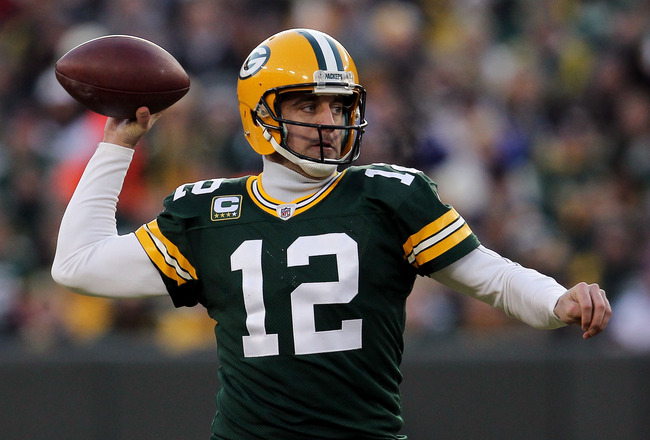 Jonathan Daniel/Getty Images
With the NFL regular season kicking off in less than a month, fantasy football leagues are gearing up with drafts of their own.
Here is a 2012 fantasy football mock draft with round-by-round projections. The following league consists of 12 teams and is also PPR.
Starting Roster:
QB
RB No. 1
RB No. 2
WR No. 1
WR No. 2
FLEX (RB/WR)
TE
K
DEF
Round 1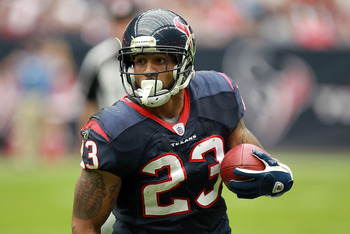 Ronald Martinez/Getty Images
1.1 Arian Foster
After missing three games in 2011, Foster still managed to score 12 touchdowns and combine for over 1,800 yards on offense.
1.2 Ray Rice
Rice is the Baltimore Ravens' entire offense and will see at least 20 touches per a game.
1.3 LeSean McCoy
McCoy led the NFL in scoring last season, scoring 21 TDs.
1.4 Aaron Rodgers
The best quarterback in 2011, Rodgers will lead the Green Bay Packers' high-powered offense in 2012.
1.5 Calvin Johnson
After having one of the best seasons for a wide receiver in NFL history, Johnson is by far the best fantasy wideout.
1.6 Drew Brees
Over 5,000 passing yards and 46 touchdowns in 2011, Brees will continue to dominate fantasy leagues in 2012.
1.7 Chris Johnson
One of the biggest busts in 2011, Johnson should have a bounce-back season with a full training camp under his belt.
1.8 Tom Brady
With tons of receiving options to throw to, Brady could be the top fantasy quarterback by season's end.
1.9 Maurice Jones-Drew
If Jones-Drew continues to hold out, his fantasy stock will fall even more.
1.10 Matt Forte
One of the top receiving running backs in the NFL, Forte is a must have in PPR leagues.
1.11 Wes Welker
Welker has had at least 111 receptions four out of the last five seasons.
1.12 Andre Johnson
After being injured for most of 2011, Johnson should bounce back to his dominant self in 2012.
Round 2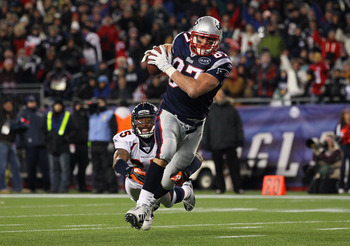 Al Bello/Getty Images
2.1 Marshawn Lynch
If Lynch ends up getting suspended for his recent arrest, he will drop out of the second round.
2.2 Adrian Peterson
The former top fantasy player is looking to show he can still dominate after a severe knee injury.
2.3 Rob Gronkowski
After scoring 17 touchdowns, Gronkowski has revolutionized the tight end position in fantasy football.
2.4 Larry Fitzgerald
Despite recording over 1,400 receiving yards in 2011, Fitzgerald still has Kevin Kolb as his starting quarterback.
2.5 Darren McFadden
If McFadden could stay healthy, he would be a first-round pick.
2.6 Fred Jackson
Before Jackson got hurt in 2011, he was one of the best fantasy RBs in the league.
2.7 Steven Jackson
Though he has always been on a horrible team, Jackson still manages to produce.
2.8 Jimmy Graham
Similar to Gronkowski, Graham proved in 2011 that he is one of the top receiving threats in the NFL.
2.9 Jamaal Charles
After suffering a season-ending injury in 2011, Charles is looking to show everyone why he has always been considered one of the better backs in the NFL.
2.10 DeMarco Murray
Murray did not get many starts in 2011, but he should be a great fantasy back in PPR leagues.
2.11 Brandon Marshall
Reunited with Jay Cutler, Marshall should become one of the top wide receivers in the NFL again.
2.12 Cam Newton
After having the best statistical season in NFL history for a rookie, Newton should continue to dominate fantasy leagues with his arm and legs.
Round 3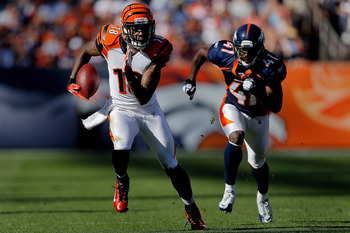 Justin Edmonds/Getty Images
3.1 Roddy White
White has had two consecutive seasons of at least 100 receptions and 1,200 receiving yards.
3.2 Frank Gore
Gore does not contribute much in terms of catching passes, but he is still one of the top running backs in the league.
3.3 Greg Jennings
Being Aaron Rodgers' go-to target makes you one of the better wideouts in fantasy.
3.4 Trent Richardson
Although he has not played a down in the pros, Richardson is expected to be the Cleveland Browns' entire offense.
3.5 Michael Turner
After two consecutive seasons with at least 300 carries, Turner's workload should be decreased in 2012.
3.6 Hakeem Nicks
Entering only his fourth season, 2012 should be a breakout season for Nicks.
3.7 A.J. Green
Coming off a Pro Bowl season as a rookie, Green is on the verge of becoming a top fantasy receiver.
3.8 Ryan Mathews
Even if he did not suffer an injury in preseason, Mathews still would have been drafted here.
3.9 Mike Wallace
If Wallace does not end his contract holdout anytime soon, he will fall outside the fifth round in fantasy drafts.
3.10 Peyton Manning
Manning looked healthy in his first preseason game and should perform like he did when he was with the Indianapolis Colts.
3.11 Steve Smith
All Smith needed was Cam Newton to get his career back on track.
3.12 Victor Cruz
One of the biggest fantasy surprises in 2011, Cruz should have another stellar season with Eli Manning throwing to him.
Round 4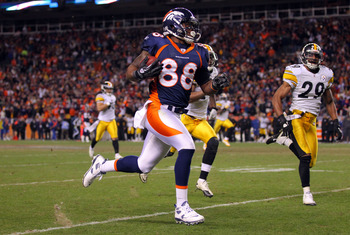 Doug Pensinger/Getty Images
4.1 Darren Sproles
Players like Sproles were made for PPR leagues.
4.2 Julio Jones
After his dominant performance in the Atlanta Falcons' first preseason game, Jones looks like he is going to be a top-10 fantasy receiver.
4.3 Jordy Nelson
Coming off a 15-touchdown season, Nelson could surpass Greg Jennings as the Green Bay Packers' top wideout.
4.4 Matthew Stafford
Stafford was finally healthy for an entire season and threw for over 5,000 yards.
4.5 Marques Colston
Colston is Drew Brees' best receiving option and should see a ton of targets.
4.6 Percy Harvin
With Adrian Peterson coming off a severe knee injury, Harvin could become the focal point of the Minnesota Vikings offense.
4.7 Ahmad Bradshaw
Now that Brandon Jacobs is gone, Bradshaw should see more touches in 2012.
4.8 Reggie Bush
If Bush can continue to build off of his performance last season, he will be a force in PPR leagues.
4.9 Demaryius Thomas
Peyton Manning has shown he is healthy, and that means Thomas will have a breakout season.
4.10 Dez Bryant
One of the most gifted athletes in the NFL, Bryant will become the top receiving option for Tony Romo in 2012.
4.11 Dwayne Bowe
Another player holding out, Bowe has has two consecutive season with at least 1,100 receiving yards.
4.12 BenJarvus Green-Ellis
After scoring 24 touchdowns over the past two seasons with the New England Patriots, Green-Ellis is now the lone running back in the Cincinnati Bengals backfield.
Round 5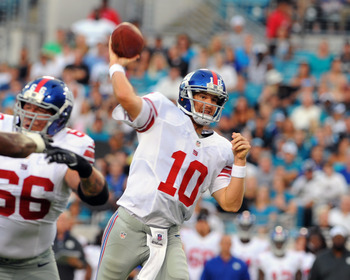 Al Messerschmidt/Getty Images
5.1 Stevie Johnson
After two straight seasons of at least 1,000 receiving yards, Johnson has solidified himself as a No. 2 fantasy WR.
5.2 Eli Manning
Coming off of his second Super Bowl victory, Manning will become one of the better fantasy quarterbacks in 2012.
5.3 Eric Decker
Peyton Manning makes wide receivers like Decker into reception machines.
5.4 Vincent Jackson
No longer with the San Diego Chargers, Jackson's numbers may see a bit of a drop in 2012.
5.5 Tony Romo
Though the Dallas Cowboys continue to struggle, Romo had one of his best statistical seasons in 2011.
5.6 Antonio Brown
If Mike Wallace continues to holdout, Brown will be drafted by the fifth round.
5.7 Antonio Gates
With no more V-Jax in San Diego, Gates is now Philip Rivers' best receiving target.
5.8 Willis McGahee
After rushing for over 1,100 yards last year, McGahee should see less defenders stacking the box with Peyton Manning as his QB.
5.9 Peyton Hillis
Although Hillis is in the same backfield as Jamaal Charles, he should still see plenty of carries.
5.10 Doug Martin
The rookie running back is expected to win the starting job for the Tampa Bay Buccaneers.
5.11 Isaac Redman
With Rashard Mendenhall coming back from injury, Redman will be the Pittsburgh Steelers top running back.
5.12 Kevin Smith
Smith is expected to be the Detroit Lions' starting running back in 2012 and has great upside in PPR leagues.
Round 6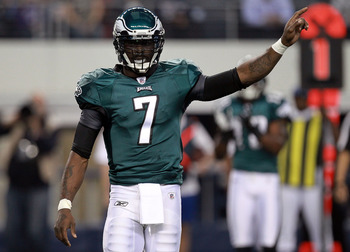 Ronald Martinez/Getty Images
6.1 Philip Rivers
Rivers struggled a bit last year, but should return to form.
6.2 Miles Austin
No longer the top WR for the Dallas Cowboys, Austin's fantasy value has significantly dropped over the past couple seasons.
6.3 Robert Meachem
Expected to win the No. 1 receiver job for the San Diego Chargers, Meachem will make a great No. 2 fantasy receiver.
6.4 DeSean Jackson
With no more contract distractions, Jackson will be much better in 2012.
6.5 Jeremy Maclin
The Philadelphia Eagles will be a much better team this season and Maclin will play a key role in their improvement.
6.6 Michael Vick
If Vick could stay healthy, he would be drafted much earlier.
6.7 Aaron Hernandez
Though sharing the field with the Gronk, Hernandez is still one of the best tight ends in the league.
6.8 Stevan Ridley
If Ridley can hold onto the starting position with the New England Patriots, he should make an adequate fantasy back.
6.9 Donald Brown
With a rookie quarterback in Andrew Luck, expect the Indianapolis Colts to rely on Brown often.
6.10 Shon Greene
Since the New York Jets have a poor passing game, Greene should see plenty of carries.
6.11 Pierre Garcon
Garcon looks like he will be the Washington Redskins' top receiving target in 2012.
6.12 Beanie Wells
Coming off his best season, Wells should make a solid No. 3 fantasy back.
Round 7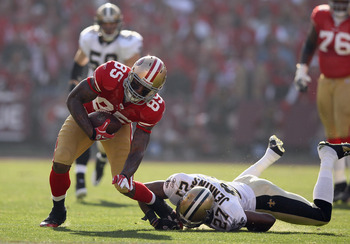 Ezra Shaw/Getty Images
7.1 Jason Witten
Witten is consistently one of the top fantasy tight ends, especially in PPR leagues.
7.2 James Starks
When you are a starting running back on the Green Bay Packers offense, you will definitely make an impact in fantasy football.
7.3 Vernon Davis
Despite the signings of Mario Manningham and Randy Moss, Davis will still be the top receiving target for Alex Smith and the San Francisco 49ers.
7.4 Brandon Lloyd
Lloyd is a great player, but he will be the fourth receiving option for Tom Brady.
7.5 Torrey Smith
Smith looks to build upon an impressive rookie season in the Baltimore Ravens offense.
7.6 Santonio Holmes
Holmes is the only legit receiver on the New York Jets roster, so no one else will be taking his targets.
7.7 Jonathan Stewart
With Cam Newton taking the goal-line carries, Stewart's fantasy stock has significantly dropped.
7.8 Jermichael Finley
Finley has the potential to join the elite class of tight ends with Rob Gronkowski and Jimmy Graham.
7.9 Mark Ingram
The New Orleans Saints backfield is too crowded for Ingram to have a significant fantasy impact.
7.10 DeAngelo Williams
See Jonathan Stewart.
7.11 Matt Schuab
After getting injured in 2011, Schuab will bounce back and throw for over 4,000 yards and 25 touchdowns.
7.12 Jacob Tamme
Tamme will be Peyton Manning's "Dallas Clark" with the Denver Broncos.
Round 8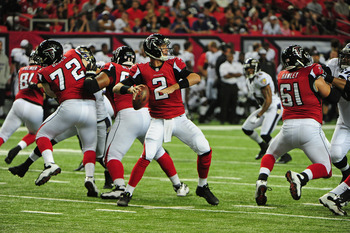 Scott Cunningham/Getty Images
8.1 Reggie Wayne
Andrew Luck is going to have to rely heavily on Wayne to help him out during his rookie season.
8.2 Jay Cutler
With Brandon Marshall on the Chicago Bears, Cutler has a great shot of becoming a top-10 fantasy quarterback.
8.3 Lance Moore
Now that Robert Meachem is gone, Moore looks like he will be the No. 2 for the New Orleans Saints.
8.4 Fred Davis
Davis has quietly become a top-10 tight end in the NFL and should see plenty of targets in 2012.
8.5 Denarius Moore
Moore has great shot of being Carson Palmer's go-to man this season.
8.6 Sidney Rice
Rice could not stay healthy in 2011, but when he is, he is by far the best receiver on the Seattle Seahawks roster.
8.7 Ben Tate
Even though he is Arian Foster's backup, Tate still managed to rush for over 900 yards last year.
8.8 Kenny Britt
Britt could be facing a suspension after his most recent arrest, so his fantasy stock may be on the decline.
8.9 Anquan Boldin
Before Boldin got injured toward the end last season, he was on pace to have over 1,000 receiving yards.
8.10 Matt Ryan
With receivers like Roddy White and Julio Jones, Ryan should finally take his game to the next level.
8.11 Nate Washington
If Kenny Britt gets suspended, Washington will be the Tennessee Titans' top wide receiver.
8.12 Michael Crabtree
Crabtree's stats aren't stellar, but he did record 72 receptions last season.
Round 9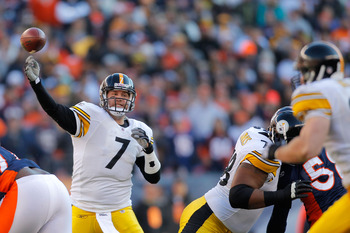 Justin Edmonds/Getty Images
9.1 Danny Amendola
Amendola is a great sleeper pick in PPR leagues, since he is the St. Louis Rams' go-to wideout.
9.2 Tony Gonzalez
Gonzalez is getting old, but he is still a top-10 tight end in the NFL.
9.3 Roy Helu
No one has any idea who will be the Washington Redskins' starting running back, but Helu is their best receiving running back.
9.4 Mario Manningham
Manningham's numbers should take a dip now that he is a part of the San Francisco 49ers' run-heavy offense.
9.5 C.J. Spiller
Spiller should see the field more after he did a great job filling in for Fred Jackson last season.
9.6 Michael Bush
Bush's fantasy stock will take a hit because he is no longer backing up the oft-injured Darren McFadden.
If Mike Wallace continues his holdout, Roethlisberger will struggle more in 2012.
9.8 Daniel Thomas
Thomas could see a significant amount of carries for Miami if Reggie Bush cannot stay healthy.
9.9 Davone Bess
With Chad Johnson gone, Bess will be the Miami Dolphins' top receiver.
9.10 Greg Little
Little had an impressive rookie season, recording over 60 receptions, and should continue to improve with the Browns.
9.11 Pierre Thomas
Darren Sproles and Mark Ingram are ahead of Thomas on the depth chart, so do not expect much from him this season.
9.12 Titus Young
If Young can become the No. 2 for the Detroit Lions at WR, he has a great shot of having a breakout year.
Round 10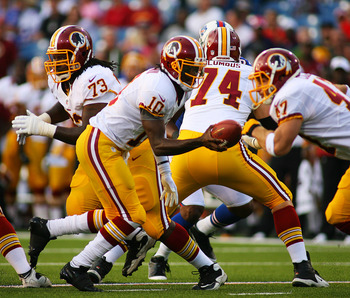 Rick Stewart/Getty Images
10.1 Santana Moss
Moss still has some value in PPR leagues and is oft-targeted in the Washington Redskins offense.
10.2 Tim Hightower
As of now, Hightower is listed as the starting back for the Redskins, but he is still recovering from an injury.
10.3 San Francisco 49ers Defense
Led by Patrick Willis, the 49ers defense should wreak havoc again in 2012.
10.4 Ryan Williams
After missing his entire rookie season last year, Williams should see a significant amount of touches in the Arizona Cardinals offense this year.
10.5 Houston Texans Defense
With Wade Phillips calling the plays, the Texans defense turned into one of the best in the league in 2011.
10.6 Darrius Heyward-Bey
Heyward-Bey finally showed some signs of becoming a solid NFL player, recording over 900 receiving yards.
10.7 Justin Blackmon
Though he has no one throwing to him, Blackmon will be the Jacksonville Jaguars top wide receiver.
10.8 Eddie Royal
Royal is expect to be the San Diego Chargers' slot receiver and could see a good amount of targets from Rivers.
10.9 Ronnie Brown
If Ryan Mathews cannot stay healthy, Brown will be getting his number called on.
10.10 Robert Griffin III
RG3's ability to run should make him a solid No. 2 fantasy quarterback his rookie season.
10.11 Josh Freeman
Head coach Greg Schiano will get Josh Freeman to bounce back and become a promising young signal-caller again.
10.12 Joe Flacco
Flacco will not put up huge numbers, but he is a good backup QB and should throw for over 3,700 yards and 25 touchdowns.
Round 11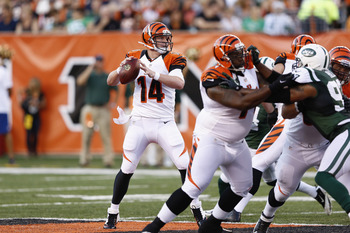 Joe Robbins/Getty Images
11.1 Baltimore Ravens Defense
The Ravens defense has been one of the best in the NFL for over a decade, and that streak will continue into 2012.
11.2 New York Jets Defense
Rex Ryan is one of the best defensive coaches in the NFL and will have the Jets defense performing at a high level.
11.3 Devery Henderson
Now that Robert Meachem is gone, Henderson is the outright No. 3 receiver for the New Orleans Saints.
11.4 Pittsburgh Steelers Defense
With players like Troy Polamalu and James Harrison, the Steelers defense will continue to be one of the best in the league.
11.5 Mike Goodson
Goodson is the new backup to Darren McFadden and will be Michael Bush 2.0 in 2012.
11.6 Evan Royster
Royster is one of three backs in the Washington Redskins backfield that should see some carries this season.
11.7 Toby Gerhart
Gerhart should see more carries overall with Adrian Peterson coming off of knee injury.
11.8 Mike Williams
After having 11 touchdowns two seasons ago, Williams is now just a receiver who can provide some depth on your fantasy team's bench.
11.9 Rueben Randle
Randle will step in and replace Mario Manningham as the New York Giants' No. 3 receiver.
11.10 David Wilson
The Giants' first round draft pick should see the field now that Brandon Jacobs is no longer a part of the team.
11.11 Chicago Bears Defense
The Bears defense has always been stout with Brain Urlacher leading them.
11.12 Andy Dalton
Coming off his rookie season in which he threw for 20 touchdowns, Dalton will continue to improve in Cincy.
Round 12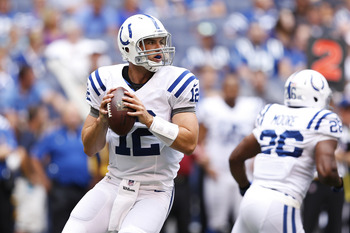 Joe Robbins/Getty Images
12.1 Brandon Jacobs
Jacobs has a shot of getting some goal-line carries for the Niners.
12.2 James Jones
Being the Green Bay Packers' No. 3 wide receiver, Jones sees his fair share of targets.
12.3 Randy Moss
Moss will have very little impact in the 49ers' run-heavy offense.
12.4 Andrew Luck
One of the most highly-rated prospects in NFL history, Luck will have a couple games in 2012 where he shows his greatness.
12.5 Bernard Scott
Scott will see the field more for the Cincinnati Bengals as a pass-catcher out of the backfield.
12.6 Philadelphia Eagles Defense
With several big name players on their defense, the Philadelphia Eagles will make up for their disappointing 2011 season.
12.7 Seattle Seahawks Defense
After finishing as a top-10 defense in 2011, this young defense will only get better.
12.8 Buffalo Bills Defense
With the additions of Mario Williams and Mark Anderson, the Bills defense will be much improved.
12.9 Carson Palmer
Palmer only played in 10 games last season, but still threw for over 2,700 yards.
12.10 Detroit Lions Defense
The Lions have a fantastic front seven, led by Ndamukong Suh, and should be a decent fantasy play.
12.11 Mike Tolbert
Tolbert's carries will be significantly decreased now that he is a part of the Carolina Panthers' crowded backfield.
12.12 Felix Jones
Jones will be the backup to DeMarco Murray and should see anywhere from five to 10 touches a game.
Round 13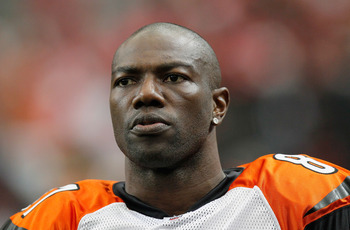 Kevin C. Cox/Getty Images
13.1 Brandon Pettigrew
Pettigrew will not match his 83 receptions he had in 2011, but will still play a key role in the Detroit Lions offense.
13.2 Brent Celek
Celek finished the 2011 season strong and will be the third or fourth receiving option for Vick.
13.3 Leonard Hankerson
Hankerson has made huge strides this offseason and looks like he will be the No. 3 for the Washington Redskins.
13.4 Jahvid Best
Best has still not been cleared to play yet, but when he is, he is a great receiving running back.
13.5 Terrell Owens
Owens has been out of the league for a year, but he has a legit shot of becoming the Seattle Seahawks' top target.
13.6 Laurent Robinson
With Blaine Gabbert throwing the ball, Robinson is no better than a No. 4 fantasy WR.
13.7 Brandon LaFell
Cam Newton is entering his second year and will look to get LaFell more involved with the offense.
13.8 Jonathan Baldwin
If Dwayne Bowe continues his holdout, Baldwin will be the Kansas City Chiefs top wide receiver.
13.9 Delone Carter
Donald Brown gets injured often, so Carter could end up being the Indianapolis Colts' starting running back at any point in the season.
13.10 Shane Vereen
Vereen is battling for the backup running back spot for the New England Patriots, who use a plethora of RBs.
13.11 Rashard Mendenhall
Mendenhall is expected to miss the first six games of the season, but when he returns, he will see plenty of carries.
13.12 Green Bay Packers Defense
With players like Clay Matthews and Charles Woodson, the Packers defense will make up for an underachieving 2011.
Round 14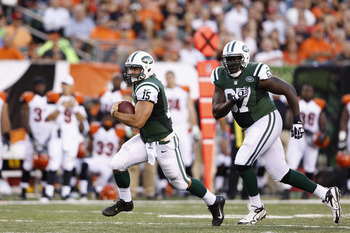 Joe Robbins/Getty Images
14.1 Joe McKnight
McKnight should see the field more after LaDainian Tomlinson's retirement.
14.2 Coby Fleener
Is a rookie, but Fleener will still have his college quarterback, Andrew Luck, throwing to him.
14.3 Sam Bradford
After an injury-filled 2011 season, Bradford should get back on track with new head coach Jeff Fisher.
14.4 Dallas Cowboys Defense
With the additions of Brandon Carr and Morris Claiborne, the Cowboys defense will finish in the top 10.
14.5 Ryan Fitzpatrick
Despite throwing 23 interceptions, Fitzpatrick did throw for 24 touchdowns and close to 4,000 yards.
14.6 Mikel Leshoure
After serving a two-game suspension at the beginning of this season, Leshoure should see some carries for the Detroit Lions.
14.7 Alex Smith
The San Francisco 49ers went out and got Mario Manningham and Randy Moss, so Smith's numbers should improve.
14.8 Tim Tebow
Prediction: Tebow will become the New York Jets' starting quarterback in 2012, and he has solid fantasy value with his ability to run.
14.9 Kellen Winslow
Winslow has always been a reliable tight end in PPR leagues and is coming off a 75-reception season.
14.10 Danny Woodhead
BenJarvus Green-Ellis is gone, so Woodhead has a shot to see some more playing time for the Pats.
14.11 Brian Hartline
Though he is dealing with some injuries right now, Hartline has a great chance of being a starting wide receiver for the Miami Dolphins.
14.12 Austin Collie
Collie looked to be Luck's favorite target in the Indianapolis Colts' first preseason game.
Round 15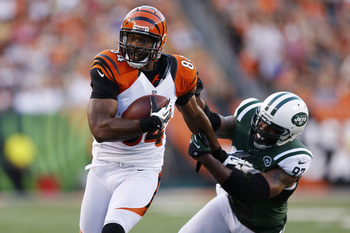 Joe Robbins/Getty Images
15.1 Dexter McCluster
McCluster only has little fantasy value because of his ability to run the ball and also line up out wide.
15.2 Isaiah Pead
With Steven Jackson often playing injured, Pead will see a good amount of carries in his rookie season.
15.3 Jared Cook
After finishing with nearly 800 receiving yards last season, Cook appears to be a tight end on the rise.
15.4 Jermaine Gresham
After A.J. Green, Gresham is the next best receiving target in the Cincinnati Bengals offense.
15.5 Greg Olsen
Olsen should see more targets in 2012 since Cam Newton is more comfortable in the Carolina Panthers offense now.
15.6 Dustin Keller
Though the New York Jets' passing game is weak, Keller still finished with over 800 receiving yards in 2011.
15.7 Owen Daniels
If Daniels can stay healthy for an entire season, he is bound to be a top-10 fantasy TE.
15.8 Marcedes Lewis
After scoring 10 touchdowns two years ago, Lewis has came back to reality and will continue to put up marginal numbers at best.
15.9 Ed Dickson
After finishing his first season as a starter with over 50 receptions, Dickson should continue to be a solid No. 2 fantasy tight end.
15.10 Martellus Bennett
Now that Bennett is with the New York Giants, he will now have some fantasy value similar to what Jake Ballard and Kevin Boss had in the past with the G-men.
15.11 Heath Miller
Throughout his NFL career, Miller has always been a reliable tight end and will have another season of around 50 receptions.
15.12 Chris Cooley
Cooley has not been able to stay healthy, which has caused his fantasy value to significantly drop over the past couple seasons.
Round 16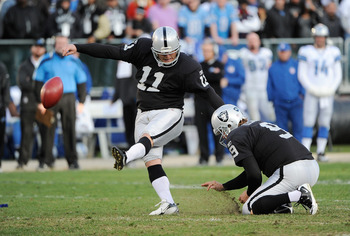 Thearon W. Henderson/Getty Images
16.1 David Akers
16.2 Stephen Gostkowski
16.3 Mason Crosby
16.4 Sebastian Janikowski
16.5 Matt Prater
16.6 Garrett Hartley
16.7 Dan Bailey
16.8 Rob Bironas
16.9 Matt Bryant
16.10 Robbie Gould
16.11 Dan Carpenter
16.12 Alex Henery
Keep Reading