With Chicago Bears training camp winding down, the position battles have been heating up. Sunday afternoon's practice saw the Bears' defense have a dominate showing, but as usual Jay Cutler and Brandon Marshall continued to shine.
Here are a few of my observations from Sunday's practice:
The biggest news coming out of Sunday's practice was Brian Urlacher telling the media he will be ready for the opener:
"Sept. 9, I'll be ready to play for sure, that's really all that matters to me. Preseason games, all these practices ... I'd love to be out there, but I'm not going to put myself in jeopardy of missing the first game"
Urlacher spent his day patrolling the sidelines with his new trademark look; a big floppy white hat.
The next biggest story was the injury to defensive tackle Stephen Paea. Paea sat out practice and was wearing a walking boot on his left ankle. Paea says he'll be out for 1-2 weeks with the injury. The Bears are already thin at the defensive tackle position, and they moved Israel Idonije inside on occasion with Shea McClellin taking over at left defensive end.
One of the loudest crowd reactions today came during the running back/defensive back blocking drill. Craig Steltz, Major Wright, and Trevor Coston all were getting the best of their counterparts during the blitzing drill. Steltz was the ring leader, cheering on and chest pumping his fellow defensive backs after each big play.
With Nick Roach playing the middle linebacker position because of Urlacher's injury, and Geno Hayes sitting out because of an illness, second-year player J.T. Thomas got most of the starting snaps at strong-side linebacker. Even though the Bears are confident Urlacher will be back, Thomas was able to get some valuable time with the first team.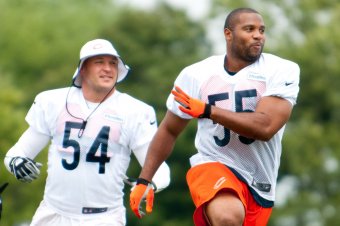 Bradley Leeb-US PRESSWIRE
Chris Williams saw the majority of snaps at left tackle for the second day in a row, keeping that position battle wide open. Cory Brandon saw a lot of time today with the second team at right tackle and even filled in at times for Gabe Carimi with the first team. The Bears are searching for a backup at the right tackle position and seem to be giving Brandon the chance to take it.
The connection between Jay Cutler and Brandon Marshall is unmistakable. Marshall is nearly always Cutler's first read, but the Bears' starting QB did struggle a bit with the long ball today. Alshon Jeffery is still catching everything in sight and continues to build off his productive game Thursday night.
Kelvin Hayden saw time with the first-team nickel package after D.J. Moore went down and performed well. Hayden spent time last year at the nickel back spot with the Atlanta Falcons and gives the Bears someone with experience playing both inside and out.
Interceptions were the highlight for the defense. Charles Tillman, Tim Jennings, and Major Wright all came down with picks, and the defensive backs did a nice job all day of being aggressive with the wide receivers.
Matt Eurich is a contributor to BearsBacker.com. Follow Bears Backer on Facebook and Twitter for up to the minute news about the Bears. Also, follow him on Twitter @MattEurich.