Dwight Howard, LA Lakers Shake Up the NBA: 2012-13 Win-Loss Predictions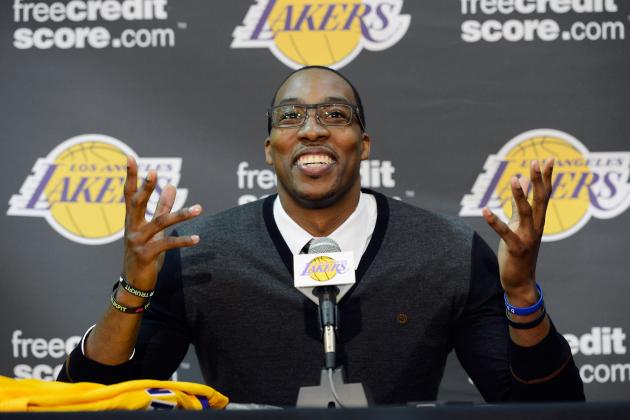 Kevork Djansezian/Getty Images

Dwight Howard was finally traded to the Lakers from the Orlando Magic, arguably making Los Angeles the best team in the NBA, or at least one of the top teams.
The Howard trade affected more than just the four teams involved in the deal. The trade will alter competition and affect teams all around the league.
Other than a few minor free-agent deals, the NBA offseason is almost over and the regular season is getting closer. Over the summer, teams signed free agents and made trades in order to improve their rosters in hopes of either rebuilding, making the playoffs or even winning the title.
Here are regular season win-loss predictions for every NBA team.
Begin Slideshow

»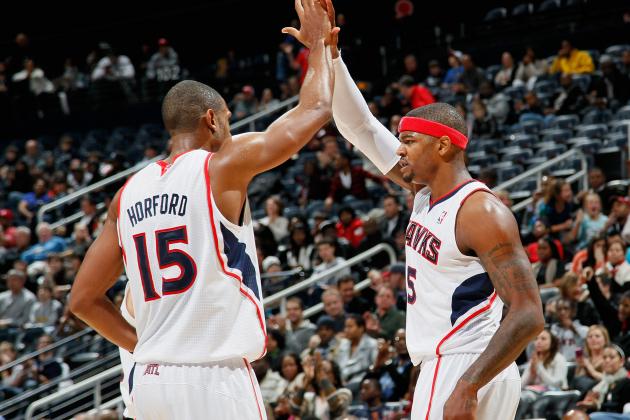 Kevin C. Cox/Getty Images

The Hawks had a decent offseason and made some interesting moves. They unloaded the burden of Joe Johnson's contract, acquired shooters Anthony Morrow and Kyle Korver and gained a couple of point guards to help out Jeff Teague.
Although the team acquired some talent and freed up cap space, losing Johnson leaves them with a large hole to fill. Lou Williams can be explosive, but the team no longer has a real scoring threat at either guard position.
Atlanta is going in a positive direction. They have draft picks and new cap space, but this year the team's success depends entirely on the two big men, Josh Smith and Al Horford. That might be enough to try to sneak into the playoffs, but not enough to accomplish anything big this year.
Prediction: 41-41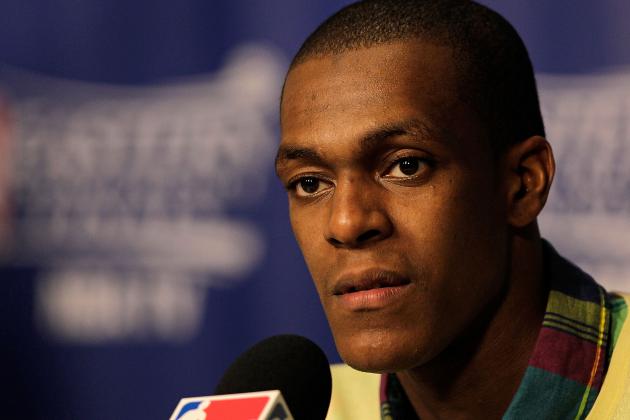 Mike Ehrmann/Getty Images

The Celtics did not make many moves this offseason, although they did re-sign forward Kevin Garnett and replace Ray Allen with Jason Terry.
Even without Allen, the team still has core pieces in Garnett, Paul Pierce and Rajon Rondo, and Terry is a good replacement at shooting guard. This team also has a very good young core, with Avery Bradley, Brandon Bass and rookie big men Kris Joseph, Fab Melo and Jared Sullinger.
Overall, expect the Celtics to be pretty dangerous. They have depth, both young and old players and a whole lot of size down low.
Prediction: 54-28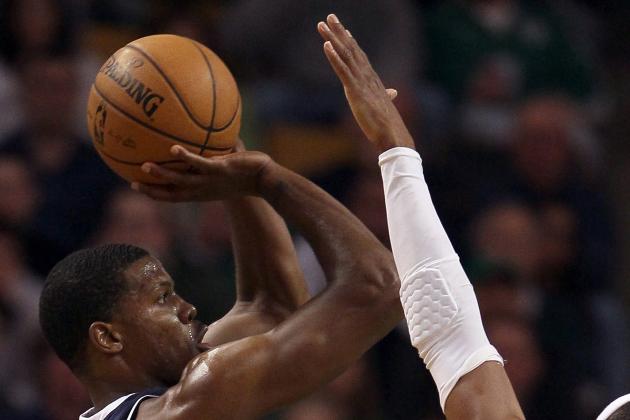 Elsa/Getty Images

The Nets had a very busy offseason.
For starters, the team re-signed key players Deron Williams, Gerald Wallace and Brook Lopez. They also traded for Joe Johnson, an oversized guard who can be a great second or third scoring option. The team also signed Tyshawn Taylor and Jerry Stackhouse and re-signed Kris Humphries.
Though these additions seem great, Brooklyn finished 22-44 with almost the same team last year except for Johnson. It is easy to get swept up in the hype, but don't get too excited. The team will definitely be better, and most likely better than the other New York squad, but don't necessarily expect a deep playoff run.
Prediction: 45-37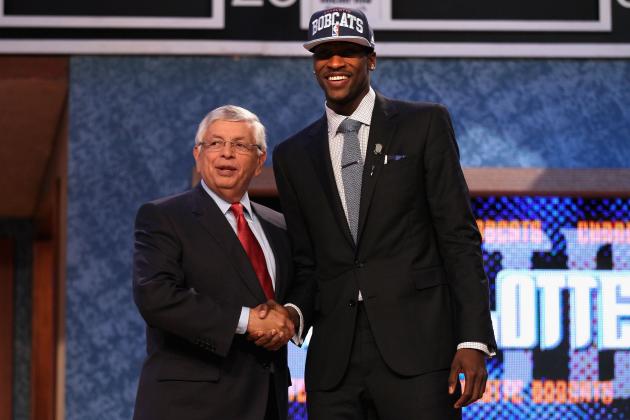 Elsa/Getty Images

The Bobcats made a couple of moves this offseason that could help the team in the long run. They announced Mike Dunlap as the new head coach, drafted Michael Kidd-Gilchrist second overall and signed point guard Ramon Sessions.
Unfortunately, Gilchrist is no Anthony Davis. He is a good prospect, but the team does not really have a go-to scorer and is severely lacking down low. The Bobcats will get better, but for now, they will still be at the bottom of the conference.
Prediction: 15-67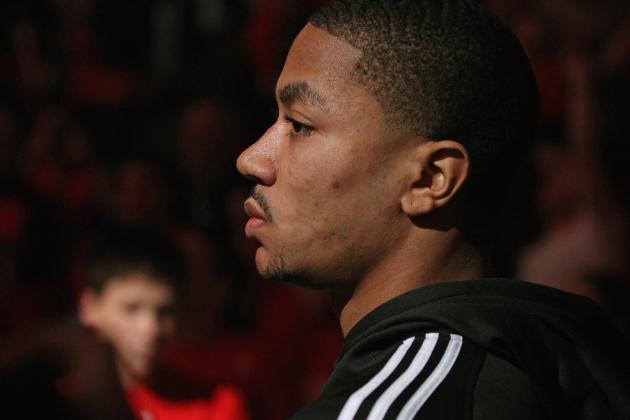 Jonathan Daniel/Getty Images

The Bulls had a fairly quiet offseason, as their biggest additions were Marco Belinelli and Nate Robinson. We all know this team has the potential to be great, but it all depends on the health of Derrick Rose, who went down with a torn ACL last season.
We saw last year that the Bulls can function and do surprisingly well without Rose, but they can't challenge the Heat for the top spot in the Eastern Conference with their starting point guard missing more than half the season. Who knows if the Rose who comes back from injury is the same player who carried his team while winning the MVP two seasons ago.
Prediction: 45-37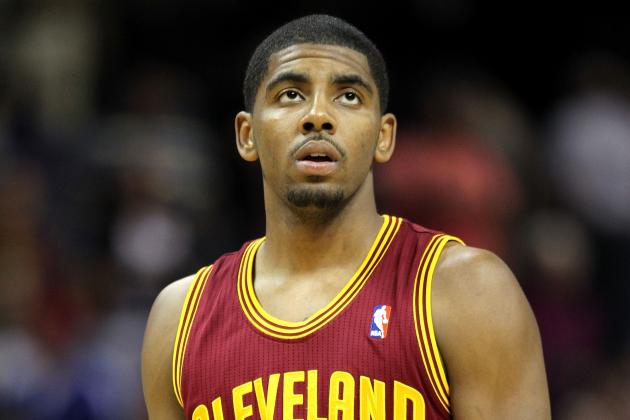 Andy Lyons/Getty Images

The Cavs are in the midst of the rebuilding process and may be ready to win in a few years, but it seems unlikely that this team can pose any sort of threat this season.
Their offseason was very quiet, as they didn't sign any big free agents, and their main moves were drafting Dion Waiters and Tyler Zeller in the first round.
Speaking of those rookies, neither one exactly impressed people with their play in the summer league.
Zeller shot just 46 percent from the field and averaged only 11.4 points per game. The fourth overall pick, Waiters, scored 12.3 points per game and shot a horrendous 30 percent from the field. A few games don't say that much, but things aren't looking good for Cleveland's rookies.
Once again, it looks like this team will depend on Kyrie Irving. Ideally, it would be nice to see Waiters, Zeller, Thompson and other young players develop into solid contributors, but so far they haven't shown any evidence of doing so.
Prediction: 28-54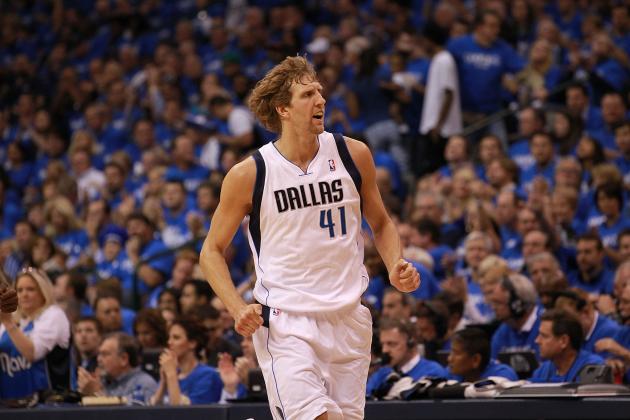 Ronald Martinez/Getty Images

The Mavs lost Jason Kidd and Jason Terry in the offseason, but you could definitely say they improved.
Dallas added a bunch of good players, including O.J Mayo, Darren Collison, Chris Kaman and Elton Brand. Rookie Jae Crowder also showed great potential in the summer league.
None of those guys are stars, but they should be good complements to veteran forward Dirk Nowitzki.
A lot of moves were made, so Dallas will have to develop chemistry—and the West is always competitive—but the Mavs should improve from last year.
Prediction: 45-37
Streeter Lecka/Getty Images

The Nuggets were one of four teams involved in the Dwight Howard deal. Denver sent away Arron Afflalo and Al Harrington, but gained All-Star swingman Andre Iguodala.
Iggy has an opportunity to thrive in Denver, where he will not have to be the No. 1 scoring option. He will probably fit in as a No. 2 or 3 scoring option after Ty Lawson and/or Danilo Gallinari.
The trade creates depth at the wing, with Gallinari, Iggy and Wilson Chandler, plus younger players Jordan Hamilton and rookie Evan Fournier.
There is less talent down low, though sophomore forward Kenneth Faried and newly acquired Anthony Randolph should be solid at power forward. Javale McGee is an above-average center.
The Nuggets have a pretty good team. They are young, they have energy, they have depth and they have enough talent to be a dark-horse team to make a run in the playoffs.
Prediction: 49-33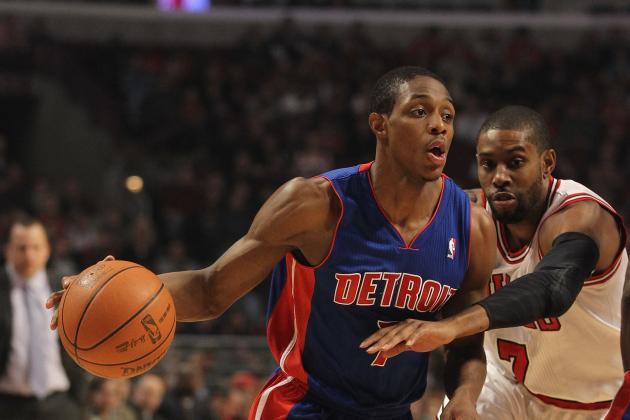 Jonathan Daniel/Getty Images

The Pistons had a very quiet offseason, which is unfortunate considering that the team is still far from being done with the rebuilding process.
Detroit added a few rookies, including Andre Drummond, Kim English and Kyle Singler. Those guys add depth to the roster, but none of them should make an immediate impact.
For now, the team's future stars remain Brandon Knight and Greg Monroe.
Maybe these new rookies will develop into good players, or maybe Rodney Stuckey will live up to his potential, but it seems unlikely for now that those two guys will get much help from the rest of the team. Detroit will stay a mediocre team.
Prediction: 30-52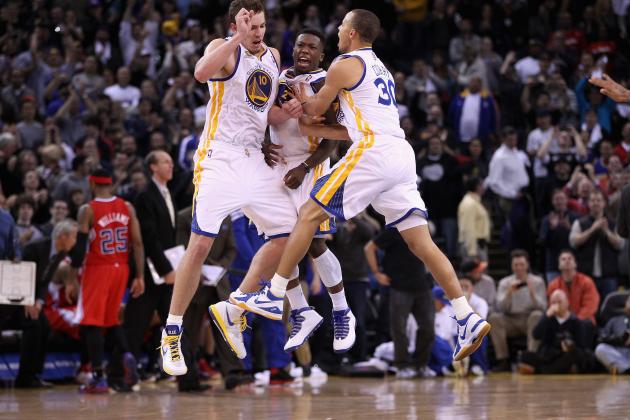 Ezra Shaw/Getty Images

The 2011-2012 season proved to be another disappointing year for Warriors fans, as the team finished just 23-43. However, the team seems to have made some productive moves that could help them improve this year.
First, the team drafted Harrison Barnes and Festus Ezeli. Both can make an immediate impact. Barnes will play a lot of minutes at small forward, and Ezeli should find ample time backing up starting center Andrew Bogut.
In addition, the team really improved its bench after adding Jarrett Jack and Carl Landry, two players who could start on many teams. Ezeli, Brandon Rush, Richard Jefferson and Andris Biedrins round out a very deep bench.
The depth is there, but the team's play depends on the performance of Stephen Curry and Bogut.
Bogut has All-Star potential, but he needs to stay healthy to make any impact.
As for Curry, the team committed to him by choosing to trade guard Monta Ellis rather than Curry. Now, Curry needs to step up and really be the All-Star player everyone knows he can be.
The Warriors could be good, but a lot has to go right. More than likely, another team will make the last playoff spot, and Golden St. will finish as the ninth or 10th seed in the competitive West.
Prediction: 37-45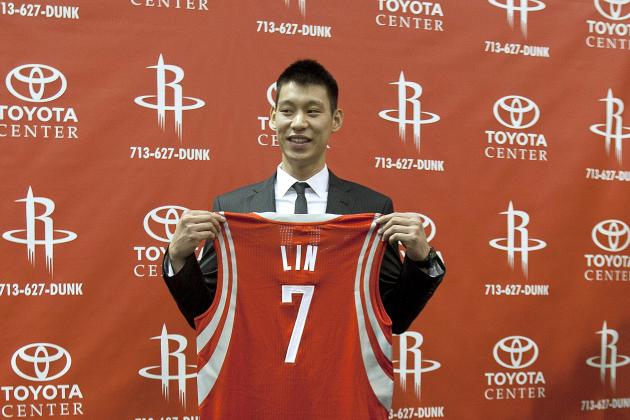 Bob Levey/Getty Images

The Rockets had a busy offseason, but not an especially good one.
On the bright side, they've become one of the NBA's youngest teams with just one player on the roster with more than 10 years of NBA experience. That could mean success a few years down the road. But for now, there isn't much hope for this team.
Houston lost quality players in Kyle Lowry, Luis Scola, Courtney Lee and Marcus Camby. Though they did add Omer Asik and Jeremy Lin, let's face it: Lin is no Lowry and for Asik to be anything more than an average center in this league is doubtful.
One thing is for sure: the prospects on this team will be fun to watch. Jeremy Lamb, Donatas Motiejunas and Royce White were all great in the summer league and could develop into great players. Throw in other prospects Patrick Patterson, Marcus Morris, Chandler Parsons, E'Twaun Moore and JaJuan Johnson and you can expect to see a good Rockets team in a few years.
For now, expect to see the team struggle.
Prediction: 26-56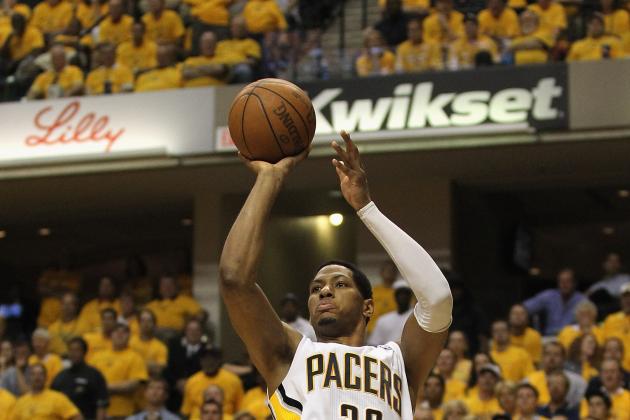 Jonathan Daniel/Getty Images

There really isn't much to say about this team.
Ian Mahinmi and Gerald Green are good additions to the bench, but other than that this is really the same team as last year.
D.J Augustin is not really better or worse than Darren Collison at point guard, so expect about the same production there.
Tyler Hansbrough, Roy Hibbert and Paul George could continue to improve which could lead Indiana to some extra wins.
They won't be an amazing team, but they should be good enough to take the third or dourth seed in the East and at least advance to the second round of the playoffs.
Prediction: 51-31
Harry How/Getty Images

The Clippers were pretty good last season and made some good moves this summer that should help them improve.
Nick Young is gone, but former Sixth Man of the Year Jamal Crawford is a very good pickup that the Clippers can use off the bench. Grant Hill is a cheap and easy way of adding some defense and veteran leadership to the team.
Combine the all-star power of the Blake Griffin-Chris Paul duo with the veteran leadership coming from Hill, Crawford, Chauncey Billups, Lamar Odom, Kenyon Martin and Caron Butler—then factor in L.A.'s depth—and you could have a contender.
The key word there is "could." There are a lot of teams rising in the West that will make it a competitive conference this year.
Prediction: 53-29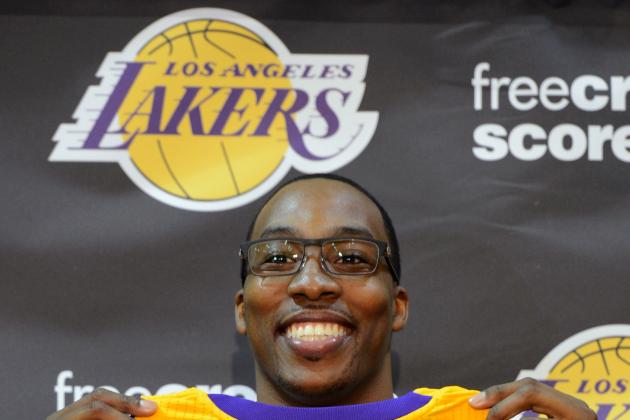 Kevork Djansezian/Getty Images

Well, Dwight Howard got what he wanted. He quite possibly screwed over his old franchise and its fans for years to come, but Howard is in L.A where he is happy.
Lakers fans should be happy, too.
As if we thought the Heat's roster was crazy, the Lakers have formed an even better super team. They've created a big four that consists of Howard, Steve Nash, Pau Gasol and Kobe Bryant.
People will try to poke holes in their roster and point out that they don't have a bench, but they have more of a bench than the Heat did two years ago. In fact, Jordan Hill, Antawn Jamison, Chris Duhon, Steve Blake and Troy Murphy are pretty decent. If nothing else, they at least have some experience.
Don't get me wrong, I'm not saying the Lakers are a lock for a title, because they aren't.
Nash is 38, Howard is going to miss the beginning of the season due to injury, the bench is below average and the team will likely need a few weeks before they develop chemistry. In addition, either Kobe or Dwight will have to make a sacrifice and take less shots if they want this team to work. Otherwise, it could end in disaster.
But, this team should do well. If all is going according to plan, the Lakers can beat the Spurs. They can beat the Thunder. They might even be able to beat the Heat.
I'd expect them to struggle out of the gate, but finish the season strong.
For those of you upset, at least take pleasure in the fact that this dynasty can't last very long. After all, Kobe and Nash will likely both be retired within five years and Gasol will be on his way out.
Prediction: 61-21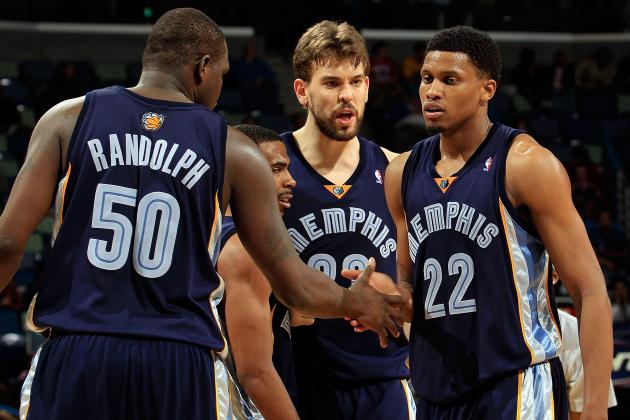 Chris Graythen/Getty Images

The Grizzlies did not really make any improvements to the roster this offseason. In fact, the only real difference this season is that O.J Mayo won't be there, which will affect the team's bench play.
Even without Mayo, this team still boasts an amazing front court trio.Rudy Gay is a great scorer, Zach Randolph can be dominant when healthy and Marc Gasol emerged as an all-star center last season.
The key to this team's success really depends on whether Randolph can stay healthy and whether or not Randolph and Gay can get along. Memphis had some chemistry issues last season and those same issues could keep them from making a run at a title this year.
Prediction: 48-34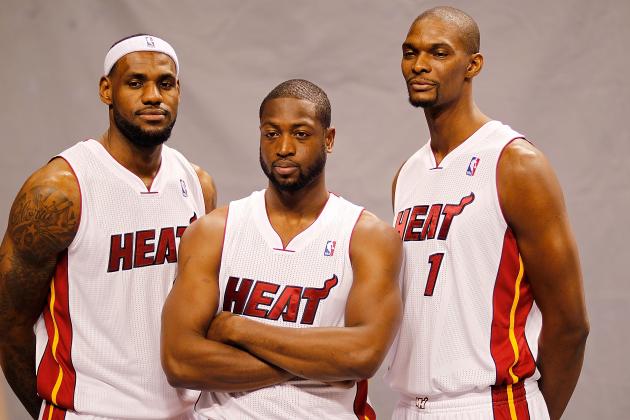 Mike Ehrmann/Getty Images

The Lakers had a great offseason, but don't underestimate the moves that the reigning champions made this summer.
We all know that this team has a great starting lineup that includes the big three, but they now also have depth. Norris Cole, Udonis Haslem, Shane Battier and Mike Miller already headlined the Heat bench, and now the team has added veteran sharpshooters Ray Allen and Rashard Lewis.
Allen and Lewis bolster Miami's depth and its chances of winning another title. Other than Boston, it has no real competition in the East and could find an easy path to the Finals. Whether the Heat can beat the Thunder, Spurs or Lakers once they get there is more debatable.
Prediction: 60-22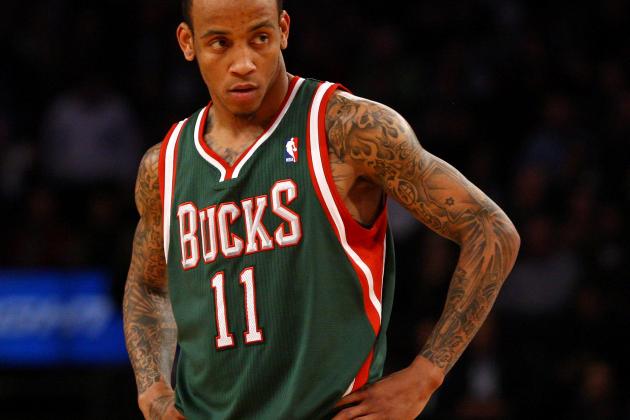 Chris Chambers/Getty Images

The Bucks had a quiet offseason and didn't make any major moves, but they can still improve. The backcourt of Brandon Jennings and Monta Ellis has the potential to be amazing, but Jennings has yet to live up to his potential.
Unfortunately, the rest of the team is rather lacking.
Milwaukee has plenty of forwards, but none of them really give them a dominant inside force. John Henson was amazing in the summer league and looks to be a promising rookie, but it is unlikely that he can be a go-to scorer down low so early in his career.
Ellis and Jennings are good, but they can only take this team so far.
Prediction: 39-43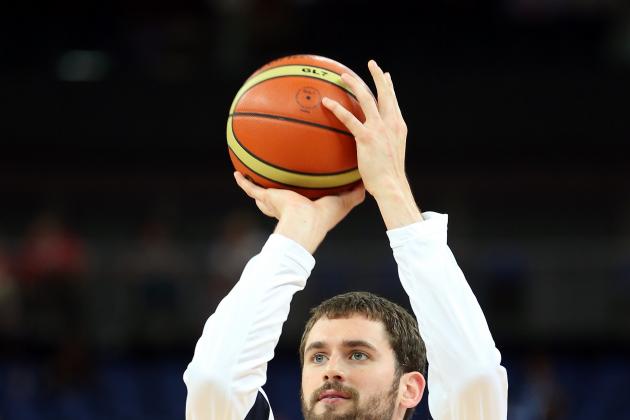 Christian Petersen/Getty Images

The Timberwolves are just a couple seasons removed from being one of the NBA's worst teams, but they are definitely on their way up.
Though the team lost Anthony Randolph and Michael Beasley to free agency, neither really fit in their system, anyway. Both had heaps of potential, but neither were used much and are better suited with their new teams.
That isn't to say Minnesota didn't try and compensate for their losses: the additions of Andrei Kirilenko and Chase Budinger should make Minnesota better.
Minnesota has some depth and some youth, but Ricky Rubio and Kevin Love are undeniably the motors of the team. Without those two, Minnesota would be nothing.
Love has been extremely efficient in scoring and grabbing boards and is putting up legendary numbers. Ricky Rubio has the potential to be one of the better passers the league has ever seen. Those two have already developed some chemistry together and should push for the seventh or eighth seed in the West.
Prediction: 43-39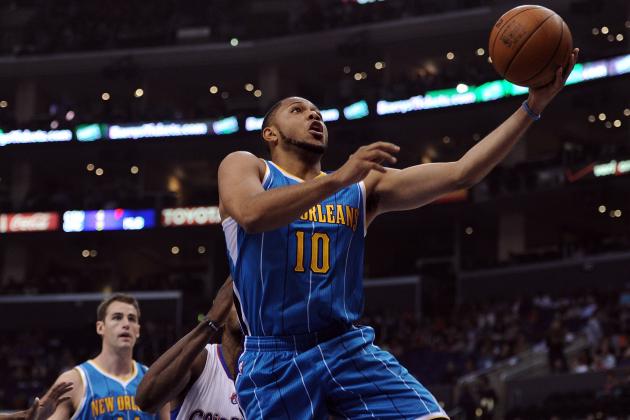 Harry How/Getty Images

The Hornets were left with a pretty bad team last year after the Chris Paul trade and finished with a 21-45 record, but there is some hope in New Orleans.
Along with re-signing go-to guy Eric Gordon, the Hornets won the draft lottery and selected coveted Kentucky forward Anthony Davis, who is already a gold medalist without ever playing an NBA game. Despite not playing in the summer league, Davis enters the season as the favorite for Rookie of the Year.
Don't underestimate the additions of forward Ryan Anderson and guard Austin Rivers. With those new players, the Hornets have some youth and could be very interesting in a few years. Unfortunately, the loss of Jarrett Jack leaves them with a pretty big hole at the point guard position and the number of other young up-and-coming teams in the West will once again push New Orleans towards the bottom of the conference.
Prediction: 27-55
Jeff Zelevansky/Getty Images

When head coach Mike Woodson took over in the middle of last season, the Knicks really started playing like a winning team. Now, Woodson needs to sort out all the issues between s Amar'e Stoudemire and Carmelo Anthony.
Carmelo and Amar's's offensive styles clash, so one is going to have to make a sacrifice. Woodson needs to get Amar'e to be efficient and productive again and keep Melo from being a black hole on offense.
After their big three of Melo, Amar'e and Chandler, the Knicks have a fairly strong bench. Kurt Thomas, Jason Kidd and Marcus Camby add a lot of experience to go along with explosive shooters Steve Novak and J.R Smith.
Watch out for some more underrated players such as sophomore Iman Shumpert, who may be one of the best defensive players in the league. Raymond Felton could possibly rejuvenate his career as he is once again paired with Stoudemire.
If the Knicks can sort out the minor issues and stay healthy, they'll be pretty good. Not as good as Knicks fan are probably hoping for. though.
Prediction: 46-36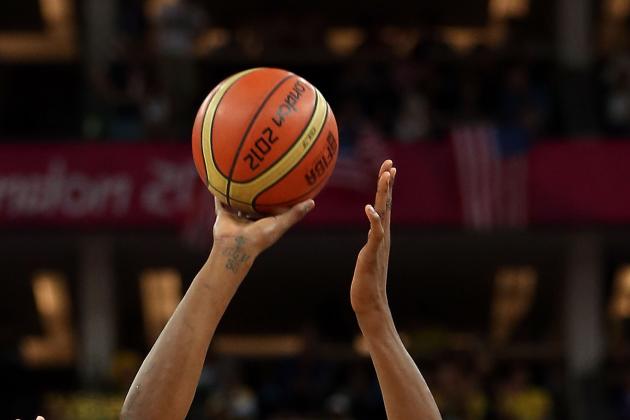 Christian Petersen/Getty Images

The Thunder are the same team they were last year: a team filled with young superstar talent.
At some point they will need to make a decision between keeping either James Harden or Serge Ibaka, but for now they'll focus on using all the talent on the roster in an effort to win a championship. The team got so close last year, and losing in last year's Finals has likely encouraged and fueled Russell Westbrook and Kevin Durant to be even better this year.
The Lakers have now emerged as a new threat in the West, but the Thunder will be more motivated than ever to win a ring now.
Prediction: 60-22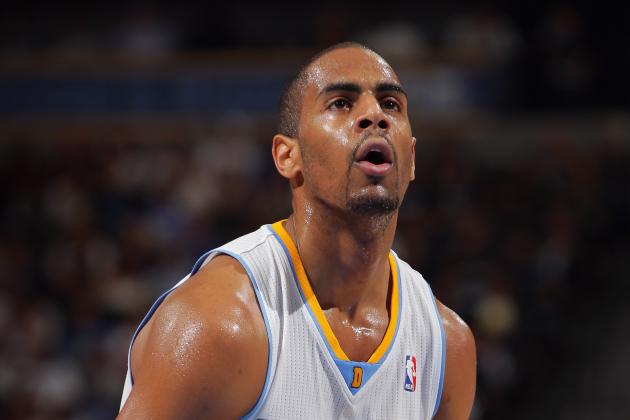 Doug Pensinger/Getty Images

The guy in that picture is Arron Afflalo. It's sad to say, but Afflalo is now one of Orlando's star players. They could have reeled in a huge package for Howard and instead settled for Afflalo, Al Harrington, Nikola Vucevic, Moe Harkless and a couple of draft picks.
The Magic have no hope for this season. Its point guard is one of the league's worst; it has no star players, no go-to scorers, no post scorers and no impressive young talent, either. Dwight Howard has left this team with virtually nothing.
They may not be as bad as the Bobcats, but second-worst in the league isn't something to be proud of.
Prediction: 19-63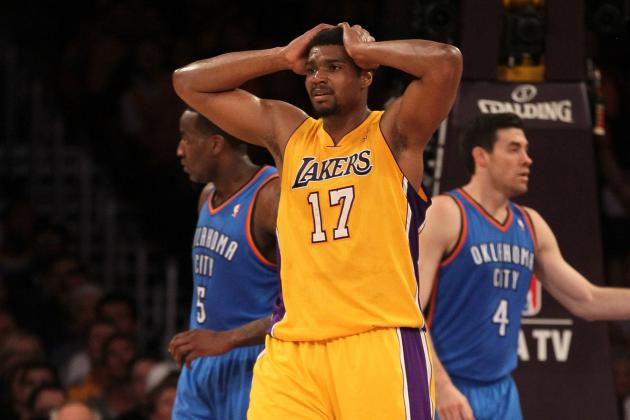 Stephen Dunn/Getty Images

The Sixers had a productive offseason and made some important moves that should help them climb the standings in the East.
Re-signing Spencer Hawes and signing guard Nick Young were smart moves. Then, of course, they participated in the Dwight Howard deal, sending Andre Iguodala to Denver and Vucevic to Orlando in exchange for Andrew Bynum and Jason Richardson.
Trading for Bynum was a great idea. He has his health issues, but he finally gives Philly a dominant force down low and will become a centerpiece for the team.
As for Richardson, he is an underrated addition to their bench. Don't forget that just a few years ago he was scoring almost 20 points a game. He makes what was already a strong bench even stronger, and the Sixers can expect to win a few more games this year.
Prediction: 47-35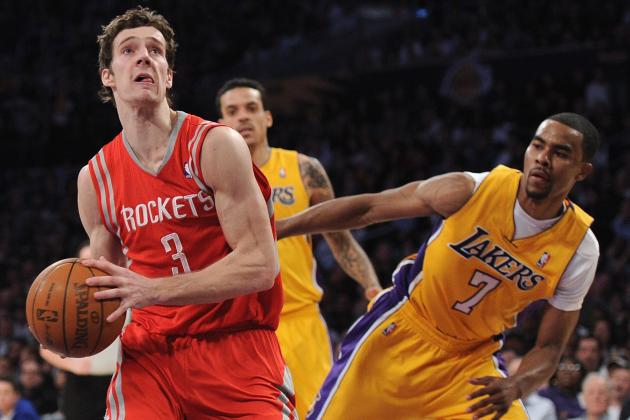 Harry How/Getty Images

The Suns have finally entered the post-Nash era, and they did a great job starting the rebuilding process this summer. The team traded Nash and got rid of scrubs Hakim Warrick and Josh Childress and brought in multiple future draft picks as well as signed Goran Dragic, Luis Scola and Michael Beasley.
Dragic is no Nash, but he quietly had a breakout season last year and is a good addition. Backing him up will be rookie Kendall Marshall, who could become one of the better passers in the league if he develops according to plan.
As for Beasley, he now gets the opportunity to become the team's number one scoring threat and perhaps finally live up to his potential. Beasley, Scola and Gortat make up a fairly strong frontcourt.
Still, Phoenix won't go anywhere this year. The team is young and they have a lot of picks in the next couple years, so maybe they will be a good team again in a few more seasons. But rebuilding doesn't take one summer. Phoenix will finish in about the same situation they were in last year.
Prediction: 38-44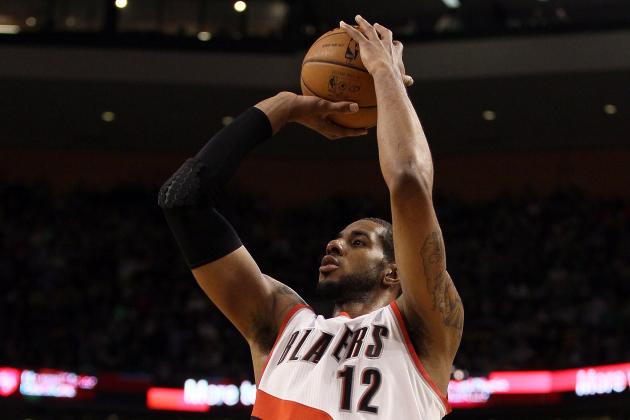 Elsa/Getty Images

Portland didn't have an active summer, though they did re-sign Nicolas Batum, who is unhappy in Portland. Batum probably won't be any happier after this season either, since it doesn't look like the Blazers will have a great season.
On the bright side, LaMarcus Aldridge is still there. Batum is still there. J.J Hickson and Wesley Matthews are decent players. Outside of that, this team doesn't have a lot of talent.
Rookie Damian Lillard absolutely annihilated the competition in the summer league, so maybe he'll have a positive impact on the team.
Still, that isn't nearly enough to make the playoffs.
Prediction: 35-47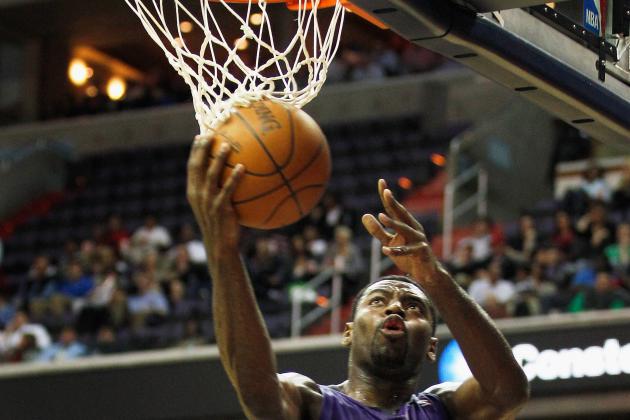 Rob Carr/Getty Images

The Kings made a couple of nice moves over the summer, including re-signing Jason Thompson, drafting Thomas Robinson and signing Aaron Brooks. Brooks adds depth to the point guard position and Robinson, DeMarcus Cousins, Chuck Hayes and Thompson are a set of quality players down low.
Don't forget that this team has other young players, such as Tyreke Evans, Isaiah Thomas and Marcus Thornton. Put together and it sounds like a fairly solid team.
But this team didn't make enough moves to significantly improve.There is still too much competition for them to come close to a playoff spot.
Prediction: 29-53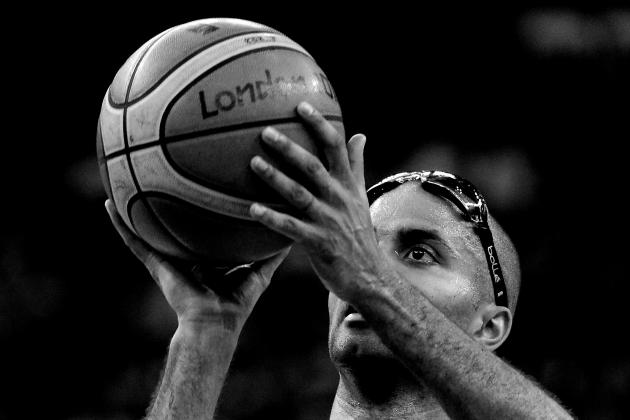 Ronald Martinez/Getty Images

For the Spurs, time is quickly running out. They didn't make any big moves this offseason, which means they're left with the same old team that has star players Tony Parker, Manu Ginobili and Tim Duncan.
The Spurs have fantastic coaching and chemistry, but Duncan is 36 years old and is getting worse each year. The team does have some youth in Kawhi Leonard, DeJuan Blair and Gary Neal, but they only have a couple more years to make a run at a title. They'll go for it, but who knows if they can still beat the Thunder or Lakers in the West at this point.
Prediction: 57-25
Streeter Lecka/Getty Images

The Raptors made a few moves this summer, landing Kyle Lowry from Houston to be the starting point guard and adding Terrence Ross and Landry Fields to their bench.
They now have a lot of depth with Ross, Fields, Calderon and others, but they still don't have a presence down low. Andrea Bargnanican't rebound for his life and isn't a post-up player. Although Jonas Valanciunas is promising, he hasn't played a single game yet.
They made a couple improvements, but Toronto will finish last in its division and almost last in the conference.
Prediction: 30-52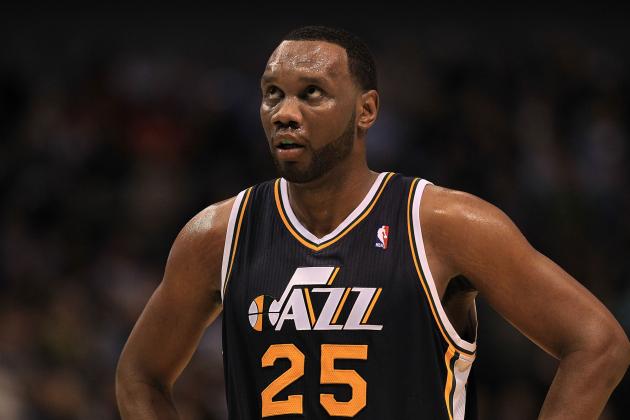 Ronald Martinez/Getty Images

There isn't really much to say about the Jazz as it didn't make many improvements to the team.
Marvin Williams, Mo Williams and Randy Foye are new, but none of them will help in making a deep playoff run. For now, a core of Al Jefferson, Paul Millsap and Gordon Hayward will get them to about the same place they were last year—a low playoff seed with no real shot at a title.
Prediction: 42-40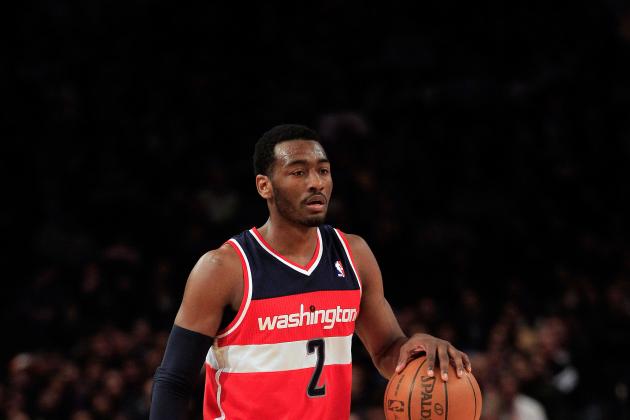 Chris Trotman/Getty Images

The Wizards finished with just 20 wins last season and were one of the league's worst teams. Fortunately, they made a few acquisitions to help the team improve for this season.
They started by adding shooting guard Bradley Beal with the third pick in the draft. Beal is a great shooter and has the potential to make a great backcourt partner with John Wall.
Washington also acquired a few veteran players over the summer in Trevor Ariza and Emeka Okafor.
With their new players, the Wizards are better. They have a core of Nene, Wall, Beal and also have Okafor, Ariza and Jordan Crawford. That is enough talent to improve over last season; however, they are still a long way from being playoff-bound.
Prediction: 30-52