How Memphis Grizzlies Match Up Against L.A. Lakers After Dwight Howard Trade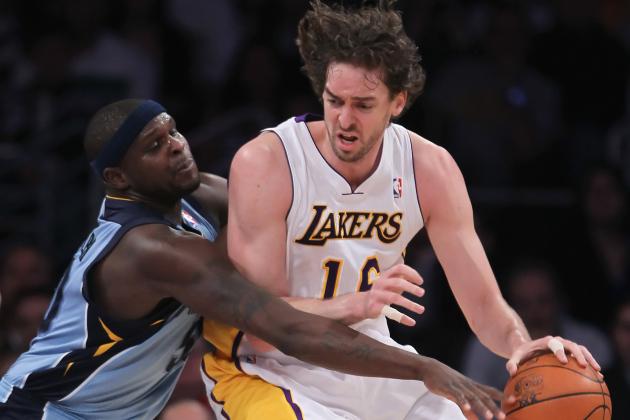 Jeff Gross/Getty Images

The Los Angeles Lakers became the heavy favorites to win the Western Conference after trading for Dwight Howard. The Lakers have three of the top 15 players among the top 25 in the league and one more very good player in the lineup. All five starters have made All-NBA teams and three have been All-NBA defenders.
Fortunately, there's competition out in the conference for the Lake Show. One team that won't lie down and watch the Lakers run away with an NBA title is the Memphis Grizzlies.
While Memphis is considered by many to be a dark-horse candidate to win the Western Conference, the "grit and grind" squad is capable of beating any team in the conference. The Grizzlies can shut down any team on their home floor. Their stifling defense is strong enough to contain a high-flying offense.
Following is a breakdown of matchups between the Lakers and Grizzlies that looks at each position in the starting lineup and then compares the two teams' benches.
Begin Slideshow

»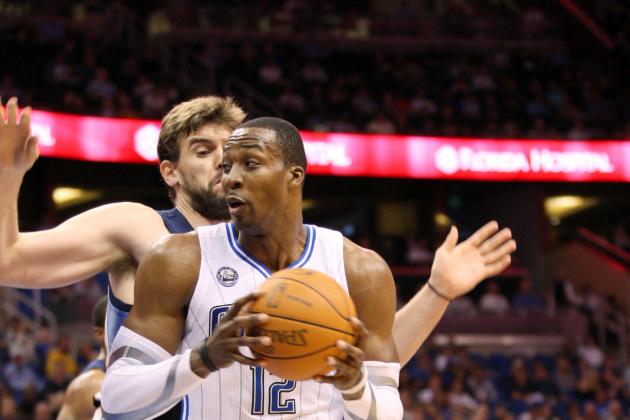 Douglas Jones-US PRESSWIRE

Dwight Howard is the most fearsome man in the middle in the NBA. He can be relentless knocking down shots on the inside. He'll periodically have dismal shooting nights, but generally he's a dead-on shooter.
Marc Gasol can defend him with his solid frame and formidable size, but Howard's combination of girth and quickness are too much for Gasol.
On the other side, Howard would shut Gasol down. Gasol can muscle his way in for the right shot or put himself in the right place for a hook or jump shot, but Howard could easily stop him in his place or block his shot. Howard is one of the most skilled shot-blockers in the game and a false move from Gasol would play into Superman's hands.
Generally, Howard's defensive skills are simply too much for Gasol. Besides shot-blocking, Howard is scary on defense, the way he stays aware and moves in step with his man.
Gasol hasn't figured out how to beat the best away from the FedEx Forum. He shot worse than 40 percent from the field on the road against winning teams.
If he can't play decent in an adverse environment, there's little hope that he can tackle the best center in the game.
Edge: Howard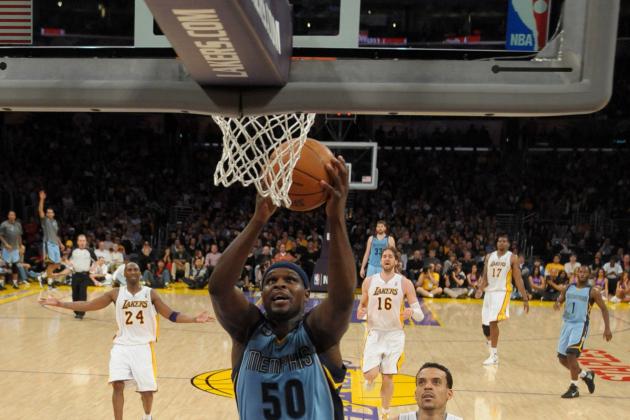 Kirby Lee-US PRESSWIRE

Both Randolph and Gasol are starting down the backsides of their careers. Both were in their age 31 playing years. Both ran into some adversity. Gasol saw his effectiveness wear off to some degree. Randolph missed most of the year with a partially torn MCL.
Randolph and Gasol went in different directions in the playoffs. Whereas Gasol was a non-factor for the Lakers in the playoffs, Randolph was hot on the comeback trail.
Looking at this coming season, Randolph and Gasol look to be losing a bit of their athleticism. Now, this means more for Gasol than it does for Randolph. Gasol has long depended on breaking defenders down and beguiling them with his moves. Randolph has mostly spent his career making up for a relative deficiency in athleticism.
Randolph has made up for that with timing and strong leverage.
While Gasol will simply decline a little bit this season, Randolph will be working hard to make up for lost time. To see Randolph achieve another 20-10 year as he returns to his role as the key offensive cog in the Grizzlies' double post scheme wouldn't be surprising.
Gasol may take advantage of a few extra opportunities provided by Steve Nash, but he won't be as compelled to sustain his high level of play as Randolph will be.
Edge: Randolph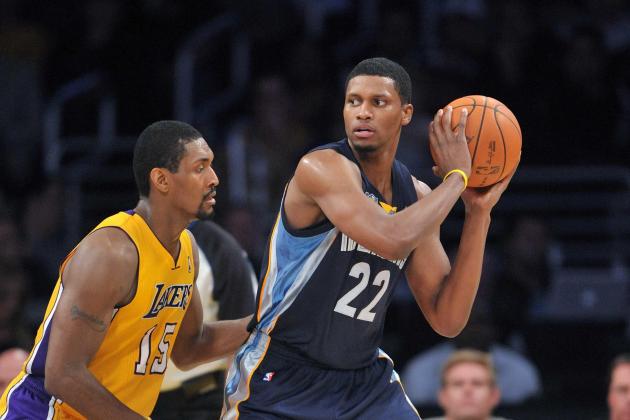 US PRESSWIRE

Once upon a time, Metta World Peace was a terrifying defensive player—one of the best at defending the perimeter—who could also make his presence felt on offense.
Now, the veteran Laker is far past his prime and isn't the defensive stopper he used to be. He only had 1.1 steals per game last season and had a middling defensive rating of 105 points allowed per 100 possessions. He also doesn't make as much of a dent on offense. He averaged 7.7 points per game and shot 39.4 percent from the field.
Meanwhile, Rudy Gay is on the rise. Gay can do a wide variety of things on offense. He can drive off the dribble, make plays on the fast break, hit outside shots and go up strong inside. He's the most prolific dunker out of backcourt players.
Gay is capable of taking over scoring, but rarely goes off for a ton of points. That's why he only ended up averaging 19 points per game in 2011-12.
He's also a strong defender. He averaged 1.5 steals per game and had a solid defensive rating of 102 points allowed per 100 possessions.
Thus, Gay is far better than Metta World Peace on both ends of the floor heading into this coming season.
Edge: Gay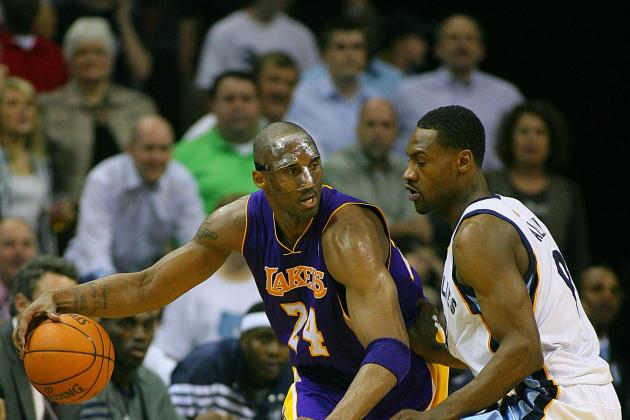 Spruce Derden-US PRESSWIRE

This comparison isn't quite as simple as the previous one. Both Tony Allen and Kobe Bryant are premier defenders. They both are fantastic defending on the ball, as well as in passing lanes or providing help defense. At this point, Allen is better on defense. He attacks ball-handlers with more energy and shows unrivaled aggression.
Bryant is still great on defense. He simply wasn't as effective as he was in prior years since the other perimeter players for the Lakers weren't as committed on defense, forcing him to try to make up for their lapses.
The offensive comparison isn't nearly as close. Bryant is a legendary offensive player, whereas Allen rarely makes a difference on offense. Bryant has often been the guy to handle the ball for the Lakers, commanding most of the shots. Meanwhile, Allen doesn't hold the ball much and commands fewer shots than any other Grizzlies starter.
Bryant has always averaged more than twice as many points per game than Allen. He'll continue to do so this season.
Both players bring an incredible passion to the game, but only one carries such a powerful determination that it rivals that of Michael Jordan.
Edge: Bryant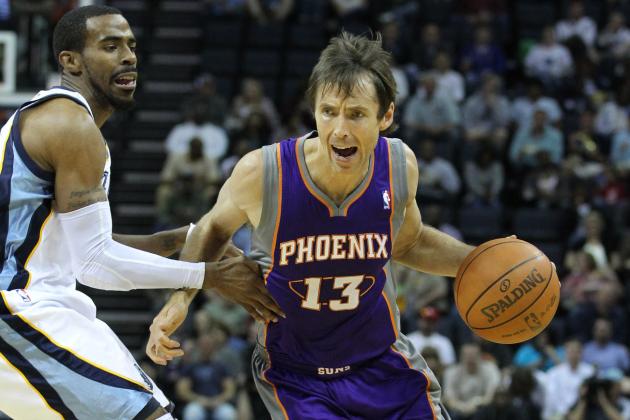 Nelson Chenault-US PRESSWIRE

Mike Conley has been a point guard on the rise. He improves every year. He's become a bright young facilitator who can create plays in transition. He's not quite as good as Steve Nash at sparking the fast break, but he's distinguished himself at this facet of floor leadership nonetheless.
Conley is also a good scorer. He hits shots effectively (43.3 percent from the field in 2011-12) and can knock them down from downtown (37.7 percent from three-point range).
Conley is far better than Nash on defense. Conley averaged 2.2 steals per game in 2011-12, emerging as a second devilish threat on that end after Tony Allen.
Nash might be nothing more than a turnstile on defense, but what he creates on offense makes up for that. His playmaking ability in transition is unrivaled. He sees the floor better than anyone else in the league. He can create for anyone on his team. Also, he knocks down shots as well as just about any point guard in the league.
Edge: Nash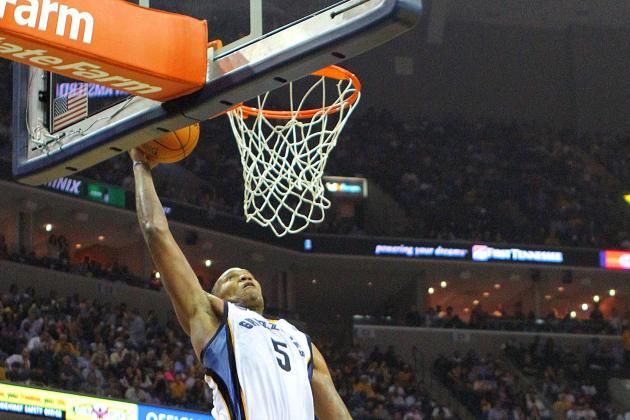 Spruce Derden-US PRESSWIRE

The key bench players for the Grizzlies are Marreese Speights, Jerryd Bayless and Josh Selby. Speights had an up-and-down first half last season before coming into his own in mid-February. As the year wore on, he became more consistent, even accumulating a decent number of rebounds in shorter minutes when Zach Randolph returned.
Jerryd Bayless is a sharpshooter who can also handle the ball well. Bayless hit 42.4 percent from the field last year for the Toronto Raptors while also shooting 42.3 percent from three-point range.
Selby didn't make any noise in his rookie year, but after a strong summer league is expected to make a huge leap.
The Griz have a few other bench players who can do damage, such as Darrell Arthur, Hamed Haddadi and Tony Wroten Jr.
The key bench guys for the Lakers are Antawn Jamison, Jodie Meeks and Jordan Hill. Jamison should be good coming off a strong year in which he averaged 17.2 points per game for the Cleveland Cavaliers.
Meeks is an exciting scorer. He averaged 8.4 points per game in 2011-12 for the Philadelphia 76ers and 12.2 per 36 minutes. He's capable from three-point range and on defense.
Hill is a strong rebounder, averaged 4.8 rebounds per game and 12.2 per 36 minutes. He also can score a bit.
The Lakers don't have much beyond those three. Steve Blake, Devin Ebanks and Earl Clark aren't that effective.
Edge: Grizzlies