Predicting the LA Lakers' Final 12-Man Roster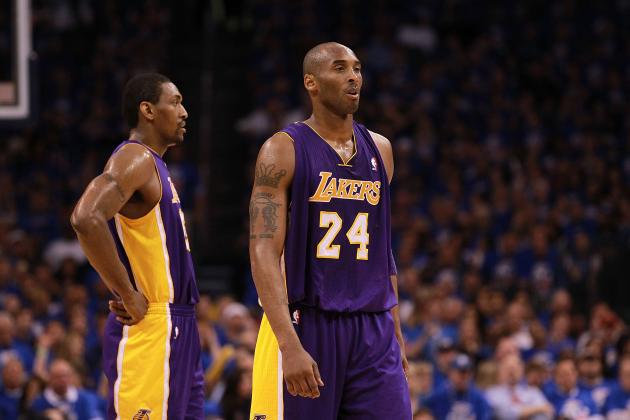 Ronald Martinez/Getty Images

It has been quite a summer for the Lakers.
That might be an understatement considering that LA has acquired not just one, but two star players to anchor their starting five.
The Lakers traded for both Steve Nash and Dwight Howard, who will be in the same lineup with Metta World Peace, Pau Gasol and some guy named Kobe Bryant.
It's shaping up to be quite a season in Los Angeles with that starting five alone, but there's seven other guys who will be suiting up with them.
With that being said, let's take a look, not at just that ridiculous starting five, but the rest of the guys that will round out the roster for the Lakers.
Begin Slideshow

»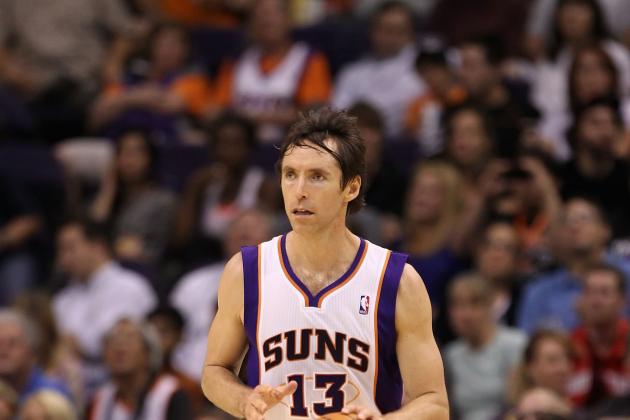 Christian Petersen/Getty Images

Still going strong at age 38, Steve Nash was a hot commodity this offseason. By leaving Phoenix in pursuit of a championship, Nash may have found a good chance in LA, where he signed before they even had Dwight Howard.
While he may be a liability on defense at times, Nash more than makes up for it with his savvy offensive prowess in scoring and facilitating as well.
He will have several weapons to work with on the Lakers, and his numbers may even see a bigger boost as his career is winding down.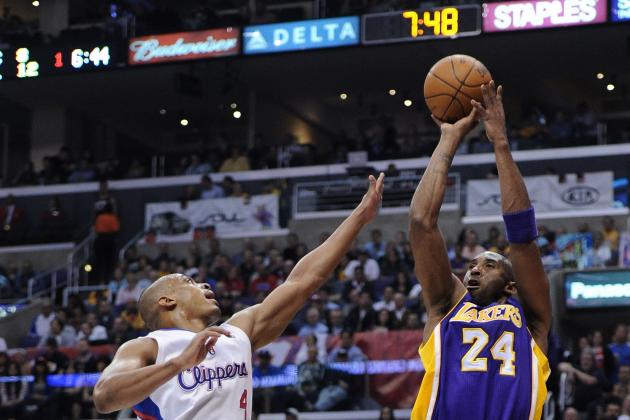 Harry How/Getty Images

Fresh off his last Olympic appearance, Kobe will be coming back to the United States looking for a little more gold.
His performances in London showed that he can still play with the young guns of the NBA, and now, he's going to have even more help around him.
Bryant has had the Lakers on his back for many years and has had some help along the way, but never anything like this.
He's plenty dangerous on his own, but now that he has one of the best supporting casts he's ever played with, who knows what he's capable of.
Brett Deering/Getty Images

The Artest formerly known as Ron is certainly the least accomplished player in this starting five, but he's just as important to their success.
While his numbers have fallen off, World Peace is still an elite wing defender who can knock down big shots when called upon.
He will be key in the Lakers trying to shut down big-time scorers like Kevin Durant, LeBron James and Carmelo Anthony.
World Peace won't be getting too many touches, but his contributions between the box score will earn him the starting job in LA.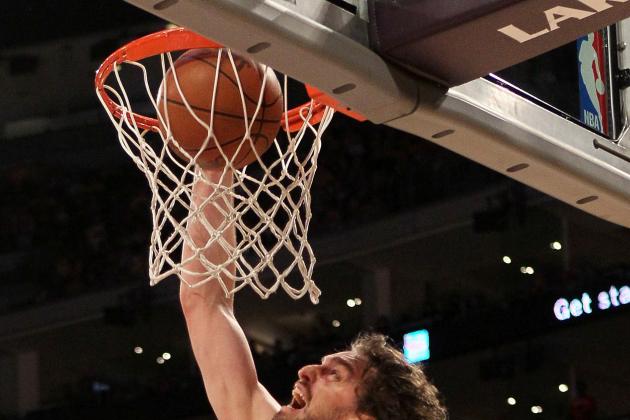 Stephen Dunn/Getty Images

Once originally thought to be part of the deal for Dwight Howard, Gasol and Lakers fans were relieved to see that their Spanish forward remained intact.
Gasol may be getting older, but his production has still been very good in recent years. His shooting touch remains reliable, which will be good to space the floor and let Howard go to work in the post.
Instead of being shipped out to a playoff hopeful team, Gasol will now be on the starting squad for a legitimate contender in Los Angeles.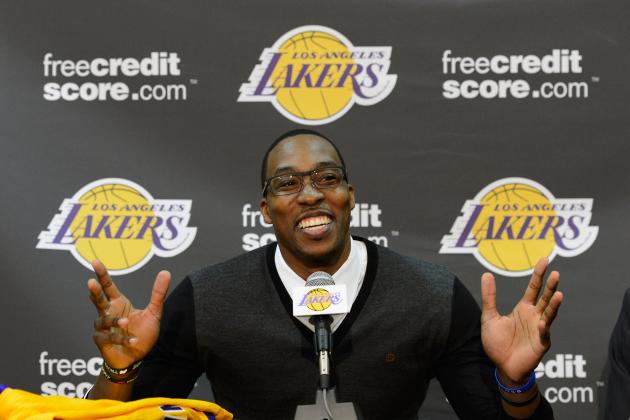 Kevork Djansezian/Getty Images

The Dwight Drama has persisted throughout the summer and finally reached its conclusion when the star center was dealt from the Magic to the Lakers.
While Howard made it clear he really wanted to play in Brooklyn, the Lakers have swayed him into coming to LA, where he will most likely sign a long-term deal during next summer as a free agent.
Now that he has some quality talent, Howard may be able to finally feel like a true contender after failing to win a championship in his time with Orlando.
Though he did carry them to several playoff appearances, Howard never really had any other stars with him. Now, however, he has three other guys to work with, and we can only wait and see how much better he will be with some help.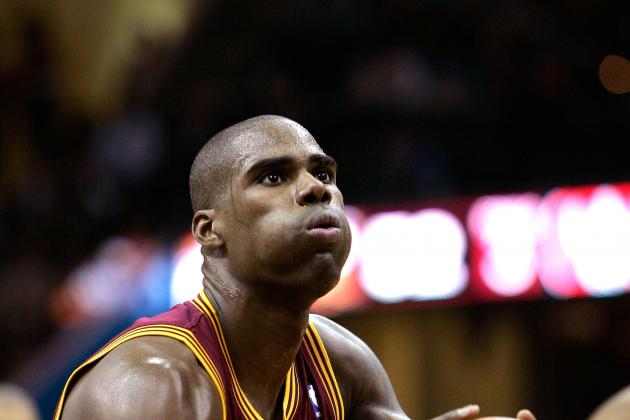 Mike Lawrie/Getty Images

Though he may be past his prime, signing Jamison was a quality pickup for Los Angeles.
Jamison can still get it done on the offensive side of the ball (17.2 points per game last season) and should fit in nicely to a limited bench role that will help soften the blow of his age.
The two-time All-Star will bring a solid veteran presence for the younger guys on the bench and is a respectable option for spot starts due to injury.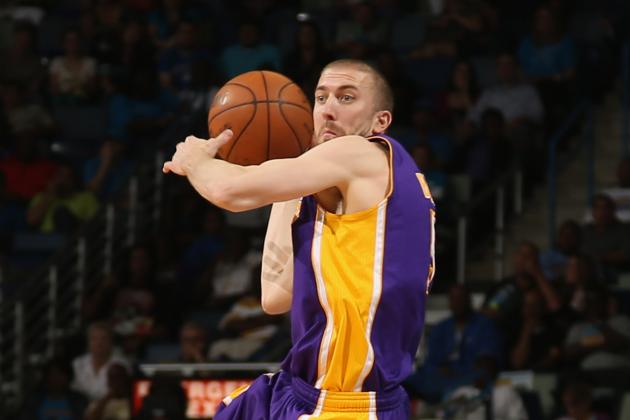 Chris Graythen/Getty Images

While he did prove that he should not be a starting point guard for the Lakers, Blake can still be a quality backup to Steve Nash.
He knows the Lakers offense and has had plenty of playing experience with Kobe and Gasol. Now that Blake has a chance to also dish the ball to Howard down low, he may find himself able to find more scoring opportunities for himself as well.
Expect Blake to fit in snugly to his role off of the bench to give the 38-year-old Nash some rest throughout the season.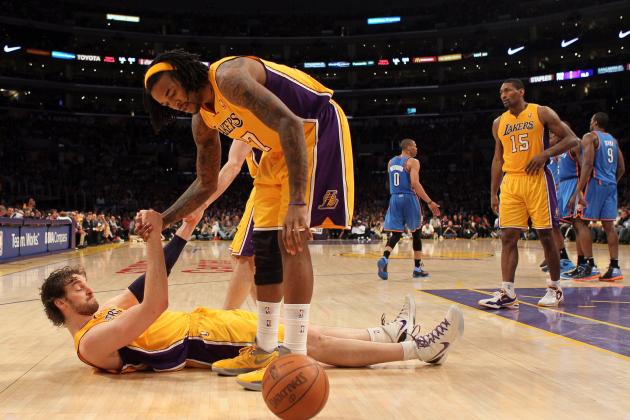 Stephen Dunn/Getty Images

Hill came over to the Lakers in a trade last season, but he has already proven his worth in Los Angeles.
After re-signing this summer, Hill will be a valuable backup to Dwight Howard and Pau Gasol. He's a decent rebounder and can score in the post when given a chance.
Hill also brings some much-needed youth to the table for the Los Angeles frontcourt, which has Gasol and Jamison both in their 30s.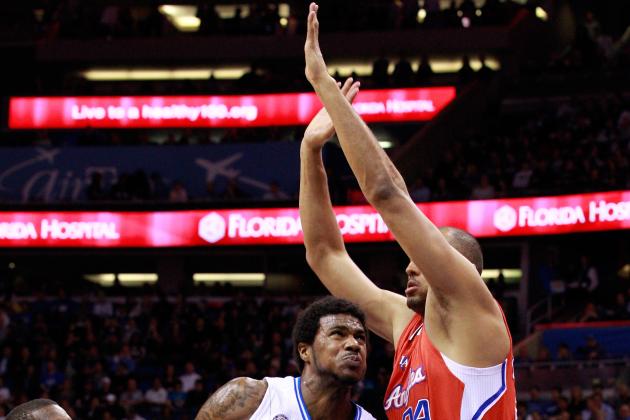 Sam Greenwood/Getty Images

Earl Clark is one of the newer Lakers, coming over in the Dwight Howard trade, but he should fit in nicely as a reserve for Metta World Peace.
Clark hasn't really had much playing time to show off his game, but he could find some considerable minutes since he will probably be the only other small forward on the team.
His ability to play both forward spots will also be a nice contribution to the Lakers roster.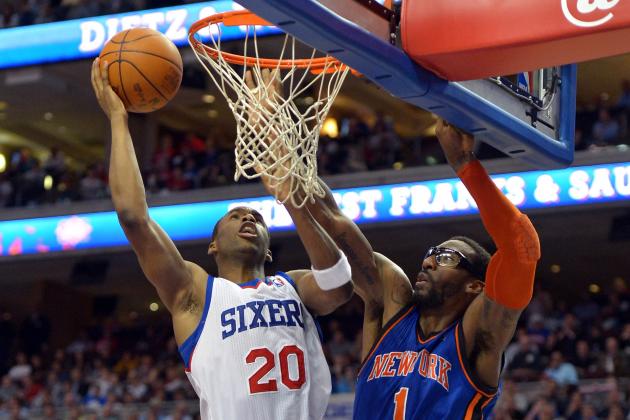 Drew Hallowell/Getty Images

Jodie Meeks is a good scorer who has improved with more playing time in Philadelphia the past few seasons.
He signed on shortly after the Dwight Howard deal, and the Lakers got a pretty good bargain on him with his contract being worth just $3 million over two years.
Meeks brings a good scoring punch to the table, and he could benefit from playing behind Kobe Bryant. While he may not see a considerable amount of time or touches, Meeks will almost certainly play up to his salary expectations.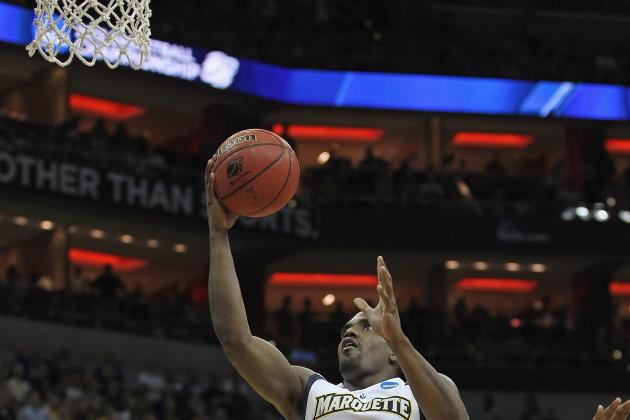 Jonathan Daniel/Getty Images

There's a new Odom in town for the Lakers. The 6'2" rookie was traded from the Mavericks to Los Angeles during this year's draft and is coming off a successful college tenure at Marquette.
While he may be a little too small to play the two-guard, Johnson-Odom has a good amount of offensive versatility that could help him overcome this obstacle.
By making the cut, this would most likely result in the Lakers waiving or releasing the older reserve guard Chris Duhon.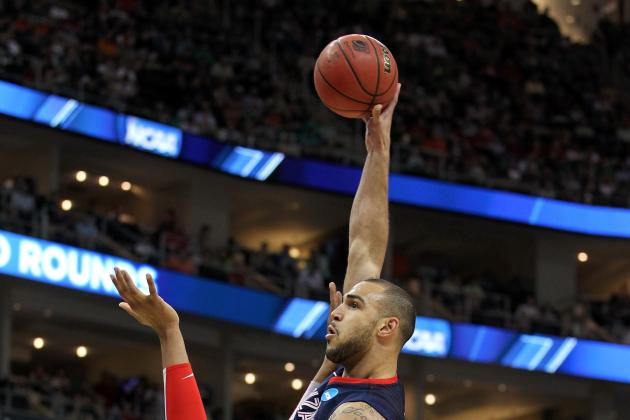 Gregory Shamus/Getty Images

The Mr. Irrelevant of this year's draft may be able to be relevant enough to make this squad.
Sacre was selected 60th overall by the Lakers, who might have just found a diamond in the rough. In his five summer league games, Sacre managed to average a solid nine points per contest, which could be good enough to suit up in LA and avoid a D-League stint.
This could come down to some tough decisions for the Lakers, who do have a couple of restricted free agents (Devin Ebanks and Darius Morris) who they may not bring back.
However, I believe the Lakers could use the extra size on the bench, and Sacre will be getting to play with some great, seasoned talent around him. If that talent rubs off on him, he could turn into a solid backup for Dwight in the coming seasons.