5 Question Marks That Could Derail the Los Angeles Clippers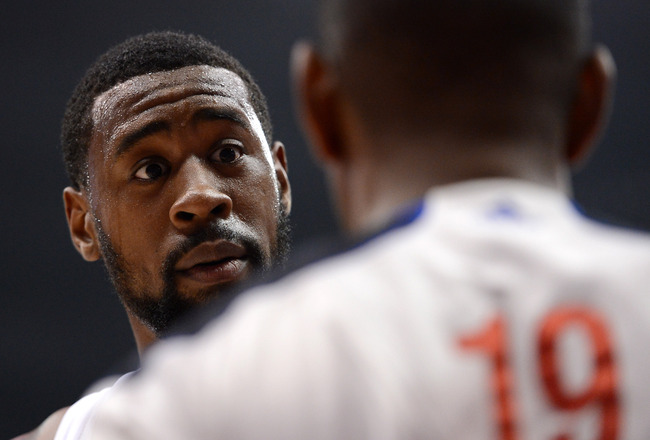 Harry How/Getty Images
The 2012 NBA season was one of great success for the Los Angeles Clippers. After reaching the postseason just twice since 1993, the Clippers found themselves in the Western Conference finals behind the emergence of Blake Griffin and brilliance of Chris Paul.
Most importantly, the Clippers discovered that stars win games, but a team wins a series. And that was exactly what Los Angeles had: a team.
This time around, however, the Los Angeles Clippers are of a new look. With new players added to the roster and key weapons lost, this team will have to develop a chemistry all over again. While the expectations are raised, it's possible that we should temper our theories of 2013 success.
Here is why.
5. Do Too Many Players Need the Ball in Their Hands?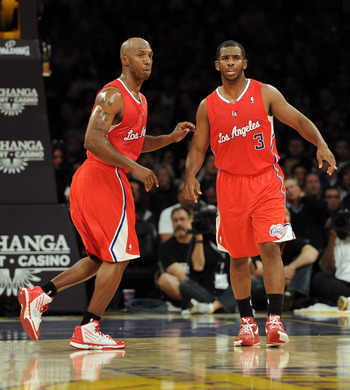 Harry How/Getty Images
Is it possible that a team could have too many ball-handlers? For what may be the first time in NBA history, the answer is yes.
To begin with, the Los Angeles Clippers possess three solid-to-elite point guards in Chris Paul, Chauncey Billups and Eric Bledsoe. Each plays well without the ball in their respective hands, but all three thrive when they take on the role of playmaker.
The same can be said for combo guard Jamal Crawford and power forward Lamar Odom—two players expected to play a major role in the Clippers' potential postseason run.
This results in an interesting dilemma for the Clippers, as five key players will be looking for their fair share of touches. While this could be solved and proven to be of no detriment, it will be a hurdle Los Angeles must overcome if they're looking to win big.
Otherwise, this offense will crumble as too many players look to do too many things. For the first time in NBA history, having a surplus of players who can handle the ball could backfire as a select few are unaware of how to play without it.
4. Is Vinny Del Negro a Championship Coach?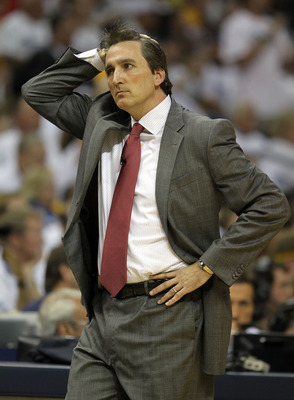 Andy Lyons/Getty Images
It should be known that Vinny Del Negro's supposed shortcomings as the head coach of the Los Angeles Clippers have been greatly overstated. He has a great mind for the game, and it appears as if he finally found a grasp for the value of the proper rotation as the postseason rolled around.
Falling victim to a sweep at the hands of the red-hot San Antonio Spurs, who had gone 42-7 in their previous 49 games, should not be a part of the definition of a very successful season.
Regardless of the praise Del Negro deserves, his status as a championship-caliber coach must be called into question. Don't forget, it wasn't long ago that Del Negro had reportedly lost his grasp on the Clippers' locker room.
The fact that Vinny Del Negro recovered to lead the Clippers to their first postseason appearance since 2006 is noteworthy. The fact that L.A.C. made it past the heavily favored Memphis Grizzlies is of even more notoriety.
Whether or not he can lead Chris Paul and the Los Angeles Clippers to the promise land, however, is still in question.
3. Where Are the Shooters?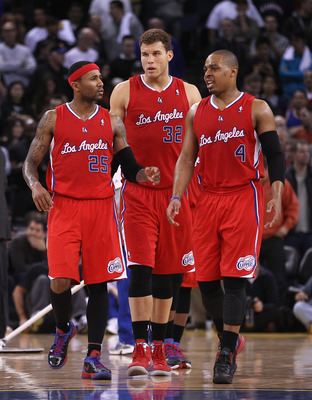 With Mo Williams and Randy Foye in Utah, who will be the Clippers' marksmen?
Ezra Shaw/Getty Images
Much like their Staples Center rival, the Los Angeles Lakers, the Clippers are without a true shooter on the perimeter. As Kobe Bryant and company have shown us in the past, that can be detrimental to a team's success as the three-point happy teams of today, such as San Antonio, Oklahoma City and Miami, light it up from distance.
All of that blame can rest on free agency and trades.
The Los Angeles Clippers have lost their top two three-point shooters, Mo Williams and Randy Foye, to the Utah Jazz. They've also lost Nick Young, who was the team's best three-point shooter during the postseason.
Throw in the fact that Chauncey Billups is coming off surgery on his Achilles tendon and you have yourself a tall mountain to climb—a mountain that may end up proving to be of an insurmountable height as the Clippers fail to spread the floor with efficiency.
2. Uncertainty at Center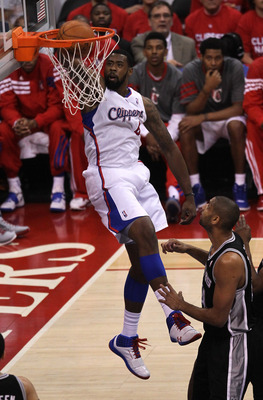 Jeff Gross/Getty Images
You know those people who believe that they're the magical one who can change an unfaithful lover into a model spouse? That's what the Los Angeles Clippers look like with the recently signed Ryan Hollins.
He's a player who should not be considered anything close to a threat to steal playing time from DeAndre Jordan.
If Jordan is able to produce at the level he had in 2012, as well as improving upon his fundamentals and decision-making, this really won't be an issue. After all, DeAndre Jordan averaged 7.4 points, 8.3 rebounds and two blocks in a fluctuating 27.2 minutes per game.
It's a product of Vinny Del Negro's growing process as a head coach.
Should the Texas A&M product fail to live up to expectations, however, the Clippers are in serious danger. Not even the mighty Ryan Hollins can change that fact with his undying effort and lack of anything else.
That is, unless L.A.C. believes Lamar Odom's soft interior play or Blake Griffin's sad excuse for defense to be enough at a position they're uncomfortable with paying.
1. Too Many Players out of Their Comfort Zone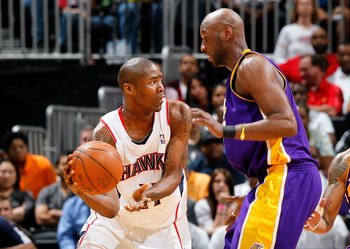 A tweener always helps. But two? That could spell the end of this story.
Kevin C. Cox/Getty Images
Chauncey Billups is a pure point guard playing the 2. Jamal Crawford is a scoring guard who creates well off the dribble but struggles with the catch-and-shoot. Lamar Odom is an unconventional big man who does not play well in the paint but thrives as a playmaker.
Regardless of which player you evaluate, all three of these key assets will be out of their comfort zone.
The Los Angeles Clippers are filled with ball-handling maestros whose passing abilities are top tier. This bodes well for an offense that's likely to exceed 100 points per contest. Unfortunately, ball-handling isn't the only aspect of these player's arsenal that needs feeding into.
Lamar Odom has never been a strong interior defender, which is what L.A. expects him to be. Jamal Crawford, meanwhile, has never been the type of player to work off screens and be fed looks. Instead, he often takes the ball at the top of the key and goes to work in isolation sets.
This is something Chris Paul is unlikely to allow as he fights for the preservation of a logical plan of attack.
Chauncey Billups, meanwhile, was visibly uncomfortable while playing shooting guard in 2012. While Chris Paul is excellent at moving without the basketball, thus opening doors for Billups to take over as a ball-handler and facilitator, Billups still has to play defense on bigger and more athletic shooting guards.
He also has to play a position that has never been thrust upon him on a consistent basis. With the 35-year-old coming off surgery on his Achilles tendon, Billups' ability to thrive in such a role may have taken a major hit.
With three key players out of position, the Los Angeles Clippers could be out of luck.
Keep Reading

Los Angeles Clippers: Like this team?