2016 Olympics: 10 US Athletes and Teams Most Desperate for Gold in Rio
Paul Gilham/Getty Images
While plenty of athletes will go home happy with the experience, and some with medals, at the 2012 Summer Olympics, the majority will leave with even more to prove in four years. Some athletes will be driven for the next four years by their disappointments in London.
Rio 2016 is a second (or third or fourth) chance for these world-class athletes to cement their places as some of the best in history. Some of them have already won championships and medals, but they will not be satisfied. Some, because of their previous successes, will feel like they could have done better in London.
Let's take a look at 10 teams and athletes wearing red, white and blue who will want nothing more than to stand on top of the medal podium in Brazil.
10. US Men's Water Polo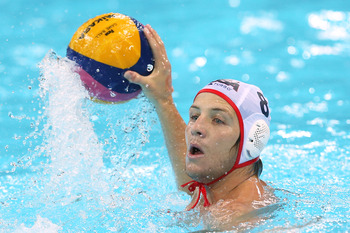 Clive Rose/Getty Images
The American men's water polo team won the silver medal in Beijing, but it only managed an eighth-place finish in London. Even though it's ranked fourth in the world, which doesn't translate into a projected medal, the United States will be disappointed in its finish.
The U.S. finished fourth in its group, the lowest spot in which it could finish and still make the knockout stages. After winning its first three games, the rest of the road was rocky until its quarterfinal loss to eventual champion Croatia.
9. Men's 4x100-Meter Dash Relay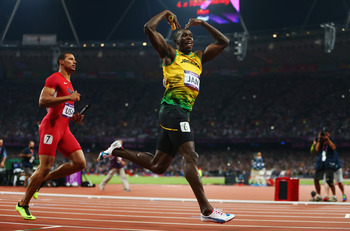 Michael Steele/Getty Images
There is no shame in losing to Jamaica's world record in the men's 4x100-meter dash, but the result in London makes it four major competitions in a row—2008 and 2012 Olympics and 2009 and 2011 World Championships—in which the team hasn't won gold.
At least the team managed to finish the race in London after either being disqualified or dropping the baton in the last three competitions. That may have been enough for now, but in four years, anything less than gold is unacceptable.
8. Ryan Lochte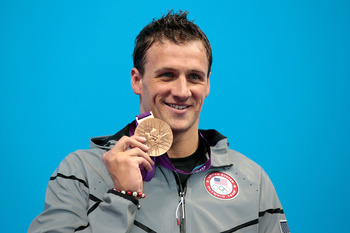 Adam Pretty/Getty Images
Ryan Lochte took five medals in London, two of which were gold (one in an individual event), but that wasn't exactly the coming-out party he expected. After all the talk about this being his time to shine and finally outperform Michael Phelps, that didn't exactly happen.
He may never get another chance to compete against Phelps, but Lochte can at least assert his dominance over the remaining field in 2016. He hasn't won more than one individual gold medal in any Olympics yet.
7. Jordyn Wieber
Ronald Martinez/Getty Images
Jordyn Wieber was considered the best female gymnast in the world going into London 2012, but she failed to even get into the all-around final. While that was mostly due to a controversial rule, Wieber was obviously shaken.
Although it's not often that American gymnasts participate in more than one Olympics, if anybody has motivation to continue four years from now, it's Wieber. She deserved much better than she got in London; the only way to right that now is to come back and try again in four years.
6. LaShawn Merritt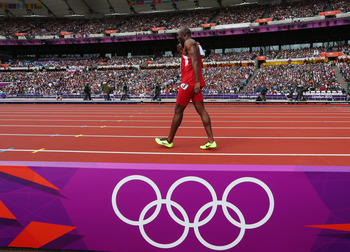 Alexander Hassenstein/Getty Images
A year after making his return from a banned-substance suspension, LaShawn Merritt was set to defend his gold medal performance in the men's 400-meter dash in the 2008 Olympics. Two weeks before the London Games, a hamstring injury slowed him down but didn't keep him away from the Olympics.
In the qualifying round in London, he pulled up, grabbing that hamstring again. Even though he will be 30 in 2016, Merritt should make another run at gold in Rio unless he wants his legacy to be about his drug ban rather than his Olympic and world titles.
5. Men's 4x100-Meter Freestyle Relay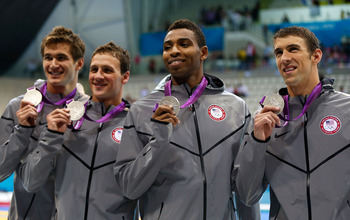 Jamie Squire/Getty Images
The last two Olympics have been back-and-forth affairs between the Americans and the French in the men's 4x100-meter freestyle relay. In Beijing, the Americans came out on top; in London, the French returned the favor.
It's the Americans' turn again, but they'll have to do it without Michael Phelps in Rio. The United States will be hoping not just to win another gold medal at the expense of a rival, but also to start a new trend of American domination that can be continued in 2020 and 2024.
4. Brady Ellison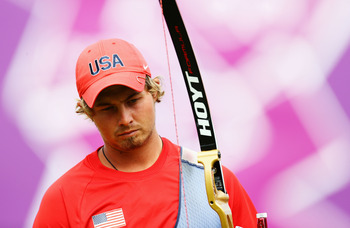 Paul Gilham/Getty Images
Archer Brady Ellison was supposed to challenge South Korea's Im Dong-Hyun for the gold medal in the individual event. Neither of them reached the final round, but Ellison's fall was much more noticeable—it came in the round of 16.
As the No. 1-ranked archer in the world, Ellison's early exit is nothing short of embarrassing for both himself and his team. Luckily for him, London was his first Olympics. He'll get plenty of other chances to prove himself.
3. Mariel Zagunis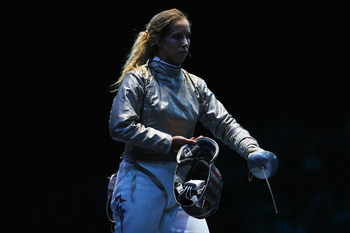 Hannah Johnston/Getty Images
The two-time defending Olympic champion in the women's fencing individual saber and flag bearer at the Opening Ceremony, Mariel Zagunis was supposed to be a face of American success in London. That didn't quite work out, as she lost in the semifinal and then again in the bronze-medal match.
Zagunis is just 27 right now, and fencers are known for their longevity. Women's individual foil gold medalist Elisa Di Francisca is 29, and bronze medalist Valentina Vezzali is 38. Zagunis will be back, and she'll be looking for some redemption.
2. US Men's Volleyball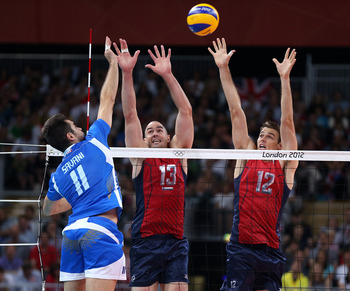 Elsa/Getty Images
In 2008, American men stood on top of the medal podium in both indoor and beach volleyball. The same result was expected in London, but both men's beach pairs crashed out before the semifinals, and the indoor team lost in the quarterfinals.
That wasn't supposed to happen, not with the No. 5-ranked indoor team in the world and two of the top four seeds on the beach. Look for a renewed drive in four years' time.
1. Team USA Men's Boxing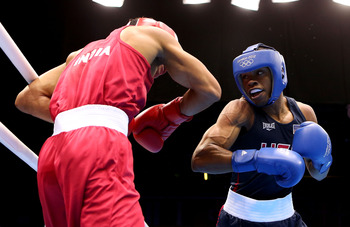 Scott Heavey/Getty Images
The last three Olympics haven't been too friendly to the men's American boxers. None of them managed to make the medal podium in London, and only Deontay Wilder did in 2008 (bronze in the heavyweight division). Andre Dirrell (middleweight bronze) and Andre Ward (light heavyweight gold) were there in 2004.
It's gotten progressively worse for a team that was good for eight Olympic medals in the two 1990s Olympics. The legacy of boxing in the United States is strong; it's time for the modern results to match it.
Keep Reading