Arkansas Football: What You Need to Know About Razorbacks RB Dennis Johnson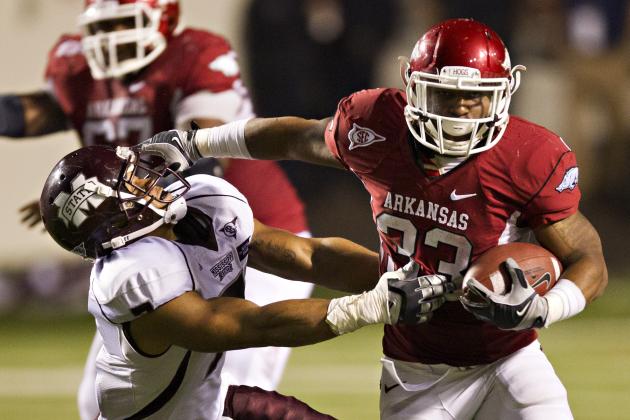 Wesley Hitt/Getty Images

When Arkansas football is mentioned, the biggest names always thrown about are quarterback Tyler Wilson and running back Knile Davis. There is no doubt those two players are key cogs in the Razorbacks offense, but there is one name that should not be overlooked: Dennis Johnson.
If you are not a fan of Arkansas football, the SEC, or you live under a rock, perhaps you have never heard of Johnson. However, he is a very important part of a 2012 Razorbacks team that is ready to make a run at the SEC title.
Begin Slideshow

»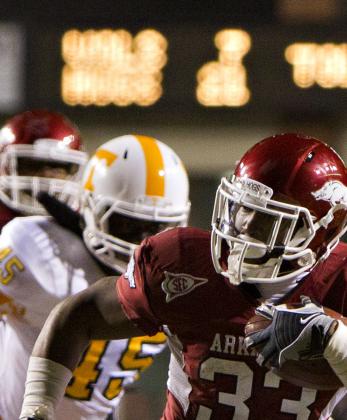 Wesley Hitt/Getty Images

The bulky Senior ball-carrier is versatile and powerful out of the backfield.
Johnson amassed 670 yards a year ago on 106 carries and proved to be a valuable pass-catching threat. Johnson hauled in 24 catches for 255 yards, and throughout his entire career as a Hog he has been a standout on special teams.
As Arkansas' all-time leading kick returner, Johnson is not afraid to move the ball in traffic and get plenty of contact.
His powerful stature allows him to deliver bone-crushing hits of his own and leave opponents bewildered and wondering what just hit them.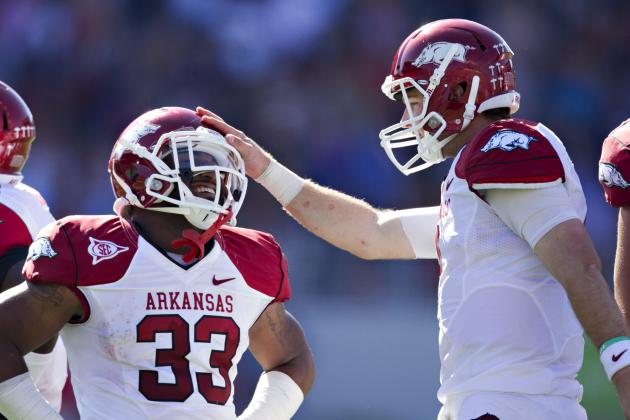 Wesley Hitt/Getty Images

In fact, Johnson is so adaptable, it was recently announced that Johnson is named to the Paul Hornung Award Watch List.
This prestigious award is given to the most versatile player in college football. (Via Associated Press)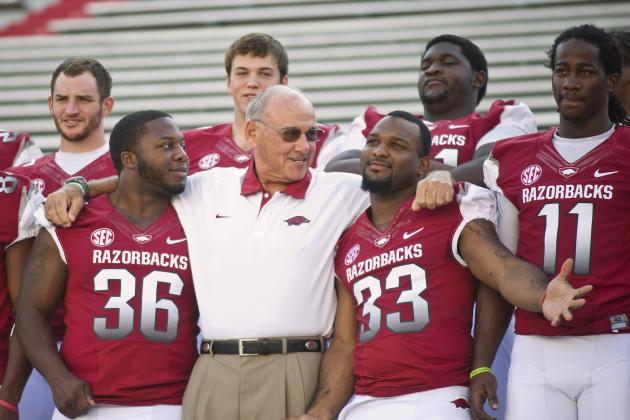 US PRESSWIRE

Johnson has a non-stop motor and a relentless work ethic that gets noticed by the coaches. In the first full scrimmage of the season, Johnson led the way with 15 carries for 65 yards and a score. This is a perfect example of how hard he works on the field, even if it is just a scrimmage.
Johnson's most powerful trait is his leadership. As a truly unselfish player—which is rare in professional sports—Johnson takes a back seat to Davis in the backfield, although he has showed flashes of brilliance that would indicate he is deserving of more snaps.
Nelson Chenault-US PRESSWIRE

Johnson is recognized by other coaches and members of the media as he is listed as a first-team preseason All-Southeastern Conference all-purpose player, but it has gone largely unnoticed due to his low profile approach.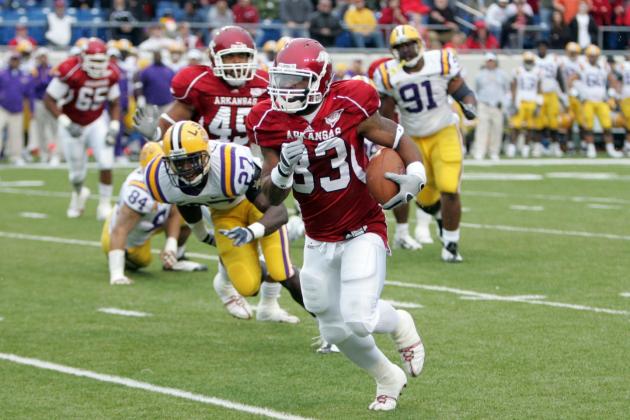 Nelson Chenault-US PRESSWIRE

His approach to the game sets the example for others to follow on this team, and the Razorbacks' success this season will hinge on unselfish team players—like Johnson—willing to put the team first.
If his attitude and drive are any indication of how the season will turn out, the Hogs are in for a great year.
James Brown is a B/R featured columnist and can be followed on Twitter. Feel free to contact James at jtsneaks@gmail.com. He also is a contributor at Bookie Blitz, a sports picks website and the official blog of the World Series of Handicapping.