Olympic Closing Ceremony 2012 Live Blog: Spice Girls, The Who & More From London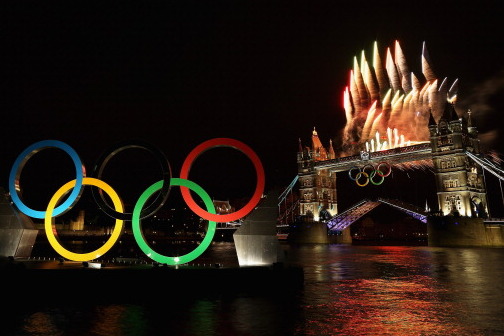 Mark Kolbe/Getty Images
If the Olympics are one big, worldwide celebration, consider the Closing Ceremony the after party.
Join me as I break down all the final festivities in London as they happen live. Right now.
That will close things out. Thanks for reading everyone.
If you watch the closing ceremony on tape delay later, scroll down and relive all the LOLs with me as you experience it.
And don't forget to follow me on Twitter at @TheRealMattKing.
Goodnight.
My Generation while the fireworks go off around the stadium is very cool. The Who may be old as dirt, but they still know how to put on a hell of a show.
And to close things out, it's The Who.
Just enjoy Teenage Wasteland, folks. It doesn't get much better than this.
I would love if the extinguishing of the Olympic flame was done by asking everyone in the audience to blow really hard at the same time.
Instead it seems like Ed the Maintenance Guy just turned off the propone somewhere.
And now for a dramatic reading of 50 Shades of Grey.
Just kidding, it's a woman dancing in a flame suit with four shirtless guys.
See, doesn't seem quite as weird now, right?
The flame slowly coming apart as Take That sings Rule the World and fireworks go off.
Probably one of the best parts of the night so far. Great shot of the band singing with the torch in a dome-like shape still burning behind them.
Everyone back? Man, that IOC president just refuses to smile, right? I think he's mad at me for some reason.
Boring speech time. Go grab a snack. I'll see you guys in ten minutes or so.
Pele getting in on the Rio action!
Brazil is definitely going to have a lot more color in their opening ceremony than London showed the entire Olympics. It's going to be one giant dance festival.
I'm on board.
I'm guessing Rio's Opening and Closing ceremonies will basically just be humongous bikini festivals.

— Bruce Arthur (@bruce_arthur) August 12, 2012
The mayor of London finally got himself unstuck from that zipline and has passed the Olympic flag onto the mayor of Rio de Janeiro.
What, did Russell Brand not know this one?

— Chris Chase (@chaztopher) August 12, 2012
Jessie J, somehow wearing even less covering before is now kicking it with Queen.
She can't hold a candle to Freddie Mercury, but to be fair, she's a lot easier on the eyes.
Political activists/musicians Muse are up next with some scary looking ladies singing behind them.
They are definitely rocking out right now with some cool pyrotechnics. If we can keep this momentum through the end of the show, we might just be able to make this worthwhile.
But I'm already getting kind of tired of all of this and I've been sitting the whole time. I can't even imagine how the athletes in the "mosh pit" are feeling righ tnow.
When NBC airs the tape delayed version of this, I'm pretty sure they're going to bleep out the line "life's a piece of sh*t, when you look at it."
You know, because the Olympics and NBC are always about family programming.
Eric Idle is singing some Monte Python and the crowd is going crazy, singing along. Just in case you were wondering if things were going to get super, super British as some point tonight.
Greatest athletic achievement of Olympics: Victoria Beckham balancing atop moving car while wearing five-inch heels.

— Chris Chase (@chaztopher) August 12, 2012
In all honesty, the Spice Girls absolutely killed it. They really could have ended on that and it would have been great.
Not just saying that from my perspective, you could see all the athletes getting super into to it. Now we just have Wonderwall kind of dragging everybody down.
Ask and you shall receive. The Spice Girls have arrived!
Taio Cruz is performing now, in case you were wondering if things could get any worse than Russel Brand singing Beatles songs.
We need The Spice Girls to save this thing, and we need them quickly. I need to spice up my life.
Singer Jessie J is doing her best Britney impression with a skin tight, skin colored outfit.
Fatboy Slim is getting things started right now from the center of an inflatable octopus. He's super animated. It's fun.
Right about now. Funk soul brother. Check it out now. [Sic] soul brother.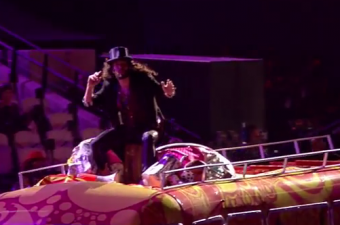 A tight rope walker just got lit on fire...and that's literally all they've showed us on that front.
Now Russel Brand has showed up singing a Willy Wonka song and a Beatles song, which is the equivalent to lighting the viewers on fire, I guess.
This article is
What is the duplicate article?
Why is this article offensive?
Where is this article plagiarized from?
Why is this article poorly edited?