The 20 Most Dangerous Road Teams in College Football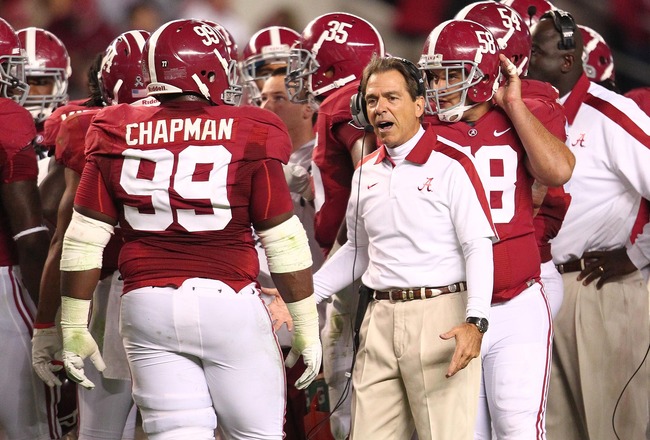 Marvin Gentry-US PRESSWIRE
There are plenty of coaches that are frightening to watch on the sidelines because of the intensity they bring to the table, but all the top programs in the country are only as good as their leaders are.
Some teams have All-American performers that take their squads to the promised land, but the coaches are often the ones that mean everything.
Still, the talent decides a ton on the field and there are those selective ranked teams that can step into opposing stadiums and come away with a victory.
Looking at some of your top teams for the 2012 season, here are your 20 most dangerous road teams in college football.
Clemson Tigers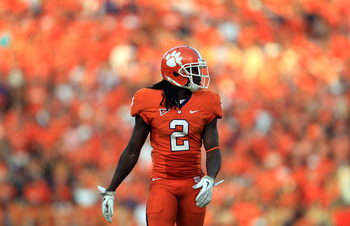 Streeter Lecka/Getty Images
Sammy Watkins, enough said.
Deion Sanders in his prime (at FSU) would have a tough time slowing down this freak because Watkins is the total package.
Becoming just the third All-American as a freshman (behind Herschel Walker and Adrian Peterson) is nice and dandy, but Watkins could go off for 20 TDs even while being suspended for two games.
He hauled in 82 receptions for 1,219 yards and 12 TDs last season, but quarterback Tajh Boyd is only going to get better in time as a junior. I cannot imagine how unstoppable this offense will be in 2013, but Andre Ellington and DeAndre Hopkins are far from scrubs as well.
This offense truly is a nightmare in defending while fully loaded, but an underrated defense is no joke either. Malliciah Goodman, Tony Steward, Corico Hawkins, Xavier Brewer and Rashard Hall are a solid cast that should bring the Tigers back to another successful season in 2012.
This squad is not dangerous, but they are often frightening with Watkins absolutely shredding apart defensive backs with ease.
Arkansas Razorbacks
US PRESSWIRE
Many believe the Razorbacks have the best QB-RB combo in the country (myself included), and Cobi Hamilton and Chris Gragg complete this offense loaded with skill players.
The offensive line has been abused in the vital games, but Arkansas hosts both LSU and Alabama this season. All of a sudden that makes this squad a dominant road team as there is an excellent chance that it eclipses the double-digit mark (helps to not have brutal road tilts save AU, SC).
Throw in an improved defense and it shouldn't be a shock if the Razorbacks ultimately take a BCS bid away from another SEC squad, assuming they knock off at least one of the two heavyweights in the West (LSU or Alabama).
Oklahoma State Cowboys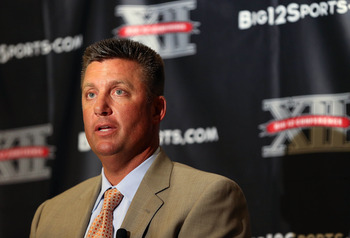 Kevin Jairaj-US PRESSWIRE
Mike Gundy has certainly turned this program into one of the more electric and productive squads in the country (Todd Monken helps at OC).
Offensively speaking, Wes Lunt will take over for Brandon Weeden and the loss of Justin Blackmon will certainly be tough. However, returning running back Joseph Randle is so versatile that the younger receivers will be able ease into the offense a bit.
Plus, Gundy has brought in a ton of depth to produce an array of yards, first downs and points to secure plenty of victories.
Gundy has now put together four exceptional seasons in a row (41-11 record) and a fifth will be coming due to the Cowboys' ability to have so much success on the road (16-4 on road last four seasons).
Note: Ultimate respect for the Sooners and Stoops, but going 7-7 over the last three seasons have them just missing the cut for me despite being one of the more accomplished programs in the BCS era. Also, have them losing two more non-home games this season as well.
Virginia Tech Hokies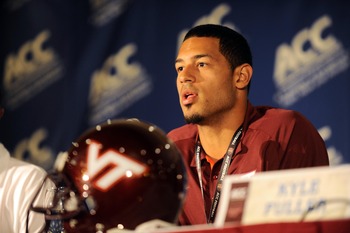 Sam Sharpe-US PRESSWIRE
Frank Beamer is enough to be fearful of because this dangerous coach flat out wins more than everybody in the country.
He has been able to make the FBS and ACC look like a near joke these days as every season goes by, and yet the Hokies are playing in a BCS bowl seemingly every season.
Beamer and his defensive coordinator, Bud Foster, are quite the duo of coaches, but quarterback Logan Thomas has the talent to once again lead the Hokies to another January BCS bowl if the pieces around him can surprise some people.
Either way, this team will always go as far as its defense and special teams can take it. It will get rowdy at Lane Stadium, but even if your home stadium is a tough place to play in, we should realize by now that Beamer finds ways to squeak out victories with the best of them on the road as well.
South Carolina Gamecocks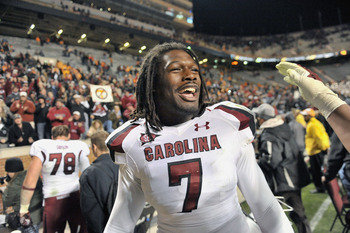 Jim Brown-US PRESSWIRE
Jadeveon Clowney has Sammy Watkins type of fear when South Carolina steps on the field as visitors, and it is all because of stature and freak skills.
Clowney should be a First- or Second-Team All-American thanks to playing alongside Devin Taylor, another beast that runs like a gazelle. An athletic defense is what South Carolina features, and it can play ball control with arguably the most talented runner in the nation.
Marcus Lattimore may not have the best blockers on the planet, but he can truck opposing defenders with ease and is as talented as skill player in the country.
Depending on the maturity of Connor Shaw, South Carolina could beat any team on the road regardless if it is in the SEC or not (Clemson).
Nebraska Cornhuskers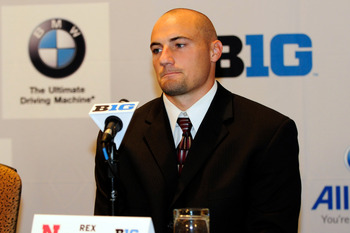 Reid Compton-US PRESSWIRE
Rex Burkhead maybe does not strike fear into your defense like some backs do, but he has been as productive and consistent as any out there over the last two seasons.
The receivers were underwhelming as was the production in the passing game from Taylor Martinez last year, but he sure knows how to break down a defense in the ground game.
Unless you had last year's Alabama linebackers (LSU front line) or Wisconsin's arsenal of talent (Michigan, SC and too), you weren't likely going to slow their rushing attack down.
That is why it is imperative their receivers can step the production up and the defense surely has to perform better as well.
Jared Crick and Lavonte David were studs up front over the last two seasons, but Crick missed the majority of the season and everybody else up front is back.
Nebraska has every heavyweight matchup at home (at night), but as a road team, it will be a lot more dangerous in 2012 with an underrated group of starts waiting to break through.
Michigan State Spartans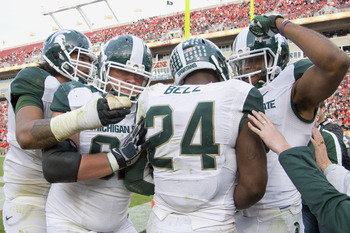 Jeff Griffith-US PRESSWIRE
The Spartans have four defensive players on the Bednarik Award list, and opposing Big Ten teams will not enjoy lining up against the freaks that track everybody in their sleep.
The key will be how much improvement Andrew Maxwell makes from week to week with a brand new pair of receivers that Sparty fans will not be accustomed to seeing.
The talent is unproven, but it still is there and handing the rock to Le'Veon Bell will likely become the key since he has the chance to be an All-Big Ten performer in the backfield.
Mark Dantonio is not only overdue to break the BCS barrier, but also as a road team he has been striking fear into the Big Ten thanks to an overwhelming amount of athletes that has given East Lansing a ton of hope for the future.
Michigan Wolverines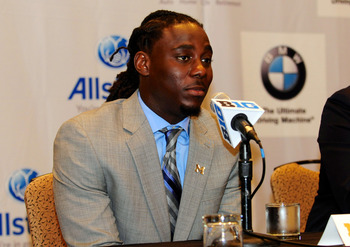 Reid Compton-US PRESSWIRE
Denard Robinson has to still be considered as one of the toughest quarterbacks to defend because of his dual-threat ability.
He can glide past your entire defense with his amazing quickness, but he has a solid back in Fitzgerald Toussaint (currently suspended) that can open up the passing lanes for Roy Roundtree, Jeremy Gallon and crew.
Many also forget that Greg Mattison completely turned around the Maize and Blue's defense, and they will only get better in the future.
Their schedule isn't much fun in 2012, but the recruits are starting to pile up and the depth will soon be arguably the best in the Big Ten.
Although they may struggle a bit on the road this season, they still have to be considered dangerous being ranked eighth in the USA Today Coaches' Poll.
Wisconsin Badgers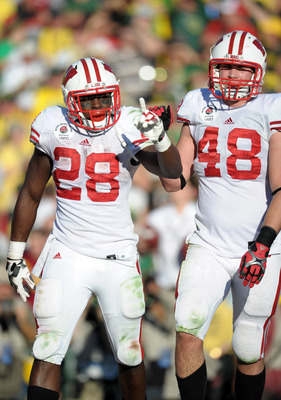 Kirby Lee-US PRESSWIRE
Despite only returning 11 combined starters on both sides of the ball, the Badgers are a scary team.
Bret Bielema has essentially breezed through the Big Ten for the last two seasons, and despite losing both Rose Bowl bids, Wisconsin is a force to be reckoned with every season (so as long he is around).
Montee Ball returns as the top back in the country (save Marcus Lattimore) and the Badgers' top-notch offensive line will only allow others (James White, Melvin Gordon) to achieve success as well.
Five road games aren't too tough to endure, but linebackers Mike Taylor and Chris Borland will be ready every opponent on the slate.
Winning 10 or more games for three consecutive seasons (and four of last six) is consistent dominance for Big Ten teams, and every team that hosts the Badgers should be wary they can embarrass them on both lines of scrimmages.
Ohio State Buckeyes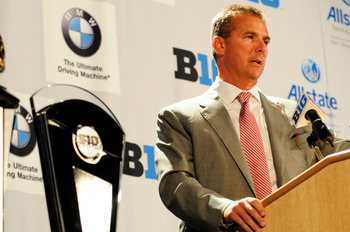 Reid Compton-US PRESSWIRE
Urban Meyer might be the scariest part of this team while they play on the road, but his success will quickly turn these Buckeyes into one of the top programs in America.
Returning nine starters on defense is not a bad start, but really Ohio State's defensive front is what makes this team so dangerous.
Johnathan Hankins could be the first defensive tackle taken in the 2013 NFL draft, but John Simon, Nathan Williams, Garrett Goebel, Michael Bennett, Noah Spence and Adam Bellamy are going to tee off the Big Ten in 2012.
Ryan Shazier is an improving linebacker that could feast as well, but an underrated and athletic secondary might complete these Buckeyes into one of the top defenses in the nation.
Despite playing only four road games, Ohio State will rank among the best in the Big Ten, and Meyer is capable of winning 10-plus games this season even without eligibility for the postseason.
TCU Horned Frogs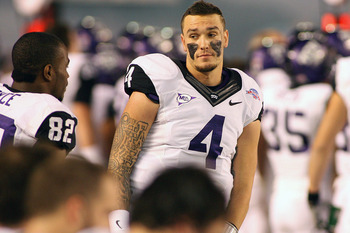 Jake Roth-US PRESSWIRE
Gary Patterson's squad has won all but one of their last 16 road tests (Baylor), but the Horned Frogs have learned how to win on the road a long time ago.
Patterson is a fine defensive coach, but it is his offense that should strike fear into the hearts of opponents who have the unfortunate opportunity to host TCU.
Andy Dalton was a stud and now Casey Pachall is coming through for a TCU squad that has become constant winners on the road.
The speed certainly has ambushed the opposition, and even the Big 12 will have its fair share of troubles slowing this squad down.
Boise State Broncos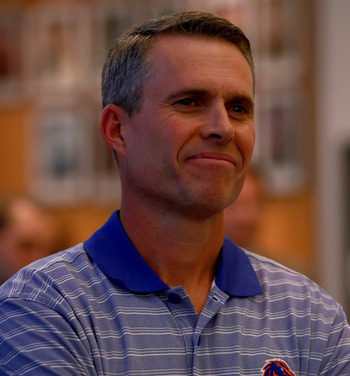 Brian Losness-US PRESSWIRE
Does going 30-3 over the last six seasons rate good enough for you to consider this program a dangerous road team?
Chris Petersen could throw out a bunch of unknowns every four seasons after losing his previous stars, and yet he will find a way to get the job done.
Dominating the non-BCS and BCS competition goes to show you how amazing the Smurfs are whether they are at home or away.
Certainly they do not lose at home very often (won 77 out of 79 under Petersen), but losing just three times on the road (Washington, Hawai'i, Nevada) qualifies the Broncos as one of the best road teams on the planet.
West Virginia Mountaineers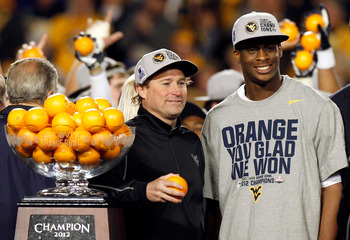 J. Meric/Getty Images
Dana Holgorsen scares me quite frankly, but that is just because his squad exploded for 70 points against Clemson in the Orange Bowl with the entire nation watching.
Clemson was actually favored in the game, but Geno Smith made it look like a video game out there that night.
Stedman Bailey, Tavon Austin and Ivan McCartney might be the best trio of receivers in the entire country, but even running back Dustin Garrison can gash you.
Home teams better be wary because one of the best offenses in the country can hang close to 70 points on you on any given Saturday.
Texas Longhorns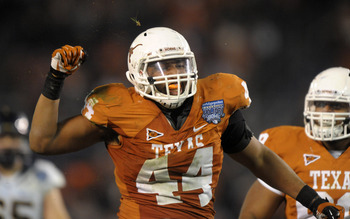 Kirby Lee-US PRESSWIRE
Yes, defense wins championships and the Longhorns feature one of the more talented ones in the nation.
Jackson Jeffcoat, Jordan Hicks, Alex Okafor, Kenny Vacarro and Quandre Diggs are future top-notch draft prospects, but Texas will only go as far as David Ash can take them.
He needs to be able to make the key throws in clutch situations, but it might not be nearly as bad as most are expecting it to become thanks to a bunch of talented playmakers.
The backfield is top five in overall talent thanks to Malcolm Brown, Johnathan Gray and Joe Bergeron, but the receivers are solid as well.
Mike Davis, Jaxon Shipley and Marquise Goodwin can stretch the field with ease, and an offensive line that returns four starters could be the unsung heroes that lead Texas to a potential BCS bid.
Georgia Bulldogs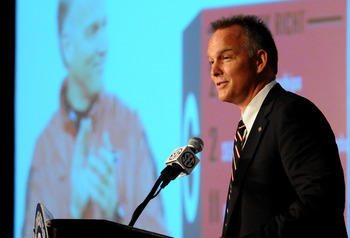 Kelly Lambert
Jarvis Jones should be considered the most feared linebacker in the country, but the UGA linebackers are nearly just as dangerous.
The great Phil Steele ranks them as the best in the country and there is a reason they are ranked high by most prognosticators. Alec Ogletree, Michael Gilliard, Amarlo Herrera, Chase Vasser and Christian Robinson form quite the group.
The scary part might not even be their linebackers because possessing two 350-pound defensive linemen has to be considered illegal to have on one single roster.
John Jenkins and Kwame Geathers will clog up the offensive line and allow every other player on the field to make electric plays.
Also, they have an All-American safety in Bacarri Rambo, and his eight picks last season just goes to show you that this defense might actually be the most dangerous in the SEC.
Yes, the 'Dawgs are scary, and they should be geared up against the likes of Missouri, South Carolina (who have beat them last two years), Kentucky and Auburn.
LSU Tigers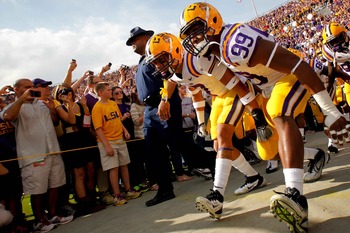 Derick E. Hingle-US PRESSWIRE
Any home team that has to take on the Bayou Bengals, my thoughts and prayers go out to your program.
It is disastrous for your offensive line and quarterback to go up against the LSU defensive line because Sam Mongtomery and Ki-Ki Mingo can obliterate your star signal-caller in half.
The Tigers not only can outrun your entire backfield, but they can run through a wall up front with tremendous strength as well.
The linebackers are not too shabby, but All-American Eric Reid and Tharold Simon are studs that should get more recognition this season with the dismissal of Tyrann Mathieu.
LSU is so scary good that most of the time nobody can even talk about its offense, which could be a big mistake.
Zach Mettenberger will be tested on the road, but he has a rifle of an arm and nearly a dozen of backs and receivers that will be running free thanks to a top five offensive line.
Plus, Les Miles has gone 23-9 thus far on the road, and certainly winning two SEC titles goes to show how road tested this squad has been.
Yes, LSU is arguably as good as it gets, and any team that faces the Tigers at home or away better play one of the better games of their lives or else they will likely go home losers.
Florida State Seminoles
Sam Sharpe-US PRESSWIRE
Despite winning nine of their last 16 games on the road, the Seminoles are poised to break through with nine returning starters on defense.
FSU is accustomed to losing a few of its top players every season to the NFL, and despite the dismissal to Greg Reid, the Seminoles are loaded as any program in the country.
Defensively speaking, they have a deep front seven with stars ready to burst onto the national stage.
Many of these future stars carried a struggling offense, and that in itself is the key for FSU to perhaps run the table.
E.J. Manuel is a scary talent that some NFL scouts are drooling over with his large frame (6'5", 238 pounds) and scary arm strength. He is also mobile enough to buy time for his developing and yet freakishly skilled receivers.
Anywhere you look on the roster, FSU has 4- and 5-star studs that look finally developed, and the ACC slate could allow them to actually stay healthy for a change.
Oregon Ducks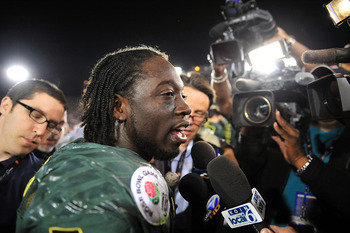 Gary A. Vasquez-US PRESSWIRE
These athletic speed demons on offense are superstars that college football should already know about.
LaMichael James was the main star that was often featured in Chip Kelly's offense, but now De'Anthony Thomas and Kenjon Barner will be one of the most dynamic duos in Ducks history.
While everybody will be talking about the speed they posses on offense, this year should be all about the defense during their heavyweight matchups.
This squad has the capability of playing in the BCS title because of that Nick Aliotti defense that is returning a boatload of talent.
Oregon is nearly unbeatable in Autzen, and there is hardly a drop-off when the Ducks go on the road as well (13-2 under Kelly).
USC Trojans
Jayne Kamin-Oncea-US PRESSWIRE
Even the 1985 Chicago Bears defense would have issues going up against this USC offense when you realize they have one of the more talented quarterback-receiving combinations heading into a season in seemingly forever.
Matt Barkley, Marqise Lee and Robert Woods are All-American performers that will be shining brightly all season long. Throw in Silas Redd to complement Curtis McNeal (other way around early on perhaps) and this offense has zero weak links.
The quick defense that features quite the back seven has an excellent chance at propelling this USC squad to an undefeated season and a BCS title berth.
Yes, they are scary and it doesn't matter what stadium they are performing in because the wealth of starting talent is borderline absurd.
Note: Lane Kiffin has gone 9-3 on the road, but the Trojans have had just one loss or less on the road since 2002.

Alabama Crimson Tide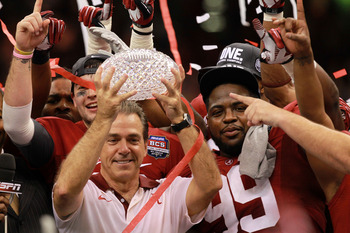 Ronald Martinez/Getty Images
Nick Saban (18-4 road) alone is fearful because he is the most dominant coach in all of sports these days with his ability to out-coach and out-prepare anybody in the country.
Alabama has the top offensive line in the nation and should be paving its way to a ton of road victories in 2012.
Throw in the fact that the Tide's defense reloads better than any program in the country, and there really isn't any great news even when the Tide loses all of their former defensive All-American performers.
The SEC is the top conference in the country, but both the coaching staff and the elite stars in the making are about as dangerous as it gets in college football.
Keep Reading