2014 Olympics: 5 Names to Know for Sochi Winter Games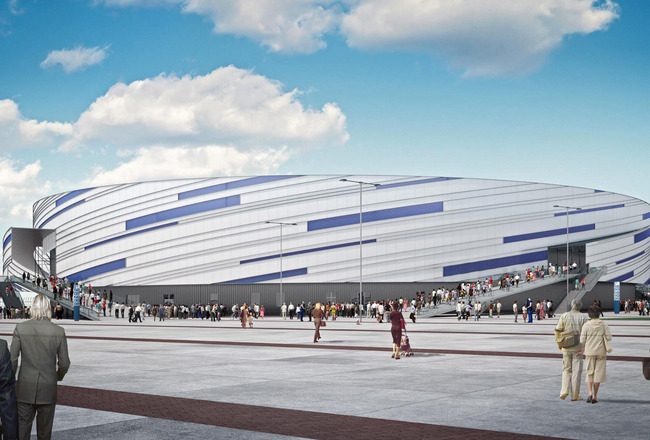 Handout/Getty Images
The next Olympics on the horizon are the 2014 Winter Olympics in Sochi, Russia. The sports are different, the weather is colder, but the goal is the same: to win a gold medal.
While we bask in the warmth of the 2012 Closing Ceremonies, the athletes hoping to compete in 2014 are hard at work in their training. For many who compete on snow, that means spending their summers high in the mountains or rolling around town on training skis designed for dry land.
For now, with Sochi 2014 still two years away, we can only speculate on who will be there and who will win gold medals. So here are a few names you should watch for in the headlines leading up to the next Olympics.
Lindsey Vonn (United States): Alpine Skiing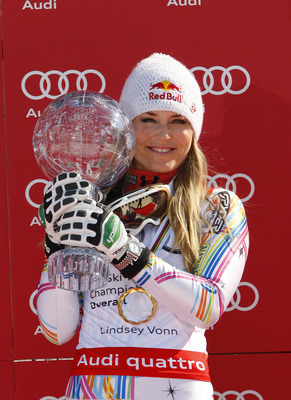 Alexis Boichard/Agence Zoom/Getty Images
Lindsey Vonn is easily the most recognizable skier in the world. She was the fifth woman to win World Cup races in all five alpine skiing disciplines (downhill, super G, slalom, giant slalom and super combined).
She made her Olympic debut in 2002 at age 17, although she didn't get on the medal podium.
In 2010, Vonn won the downhill event and placed third in the super G. She has won four of the last five World Cups by clear margins, coming in second in 2011 by just three points but dominating every other competition since 2008.
She is still searching for her dominant, Michael Phelps-esque performance at the Olympics, but that could easily come in Sochi.
Aliona Savchenko and Robin Szolkowy (Germany): Figure Skating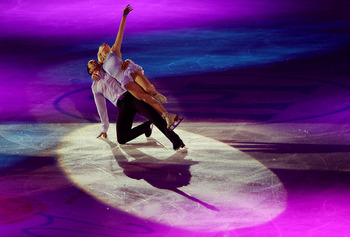 Scott Heavey/Getty Images
This may be cheating because these are actually two people, but figure skating pairs often seem connected at the hip, so it counts.
Slowly, Aliona Savchenko and Robin Szolkowy of Germany—Savchenko born in Soviet Ukraine and Szolkowy born in Soviet East Germany—have been winning more and more competitions. In 2006, they took sixth in Turin, and in 2010, they took third in Vancouver.
Since then, it's been all first-place finishes for the pair on the road to another Olympic attempt in Sochi. If the trend holds true, 2014 could be their golden year.
Petter Northug (Norway): Cross-Country Skiing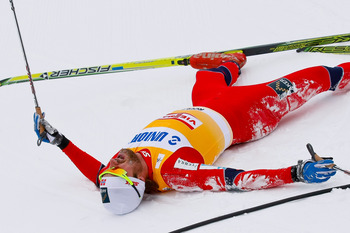 Stanko Gruden/Agence Zoom/Getty Images
After being disappointed that he was not chosen for the 2006 Olympics, Norwegian cross-country skier Petter Northug made a statement by winning four medals at Vancouver 2010. He won the 50-kilometer classical event and the team sprint, won silver in the 4x10-kilometer relay and received third place in the individual sprint.
That came as no shock to anybody who had followed Northug since Turin. In each World Championship since then, in 2007, 2009 and 2011, he has won at least one gold medal, earning three in each of the latter two.
Now that he knows what to expect from the Olympic competition, Northug is due for a big haul in Sochi.
Marit Bjørgen (Norway): Cross-Country Skiing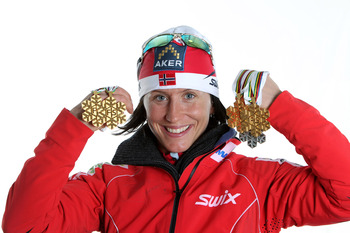 Pool/Getty Images
Norway's Marit Bjørgen is the most decorated sprinter in cross-country skiing history. She won three gold medals in Vancouver, in the individual sprint, individual pursuit and the 4x5-kilometer relay. She added to that by winning silver in the 30-kilometer classical race and bronze in the 10-kilometer freestyle.
More recently, she won four golds (individual sprint, 15-kilometer pursuit, 10-kilometer classical and 4x5-kilometer relay) and a silver (30-kilometer freestyle) at the 2011 World Championships.
She also suffers from asthma and brushed aside a doping allegation in 2010 after she was allowed to use a then-banned medication—the medication is no longer banned.
Five medals in one Olympics is going to be hard to beat, but Bjørgen will be back in Sochi trying to do just that.
Thomas Morgenstern (Austria): Ski Jumping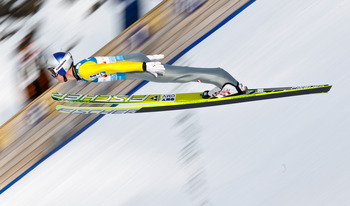 Stanko Gruden/Agence Zoom/Getty Images
Austrian ski jumper Thomas Morgenstern competes in both the large hill and normal hill events. He won gold in the individual large hill in 2006 and the team large hill in 2006 and 2010.
More recently, he's been on a tear in World Cups and World Championships.
In the 2010-11 Ski Jumping World Cup, he won seven rounds of the competition and placed at least third in nine others (there are 26 rounds total) to win it by nearly 400 points over his nearest competitor. He also won the individual normal hill, got second in the individual large hill and won both team events at the 2011 World Ski Championships.
Never mind that he only won the team event in Vancouver—Morgenstern is set for some serious individual success in Sochi if he continues on his recent pace.
Keep Reading