2016 Olympics: Rugby and Golf Added for Rio Games; Usain Bolt to Return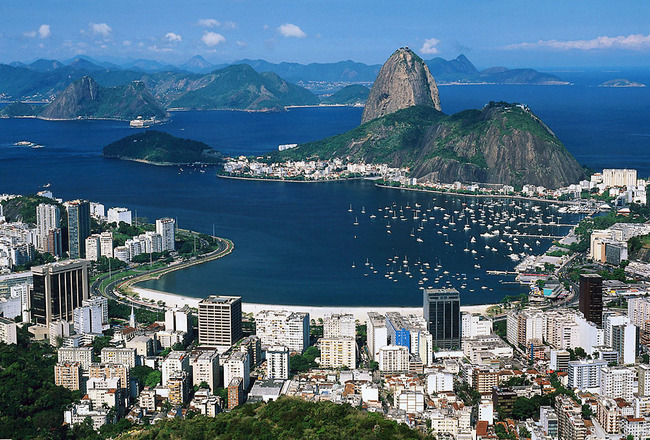 Rio 2016: The first summer games during winter?

As the London 2012 closing ceremonies wrap up, Olympic junkies turn their sights to the southern hemisphere, where Rio de Janeiro, Brazil will host the 2016 Summer Games.
Well, technically they will be the 2016 Winter Games. After all, seasons are relative when it comes to international sporting events, and Brazil's winter will end on September 22nd, making the 2016 Olympics the first-ever Summer Games played entirely during winter.
But don't cancel your plane tickets, folks.
Rio de Janeiro has a tropical savanna climate, meaning summer will still be summer in August of 2016. Even more conveniently for U.S. fans, Rio de Janeiro is only one hour ahead of East Coast Standard time, which will making watching events live much easier.
This will be the first time ever that a country in South America has hosted the Olympics, leaving Africa as the only inhabited continent to never host the Games.
Concerns have been raised about Brazil's infrastructure and whether or not it will be able to accommodate an Olympic-sized tourism boom. But the Brazilian Olympic committee has been paying attention in London 2012 and is confident that what they have learned in the past couple weeks will help them in 2016.
One thing is for sure, Brazilians know how to party, so expect the hosts to blast the recently exposed Olympic Athlete party culture to the moon. The streets and beaches of Rio de Janeiro are famous for their wild parties, both organized and impromptu. If there's one Olympics for U.S. fans to attend, it may very well be in 2016.
Besides beaches and bikinis, what else can fans look forward to in 2016?
New Sport: Rugby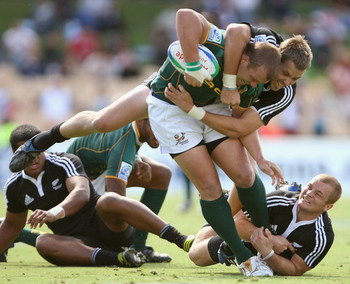 Rugby Sevens: The most exciting Olympic addition in decades
For the first time since 1924, rugby is back at the Olympics.
Perhaps the most international game that does not appear at the Games, rugby will appear in the popular form of the sport known as "rugby sevens." Because this will be the first exposure for many U.S. fans, we need not get too hung up on the differences between traditional rugby and rugby sevens, but there are some nonetheless.
The main difference in rugby sevens is that teams are made up of seven members, as opposed to the traditional fifteen. The game is also remarkably shorter, with two haves of only seven minutes each.
Since the game is played on the same field as regular rugby, there is far more open space. The players on rugby sevens' rosters, therefore, tend to have similar skill sets to backs and receivers in American football.
There is a lot of action and a lot of scoring in rugby sevens, so expect this to instantly be one of the most exciting sports at the games. While many rugby purists will certainly claim that traditional rugby would be a better showcase, American audiences are much more likely to enjoy rugby sevens.
Some of the world's top teams in rugby sevens include New Zealand, Fiji, England, South Africa, Australia, Wales and Argentina. Even the U.S. is usually able to field a competitive team. Check out the Rugby Sevens World Series Standings for more teams.
New Sport: Golf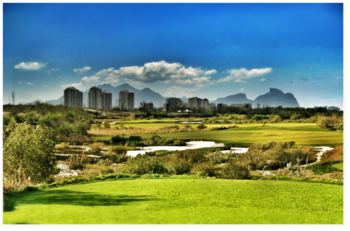 The 2016 Olympic Golf Course, designed by U.S. Architect Gil Hanse
The other major addition to the 2016 Olympic Games is golf.
The International Golf Federation has proposed an individual 72-hole stroke play tournament for both men and women. The top fifteen players in the world, according to the IGF rankings, would automatically qualify. The next 45 players would be selected from countries that do not already have two players.
Golf is a very popular sport worldwide and, like rugby, will instantly become a marquee event. These days, attracting big-name athletes seems to be the name of the game for the IOC, as they have essentially banned baseball until the MLB will let their players play.
But, if they can't have A-Rod, they can at least have Tiger Woods. Of course, Woods was a far more attractive athlete in 2009, when golf was voted in, just months before his public debacle, but regardless, there are sure to be countless faces fans recognize in 2016.
Check out this list of what London 2012 golf would have looked like if there had been an Olympic tournament using the IGF's proposed selection.
Minus Phelps, Bolt Will Dominate Center Stage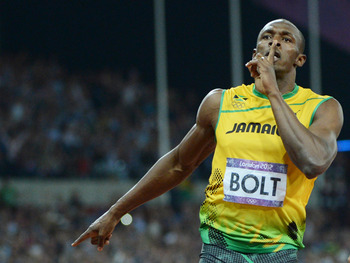 2016: The apotheosis of Usain Bolt
With Michael Phelps retiring, the media machine will have to find a new athlete to obsess over. Fortunately, Usain Bolt will only be 30 in 2016 and, barring injury, will be in the prime of his career.
Bolt has yet to fail to win a gold medal at the Olympics, and he will continue to attract attention as he cruises to international victory and continues to set world records in the down time between Olympics.
But many fans and analysts, perhaps bored with Bolt's easy victories in the shorter sprints, are clamoring for him to attempt the 400-meter dash on a serious level. His personal best, 45.28, which he ran in 2007, would leave him competitive, but not anywhere near the top.
However, 400-meter training is very different than what Bolt has likely been doing his whole career, and the switch would be grueling. With different training, he could likely bring his time down, but the question is how far?
His stride length at 6'5" would make a huge difference when extended to 400 meter, and his skinny build is far more similar to a long sprinter than to the short, stocky bodies that tend to excel in the 100m and 200m dashes.
Although he has expressed hesitancy to move up distances, breaking the long-standing world record of Michael Johnson may be too juicy of an opportunity to pass up.
Whether Bolt decides to expand his horizons, or is content continuing short sprint dominance, he will be the athlete to watch in 2016.
Four years is a long way away, but with Brazil offering tropical parties, rugby, golf and Usain Bolt, can we possibly wait that long?
Keep Reading