Fantasy Baseball 2012: Top 10 2-Start Pitchers for Aug. 13-19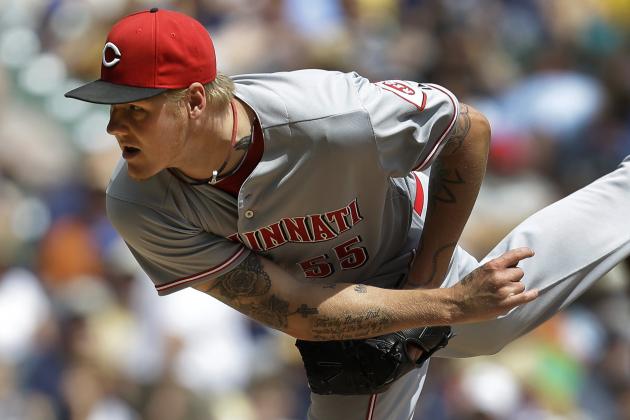 Mike McGinnis/Getty Images
Reds pitcher Mat Latos (10-3, 3.81 ERA) has been white-hot of late, allowing two runs or less in eight of his last nine outings.
The following slideshow is a top-10 ranking of two-start pitchers for the week of Aug. 13-19.

The listing does not necessarily account for a pitcher's season-long prospects, nor does it promise sustained dominance from this point forward. It's merely an educated guess of which starters will shine the brightest over the next seven days.

For a full listing of two-start pitchers, click here.

Enjoy the show!
Begin Slideshow

»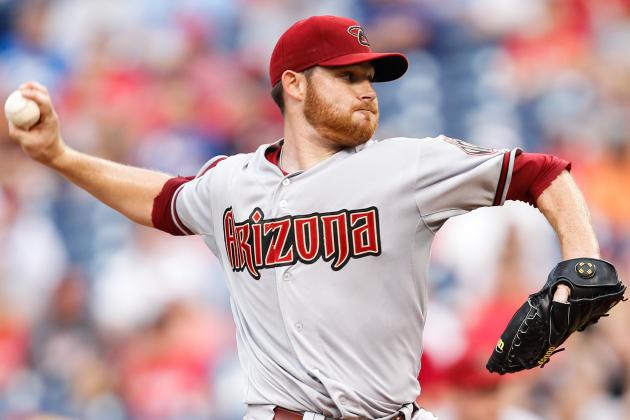 Brian Garfinkel/Getty Images

Ian Kennedy gets the final countdown nod over Matt Harrison, Josh Beckett, Jarrod Parker, Justin Masterson, Mike Minor, Hiroki Kuroda, Jeff Samardzija and Ryan Dempster, among others, for four key reasons:

1. From July 13-Aug. 3, Kennedy surrendered three or less runs in four consecutive starts, the first time he'd done that all season.

2. Kennedy has notched a victory in four of his last five starts.

3. The Arizona pitcher has seven-plus strikeouts in four of his last eight outings.

4. Kennedy has a date with the anemic Astros this weekend, which would brighten the day of any major league pitcher.

Weekly targets: One win, 2.95 ERA and 13 strikeouts.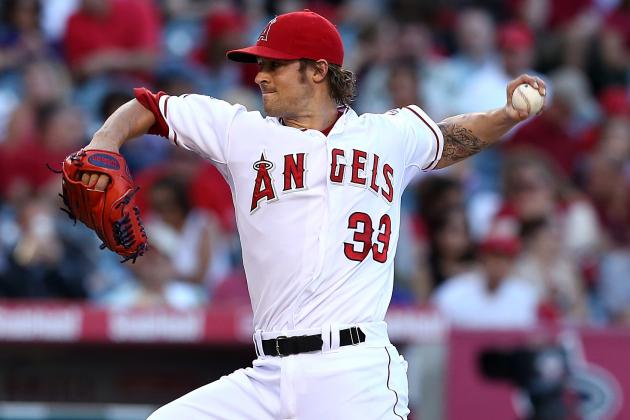 Josh Hedges/Getty Images

Forget about C.J. Wilson's eight-run meltdown against the Rangers (Aug. 7) or seven-run implosion against the Tigers (July 18).

By conveniently removing those wretched outings, Wilson is (otherwise) a perfect 8-for-8 in allowing three runs or less since June 19.

How's that for blissful ignorance?

Humor aside, with home dates against the Rays and Indians this week, Wilson (9-8, 3.34 ERA, 1.30 WHIP, 126/68 K-BB) has an excellent shot to spark a significant turnaround for the season's final stretch.

Targets: One win, 3.00 ERA and 14 strikeouts.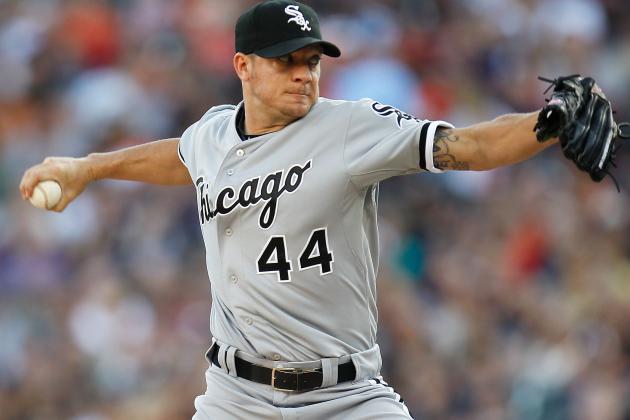 Gregory Shamus/Getty Images

Since June 13 (spanning 10 starts), Jake Peavy boasts outings of four, five, six, seven, eight and 11 strikeouts—figures that suggest he's been all over the map as a power pitcher.

But I'll take the high side of that argument, since Peavy has five games of seven-plus strikeouts in that span. Of equal importance, he's a perfect 10-for-10 in surrendering three walks or fewer.

And yet some might believe that Peavy and teammate Chris Sale have already peaked for the season, with both hurlers earning midseason spots on real-world and fantasy All-Star teams.

With roadies against the Blue Jays and Royals this week, I like Peavy's chances for more short-term success.

Targets: One win, 3.00 ERA and 14 strikeouts.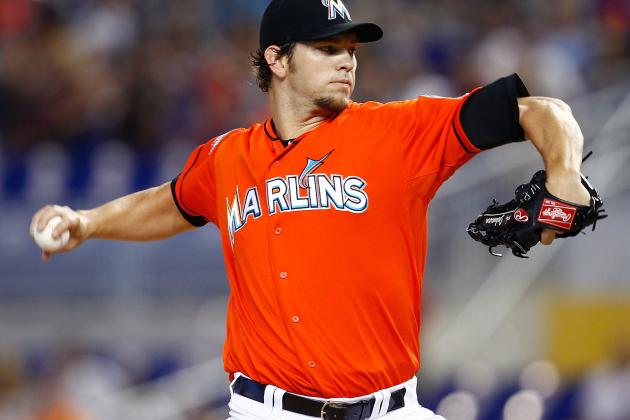 Sarah Glenn/Getty Images

Don't look now, but Josh Johnson (3.38 ERA, 1.10 WHIP, 37/9 K-BB since July 14) is starting to recapture his old fantasy mojo on the mound.

In his last four outings (spanning 25.2 innings), Johnson has two wins, a 1.79 ERA, 0.95 WHIP and 26/8 strikeout-to-walk ratio, numbers befitting of a fantasy ace in the final two months.

The only drawback? Johnson is still prone to bouts of wild inconsistency, as the six-walk effort against San Diego on July 29 might attest.

In fact, that night would have been an unmitigated disaster if Johnson hadn't held the Padres to just two hits.

Targets against the Rockies (away) and Phillies (home): one win, 2.85 ERA and 13 strikeouts.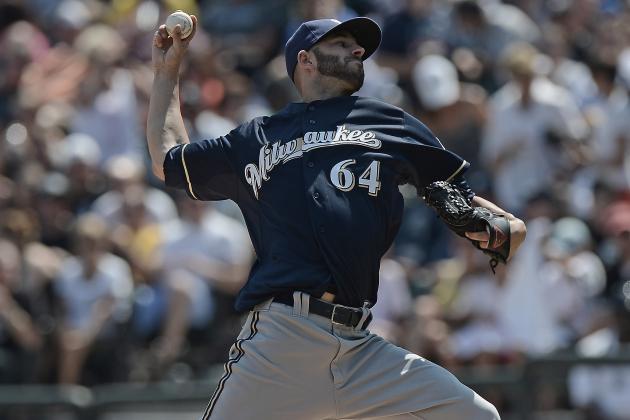 Jonathan Daniel/Getty Images

In his last 10 appearances (spanning 62 innings), Fiers is a perfect 10-for-10 in allowing two or less runs, a sterling streak that includes zero runs allowed in four starts.

And in that span, Fiers (6-4, 1.80 ERA, 1.01 WHIP, 80/16 K-BB) yielded three or less walks nine times.

Of equal importance, Fiers has three straight wins and six outings of six-plus strikeouts since June 24.

So, why is the dominant Fiers sporting such a middling ranking for the week? With a trip to Colorado on the docket (along with a home date against Philly), he's not a good bet for near-perfection against the Rockies.

Targets: One win, 3.05 ERA and 15 strikeouts.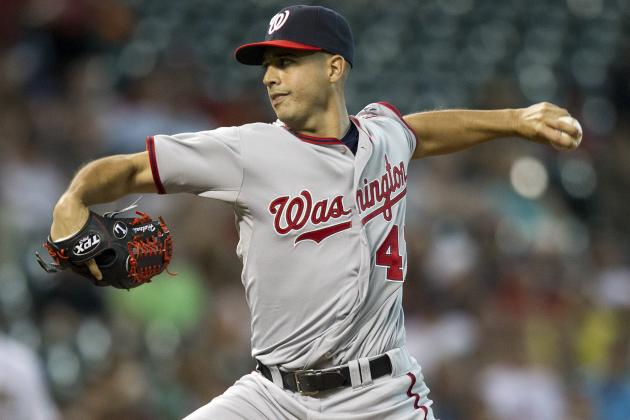 Bob Levey/Getty Images

In recent weeks, I had voiced some mild displeasure with Gio Gonzalez and his (in)ability to go seven full innings in a start.

It was the lone complaint in a season full of many highlights.

Fast forward to the present: Gonzalez (14-6, 3.32 ERA, 1.14 WHIP, 154/54 K-BB) has posted back-to-back outings of seven-plus innings (17 straight), creating more room for his 17 strikeouts in that span.

And yet he's fallen off the paces of a prodigious run from April 12-June 21 (spanning 14 starts), where Gio surrendered just three runs or less each time and fanned six-plus hitters 10 times.

Fingers crossed on Gonzalez finding his way against the Giants (road) and Mets (home) this week.

Targets: One win, 2.95 ERA and 14 strikeouts.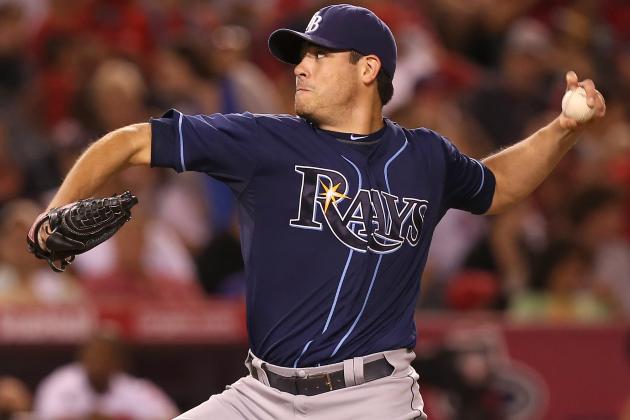 Josh Hedges/Getty Images

So, what's a guy with a 9-7 record, 3.73 ERA and so-so strikeout-to-walk ratio (124/62) doing so high in the countdown?

For those who aren't regular viewers of the Rays or club announcer Dwayne Staats, via MLB Extra Innings, Matt Moore has been busy living up to the immense potential he flashed in last year's American League playoffs (at the tender age of 22).

In his last 16 starts, spanning 95.2 innings, the rookie Moore has eight wins, a 3.02 ERA and 1.26 WHIP. Of equal importance, he has 13 outings of six-plus strikeouts in that span.

Targets: One win, 2.60 ERA and 14 strikeouts.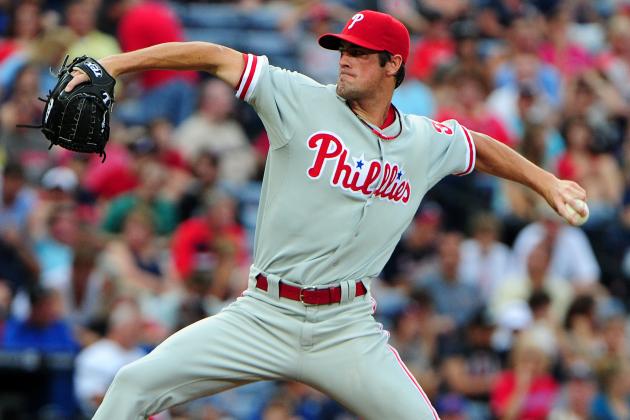 Scott Cunningham/Getty Images

Forget about Cole Hamels' back-to-back clunkers against the Giants (five runs, 10 hits allowed) and Braves (six walks) from a few weeks ago.

He's still riding high off a five-hit and zero-walk shutout against Atlanta from Aug. 7.

And of his last 10 outings, Hamels has registered six or more strikeouts nine times, with nine games of three or less walks as well.

It also helps that Hamels (12-6, 3.08 ERA, 1.12 WHIP, 153/40 K-BB) is one of the most bankable pitching assets in fantasy. He's a healthy lock to perform admirably in any environment.

Targets against the Marlins and Brewers (road): Two wins, 2.75 ERA and 15 strikeouts.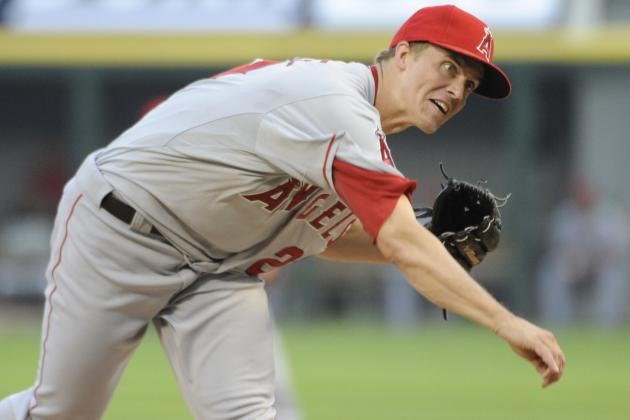 David Banks/Getty Images

Zack Greinke (9-4, 3.74 ERA, 1.26 WHIP, 137/36 K-BB) has had three starts in Angels garb, with varying degress of modest success, since his pre-deadline trade from the Brewers in July.

But the table is finally set for Greinke to show the people of SoCal what he's all about.

With home meetings against the Indians (3-13 in their last 16 games) and Rays (.234 team batting average) this week, Greinke is a healthy lock for at least 17 innings and healthier fantasy numbers.

Targets: Two wins, 2.55 ERA and 14 strikeouts.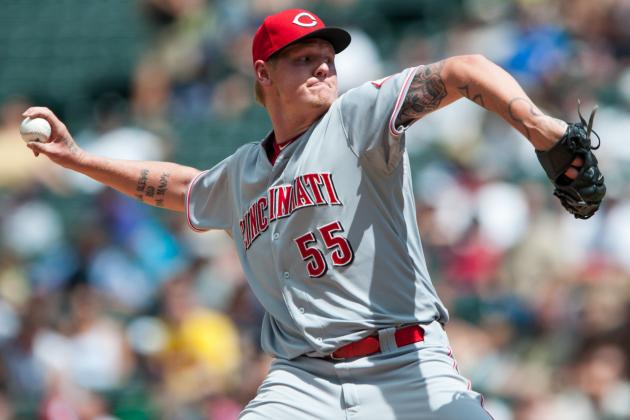 Dustin Bradford/Getty Images

From any angle, Mat Latos has profferred an amazing run of pitching goodness since June 25:

1. Two runs or less allowed in eight of the nine outings. During that stretch, Latos has a 2.03 ERA.

2. Seven outings of four hits allowed or less.

3. Five games of seven-plus strikeouts, including 13 against Milwaukee on June 25.

4. Latos is a perfect 9-for-9 in allowing three walks or less.

For good measure, Latos (10-3, 3.81 ERA, 1.19 WHIP, 130/44 K-BB) has two attractive home matchups with the Mets and Cubs this week.

Targets: Two wins, 2.45 ERA and 15 strikeouts.