Texas A&M Football: The All-Time Dream Team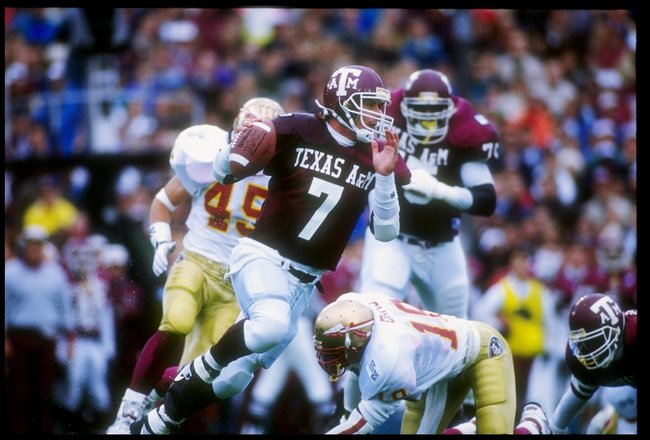 Mike Powell/Getty Images
Texas A&M ranks 18th all-time in the number of football wins. They are one of the upper-echelon programs in the nation, and the Aggies have featured some of the best football players ever to grace a college field during their 100-plus years of fielding a football team.
They have produced All-Americans, Heisman Trophy winners, Butkus and Bednarik Award winners. A&M has produced multiple players who went on to play in the NFL and win Super Bowl rings.
This is a look at the top players to play their respective position in an A&M uniform.
This is the Texas A&M Dream Team.
Quarterback
Pick: Ryan Tannehill
Honorable Mention: Bucky Richardson, Corey Pullig, Kevin Murray, Edd Hargett
This was the toughest position to decide: Pullig has the most wins in A&M history as a starter, Richardson was arguably the best leader and Murray was an excellent passer.
Tannehill was the pick despite the fact that he almost single-handedly lost the 2011 Texas game. Tannehill is the only player in NCAA history to pass for 4000 career yards and have 1,500 receiving.
He is such a great athlete that he would have been successful at quarterback in any system, in any era. Tannehill is the only quarterback in the history of the school to be drafted in the first round.
He does not receive the credit he deserves as a college quarterback.
Running Back
Dream Team: Darren Lewis, Leeland McElroy
Honorable Mention: John David Crow, Rodney Thomas, Greg Hill, Bob Smith, Cyrus Gray
Darren Lewis is the Aggies' all-time leading rusher. At the time, he was the only running back in college football history to rush for over 5,000 career yards and not win the Heisman.
Leeland McElroy was probably the most dynamic running back the Aggies have ever had, and he was a threat to score every time he touched the ball. He could beat the opposition by running, receiving, or on special teams.
Fullback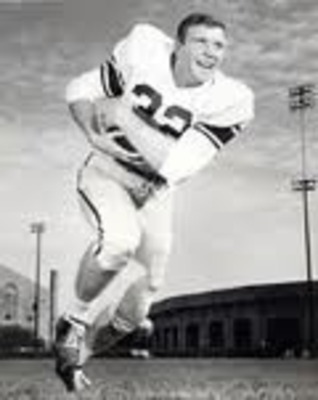 Photo by ESPN.com
Dream Team: Jack Pardee
Honorable Mention: Robert Wilson, Detron Smith
An argument can be made that Pardee is A&M's best football player of all time. John David Crow got a lot of the accolades at the time, but Pardee may have been the better player on the field. A devastating blocker and runner who played six-man football at Christoval (TX) High School, Pardee was an All-American in 1956 and played in the 1963 Pro Bowl.
Offensive Tackles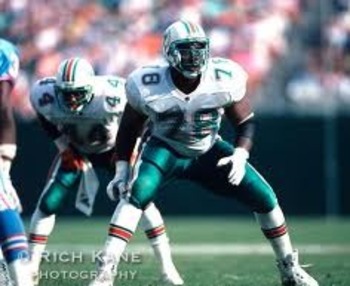 Photo by gridironfans.com
Dream Team: Richmond Webb, Charlie Krueger
Honorable Mention: Rolf Krueger, Maurice Moorman, Luke Joeckel, Joe Boyd
Richmond Webb is arguably the best offensive lineman to come through A&M. He was recruited by Jackie Sherrill as a defensive end out of Roosevelt High School in Dallas. He switched over to the offensive side of the ball and became a dominant player. Webb was a first-round draft pick by the Miami Dolphins and started at left tackle as a rookie. He appeared in multiple Pro Bowls.
Krueger was a twice named All-American. He helped lead an undefeated SWC champion squad in 1956, and he was a first-round draft pick and appeared in two Pro Bowls.
Joe Boyd led an exceptional offensive line on the 1939 team. That team was dominant in the trenches.
Offensive Guard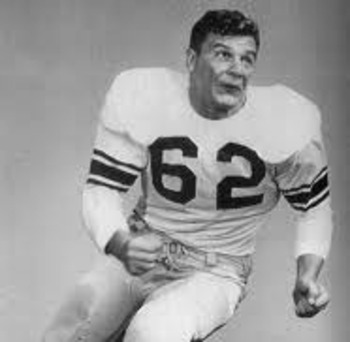 Photo by fanbase.com
Dream Team: Dennis Goehring, Joe Routt
Honorable Mention: Semisi Heimuli, Billy Yates, Marshall Robnett
Joe Routt was an All-American in 1936 and 1937, and the following year, he was drafted by the Cleveland Rams. Routt died in the Battle of the Bulge in World War II, and the street that runs along the north side of Kyle Field is named after him.
Goehring was an All-American in 1956 and helped pave the way for the ninth best-ranked offense in the country. He was also named All-SWC two times.
Center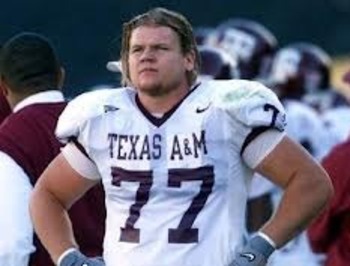 Photo by dallasnews.com
Dream Team: Seth McKinney
Honorable Mention: Mike Arthur
McKinney was a dominant player in the middle of the Aggies' offensive line for four years. He earned second-team All-American honors as a senior and was drafted by the Miami Dolphins in the third round of the 2002 NFL Draft.
Arthur was an All-American in 1990. He was drafted by the Cincinnati Bengals and spent six years in the NFL. Arthur earned a Super Bowl ring with the Green Bay Packers.
Wide Receiver
Dream Team: Robert Ferguson, Jeff Fuller
Honorable Mention: Terrance Murphy, Chris Taylor, Ryan Swope, Bethel Johnson
Ferguson was only on campus for one season, but it was a dominant one. He set school records for receiving yardage during the 2000 season. Ferguson had 58 receptions for 885 yards and six touchdowns. He demanded a double team all year yet still managed to come down with the ball.
Ferguson was All-Big 12 in his only season in the conference. He left school a year early and was a second-round pick by the Green Bay Packers in the 2001 NFL Drat.
Some will argue with the selection of Fuller, but the numbers don't lie. He broke every receiving record in school history, and the fact that his senior season was considered such a disappointment with only 70 receptions for 827 yards speaks volumes to how good he was. Fuller set school records for career receptions, receiving yards and touchdowns.
Tight End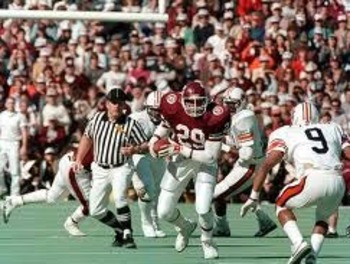 Photo by TexAgs.com
Dream Team: Rod Bernstine
Honorable Mention: Greg Schorp, Greg Porter, Martellus Bennett
Rod Bernstine held the A&M record for receptions in a season with 65. He went on to a become a first round draft pick by the San Diego Chargers in the 1987 draft and spent nine seasons in the NFL.
Schorp led the Aggies in receptions with 24 as a freshman in 1991. He was a tremendous blocker and had great hands. The Aggies won three straight SWC titles while Schorp was on the team.
Bennett gets a lot of grief for not realizing his potential while he was at A&M. He was a devastating blocker who ended his career with over 1,000 receiving yards. Benett was held back by a head coach who had no idea how to utilize the passing game.
Defensive Line
Dream Team: Ray Childress, Jacob Green, Sam Adams
Honorable Mention: Ty Warren, Brandon Mitchell, Ed Jasper, Sammy O'Brient, Michael Bennett
Childress was a dominant defensive player on some poor A&M teams. He was named All-American in 1983 and 1984. He had 15 sacks in 1983 and 10 in 1984. He was a first-round draft pick by the Houston Oilers and had a tremendous NFL career.
Jacob Green still holds the A&M record for sacks in a season with 20 sacks. He was selected as an All-American in 1978 and 1979. Green had a over 100 sacks in his NFL career and was one of the dominant defensive linemen in the NFL in the 1980's.
Sam Adams was the best player on the field the minute he stepped onto campus as a true freshman. He started every game for three years straight before leaving for the NFL after his junior season. He was voted to the All-SWC team all three years he was at A&M. He was a first-round draft pick by the Seattle Seahawks. Adams started on one of the most dominant defenses in NFL history, and in addition to going to three Pro Bowls, he helped lead the Baltimore Ravens to a victory in the 2000 Super Bowl.
Linebackers
Dream Team: Dat Nguyen, Von Miller, Quentin Coryatt, John Roper
Honorable Mention: Robert Jackson, Ed Simonini, Marcus Buckley, Warrick Holdman, Aaron Wallace, Johny Holland
A two-time All-American, Nguyen is easily in the top five of best A&M football players ever. He holds the school record for most career tackles and is the epitome of what a middle linebacker should be.
Another two-time All-American, Miller led the nation in sacks with 17.5 as a junior in 2009. He won the Butkus Award as the nation's best linebacker in 2010. Miller tied Coryatt for the highest draft pick in school history when he was selected second overall in the 2011 draft by the Denver Broncos.
Coryatt was a freak of nature on the field. He was named a second team All-American in 1991 and was the SWC Defensive Play of the Year. He was the number two pick of the 1992 NFL Draft by the Indianapolis Colts.
Roper had 15 sacks in both his junior and senior seasons and was selected as an All-American as a junior in 1987. Roper was the SWC Defensive Player of the Year in 1987. Roper recorded 36 career sacks.
Defensive Backs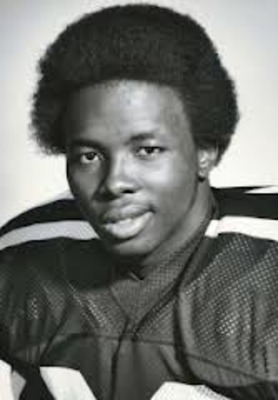 Photo by Aggielettermen.org
Dream Team Cornerback: Kevin Smith, Aaron Glenn
Honorable Mention: Jason Webster, Sammy Davis, Pat Thomas
Smith and Glenn set the standard for cover corners at A&M. Both were first team All-Americans and first-round draft picks. Both went on to successful NFL careers. During his first season at A&M, Glenn broke up an NCAA record 20 passes.
Dream Team Safety: Lester Hayes, Dave Elmendorf
Honorable Mention: Patrick Bates, Tommy Maxwell
Hayes is one of the best defensive backs ever to put on a pair of cleats. He was an All-American at safety at A&M and then switched to corner in the NFL where he was a top shutdown corner for years with the Raiders.
Elmendorf defined the term student-athlete. He was an Academic All-American and also an All-American on the field in football and baseball. As a senior in 1970, he intercepted six passes.
Kicker/Punter
Dream Team Kicker: Randy Bullock
Honorable Mention: Kyle Bryant
Bullock is the most accurate kicker in the history of the program. He was named All-American in 2011 and was awarded the Lou Groza Award as the nation's best placekicker.
Dream Team Punter: Shane Lechler
No one else is close to Lechler. He is the best punter in the history of the program and arguably in the history of football. He will likely end up as the first punter inducted into the NFL Hall of Fame. Lechler holds the NCAA record for career punting average with 44.7 yards. He was named first team All-American in 1998 and 1999.
Keep Reading

Texas A&M Football: Like this team?