Dallas Cowboys: Center Position Should Be Declared a Disaster Area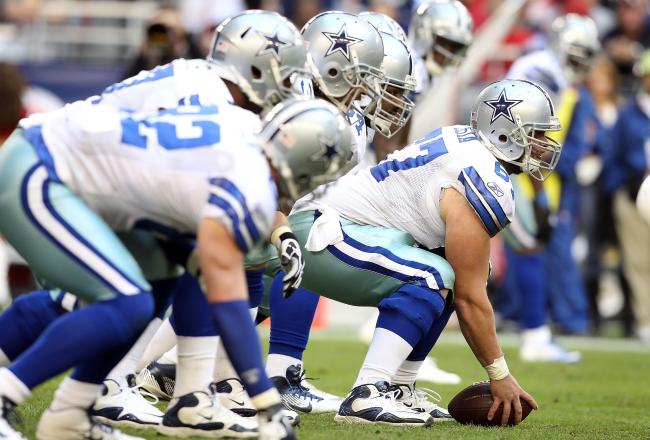 Christian Petersen/Getty Images
Dallas Cowboys fans would love to start the season with an upset victory over the defending Super Bowl champion New York Giants, but dreams of that scenario are on pause now with the rash of offensive line injuries in camp.
It's one thing to temper one's expectations because of a lack of continuity along the line, but it's quite another reality altogether when you don't have the most fundamental pieces in place to start an offensive play.
There is a reason plays are often referred to as snaps. The snap of the ball is how the play starts and thus it is the most critical, elemental aspect of offensive football.
Sure, it's often overlooked, because teams make sure they have this very basic action covered. They make sure they have at least two, if not three, linemen in camp who are experienced at this most important action.
Such is not the case with the Cowboys. Dallas has baffled its fans up until this juncture by not signing a veteran, nor drafting a promising young center to anchor their line. They have chosen to stick it out with Phil Costa, who struggled mightily at the position last year and to rely on a couple of guards with very limited center experience.
You can now add that plan to the list of "growing pains" and "teaching moments" for young head coach Jason Garrett. The Cowboys are now looking to sign a veteran center, something they should have done at the start of camp.
Fumbled snaps have been a significant disruption to the work that new offensive line coach Bill Callahan is attempting to accomplish during this critical time in training camp. But they don't just disrupt the offensive line, they disrupt the entire offense.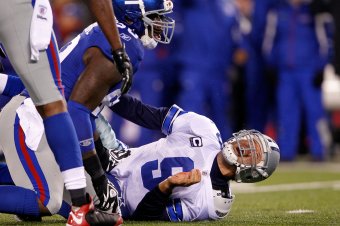 Rich Schultz/Getty Images
How are supposed to evaluate which of the competing receivers is your best option when the center can't get the ball into the quarterback's hands? How are you supposed to evaluate how good your defensive line is when the offensive line is in such disarray that even Coale Beasley could get penetration in the backfield? And he's an undersized wide receiver!
And yet, most analysts and sports writers who cover the Cowboys are keeping their powder dry until they see the results on the field in Monday's preseason game.
Well, consider me the writer who fired the first shot. Just as I would have moved months ago to fix the center problem, I will be the first to pronounce this situation a disaster.
Perhaps if we can get the governor of Texas to declare the entire center of the Dallas line a disaster area, we can get federal funding to rebuild it in time for the Giants game. Even if that were to happen, expecting smoothly coordinated blocking in the face of the Giants world champion defensive line would be a pipe dream.
Don't get me wrong, I have written plenty of optimistic pieces about the Dallas offense. I am aware that they are loaded with talent at the skill positions, I wrote recently that Romo could pass for over 5,200 yards this season, with the weapons at his disposal.
But I was not anticipating that the Dallas front office would be stubborn about this offensive line.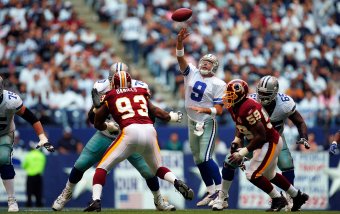 Ronald Martinez/Getty Images
First, it was the guard and center position. Then, it appeared they acknowledged their challenges at guard, bringing in three veterans for workouts.
Only they failed to sign the one that could really help: Montrae Holland. He was the only one with a decent rating for his play in 2011. Like many analysts, I decided to cut Dallas some slack on that, assuming that they would bring in Holland later on.
But now that Costa is suffering from an injury that is clearly from overwork at the center position, the foolishness of Dallas's approach is painfully obvious.
If you have watched any of the preseason football that has taken place this weekend, you know what the offenses look like on the teams whose offensive lines are behind schedule. It doesn't look pretty.
When you watch Dallas attempt to run a first team offense Monday, take note of how nothing really works when the center of the line is in chaos.
Pay attention to how out of sync the entire offense looks, from the center to the backs to the receivers. This is because it all begins with that most elemental basic movement: the snap of the ball.
The Jones father and son team chose to take this action for granted up to this point. Dallas fans can only hope that the comedy of errors that ensues Monday night is a wake up call that hasn't rung too late.
UPDATE: Cowboys decide not to sign Jamal Jackson after working him out on Sunday. A source told ESPN that Jackson was out of shape. A 300 pound+ guy who hadn't played in a year was out of shape? Shocking!
Note to GM Jerry Jones: the time to shop for centers is immediately after your starting center ends the season ranked 30th (ProFootball Focus) and has a "highlight reel" that includes multiple shotgun snaps that are high and away, premature, or completely over your QB's head.
Shopping for a center halfway through training camp is like shopping for an air conditioner in Dallas in the middle of August.
This article is
What is the duplicate article?
Why is this article offensive?
Where is this article plagiarized from?
Why is this article poorly edited?

Dallas Cowboys: Like this team?