UFC 150 Results: What's Next for Yushin Okami After Defeating Buddy Roberts?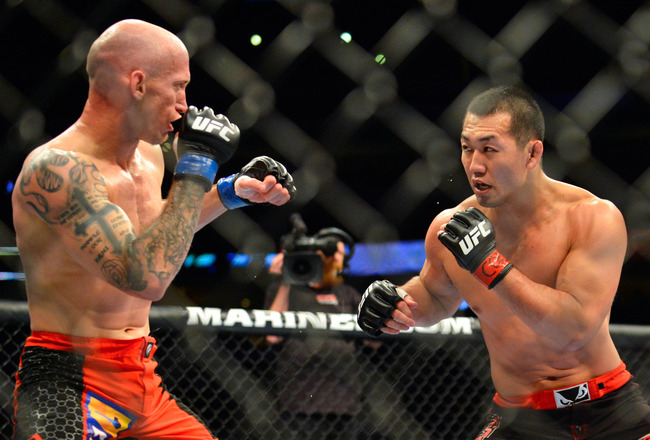 Ron Chenoy-US PRESSWIRE
The third time was the charm for former middleweight title contender Yushin Okami. Originally slated to face Luiz Cane, the Japanese star would see his UFC 150 opponent change twice before settling on Buddy Roberts.
"Thunder" would taste trouble early on, as Roberts was landing with heavy punches on more than one occasion. However, working his way into a clinch position, Okami was more than willing to use ground and pound to batter the late replacement.
Nearly stopping the fight in the first round due to unanswered shots, Herb Dean stepped in halfway through the second round after seeing Okami bomb on Roberts while in back mount.
Now that Okami is back on the winning side of things, let's take a look at some possible opponents for his next UFC appearance.
Costa Philippou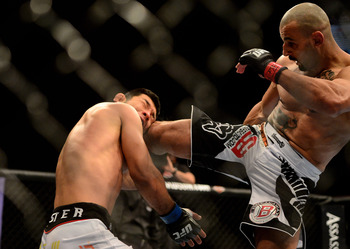 Mark J. Rebilas-US PRESSWIRE
Costa Philippou is a Serra-Longo fighter who has done well by letting his hands lead the way. Outstriking Riki Fukuda, Court McGee, Jared Hamman and Jorge Rivera, the Greek fighter has worked his way into the UFC's top 15 middleweights.
How high can he climb up the divisional ladder? We can't find out unless we allow him to square off with a divisional mainstay like Okami.
Given the brief trouble that Yushin had with the striking proficiency of his opponent, Philippou could light "Thunder" up and find himself as an unlikely contender in 2013.
Jake Shields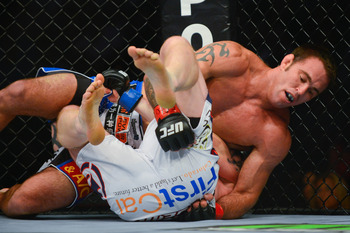 Ron Chenoy-US PRESSWIRE
The wrestling skills of Yushin Okami would be instantly negated by the grappling proficiency of former Strikeforce champion Jake Shields. This Cesar Gracie fighter fills the BJJ hole that was left with the departure of Demian Maia.
Shields looked good in his chess match against Ed Herman Saturday night, and he could present an interesting challenge the likes of which Okami has yet to deal with.
With great takedown defense, Okami could keep this fight standing and put a big feather in his cap.
C.B. Dollaway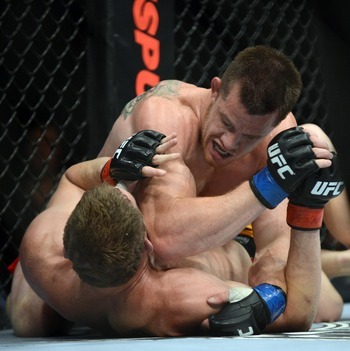 Ron Chenoy-US PRESSWIRE
Ohio-born C.B. Dollaway is coming off of the biggest win of his career, as he defeated Jason "Mayhem" Miller at UFC 146. The May contest saw the wrestler utilize excellent takedowns that put his opponent on the canvas repeatedly.
The total number of takedowns that Dollaway secured equaled six at the end of the contest. That wrestling prowess is a fundamental tool when battling an experienced veteran like Okami.
With a post-TUF record of 6-3, the Doberman has seen his share of success inside the Octagon. He is ready for a challenge with Okami, although he would be an underdog due to his tendency to get rocked and recent losses to Jared Hamman and Mark Munoz.
Rousimar Palhares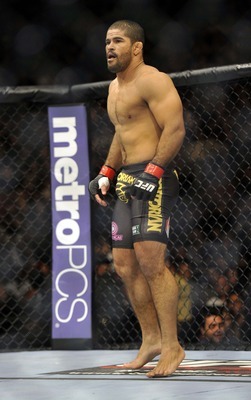 Joe Camporeale-US PRESSWIRE
Originally Okami vs. Luiz Cane, Brazilian leglock specialist Rousimar Palhares stepped in as a replacement after Cane was injured in training. In an ironic twist, Palhares, too, became injured and needed to pull out of the contest.
Once Palhares is ready to return to the cage, this fight is an interesting battle between submission artist and wrestler. Both men would prefer their fights to work toward the canvas, but neither man minds exchanging in a standup battle if required.
This fight made more sense when Okami was coming off of a loss, but it remains an intriguing matchup between middleweight standouts who have yet to face off inside the Octagon.
Keep Reading