With one game down and three more to go, the preseason schedule is well underway for the New England Patriots.
Following an encouraging 7-6 win over the New Orleans Saints last Thursday night, Bill Belichick and Co. turn their heads to the Aug. 20 clash against the Philadelphia Eagles.
With the Patriots' final three preseason games all coming in a span of 10 days, the next week of training camp will be crucial for those players fighting for a position on the roster.
Here are some interesting things to follow in the next week of training camp -
First-String Running Back Snaps
Going into the first game against the Saints, it seemed as if Stevan Ridley was the runaway choice for lead back in the Patriots' offense. After an impressive rookie season and some solid performances in training camp, Ridley's hold on the job seemed quite secure.
However, after Shane Vereen's performance against the Saints, the competition for starting running back just got a lot fiercer. The Patriots front office obviously thought more of Vereen when they drafted him over Ridley but a string of injuries derailed his rookie season and he was an afterthought in the offense for most of last season.
How Josh McDaniels delegates first-team snaps at running back will give a good indication of who is in the lead for the starting job.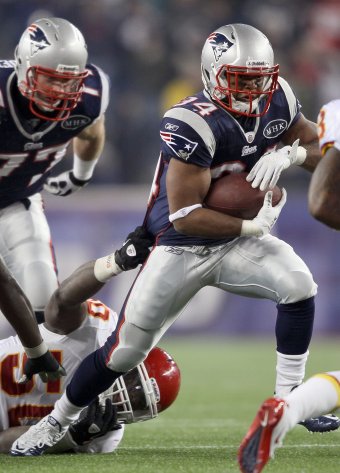 Elsa/Getty Images
Competition For Pass-Rushing Spots
One of the more impressive aspects of the Patriots win over the Saints was the defense's ability to put pressure on the Saints' quarterbacks. With Chandler Jones, Jermaine Cunningham, Rob Ninkovich and Trevor Scott all having multiple pressures, the Patriots' pass rush looked better than it has for a long time.
However, not all of these guys will make the team and with one true week of training camp left, time to impress is running out.
Progress Of Injured Players
Several key Patriots players including Logan Mankins, Deion Branch, Brandon Spikes, Sebastian Vollmer missed the Saints game due to injury. With so many starters out, the overall quality of the team has dipped, especially on the offensive line.
Hopefully a few of these guys can get back on the field and start practicing. For players like Branch and Ron Brace, their position on the roster depends on them getting onto the practice field and impressing the coaches.
Other injured players to monitor include; Daniel Fells, Visanthe Shiancoe, Jonathan Fanene and Alfonzo Dennard.
New Formations On Offense
After watching the Patriots practice their screen game heavily throughout training camp, they unleashed several of their screen plays against the Saints. While the plays weren't terribly effective, there certainly were some promising signs.
Along with the increased use of the fullback and I-formations, Josh McDaniels' Patriots offense as a whole looks a lot more diverse than Bill O'Brien's.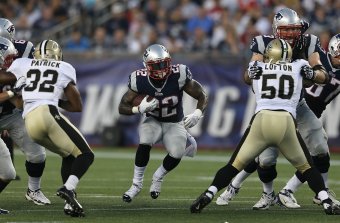 Jim Rogash/Getty Images
A good sign for an offense that got a bit predictable towards the end of the season, something that was taken advantage of by the Giants and almost the Ravens. With the offensive line in flux, keeping opposing defenses guessing will keep help keep the chains moving.
Offensive Line Shuffle
With the Patriots offensive line struggling under the weight of injuries and inconsistent play, don't be surprised if Bill Belichick and Dante Scarnecchia shake things up a bit.
With backups like Donald Thomas impressing and incumbents Dan Koppen and Nate Solder struggling, the starting offensive line may have a few different looks next week.
Most Patriots fans are hoping Logan Mankins and Sebastian Vollmer make a quick recovery and join the team soon, but until then, Scarnecchia will have to work with what he's got.
Return Game
Throughout camp, the Pats have used several different players for various return duties. Everyone from Pat Chung, Aaron Hernandez, Wes Welker, Shane Vereen and Julian Edelman has had a try at either returning punts or kickoffs.
Since Brandon Tate was let go last season, the Patriots haven't had a true kickoff return man, with Danny Woodhead and Julian Edelman usually splitting the reps. While both are fine punt-return men, neither possess the true speed needed for a kickoff return.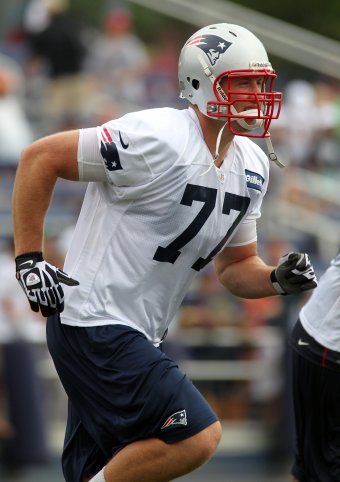 Stew Milne-US PRESSWIRE
With Coach Belichick a strong believer in field positioning, it will be interesting to see if he gives other players an opportunity to make a play in the return game.
Battle For Final Receiver Spot
The Patriots' receiver corps is absolutely loaded at the moment. With four receivers on the roster having gained more than 700 receiving yards last season and two tight ends who gained more than 900 yards last season, Tom Brady certainly doesn't have a lack of targets.
Not every player can make the roster, and the fight for the final receiver position will be between Dont'e Stallworth and Deion Branch. Branch looked like he had the inside route to the spot, but an injury, coupled with a spike in performance by Stallworth, has thrown this competition wide open.
If Branch can get back onto the practice field, he and Stallworth should have a few interesting days coming up in camp.
Who Steps In For Dane Fletcher
The first preseason game also brought about the first major injury of the season as linebacker Dane Fletcher was carried off with what looks like a torn ACL. While Fletcher isn't exactly a key player for the Pats, his ability to play on third down, most special teams units and back up Jerod Mayo and Brandon Spikes have been valuable over the past two years.
Newly signed veteran Bobby Carpenter will be the main recipient of Fletcher's snaps, but he is not quite as good of a player as Fletcher. Carpenter has struggled since being selected in the first round of the 2006 draft by the Cowboys, but he has impressed so far in camp. Rob Ninkovich is another player capable of playing in Fletcher's place.