36 Un-Fireable College Football Coaches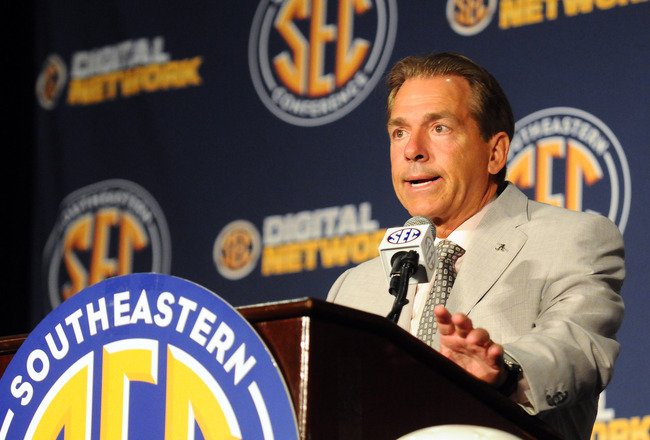 Kelly Lambert
As we continue to countdown the days (17) until the 2012 season gets underway, the coaches prepare to get their depth chart sorted out before kickoff.
It is never easy to decide who to redshirt and who to come right off the bench as backups, the life of coaches these days are filled with more pressure than ever before.
Many prestigious programs are paying their star coaches millions of dollars every season and if they do not live up to the hype they will be sent packing.
However, there are a list of coaches that are sitting pretty these days based on their amazing production and achievements over the last few seasons.
Looking at your top coaches in the country, here are your 36 un-fireable leaders (barring they pull a Bobby Petrino etc) as we head into the 2012 season.
Note: Feel free to throw in some of your favorite coaches who did not make the list
Dabo Swinney, Clemson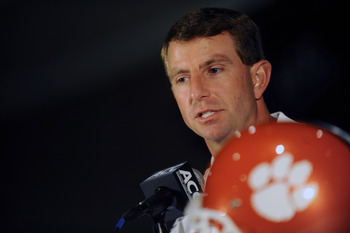 Sam Sharpe-US PRESSWIRE
Current Record at Clemson: 29-19
The Tigers are too talented right now to pull a Clemson these days, but the expectations are getting higher because of the tremendous players that Dabo has reeled in.
Clemson finally appeared in their first ever BCS bid in the Orange Bowl last season and albeit they did get obliterated, the Tigers are relevant in the landscape of college football.
The team would not be anywhere near as relevant without Dabo Swinney, and guys like Sammy Watkins and perhaps Robert Nkemdiche (top 2013 prospect) will propel Clemson to even greater heights.
If so, Dabo not only would become un-fireable coach but there could be some future statues built in honor of him as well.
Jimbo Fisher, Florida State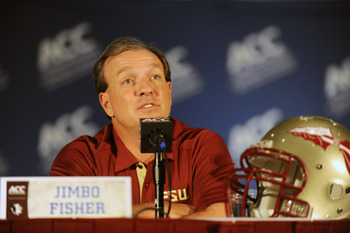 Sam Sharpe-US PRESSWIRE
Current Record at Florida State: 19-8
Jimbo Fisher and his No. 7 (USA Today Coaches Poll) ranked Seminoles once again have BCS aspirations with expectations that will not be easy to achieve, but the overall talent and schedule will give them a solid opportunity.
Their defense might be the best on the planet, and quarterback EJ Manuel will allow their offense to become one of the more consistent units they have had in over a decade.
Jimbo is certainly not on the hotseat and a bid to the BCS and even perhaps to Miami Gardens for the national championship would add to the legacy to both Fisher and his Seminoles.
Paul Johnson, Georgia Tech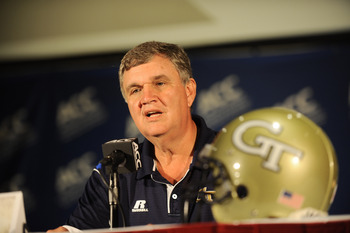 Sam Sharpe-US PRESSWIRE
Current Record at Georgia Tech: 43-22
Before Paul Johnson took over in Atlanta, the Jackets were not in complete disarray but he did lead them to their first ever BCS bid.
The ACC may not have a good record in the BCS (2-13), but it is not easy to get there unless your name has been Frank Beamer or Bobby Bowden.
Georgia Tech will be a thorn in the side of Virginia Tech for years to come because Paul Johnson is not likely going anywhere.
Tom O'Brien, North Carolina State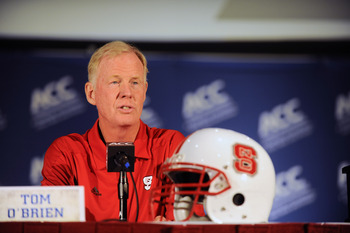 Sam Sharpe-US PRESSWIRE
Current Record at North Carolina State: 33-30
The Pack look to be back thanks to their star-studded quarterback in Mike Glennon, but he needs his young receivers to step up if they expect to reach the double-digit mark for victories.
NC State is a solid program in the ACC thanks to Tom O'Brien, but they need much more consistency to become a nationally ranked and relevant team.
The defense is solid in the secondary thanks to David Amerson, but O'Brien needs to continue to coach them up since the program has not been able to haul in too many superstar recruits in the last few seasons.
That said, the program is still improving and it because of their head coach.
Mike London, Virginia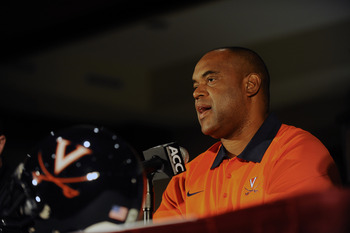 Sam Sharpe-US PRESSWIRE
Current Record at Virginia: 12-13
The Wahoos had quite the season as many did not even expect them to reach the postseason.
Instead, they ended up going 8-5 and many were surprised with their ability to hang in and or defeat several ACC opponents (Florida State).
Mike London was quite the hit at FBS Richmond and although he may not lead Virginia to any titles, he sure has had success and command of his program thus far.
Frank Beamer, Virginia Tech
Sam Sharpe-US PRESSWIRE
Current Record at Virginia Tech: 209-98-2
Frank Beamer is one of the finest coaches in America and he does it with such ease. Every season they lose either a superstar running back and or defensive back, and yet he picks up right where he left off the prior season.
Winning has been a huge part of Hokies football and Blacksburg has to be just as proud as any program in America in terms of consistency.
Beamer has led Virginia Tech to double-digit victories in the last eight seasons, and we can practically bank on a ninth heading into the 2012 season.
Art Briles, Baylor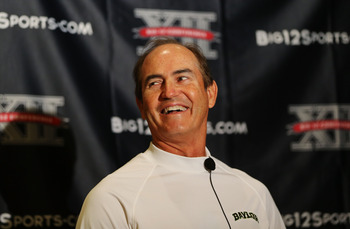 Kevin Jairaj-US PRESSWIRE
Current Record at Baylor: 25-25
Robert Griffin III gets all the credit in the world and deservedly so, but Art Briles helped put Baylor on the map last season and he too should get his dues.
The Bears have been the bottom feeders of the Big 12 and the BCS for so many years, but they turned it around into a 10-3 campaign last season.
They may only get half as many wins in 2012, but Briles is an offensive genius that has hauled in some very talented players. Football matters in Waco and they have had something to cheer for in the past few seasons.
Bill Snyder, Kansas State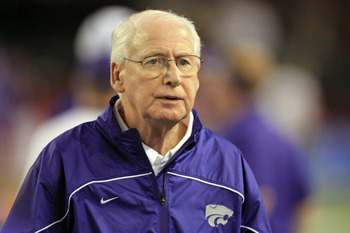 Tim Heitman-US PRESSWIRE
Current Record at Kansas State: 159-83-1
Try taking over a program that is a breath away from BCS death and in the dictionary Bill Snyder's name would pop up.
Whether we are talking about Ell Roberson or Collin Klein, Snyder had a knack for turning underrated and unknown quarterbacks into household national names.
The stars were aligned last season to make a push towards a BCS run and although they fell just short, they will have another crack at it this season with Klein back.
Even when he ultimately moves on from the Wildcats, Snyder should likely be given a chance to come out on top in Manhattan just like how he deserves too.
The man is respected as any coach in the profession and his ability to fit unheralded high school players into his system has been remarkable to watch.
Bob Stoops, Oklahoma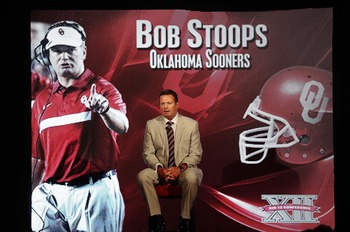 Kevin Jairaj-US PRESSWIRE
Current Record at Oklahoma: 139-34
The Sooners have been a constant stay for the BCS as he they currently have been in the most BCS title games (4) and second most overall BCS bowls (8).
Norman is all about football and Bob Stoops has been so vital to the program.
Many forget the Sooners are the only program to have four coaches who have recorded 100 or more victories in their tenure with a single program (Bud Wilkinson, Barry Swizter, Bennie Owen).
Stoops is a gamer and arguably still one of the best, and he is far from being done at winning in January. The guy can coach with the best of them and is one the all-time greatest coaches during the BCS era.
Mike Gundy, Oklahoma State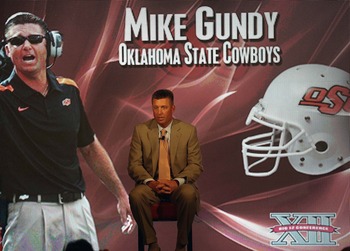 Kevin Jairaj-US PRESSWIRE
Current Record at Oklahoma State: 59-30
Mike Gundy is considered one of the best offensive minds in the country in the same breath as Dana Holgorsen and Chip Kelly, but Gundy did not have a ton of expectations over the last few seasons.
He has since turned Stillwater into a mad house every Saturday night and you have to look at the way his spread offense has helped change the way college football is.
Instead of having a scrambling spread offensive quarterback, he has brought in several guys that can sling it on the money.
Throw in the fact his receivers and backs are athletic as any in the country and a defense that has improved every season, and you don't even question whether or not he is among the best coaches out there.
Gary Patterson, TCU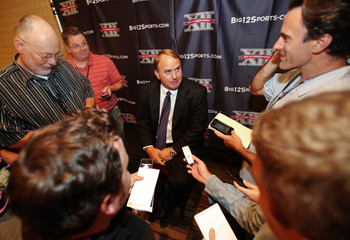 Kevin Jairaj-US PRESSWIRE
Current Record at TCU: 109-30
Gary Patterson is one of the elite defensive minded coaches in the country, and just two seasons ago he led his Horned Frogs to a 13-0 season.
That season was magical and ended perfectly with their Rose Bowl victory in Pasadena over the Wisconsin Badgers.
Quarterbacks are so important nowadays in college football because they are more vocal and talented than ever before (Dalton, now Pachall).
However, the athletes they have on both sides of the ball has made them a BCS program regardless of what their automatic qualifying status may have said in the past.
Now entering the Big 12, expect continued growth and development from TCU thanks to one of your most consistent coaches in the country.
Mack Brown, Texas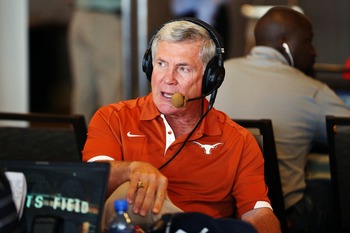 Kevin Jairaj-US PRESSWIRE
Current Record at Texas: 141-39
Mack Brown has lost a touch according to some, but this season will tell a lot on just how great of a coach he still is.
Brown has hauled in top-notch recruiting classes for decades regardless of the program he is in charge of, but Texas is still one of the legit national powerhouses.
The Longhorns have a chance to shine brightly in the Big 12 this season, and everybody should be pointing towards a defense that could be among the top five out there and a coach that still has a little left in the tank.
Dana Holgorsen, West Virginia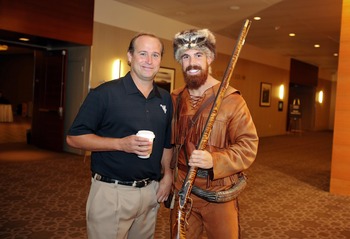 Kevin Jairaj-US PRESSWIRE
Current Record at West Virginia: 10-3
This mad scientist simply is crazy, and we can all thank his 70 point outburst from his Mountaineers to be the main excuse per se.
West Virginia has technically never seen the talent and depth that the Big 12 will possess, but the talent is right there and then some with any program.
The receivers that Holgorsen will be able to plug in and coach up will be sensational in both 2012 and the near future.
Throw in Geno Smith at quarterback with all those weapons and we could see some fireworks go off in Morgantown this season. Holgorsen is the big shot and all his decisions will make him look like a genius for years to come.
Charlie Strong, Louisville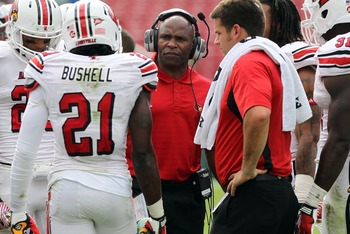 Kim Klement-US PRESSWIRE
Current Record at Louisville: 14-12
The Cardinals have a solid shot at the BCS this season and by that I mean in terms of not playing in the BCS National Championship, but the Orange Bowl (hey the BCS would be one hell of a year).
Obviously the SEC, Big 12, Big Ten, Pac-12 and even the ACC will have first dips on an undefeated or perhaps a one-loss team by playing for it all, but Charlie Strong and Louisville were far ways away from dreaming about the BCS after Bobby Petrino left.
Teddy Bridgewater is putting on some weight this offseason to take that next step into becoming one of the best in the country at quarterback, but Louisville will soon be ecstatic that the former Gators defensive coordinator has taken over their program.
Skip Holtz, South Florida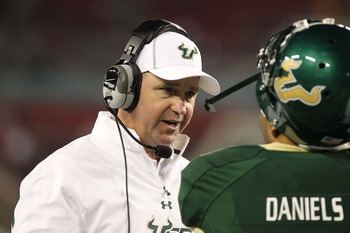 Kim Klement-US PRESSWIRE
Current Record at South Florida: 85-62
The Bulls gave Skip Holtz a contract extension and many are looking for the head coach to pay back the fanbase by taking them all to a BCS bowl.
It would be the program's first ever trip to the BCS, but that in itself is easier said than done. Still, the speed and overall skill level is reaching an all-time high for USF and Holtz has brought the upside and excitement to a whole new level.
Pat Fitzgerald, Northwestern
Reid Compton-US PRESSWIRE
Current Record at Northwestern: 40-36
Northwestern has avoided that label as an easy win for Big Ten opponents since the 'Cats have been bowl squads seemingly every season.
They do have to scrap and fight to become .500 teams, but they have made magnificent strides thanks to Pat Fitzgerald. He has brought a ton of excitement, enthusiasm and positivity to the program that most have not seen in a while.
The next step is to finally win a bowl game since it has been a miserable 63 years since they won in the postseason. That seems like an eternity, but the Wildcats have only appeared in ten bowl games in its program's history.
Fitzgerald has changed a lot in Evanston, and that old, ugly record should get shredded very soon.
Kirk Ferentz, Iowa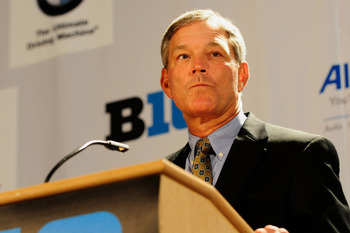 Reid Compton-US PRESSWIRE
Current Record at Iowa: 96-66
Despite being one of the higher paid coaches in America, Kirk Ferentz is worthy of nearly every penny with the way he has turned Hawkeye football into national relevancy (based on what they were when he took over).
He has brought them to not one, but two BCS bowls thus far and every season the NFL scouts drool over a few offensive and even defensive lineman he coaches into stars.
Always disciplined, stout and experienced on the lines of scrimmage, Ferentz is due for another exceptional season in Iowa City.
Brady Hoke, Michigan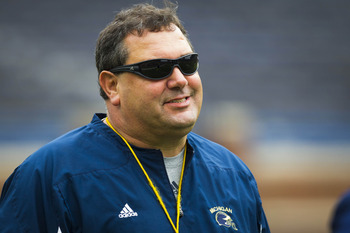 Rick Osentoski-US PRESSWIRE
Current Record at Michigan: 11-2
The Maize and Blue are back it again and last season was just the tip of the iceberg. Going 11-2 with a Sugar Bowl victory is impressive, but the best is still yet to come.
Perhaps a BCS title will be looming down the road, but a trip to Pasadena will become a dream come true and many are expecting it to happen in 2012.
Whether it happens sooner than later, Michigan football looks great and Ann Arbor could not be prouder of Brady Hoke these days.
Mark Dantonio, Michigan State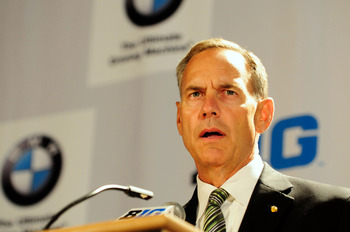 Reid Compton-US PRESSWIRE
Current Record at Michigan State: 44-22
The Spartans have dominated the Wolverines for the last four seasons, which just goes to show that Michigan State should no longer be considered the little brothers to Michigan.
Mark Dantonio is one of the more underrated coaches in the game that does not get enough love from around the nation.
He has built one of the best defenses in the nation and his skill position players on offense have been a joy to follow.
The Maize and Blue faithful will always be considered the heavyweight program, but Mark Dantonio has turned his own program into the more consistent squad that is fully capable of playing and winning in a BCS bowl.
A trip to Pasadena would put everything to bed on whether or not they can get that signature victory, and 2012 sure looks like the season where everything falls into place.
Bret Bielema, Wisconsin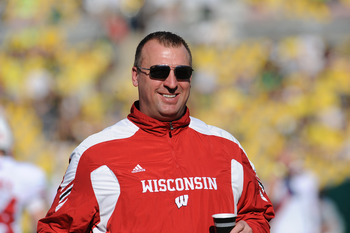 Jayne Kamin-Oncea-US PRESSWIRE
Current Record at Wisconsin: 60-19
Bret Bielema has made a splash in Madison and what a magical ride it has been after six seasons. Posting three top 10 AP finishes are spectacular accomplishments, but it just goes to show how easy the Badger coach is making it look these days.
Dominating the Big Ten over the last two seasons, Bielema is still looking for his first BCS victory (lost to TCU, Oregon last two years).
The problem with playing in the BCS is you will often run into a top five squad and that is exactly what the Badgers have ran into over the last two appearances in January bowls.
The immediate future looks great again as Wisconsin should appear in the Big Ten title once again, and perhaps they will get another crack against an elite team in Pasadena.
The double-digit victories will soon pile up as they have flat out dominated the lines of scrimmage in recent memory.
Bielema may not be considered a top five coach, but he isn't far behind as the consistency and ability to breeze through the Big Ten has been absurd for the former Iowa Hawkeye nose guard (has Iowa tattoo on his left calf, the Big Ten will always be his home).
Urban Meyer, Ohio State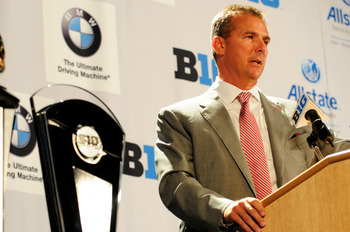 Reid Compton-US PRESSWIRE
Current Record Overall: 104-23
Urban Meyer took a season off from the sidelines, but we all knew he couldn't step away from the game completely as he filled in for ESPN as a color commentator on Saturday afternoon's.
Now Meyer is back to his home state and the Buckeyes should be thrilled to haul in one of the best coaches in the BCS era. Dominating the recruiting trail in SEC country surely helped him win those two BCS titles.
Speed kills and he will have some stars in the making in near time, but his 2012 team has the capability of becoming a top 10 team.
Even though they are not eligible to compete for anything special, the program will gladly get back on track with a legend in town.
Chris Petersen, Boise State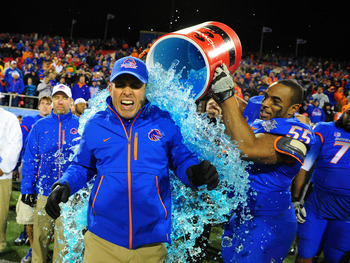 Mark J. Rebilas-US PRESSWIRE
Current Record at Boise State: 73-6
Arguably the most successful coach in the country (save Nick Saban), Chris Petersen has been absurd while leading the Smurfs to double-digit victory seasons in every single season thus far.
The worst season we have seen from Boise State was a 10-3 year in 2007, but every other season has been no worse than one loss.
The Broncos have made major national headlines as they have busted up the BCS (and vice-versa) to persuade fans into some sort of a potential playoff during their magical undefeated runs.
Still, Boise State has even coached up their players into NFL prospects and Kellen Moore just left as the winningest quarterback in the history of college football (50 wins).
The ability to develop his players on both sides of the ball has been absurd, but he has a knack for making adjustments on the fly with a high success rate.
Even when they head off to the Big East in 2013, Boise State will still be as consistent as ever before thanks to one of the premier coaches in the country.
Chris Ault, Nevada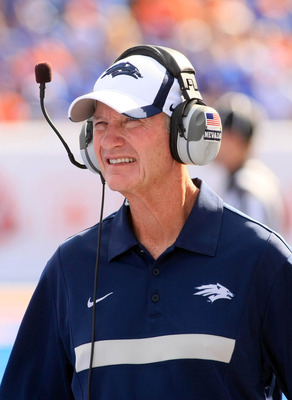 Brian Losness-US PRESSWIRE
Current Record at Nevada: 226-103-1
Didn't think a current Hall of Famer would make the list?
Chris Ault has had a few tenures as both the head football coach and even athletic director for Nevada.
Clearly their upset victory over Boise State two seasons ago was the highlight of their BCS era, but they too have been a solid non-BCS school.
Ault is accustomed to winning eight games every season, and his Pistol installed offense has been a nightmare for all opponents.
While a BCS or top five finish may never be in the works like Boise State, Nevada has enjoyed solid success thanks to one of the more accomplished coaches in the country.
Chip Kelly, Oregon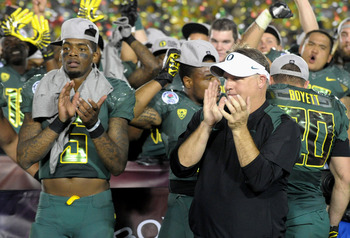 Kirby Lee-US PRESSWIRE
Current Record at Oregon: 34-6
Chip Kelly's offense has not only been unstoppable, but his performers have been more electric than their actual uniforms.
That in itself says a lot, but there is a perception that they cannot play some defense and 2012 will go down as perhaps the most athletic, quickest, most talented defensive squad in Ducks history.
Their offense has been going bonkers so often that the defense does not earn a ton of recognition, but it is not as if Chip Kelly isn't one of the best offensive geniuses in the country.
Many are looking for a move to the NFL in the coming years, but Kelly still is pushing for another crack at the BCS National Championship.
They came so close two seasons ago against Auburn, but their Rose Bowl victory over Wisconsin last season ended all doubts on whether or not they could win the pressured game.
More momentum shifting victories will be on the way in Eugene and we should anticipate one hell of a rivalry with the USC Trojans.
Lane Kiffin, USC
Kirby Lee-US PRESSWIRE
Current Record at USC: 25-13
Lane Kiffin was once remembered for his wife Layla and for the fact that he left his team regardless of the level of football.
Many still do not like the man, especially after his little white lie on not voting for his Trojans as the top team in the country.
Still, give the man some credit after taking USC to a number six finish in both of the final polls after they had nothing to play for (postseason, conference title speaking).
All of a sudden the Trojans are back better than ever, and Lane Kiffin has a realistic chance to bring the men of Troy back to the promise land.
Kyle Whittingham, Utah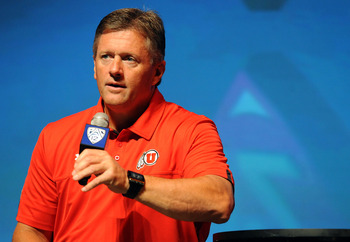 Jayne Kamin-Oncea-US PRESSWIRE
Current Record at Utah: 66-25
Salt Lake City has seen a ton of success and Kyle Whittingham has been a fine coach that has put together a boatload of victories during his stay thus far.
Many forget he put together an undefeated season in 2008, and the move to the Pac-12 should be a successful one.
The constant and consistent seasons the Utes have seen Whittingham put together has enabled him a ton of support from the school and fanbase, but there is an excellent chance they get back to a few more double-digit seasons in the immediate future.
Steve Sarkisian, Washington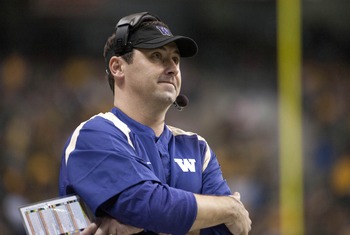 Brendan Maloney-US PRESSWIRE
Current Record at Washington: 19-19
The Washington Huskies have shown what they are made of offensively, but the Baylor Bears exposed their defense in the Alamo Bowl on national television.
Steve Sarkisian is waiting for his magical season and 2012 could be a start with Keith Price back at quarterback with a few magnificent pieces stretching the field.
Washington will be hard-pressed to even win a Pac-12 title (distant future), but they will be challenging for years to come (at least come close) with what should be an improving defense with solid playmakers on offense.
Gene Chizik, Auburn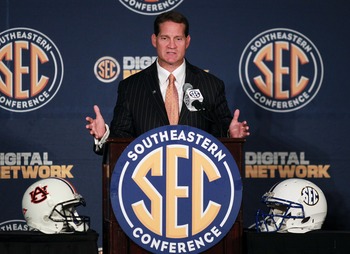 Marvin Gentry-US PRESSWIRE
Current Record at Auburn: 30-10
Gene Chizik struggled mightily while he was at Iowa State for two seasons, but the talent he has had at Auburn has been a significant upgrade.
After winning his first BCS title (2010), Auburn put together a solid 8-5 campaign and there will be much better days ahead at the Plaines.
Chizik has his work cut out for him in the SEC West, but he has proven that he can hang with all of the big boys.
Will Muschamp, Florida
Marvin Gentry-US PRESSWIRE
Current Record at Florida: 7-6
Urban Meyer brought in an absurd amount of talent and two BCS title victories were the result, but a few of his former highly touted players (high school) have now become borderline superstars.
Will Mushchamp is a tremendous defensive coach, but being a head coach in the SEC can get the best of you if your squad is not well equipped.
Florida's offense was about as bad as the program has seen, but improvement's will be made and success will soon be shown on the gridiron.
Kevin Sumlin, Texas A&M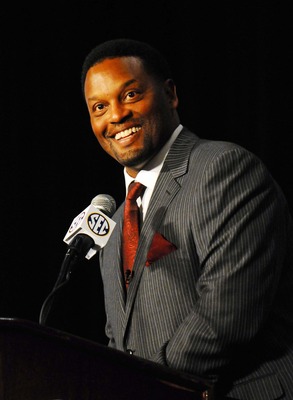 Kelly Lambert
Current Overall Record: 35-17
The Aggies have not shown they can upset a few SEC teams, but the date is not enough to say that Kevin Sumlin will not be able to turn this program into a solid force in the SEC West.
Certainly it will be a brutal challenge, but nothing that the offensive coach cannot overcome. The key will be able to build stars on the defensive side of the ball since every season the strongest are the only ones to survive in the SEC.
Sumlin's spread offensive attacks will be fun to watch and bowl bids should become near mortal locks in the near future.
Steve Spurrier, South Carolina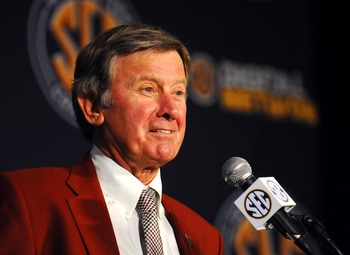 Kelly Lambert
Current Record at South Carolina: 55-35
Steve Spurrier sure loves to speak his mind on the SEC scheduling, but he has so much fun with it that you cannot help but get a chuckle or two over it.
The Gamecocks are coming off the best two-year span in its program's history after registering 20 wins during that span.
The players are now getting opportunities to play at that next level with their ability to produce and recruit the best of the best.
Jadeveon Clowney and Marcus Lattimore are arguably the best in the nation for their positions, but the overall team speed has really improved by leaps-and-bounds over the last three seasons.
The defense is among the best in college football and the continuing development from Connor Shaw should allow Spurrier to challenge for another future SEC East (and SEC overall perhaps) crown.
Spurrier is the greatest coach in Gamecocks history, and he will only leave the game when he desires to.
James Franklin, Vanderbilt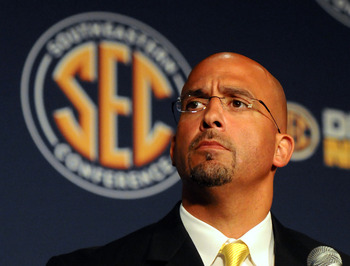 Kelly Lambert-US PRESSWIRE
Current Record: 6-7
Many are not the biggest fans of James Franklin because he is not afraid to say anything to the fans and or media, but that is what makes this coach so entertaining.
College football is the best and Vanderbilt is one of the underrated programs in the entire game because for many believe their talent level is putrid compared to others in the SEC.
They have been able to coach up and turn mid-level prospects into future NFL picks and the only true difference has been the inability to have an All-American quarterback and running back or wide receiver thus far.
Their secondary has been sensational and the defensive line last season was as talented and deep as ever before. While the offense is still improving as it has ways to go, the defense should help carry them to another bowl bid in 2012.
Applaud and give Franklin his dues because the man is competing against the best in the country and he refuses to take back seats to anybody.
Dan Mullen, Mississippi State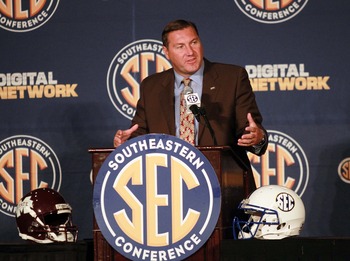 Marvin Gentry-US PRESSWIRE
Current Record at Mississippi State: 21-17
The Bulldogs were struggling as a program just before Dan Mullen took over and he finished in the top 15 of the final polls in 2011 to give the Mississippi State fans a breath of fresh air.
Nowadays the expectations are a bit higher because of it, but the talent has certainly increased.
Having arguably the best defensive back (Johnathan Banks) on your squad is not a bad start, but the ugly SEC West schedule is tough to sleep on.
Plus, it doesn't help knowing Alabama, LSU and Arkansas are legit top 10 squads heading into the season.
Auburn and A&M are not too shabby either, which makes life pretty much hell if you cannot win a few SEC games on the road.
Luckily, Mullen has the pieces to consistently appear in bowl bids and throw together a few top 25 finishes in there as well.
Mark Richt, Georgia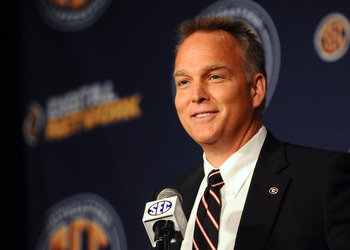 Kelly Lambert
Current Record at Georgia: 106-38
The much-maligned coaching skills of Mark Richt was questioned one summer ago, but the Georgia coach put together a quiet double-digit season and all of a sudden his squad is ranked in the preseason top 10.
Once again they will be led by their killer defense that has size, speed and athleticism all over the field.
Throw in one of the better quarterbacks in the country with Aaron Murray, and Richt has a shot to get his second ever SEC title and a potential third appearance in the BCS looks great as well.
For all the hate and perception of not being able to win the big game and or control his players', Richt is still around and is still winning at a tremendous pace.
Les Miles, LSU
Derick E. Hingle-US PRESSWIRE
Current Record at LSU: 75-18
Les Miles should not be remembered for his brutal loss to Saban and Alabama because what was accomplished beforehand was nothing short of spectacular.
Running the gauntlet in the SEC is nearly impossible, but the "madhatter" has brought in defensive stars that run like gazelle's and the offensive line play has been superb too.
LSU football is elite these days and it is all thanks to Les, but it is not like this program is going to slowly fall apart.
The loss of Tyrann Mathieu surely is devastating to the extent of losing an impact superstar before the season is underway, but there is no shortage of overall studs.
The victories will once again pile up and it just a matter of time before they win and or appear in the BCS once again.
Nick Saban, Alabama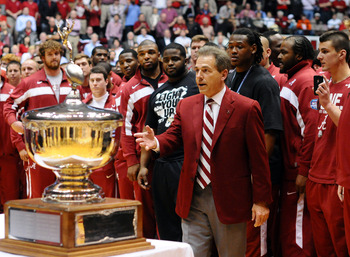 Kelly Lambert-US PRESSWIRE
Current Record at Alabama: 55-12
The Crimson Tide are the top program in college football and slick Nick is the main reason why.
Winning two BCS titles makes him the best in the game and it isn't even that close at the moment (three total BCS titles).
He hauls in the top recruits and he coaches them into future first round NFL prospects. His domination at the line of scrimmage has inflicted so much pain on SEC opponents that they have no choice but to tap out in the fourth quarter.
Future SEC and BCS titles are on the way and it is just a matter if Saban can go from the greatest current coach to the all-time greatest since his future looks brighter than ever before.
The man is an icon and he has helped make SEC football and college football for that matter as the kings of the world.
Keep Reading