USA vs. Spain Olympic Basketball: Live Score, Stats & Recap for Gold Medal Game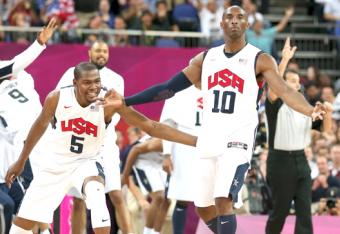 The rematch is on.
Team USA defends its 2008 gold medal against reigning runners-up Spain on the final day of the London Olympics.
Keep it here for all the updates and analysis you'll need!
Stat Leaders
United States
Points: Kevin Durant (30), LeBron James (19) Kobe Bryant (17)
Rebounds: Kevin Durant and Kevin Love (9), LeBron James (7)
Assists: LeBron James and Carmelo Anthony (3), Chris Paul and Kobe Bryant (2)
Steals: Chris Paul (3), LeBron James (2), Kevin Durant and Kobe Bryant (1)
Blocks: Kevin Durant (1)
Spain
Points: Pau Gasol (24), Juan-Carlos Navarro (21), Marc Gasol (17)
Rebounds: Sege Ibaka (9), Pau Gasol (8), Rudy Fernandez (6)
Assists: Pau Gasol and Sergio Rodriguez (5), Segio Llull (3)
Steals: Sergio Rodriguez (2), Pau Gasol and Rudy Fernandez (1)
Blocks: Serge Ibaka (1)
Team USA wins gold as so many expected, though not quite in dominant fashion as SPain gave them all they could handle.
It's great to see the pure joy of the NBA superstars as they dance around on the court.
USA closing it out, dancing like kids on sidelines, who says this shouldn't be open to the superstars?...they belong here

— Bill Plaschke (@BillPlaschke) August 12, 2012
LeBron James' incredible year continues as he now has a regular-season MVP, Finals MVP, NBA Title and Olympic gold medal.
Marc Gasol knocks down a layup and the lead is down to just six points with 12 seconds remaining. James Harden better hit some free throws here, or Team USA could have to put the starters back in.
The Beard misses his first attempt, but drills the second one without drawing iron to push the game to three possessions.
Anthony Davis pulls down the rebound and the ball ends up in the hands of the Unibrow as the final buzzer sounds.
Final Score: 107-100 USA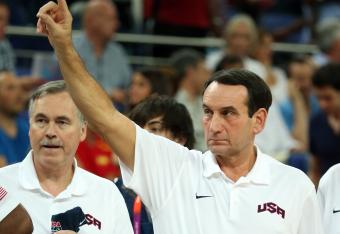 Mike Krzyzewski jumps up for joy in what could become one of the defining images of Team USA's run through London.
It's great to see the legendary basketball coach with such passion as he hugs the players he's coached to a gold medal when they come off the court.
It's time for the substitutes to enter the game, as we have our first unibrow sighting of the gold medal game.
The celebrations have begun.
105-95 USA with 30 seconds remaining.
Spain is now playing against both Team USA and the clock, down three possessions (at least) with only 1:20 remaining.
Juan-Carlos Navarro misses a three-pointer and the Americans are now content to slow down the game quite a bit. Chris Paul hangs onto the ball the entire possession, takes it himself and makes a sensational spinning layup.
Game. Set. Medal.
104-93 USA with 42 seconds remaining in the fourth quarter.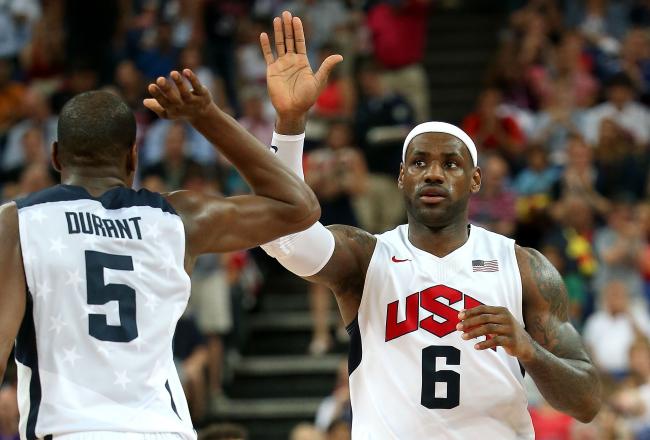 LeBron James.
That's all.
A huge contested three-pointer gives the Americans a nine-point lead with under two minutes remaining and then Pau Gasol gets called for a moving screen and Team USA has the ball once more.
Once more: LeBron James.
102-93 USA with 1:51 remaining in the fourth quarter.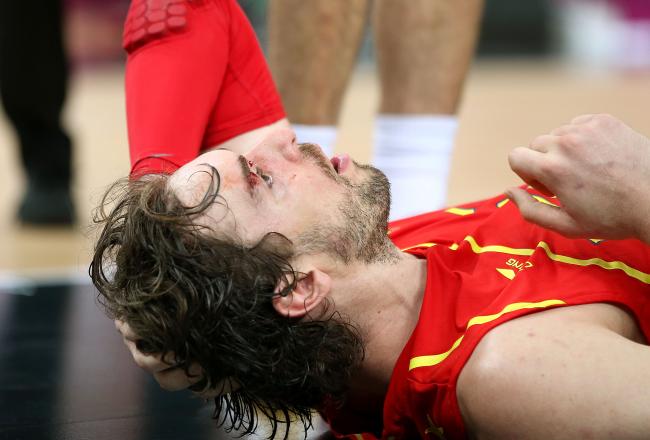 Pau Gasol tips the offensive rebound right into the hands of Kevin Durant, who passes it to Chris Paul.
CP3 draws the foul in transition and the Americans will have to play out of the half-court set. It works rather well as LeBron throws down a monstrous dunk on the drive from the right after two men follow Durant to the other end of the court.
99-91 USA with 2:30 remaining in the fourth quarter.
It takes two possessions to do so, but extend to double-digits is exactly what the Americans do as Kobe hits a bank shot after an offensive rebound.
The Spaniards respond with a shot to bring it back to eight points and Carmelo Anthony is hobbling up and down the court. Rudy Fernandez has a wonderful tip-in after a miss by Juan Carlos Navarro in transition.
After an American turnover, Mike Krzyzewski calls a timeout and substitutes LeBron James back into the game.
It's crunch time now.
97-91 USA with 3:20 remaining in the fourth quarter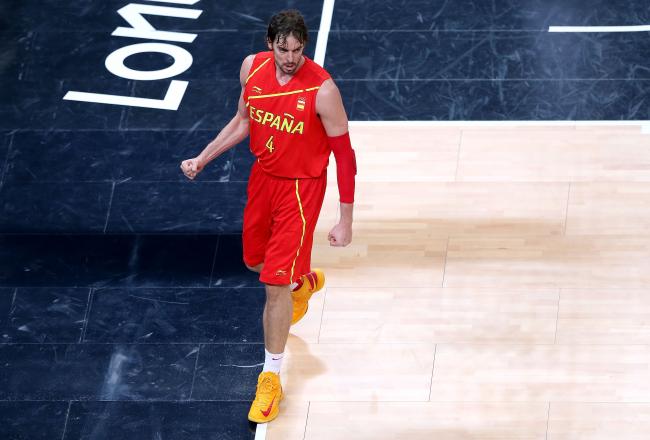 Chris Paul is playing fantastic defense out on the perimeter, but Pau Gasol still manages to get the ball as he cuts to the basket and draws a foul.
Pau knocks down one of two freebies and the Americans have a chance to extend the lead to double-digits.
95-87 USA with 5:00 remaining in the fourth quarter.
Kobe Bryant is fouled on a three-pointer by Rudy Fernandez, who picks up his fourth whistle of the game.
93-86 USA with 6:00 remaining in the fourth quarter.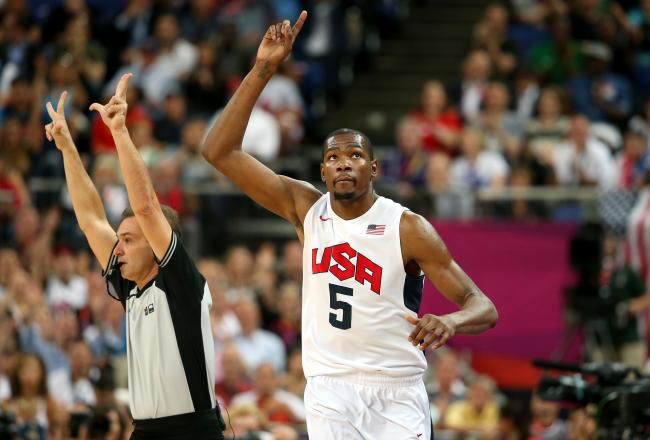 He's done so in quiet fashion (due to the scrutiny over the performance by the refs), but Kevin Durant now has 30 points. Three-zero. 30.
He's only the fifth American player to score 30 points in a game and could challenge Carmelo Anthony for the single-game record.
How impressive would that be in a gold medal game?
93-86 USA with 6:09 remaining in the fourth quarter.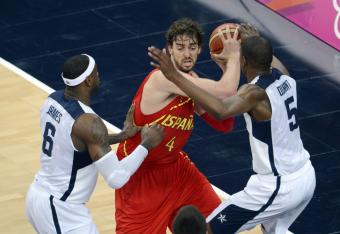 LeBron is called for his fourth foul and has to head to the bench after swiping his fingers across Pau Gasol's face.
This is a big moment for Spain,, as the team must capitalize on the fact that Team USA's best player is now on the bench.
Marc Gasol is also in the game for Pau and has to be careful. He quickly makes an impact as he hits a one-legged floater from the paint.
90-86 USA with 6:30 remaining in the fourth quarter.
LeBron James should not be settling for contested three-pointers over Pau Gasol in an isolation setting.
He needs to be more aggressive and drive to the basket every time he touches the ball.
Awful settle iso there from LeBron on Pau.

— Tom Haberstroh (@tomhaberstroh) August 12, 2012
90-84 USA with 7:39 remaining in the fourth quarter.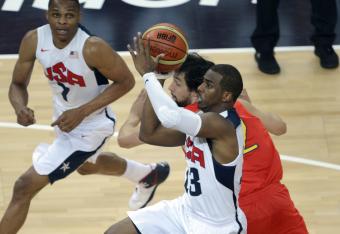 Chris Paul nails a step-back three-pointer and then makes another basket after a hesitation move to extend the lead to six points.
90-84 USA with 8:24 remaining in the fourth quarter.
Through three quarters, the United States has attempted 53 shots and 26 of them have been three-pointers.
That's simply unacceptable in a game where the referees aren't hesitating at all before calling fouls.
LeBron changes that a bit to start the final period and makes a layup after a great entry pass, but Sergio Llull responds quickly with a layup of his own.
85-84 USA with 9:17 remaining in the fourth quarter.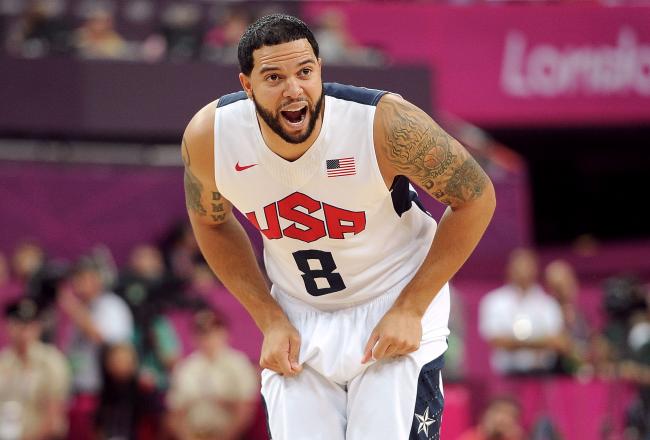 Team USA holds the ball and uses the clock. Deron Williams has a magnificent dunk attempt, but Serge Ibaka makes sure that it's only an attempt as he prevents the ball from actually going through the rim.
Sergio Rodriguez misses a desperation attempt and Spain goes into the fourth quarter trailing by just a single point.
83-82 USA at the end of the third quarter.
The newest member of the Denver Nuggets almost comes away with a sensational block on Serge Ibaka, but he gets called for a foul instead.
Andre Iguodala might have gotten called for a foul even without hitting Ibaka's arm, but it's hard to tell from the given angle.
Ibaka makes both free throws and it's a one-point game again.
83-82 USA with 23 seconds remaining in the third quarter.
A quick Spanish run cuts the American lead to just two points as both teams are getting sloppy. Now, instead of fouls, we're seeing turnover after turnover.
Serge Ibaka hits a jump-hook over Carmelo Anthony and this back-and-forth game is tied once more. At least until Kevin Durant hits another three-pointer.
83-80 USA with 1:25 remaining in the third quarter.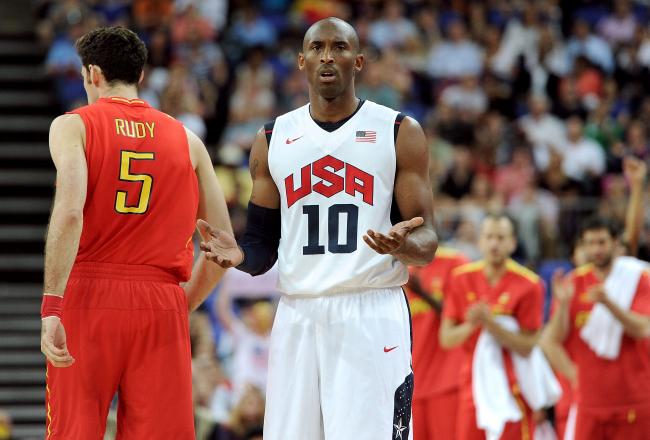 It took almost six minutes for a Spanish player not named Pau Gasol to score.
The Americans are starting to run though, drawing fouls and hitting shots to take a bit of a lead.
Kobe Bryant heads to the free-throw line after a reverse layup attempt and extends the gap to five points after he makes both of his charity shots.
77-72 USA with 3:49 remaining in the third quarter.
After a huge alley-oop from Kevin Durant to LeBron James, Spain goes back to Pau Gasol, who just flips up the ball after drawing another foul and watches as it drops through the net.
The Los Angeles Lakers big man now has 13 points in just the third quarter alone. His teammate, Kobe Bryant, responds with a three-pointer then forces up another on the next possession.
73-71 USA with 4:15 remaining in the third quarter.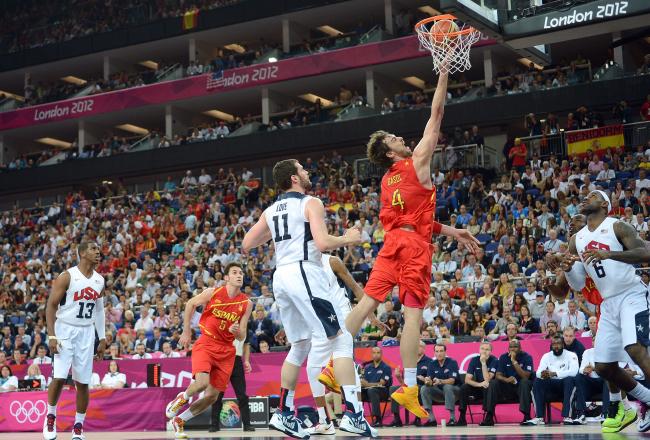 Pau Gasol cannot be stopped right now and already has eight points in the third quarter.
It might be time for Team USA to start doubling on Gasol and accepting a few three-point attempts from Spain.
LeBron James drives hard through the paint for two points of his own, but Team USA still trails as we move along through the third quarter.
Remember back in Spain before Olympics started when Pau Gasol proclaimed himself to be "a beast?" He's giving it to Team USA right now?

— Marc Stein (@ESPNSteinLine) August 12, 2012
Then, a nice drive from Kobe evens the scoring.
68-68 with 5:20 remaining in the third quarter.
Now that Spain is ahead after another Pau Gasol bucket, Team USA can't be content to just kick it out for three-point attempts. Kevin Durant has been particularly awry with his shot, hitting only two of his eight attempts so far.
65-64 Spain with 6:40 remaining in the third quarter.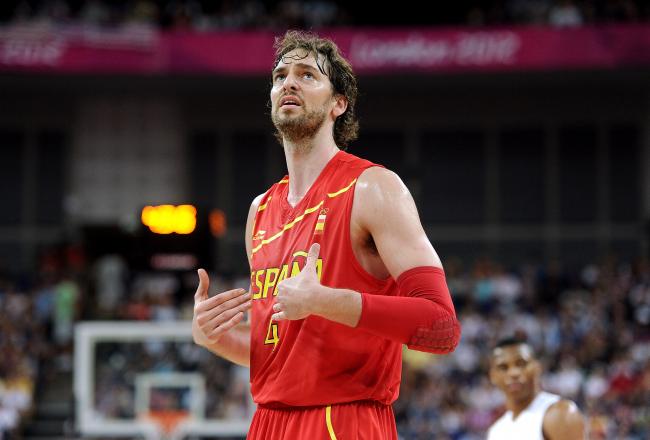 Pau Gasol is doing work right now. He spins around Tyson Chandler and goes lefty for another bucket, drawing a ticky-tack foul in the process.
Pau knocks down the free-throw for a three-point play to cut the deficit to just a single point.
64-63 USA with 8:00 remaining in the third quarter.
Spain draws iron on both of their first two shots in the second half, then LeBron goes to work on the other end.
After backing down his defender, he swings it to Chris Paul for the easy three-pointer. Nice movement from Team USA out of the locker room.
Pau Gasol responds with a nice running-hook.
62-60 USA with 8:44 remaining in the third quarter.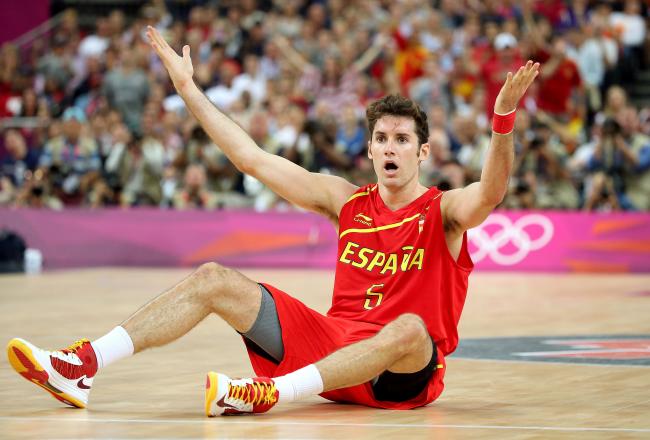 Here's a link to the GIF of the Rudy Fernandez mega-flop:
"Rudy Fernandez is one of the all time great actors." - Doug Collins. GIF of Rudy's flop: ble.ac/N7ggaF

— Bleacher Report (@BleacherReport) August 12, 2012
This article is
What is the duplicate article?
Why is this article offensive?
Where is this article plagiarized from?
Why is this article poorly edited?