LA Clippers: 7 Most Intriguing Player Combinations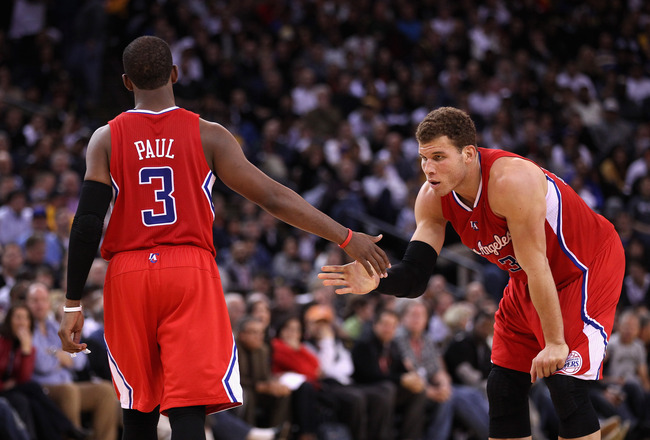 Ezra Shaw/Getty Images
Coming off of a second-round sweep in the playoffs, the Los Angeles Clippers have reloaded their roster this offseason in attempt to pursue that ever-elusive first championship in franchise history.
LAC made nice this summer by bringing in the versatile Lamar Odom and the high-scoring Jamal Crawford.
Throw in Chauncey Billups and Grant Hill to the budding core of Chris Paul and Blake Griffin, and the Clippers have some pieces that could surprise out West.
Here are the seven most intriguing player combinations for the Clippers heading into next season.
7. Chris Paul and DeAndre Jordan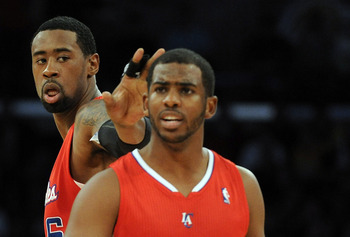 Photo courtesy of cruzkontrol.wordpress.com
Despite the point guard wizardry of Chris Paul, DeAndre Jordan's offensive progression has been mild at best.
Once likened to a younger and rawer Dwight Howard, Jordan has been largely a disappointment since he signed his big contract extension just before last season.
Although Paul and co. try to get Jordan touches early, DJ usually finds himself on the bench at the end of tight games.
Given an unpolished offensive game and woeful free-throw shooting, Jordan will rely on Paul's court vision to find easy buckets. It's on Paul to imbue Jordan with more confidence if DJ is to elevate his game next season.
6. Chauncey Billups and Jamal Crawford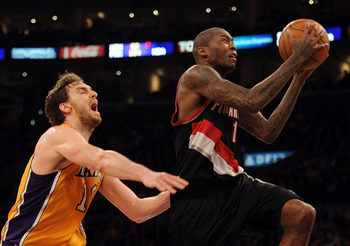 Harry How/Getty Images
Possessing so much skill and talent, either Jamal Crawford or Chauncey Billups could be the starting shooting guard for the Clippers next season.
Evaluating the differences between Crawford and Billups' games offer the best indications of their versatility alongside Chris Paul in the backcourt.
Crawford is more of a high-volume scorer with playmaking capabilities. His three 50+ point games on three different teams are testaments to his scoring prowess.
Alternatively, Billups is more of a point guard that has conceded the role to Paul as he enters the twilight years of his career.
Despite their differences, Crawford and Billups should find themselves on the court together when Paul is on the bench.
How the two designate scoring and ball-handling roles will be crucial for the team moving forward.
5. Grant Hill and DeAndre Jordan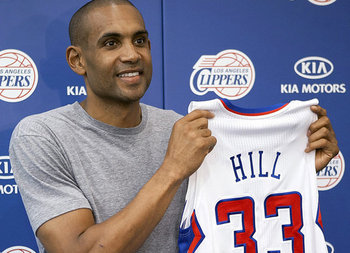 Photo courtesy of sportsgulp.net
Grant Hill could be the perfect mentor for DeAndre Jordan next season.
Despite his age, Hill is a wily veteran who has improved his longevity through crafty play.
On the other side of the ball, the Duke product is among the most respected and brightest perimeter defenders. His disciplined game and high basketball IQ have allowed him to endure in the league for 15+ seasons.
Jordan is desperately seeking a defensive mentor that could take his game to the next level.
If Hill can preach patience and poise to Jordan, then the young center could improve into a sound defensive stopper in the paint.
4. Chris Paul and Eric Bledsoe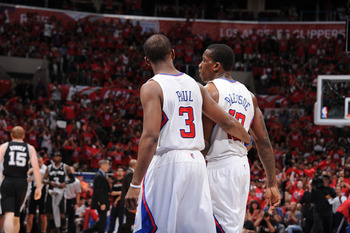 Photo courtesy of nba.com
The Clippers found a tremendous amount of success in the playoffs last season by playing Chris Paul alongside Eric Bledsoe.
Paul's smart playmaking meshed well with Bledsoe's frenetic offensive game.
Defensively, Paul and Bledsoe caused major issues for opposing backcourts. The speed and athleticism of the two guards slowed opposing offenses down, and wreaked havoc on perimeter ball-handlers.
Bledsoe has a lot to learn from Paul, and should use next season to assert himself in the Clips' backcourt. A more refined offensive game will do wonders for the young guard.
If Bledsoe can sustain a high level of play, then the Clippers will have one of the most intriguing hybrid backcourts in the NBA next season.
3. Caron Butler and Chauncey Billups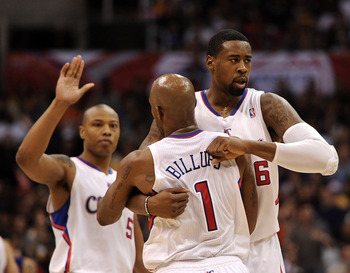 Harry How/Getty Images
Caron Butler might have been the biggest benefactor of Chauncey Billups' playmaking last season.
A fast starter, Butler thrived as the team's weak-side sharp shooter.
In January, with Billups in the lineup, Butler averaged 15.6 PPG on 44.3 percent shooting.
In March, with Billups on the bench with an Achilles injury, Butler's numbers were down to a season low 9.6 PPG on 35.9 percent shooting.
Butler is in need of some easy baskets, and Billups is the perfect complement to his offensive game. If Billups returns to his former self next season, then Butler could rediscover his stroke for the Clips.
2. Blake Griffin and Lamar Odom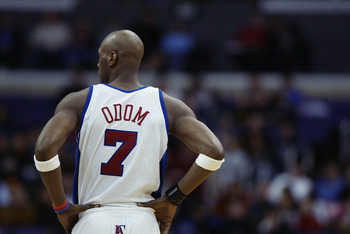 Lisa Blumenfeld/Getty Images
Given Blake Griffin's playmaking and shooting deficiencies, the Clippers have long yearned for a dynamic stretch four that could play and defend multiple positions.
Odom was a crucial piece in the Lakers' championship runs a few years ago, and will be instrumental in the Clippers' success next season.
A former Clipper, Odom has the ball-handling and playmaking skills to be a versatile point forward.
He can score from inside the paint or on the elbow, and has a knack for spacing the floor at the right times.
It is likely that Odom will be the Clippers' premiere big man threat alongside Blake Griffin next season.
How the two perform will be a crucial indicator of the team's development and championship potential.
1. Chris Paul and Blake Griffin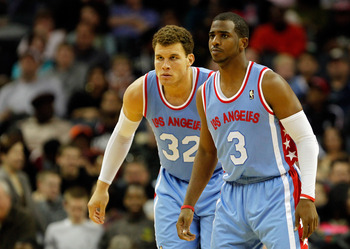 Streeter Lecka/Getty Images
The Clippers will go as far as Chris Paul and Blake Griffin take them next season.
With the duo running the floor, the Clippers rattled off 40 wins last season and a franchise best 60.6 win percentage.
Heading into his third campaign, it is on Griffin to elevate his game from prolific offensive threat to bona fide superstar.
Unless Paul gets injured, he should retain his position as the NBA's premiere point guard.
With Paul in a contract year, the success of the Clippers will be even more important in evaluating the future and direction of this team.
There is no ceiling for these two. The Clippers will need everything from their leaders if they hope to compete with the elite teams atop the Western Conference.
Keep Reading

Los Angeles Clippers: Like this team?