Henderson vs Edgar:Will the Rematch Be Better Than the First Fight?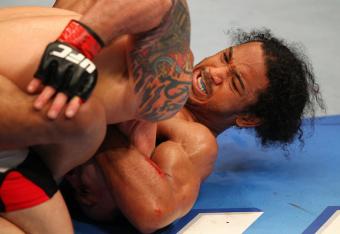 Edgar vs. Henderson I was an excellent fight, but it would be unfair to expect the sequel to surpass the original. Photo by Al Bello/Zuffa LLC/Zuffa LLC via Getty Images.

This is a tough question to answer.
There are so many factors that go into a fight being good that it is usually hard to definitively say that X fight that is coming up will be definitively better than Y fight.
Obviously, there is a great deal of subjectivity here. Is an exciting knockout like Anthony Pettis' head kick on Joe Lauzon better than an out-of-nowhere submission like Diego Brandao's over Dennis Bermudez? Are either of those better than knock-down, drag-out brawls that go to decision like Diego Sanchez vs. Clay Guida?
Who is to say? And whoever does say will have people disagreeing with them regardless.
So will Henderson vs. Edgar II be better than the original? Maybe. But the odds are against it.
The bout has been playing almost non-stop on Fuel TV in the last few days, so this writer has watched it twice in the last twenty-four hours.
Things combined perfectly for a strong, technical, stand-up fight. Henderson is a taekwondo black belt with powerful kicks, quick hands and strong takedown defense. Frankie Edgar is a slippery boxer with downright excellent footwork.
Henderson was able to, essentially, ignore any given takedown by simply standing back up, where he landed a wide variety of strikes. Edgar was able to make people forget that Ben Henderson is substantially larger than he is, and kept things close enough to keep the announcement of the winner exciting.
How will Bendo vs. Edgar II stack up against the first fight?
It was a really good fight.
So how can the fight be better? Short of a knockout or submission after four comparably exciting rounds, there is no clear-cut way for the fight to be better.
How the fight can be worse, though? Well, that is easy.
Frankie Edgar is a wrestler. A pretty good one, at that. While his boxing is what shows up in the highlight reels and trailers for events, he is first and foremost a NCAA Division I All-American wrestler. Edgar is more than capable of laying and praying for victories and that, generally, is not as well-liked by fans as fights like the first one between Henderson and Edgar.
Henderson can do his part to make this bout boring as well. While Bendo is a strong finisher, he is solid in the clinch. He does not have the pure skill that Edgar has, but will outweigh Edgar by fifteen to twenty pounds at fight time. That can make it so he can muscle Edgar against the cage and keep him there.
On top of that, either fighter can actually clear-cut win the fight. As stated, part of the excitement of the last fight was how it was just close enough to still be exciting to hear the decision. If either Edgar or Henderson ends up actually asserting themselves as the superior fighter, that would, arguably, make this fight less-exciting than the first.
Finally, what to make of a flukey stoppage? What if either fighter suffers a momentary lapse in judgment and puts their head in the wrong place? Both of them are savvy enough to capitalize on even the smallest mistake, so what if there is a first-round guillotine choke that ends the fight? Few would disagree that this would be a less-satisfying bout on the whole than a five-round barn-burner.
So will Henderson vs. Edgar II be as good as the first?
Probably not. Definitely not a certain "no" but still, probably not. That said, there is still plenty of room in there for Henderson vs. Edgar II to be a very, very good fight. There is also space overhead to make for an even better fight.
Ultimately, fans will just have to wait and see. Even after all this, however, there is no reason not to go into this fight expecting pure entertainment.
This article is
What is the duplicate article?
Why is this article offensive?
Where is this article plagiarized from?
Why is this article poorly edited?