UFC 150 Results: Questions Heading into UFC 151 Jon Jones vs Dan Henderson Card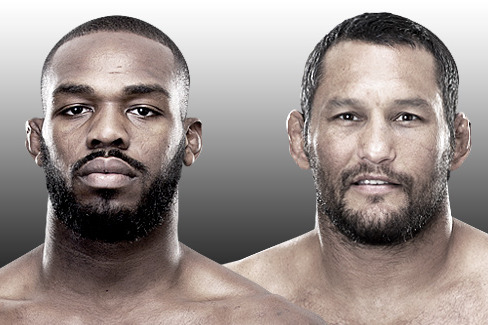 UFC 150 is in the books and Benson Henderson has retained his title in what will be a highly debated decision.
Now that the lightweight picture has been decided and we know that Henderson will face Nate Diaz in his next title defense, we can begin to look toward the next UFC event, UFC 151, which will take place on September 1 from the Mandalay Bay Events Center in Las Vegas.
First, the full results from UFC 150:
Benson Henderson defeats Frankie Edgar via split decision (46-49, 48-47, 48-47)
Donald Cerrone defeats Melvin Guillard via knockout at 1:16 of Round 1
Jake Shields defeats Ed Herman via unanimous decision (29-28, 30-27, 30-27)
Yushin Okami defeats Buddy Roberts via TKO at 3:05 of Round 2
Max Holloway defeats Justin Lawrence via TKO at 4:49 of Round 2
Dennis Bermudez defeats Tommy Hayden via submission at 4:43 of Round 1
Michael Kuiper defeats Jared Hamman via TKO at 2:16 of Round 2
Erik Perez defeats Ken Stone via TKO at 0:17 of Round 1
Chico Camus defeats Dustin Pague via unanimous decision (29-28, 30-27, 29-28)
Nik Lentz defeats Eiji Mitsuoka via TKO at 3:45 of Round 1
Now, on to the questions we have heading into UFC 151.
Begin Slideshow

»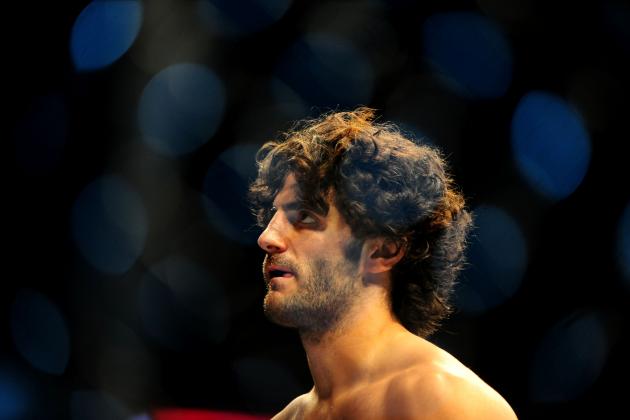 Mark J. Rebilas-US PRESSWIRE

Nate Marquardt was set to face Rick Story in the main event of a UFC on Versus fight card on June 26, 2011. That fight never took place, as Marquardt was booted from the card on the day of weigh-ins when he tested out of the acceptable range for his testosterone level. Charlie Brenneman would replace Marquardt on the fight card.
Brenneman was 2-1 in his UFC career (13-2 overall) when he got the chance to face the 13-3 overall Story on that night in Pittsburgh. The odds were against Brenneman, who came in at plus-425. Those odds meant little to Brenneman, as he took the unanimous decision victory, halting the six-fight UFC winning streak of Story.
Since that win Brenneman has struggled, going 1-2 with both of his losses coming via first-round stoppage: a TKO to Anthony Johnson and a submission to Erick Silva. At UFC 151 he will face Kyle Noke, who will enter the fight on a two-fight losing streak.
Brenneman is most likely teetering on the edge of the top 25 in the welterweight division, and if he wants to keep that standing he needs a win over Noke, a loss and Brenneman runs the risk of being remembered as the guy who got lucky once and defeated Rick Story.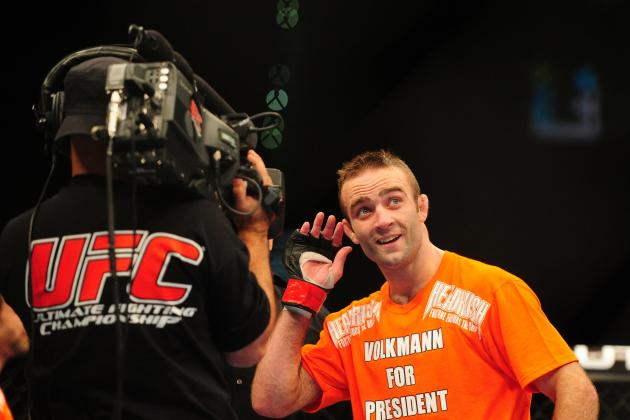 Mark J. Rebilas-US PRESSWIRE

Jacob Volkmann is an awkward guy. His interviews have earned him a visit from the Secret Service, a mention on the Tonight Show and an awkward silence from Joe Rogan after an attempt at a joke. He's also a guy that we have not heard much from since his loss to Paul Sass at UFC 146.
I'm not sure if the silence is from Volkmann's side of the equation or if the MMA media has just decided to move on, but I do know that I find it refreshing. All the talk may have been a distraction to Volkmann, as the focus wasn't on Jacob Volkmann, the fighter, but on Jacob Volkmann, the guy that called out President Obama. Now that the media has moved on, perhaps Volkmann can move on as well and start to focus more on his MMA and developing a more well-rounded game.
It will be interesting to see what Jacob Volkmann emerges to face Shane Roller at UFC 151.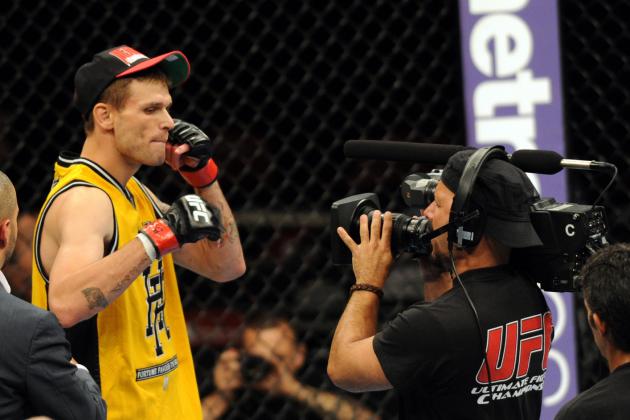 Steve Mitchell-US PRESSWIRE

Tim Means is on a roll. The lightweight competitor has not lost since March 2010, going 10-0-1 during that stretch. True, all but two of those wins came outside the UFC, but give credit where it is due. He won and defended the King of the Cage junior welterweight title during that stretch as well as capturing the KOTC lightweight title.
In his last bout, Means dropped Justin Salas to the mat with knees and punches multiple times before the fight ended via TKO at the 1:06 mark of the first round.
Will Means, a man who took a four-year forced break from MMA to serve time in prison, be able to continue his unbeaten run and if so, is it time to get on the Tim Means bandwagon? Fighters who have overcome hardships and adversity, whether they created those obstacles on their own or not, often develop into fan favorites and with a win over UFC newcomer Abel Trujillo at UFC 151, Means may find himself among that group of fighters.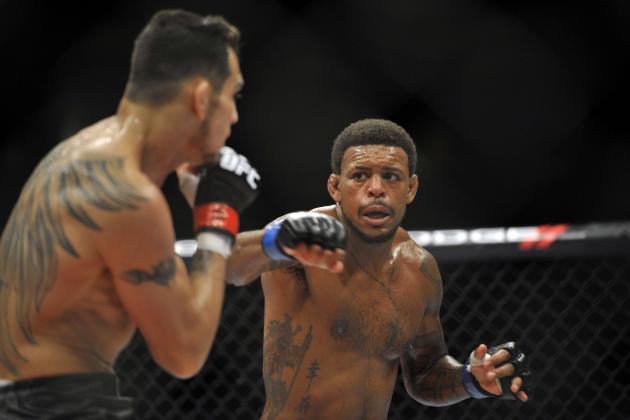 Joe Camporeale-US PRESSWIRE

When Michael Johnson (11-6) and Danny Castillo (14-4) enter the Octagon at UFC 151 they will both carry modest winning streaks into the fight. Johnson has won his last two fights by unanimous decision, while Castillo has won his last three, two by decision and one by TKO.
There are a few things at stake during this bout. One winning streak will end and another will continue, with a dominant performance the winner could earn a shot at a one of the higher-ranked UFC lightweights and finally there's the matter of team pride as Johnson reps the Blackzilians while Castillo fights for Alpha Male.
Both fighters have shown growth in their striking games as of late so don't be surprised if Johnson and Castillo look to keep the fight on the feet. With that being said, Castillo has had great success with his takedowns, especially against fighters that are often not tested in the wrestling department.
A win here should earn Johnson or Castillo a fight against a ranked opponent in their next bout.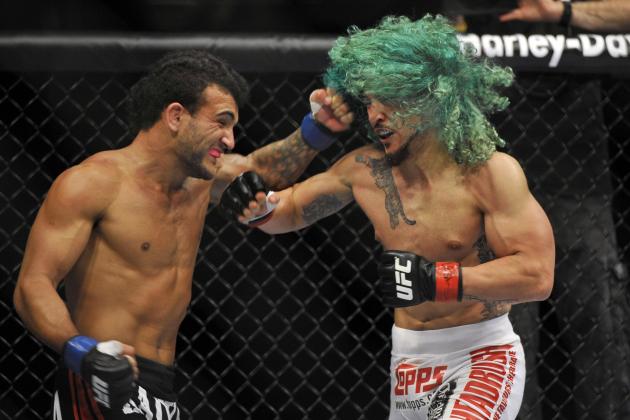 Joe Camporeale-US PRESSWIRE

John Lineker made his UFC debut at UFC on Fox 3 in May of this year, and it seemed like everything that could go wrong for Lineker did.
Lineker was forced to travel to the U.S. without his cornermen as they had Visa issues, and perhaps due to that fact he missed weight. Then on fight night he was forced to borrow equipment, including a cup and mouthpiece. All of this would be funny if it was a sitcom, but in a fight, it surely proved to be a distraction for Lineker.
Despite having everything stacked against him, Linker gave it his all that night in New Jersey, winging 240 strikes at his opponent, Louis Gaudinot, before being choked unconscious with five seconds remaining in the second round.
The effort earned the fighters "Fight of the Night" honors and with that a nice $65,000 bonus went to each fighter. Here's hoping that Lineker used at least some of that scratch to avoid a repeat of the issues he faced leading into UFC on Fox 3.
Lineker will face Yasuhiro Urushitani at UFC 151.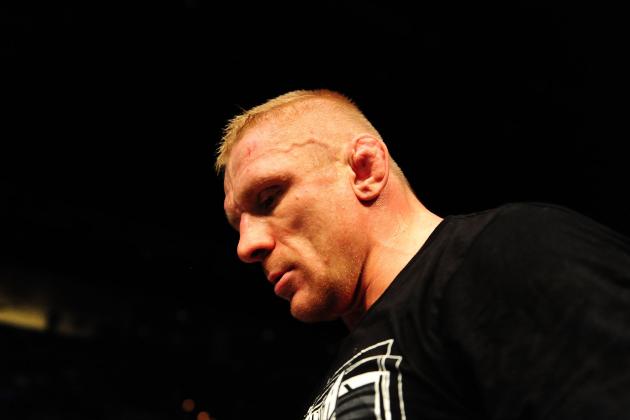 Mark J. Rebilas-US PRESSWIRE

Not too long ago Dennis Siver was slugging it out in the UFC's lightweight division, the deepest division in the promotion. Siver wasn't doing too shabby at the 155-pound limit, putting together a four-fight winning streak prior to running into Donald Cerrone at UFC 137. Cerrone dispatched Siver via rear-naked choke at the 2:22 mark of the first round in that fight.
That loss seemed to send Siver a message and in his next bout he emerged as a featherweight, earning a unanimous decision victory over Diego Nunes in April of this year.
The drop was a smart move, as one could argue that the featherweight division is the shallowest division in the UFC, a fact that can be evidenced by seeing Siver's name listed in the top 10 rankings after just one fight in the division.
If Siver can get past Eddie Yagin at UFC 151, I wouldn't be surprised to see him a fight or two away from competing for the featherweight crown.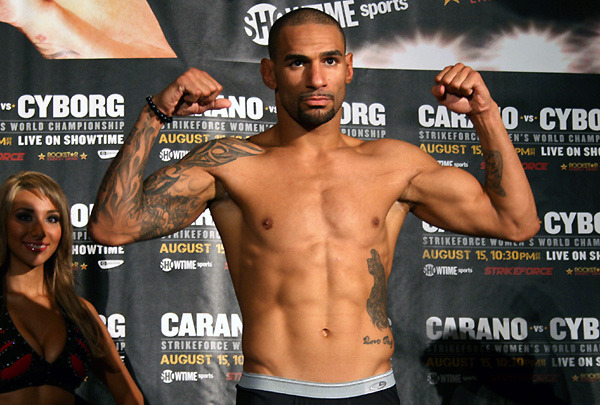 Photo: MMAJunkie.com
Jake Ellenberger was booked to face Josh Koscheck in the co-main event at UFC 151, but a bulging disk in Koscheck's back forced the abrasive welterweight to withdraw from the fight, leaving the door wide open for someone to step into his place. That fighter will be Jay Hieron, who has not fought for the UFC since October 2005.
Since that fight, Hieron has gone 16-3. During that stretch, Hieron put together a 10-fight winning streak that came to an end when he dropped a split decision to Ben Askren at Bellator 56 while fighting for Askren's welterweight title.
This is the kind of opportunity that many fighters dream about, stepping in on short notice to face an opponent that has been training for another fighter. It's the proverbial no-lose situation. If Hieron loses, he can point to the fact that he stepped in and took the fight with less than a month to prepare. If he wins, he just beat one of the top-ranked guys in the welterweight division and his stock will skyrocket.
Hieron's foot's in the door, now it's up to him to push it open.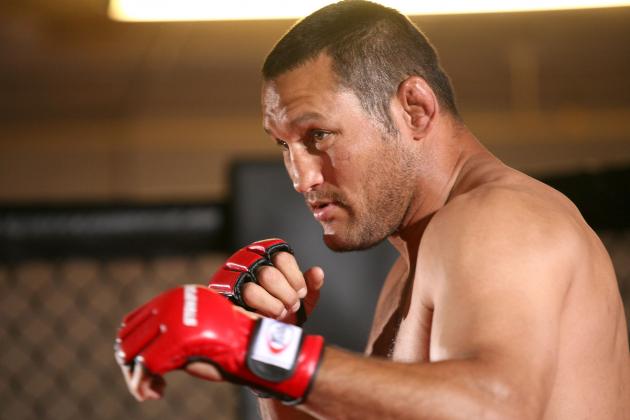 Valerie Macon/Getty Images

Dan Henderson has been proclaiming that he is going to test UFC light heavyweight champion Jon Jones by putting him on his back at UFC 151. It's a nice sentiment, but how much of a chance does he have of turning that claim into reality?
Henderson has a strong wrestling background, much more accomplished than Jones', but Jones is no slouch in the wrestling game. In fact, he has never been taken down in his UFC career. As for Henderson, he was taken down five times by Mauricio Rua at UFC 139, while only taking down Rua once in four attempts.
Dig a little deeper and you'll find that Jake Shields also had little trouble taking Henderson to the mat, doing so four times during their 2010 bout. The fact is, Henderson has not been overly aggressive with his wrestling as of late. If he thinks he's going to waltz in and take a fighter like Jones down, he is mistaken.
Jones' length will make it very difficult for Henderson to sink a double- or single-leg takedown. His other option is to work the takedown from the clinch, but that seems even more far-fetched than taking Jones down with a clean shot. First he has to get to the clinch without eating strikes and then if he does that, which is highly unlikely, he'll be up against a fighter with a wider base than he has, something that is not very conducive to landing the takedown.
This is not to say that Henderson does not have a chance against Jones, he does, but it's the proverbial puncher's chance, which in real speak translates to "very slim."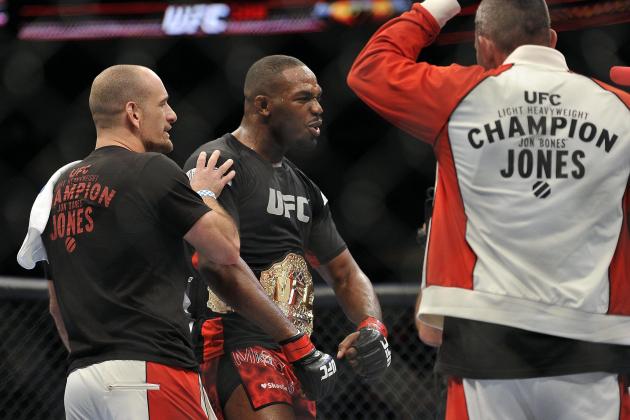 Paul Abell-US PRESSWIRE

Jon Jones had one hell of a year in 2011. He kicked things off by running over Ryan Bader in February. By the time we switched our calendars to 2012, he had captured the UFC light heavyweight title from Mauricio Rua. Then he defeated two former UFC champions, Lyoto Machida and Quinton Jackson, while defending that crown.
He began 2012 by putting another former UFC champion in his rear-view mirror, when he took a unanimous decision victory over Rashad Evans at UFC 145. At UFC 151 he will look to put another notch on his title belt when he faces former Pride and Strikeforce champion Dan Henderson.
Jones is a huge betting favorite, coming in at minus-620, while Henderson is plus-420. While those numbers look good on paper, it places all the pressure on Jones' shoulders. After all, a favorite of that magnitude in a title fight is not the norm.
Increasing the pressure is the fact that a good number of fans just don't seem to like the light heavyweight champion. With that in mind, the odds are that the crowd at the Mandalay Bay as well as those watching on pay-per-view will be hoping to see Jones fail.
So what's it going to be, the upset of the year or will Jones stand in the center of the Octagon on September 1 with the belt strapped around his waist, leaving us to wonder exactly how long this kid will hold UFC gold?
My money is on the latter.