WWE SmackDown, August 10: GSM's Analysis and Aftermath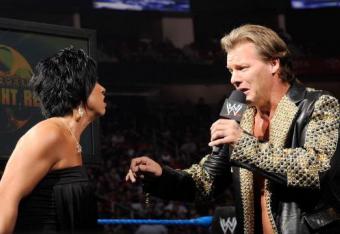 Chris Jericho mocks Vickie Guerrero. (Courtesy of WWE.com)

As the highly anticipated SummerSlam pay-per-view draws near, this week's electric edition of SmackDown featured even more build for the biggest blockbuster of the summer. In a night filled with fun matches and enjoyable promos, the blue brand ultimately receives a thumbs up from this viewer this week.
Here, I will analyze each significant segment presented on the show. I will also provide a combination of aftermath and wishful thinking about what I hope to see in coming weeks.
Opening Segment
Decent opening segment featuring SmackDown general manager Booker T, World Heavyweight Champion Sheamus and Alberto Del Rio. It felt like a repeat from last week, but it was still effective nonetheless.
Having Sheamus apologize was weak, but the whole angle with him stealing Del Rio's car shouldn't have even happened in the first place. The segment was a nice opener and successfully hyped the night's main-event title match.
Sin Cara Def. Cody Rhodes
Good match between Sin Cara and Cody Rhodes. I've been anticipating a contest between these two for nearly a year now, and I was satisfied with what we got.
They made the best out of what they were given and had good chemistry throughout. Although I'm disappointed Rhodes lost, his promo prior to the bout should indicate that the feud might continue past this point.
Raw General Manager AJ Encounters Daniel Bryan and Kane
Strange segment involving Raw general manager AJ, Daniel Bryan and Kane. Why was AJ a "guest" on SmackDown if she's already a member of the roster?
Nonetheless, I understand they all have history together, but why bring back AJ into this? She didn't do much for this promo or feel necessary, but at least this promo helped hype the match between Bryan and Kane for SummerSlam, which was important since no build was provided this past week on Raw.
Jinder Mahal Def. 2 Local Athletes in a Handicap Match
Fine Handicap match with Jinder Mahal defeating two local athletes. I liked how it was a change of pace by having Mahal face two people at once, and if nothing else, the finish with the double Camel Clutch was pretty cool.
Sure, this feud may not be the most exciting, but it's a feud, nonetheless, that gives both Superstars something to do and gets Ryback over in the process.
Chris Jericho Hosts the Highlight Reel with Vickie Guerrero
Entertaining Highlight Reel segment featuring Chris Jericho, Vickie Guerrero and Dolph Ziggler. I've really been enjoying Jericho's face turn in recent weeks, and having him explain the turn here was extremely logical and nice to hear.
Chris Jericho presents "The Highlight Reel" with Dolph Ziggler.
His exchange with Vickie made for some fun entertainment while establishing the Jericho/Ziggler match for SummerSlam. I would've liked to have seen Ziggler engage in a talking segment here with Jericho, but it's always possible we'll get that next week.
Ziggler's sneak attack was very well done and gave him the upper hand he needed going into their SummerSlam contest next Sunday.
Prime Time Players (w/A.W.) Def. Primo and Epico by Disqualification (No. 1 Contender's Match for WWE Tag Team Championships)
Throwaway tag-team match with Prime Time Players defeating Primo and Epico by disqualification to become the No. 1 contenders to the WWE Tag Team Championships. The match was only over a minute, so it felt meaningless.
However, I did like how they incorporated Kofi Kingston and R-Truth into the finish, teasing a Triple Threat Tag Team title match sometime soon.
Christian Def. Antonio Cesaro (w/Aksana)
Great match between Christian and Antonio Cesaro. At the start, I thought it'd be a quick squash at the hands of Cesaro, but I was proven wrong.
The action was very entertaining and they certainly worked well together. I'm glad to see Christian win, as well as Cesaro gain momentum by attacking him after the contest.
Christian vs. Antonio Cesaro
This would be an awesome feud if they stick with it, especially if it ended up being over a title at some point. It was strange not to see Santino Marella here since he's presumably feuding with Cesaro over the U.S. title, but I guess not seeing Marella is considered a good thing.
Rey Mysterio Def. Intercontinental Champion The Miz (non-Title)
Fun match between Intercontinental Champion The Miz and Rey Mysterio. This is a feud I've been dying to see for the longest time, and it seems we may be finally getting it.
They had nice exchanges and made it suspenseful for as long as it lasted. Normally, I'd be disappointed with Miz losing again, but the loss allows for this feud to continue and give them a rematch at SummerSlam.
My only complaint is that the match was never really given any real focus on the show and the post-match celebration lasted a few short seconds.
World Heavyweight Champion Sheamus vs. Alberto Del Rio (No-Contest)
Smart booking by having Alberto Del Rio attack the World Heavyweight Champion in the main event. I questioned giving the title match away on free TV (even if no one cares about it), but it was ultimately saved for another time.
The dressed-up cops was innovative, so I was fine with it. As much as I want this feud to end, they've been handling it well, and giving Del Rio his moment of glory certainly helped him regain some lost heat and momentum.
Overall Show
Overall, a decent episode that featured a lot of enjoyable action, successful build for SummerSlam and promising storylines going forward. However, nothing on the show felt all that memorable or noteworthy, but it kept a consistent pace throughout the night.
GSM out.
Visit my website at Next Era Wrestling, as well as listen to my SAVE US GSM radio show every Thursday at 10/9c for more of my thoughts and writings, along with WWE/TNA news, reviews, recaps and more.
Listen to internet radio with Spoilerspodcast on Blog Talk Radio
This article is
What is the duplicate article?
Why is this article offensive?
Where is this article plagiarized from?
Why is this article poorly edited?