TNA Hardcore Justice Predictions: Aries vs. Roode, Hardcore Matches and More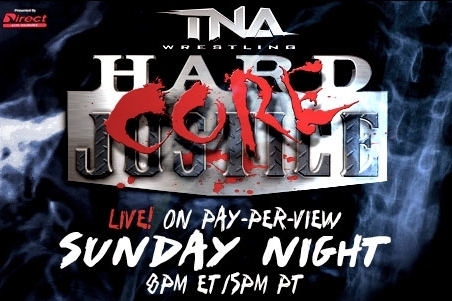 impactwrestling.com
TNA Wrestling presents Hardcore Justice, live on pay-per-view tonight!
TNA's annual August PPV debuted in May 2005 as Hard Justice with AJ Styles and Jeff Jarrett battling over the NWA World Heavyweight Championship in the main event. The following year, the event would be moved to the month of August, where it stayed.
In 2010, the event became known as Hardcore Justice when TNA held an ECW reunion show and the name has since stuck.
For this year's event, TNA Wrestling has scheduled seven matches. Fans will see three titles put on the line, three Bound for Glory Series matches featuring all 12 competitors and a tag team match. With only seven matches, there's a chance one more will be added, but time will tell with that.
Here is the card of TNA Hardcore Justice and who I think will be coming out on top!
Begin Slideshow

»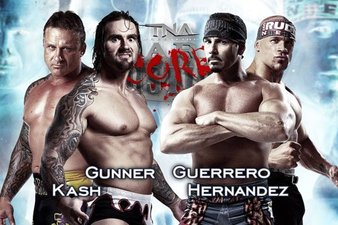 impactwrestling.com
Chavo Guerrero would make his TNA Wrestling debut a few weeks ago and he immediately rubbed some people the wrong way.
Kid Kash and Gunner would interrupt his debut and insulted the Guerrero family. Guerrero went on the attack, but the numbers game was too much for him. He soon got some help in the form of Hernandez, who assisted Guerrero in clearing the ring.
The following week, he had his first TNA match against Kash in a winning effort and this match was made as a result.
This past Thursday on Impact Wrestling, the match was briefly hyped in a short backstage segment, but with all of the storylines going on and the Bound for Glory Series in full swing, it's understandable that it wasn't given too much time. Since the feud just started, that could also be a factor as well.
As for the winner, I can't see Kash and Gunner winning the match at all. With Guerrero's comments of winning gold, possibly with Hernandez, I think it's safe to say that he and SuperMex will be coming out on top here and becoming a contenders for the Tag Team Championship.
I do hope that Kid Kash and Gunner remain as a team, though, especially if they work well together.
Winners: Chavo Guerrero and Hernandez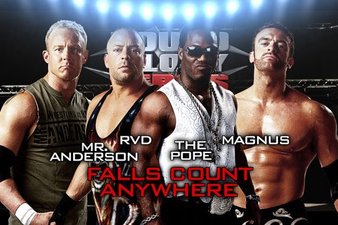 impactwrestling.com
Point standings of the four wrestlers competing:
Mr. Anderson: 40 points
Rob Van Dam: 35 points
Magnus: 21 points
D'Angelo Dinero: 7 points
Out of these four wrestlers, Mr. Anderson is the points leader while Rob Van Dam follows close behind.
With one victory, D'Angelo Dinero needs this win more than any of the other three competitors. Much like last year, though, I don't see him getting very far in the series. I can see the Pope winning at least one more match, but it won't be this one.
Magnus was a surprise entrant in this year's series and I thought that he'd be doing better than he currently is. I don't see Magnus going any further then the midcard after the series is finished, so a win for him here is unlikely.
The two most likely to gain victory here are either Anderson or Van Dam. To me, they're the only two that make sense.
I think that Anderson has been out of the title picture for too long and the 20 points from this match would put him right in the top four. A win for RVD would do the same, but I don't see him going any further then he is right now.
Winner: Mr. Anderson (60 points)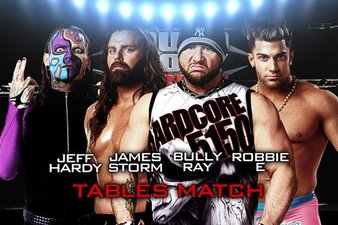 impactwrestling.com
Point standings of the four wrestlers competing:
James Storm: 66 points
Jeff Hardy: 35 points
Bully Ray: 28 points
Robbie E: 5 points
A tables match definitely benefits Jeff Hardy and Bully Ray due to their experience with tables, but the bully would have the advantage over Hardy for obvious reasons.
When looking at the other two, Robbie E has zero chance of winning this match unless Rob Terry helps him. With three other guys in the match, I think Robbie T is going to get taken out by at least one of them.
Between Hardy, Bully Ray and James Storm, it's really anybody's game. A win for Storm would give him a commanding lead, while a victory for Hardy or Bully Ray would certainly move them up the ranks in a big way.
A factor in this match is going to be the Aces and 8s, who this past Thursday on Impact Wrestling told Bully Ray that he was going to be their next target. While this is Bully Ray's match, the Aces and 8s put him at a potentially huge disadvantage.
I think a curveball is going to be thrown, though.
I can see the Aces and 8s on the verge of attacking Bully Ray only to turn around and attack Storm or Hardy. They said on Impact Wrestling that they were playing a game, but games can change. Then again, they could go after all three of them, which would lead to Robbie potentially gaining the 20 points.
I'm going with the Aces and 8s attacking James Storm, which would give Bully Ray the perfect opportunity to strike.
Winner: Bully Ray (48 points)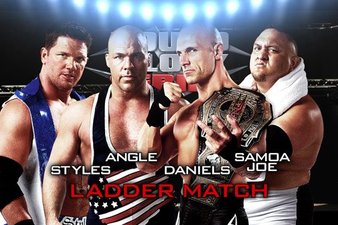 impactwrestling.com
Point standings of the four wrestlers competing:
Samoa Joe: 54 points
Kurt Angle: 48 points
Christopher Daniels: 33 points
AJ Styles: 16 points
Looking at this match on paper, it looks like an immediate Match of the Year candidate. This may end up ranking up there as one of the best matches in TNA history if it goes as well as hoped.
All four of these men have a history with one another. AJ Styles and Christopher Daniels have been both friends and enemies, Styles and Kurt Angle have battled over the world title, Angle ended Samoa Joe's undefeated streak, Joe took on both Styles and Daniels in one of the best matches in TNA history and Daniels did battle with Angle since the Olympic gold medalist has an alliance with Styles.
The list could go on and on with the history between these guys. Each time either of them steps foot inside the ring with another, pure gold tends to be produced.
The big story in this match is the Styles/Daniels feud and the involvement of Claire Lynch. Angle is somewhat involved as well due to his support of Styles a few months ago. Since he hasn't been directly involved recently, Angle may just let them two kill each other.
Then again, Daniels did take the Tag Team Championship away from him and Styles. Since Angle never got his rematch, he could be looking for a bit of vengeance.
Styles is going to be emotionally involved and could be looking to hurt Daniels more than trying to win the 20 points. Daniels, in turn, will have to be watching his back in a big way.
Samoa Joe may be the only one in this match with a clear mind and the focus to actually win. Does that mean he's going to win? No, of course not, but he may have the best chance.
This prediction is a tough call. I think Claire is going to get involved and get knocked out. Both Styles and Daniels will tend to the wounded pregnant woman, which will leave Angle and Samoa Joe to climb the ladder in the closing moments of the match.
I think Angle is going to win, but a part of me feels Samoa Joe may take the 20 points away from him. I really can't decide, so I'm going to flip a coin. The coin toss says…
Winner: Kurt Angle (68 points)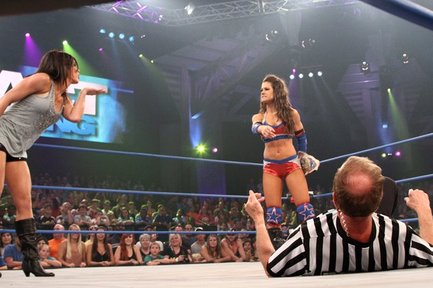 facebook.com/ImpactWrestling
Number of Times Title Defended at PPV: 2
Number of Times Title Successfully Defended: 0
The Knockouts division isn't what it used to be. It went from featuring every single woman on the roster to featuring the same four over and over again.
Seeing Miss Tessmacher win the Knockouts Championship at Slammiversary was a step in the ring direction as she was someone different, but in recent weeks, it seems like her possible challengers have had more air time.
Mickie James, Tara, Gail Kim and Madison Rayne have been battling it out for a few weeks vying to be the No. 1 contender. Last week, a No. 1 contender's match was finally set up between the four women and it saw Madison pick up the victory with a little help from Earl Hebner.
Hebner is going to be a major factor in this match if he's the referee, which he most likely will be. Madison's affections could hinder the match as well if she keeps flirting with him mid-match like she has in the past.
I can see this match going one of two ways, but they both have the same result.
Tessmacher will get Sting to assign an impartial referee to the match and end up retaining the title, or Hebner will be the referee and be forced to count Madison out when the champion knocks her out.
No matter what happens, I think it's too early to take the title off of her. Looking at the PPV history, though, the champion hasn't had too much luck. While the title has only been defended twice, the champion has lost her title both times.
History is not on Miss Tessmacher's side, but I think she's going to break the mold.
Winner and Still Champion: Miss Tessmacher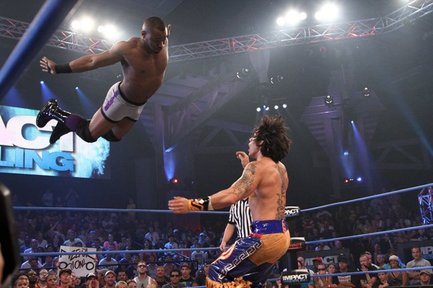 facebook.com/ImpactWrestling
Number of Times Title Defended at PPV: 6
Number of Times Title Successfully Defended: 4
At Destination X, Austin Aries gave up the X Division Championship for a shot at the TNA World Heavyweight Championship. That left the X Division title vacant and TNA was forced to set up a tournament to crown a new champion.
After qualifying to do so, Zema Ion defeated X Division veteran Sonjay Dutt, Mason Andrews and former ROH tag team champion Kenny King in an Ultimate X match to become the new champion.
This match came to be two weeks ago when Aries chose Kenny for a title match against Zema. Kenny would put up a good fight, but interference by Bobby Roode would cause Zema to retain his title.
Last week, the former ROH star teamed with Aries to take on the champion and Roode in a winning effort, and in the match, Kenny pinned the X Division champion. He was awarded another title shot as a result and now here we are.
I can see TNA giving Kenny King the title as a reward of sorts for walking out of Ring of Honor with one-half of the Tag Team Championship, but at the same time, I think it's way too soon to take the title off of Zema.
When Jesse Sorenson is able to return, Zema is going to need to be a massive heel, which he isn't even close to being right now.
Keeping the title on him for a lengthy period of time would help in doing so, but TNA has to build him up huge as a cocky heel that got where he is now by breaking Sorenson's neck.
I feel that this match will start that build in a big way. History has shown that the X Division champion is lucky at this PPV as well since champions have successfully defended the title four out of the past six times it has been on the line at the PPV.
Zema Ion will be continuing that trend.
Winner and Still Champion: Zema Ion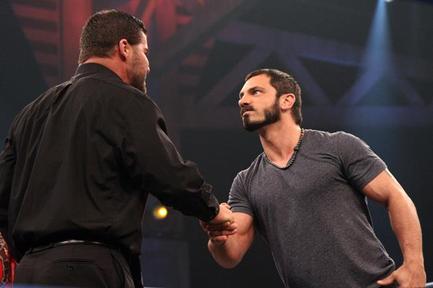 facebook.com/ImpactWrestling
Number of Times Title Defended at PPV: 6
Number of Times Title Successfully Defended: 4
After winning the TNA World Heavyweight Championship last fall, Bobby Roode became one of the most dominant champions in TNA history. Defeating the likes of AJ Styles, Jeff Hardy, Sting and James Storm, there seemed to be no stopping the It Factor of professional wrestling.
He wasn't the only champion being talked about, though. Austin Aries would win the X-Division Championship in September and became a dominant champion his own right as well.
Aries would never be beaten for his title as he gave it up for a shot at Roode and the world title. At Destination X, it proved to be a wise decision as the Greatest Man That Ever Lived defeated Roode to win the title.
Roode would call the victory a fluke, though, and demanded his rematch which Sting made for the PPV. With the stipulation of no rematches for either wrestler after Hardcore Justice, this match could go either way.
History gives Aries the advantage as world champions have successfully defended their title in four out of the past six Hardcore Justice title defenses. History may not factor in at all here, though, as the stipulation makes this anyone's game.
A part of me thinks that Roode will win the title back so that James Storm can win the Bound for Glory Series, thus setting up the big match between them at Bound for Glory.
The other part thinks that TNA would be stupid to take the title off of Aries now. If he loses, he's out of the title picture until Roode loses the belt. That could be a month from now or even sometime next year.
Personally, I don't think a Roode/Storm match needs the title. The feud itself is so personal that it doesn't need the belt to fuel it.
This match is an incredibly hard choice, but I'm going to give it to Austin Aries.
Winner and Still Champion: Austin Aries