The 25 Bloodiest Moments in Sports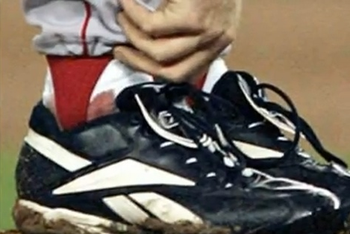 A sports injury can occur in countless different ways. A player can get a concussion, break an arm, tear an ACL, crack a rib, pull a hamstring, or even fracture his skull. There is no telling what can happen over the course of a season.
However, the bloodier injuries, now those are something we never tend to forget. Those are the injuries that will forever last in our memories until the day we die.
Who can forget that time Clint Malarchuk had his jugular sliced open when a skate came flying his way? Or that time Allan Ray's eye popped out?
These are just some of the 25 bloodiest moments in sports that we can all remember. Enjoy. Or should I say, enjoy at your own risk? (Really. Warning: This isn't for the faint of heart or easily grossed out.)
25. Curt Schilling: MLB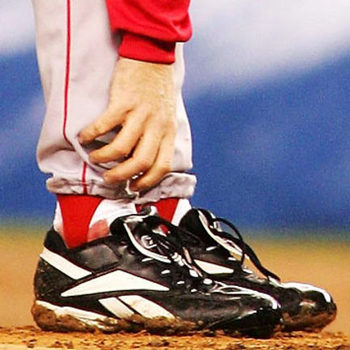 Image via masslive.com
So maybe this isn't as bloody as you were expecting but we have to start somewhere, right?
Curt Schilling pitched the 2004 American League Championship series and the World Series with a busted up ankle which caused his socks to be soaked in blood.
He threw the first one away after Game 6 of the ALCS, but the second one was placed in the Baseball Hall of Fame.
It was bloody enough for Cooperstown, so it is bloody enough for me.
24. Tyler Hansbrough: NCAA Basketball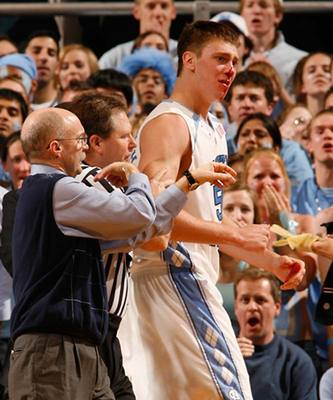 Image via sportsillustrated.cnn.com
Maybe it is because, outside of North Carolina, nobody was a fan of Tyler Hansbrough in college. He was the Tim Tebow of his time. Actually, he played during the same time as Tebow so I guess he was the Tim Tebow of basketball.
But after Duke's Gerald Henderson popped him late in a UNC victory, Tyler ended up having to wear a mask for the next few weeks and even into the NCAA tournament.
23. Bryce Harper: MLB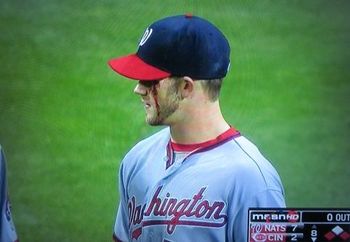 Image via natsenquirer.com
Bryce Harper was never video-taped in the dugout hallway when he suffered a self-inflicted injury to the face, and that is fine with me.
I would rather not watch someone take a baseball bat and smack a wall with it only to have it clip off and cut his eye open.
Hasn't he learned anything from golfers?
22. Jason Kidd: NBA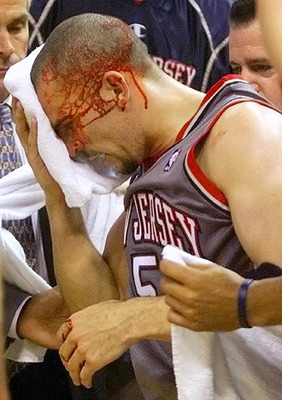 Image via basketballforum.com
David Wesley, the retired New Orleans Hornet guard, has always had a big head. So big, in fact, that when he collided with Jason Kidd in the 2002 NBA Playoffs, only Kidd would end up with a bloody face.
But I guess that is the luck of the draw. It's not like anyone was drinking and driving this time.
Too soon?
21. Eli Manning: NFL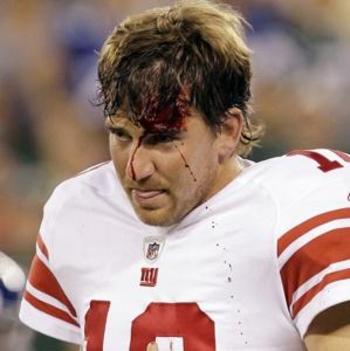 Image via nypost.com
Eli Manning now has two Super Bowl rings in his career making him the youngest Manning to ever win two. Well, he is the only Manning to ever win two but Peyton still has a few more years to go.
However, he cut his head open back in 2010 after his helmet was ripped off and he collided with a few other players.
It probably hurt back then but felt a lot better after winning his second ring this past season.
20. Nolan Ryan: MLB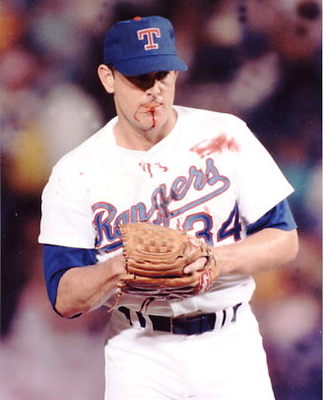 Image via bestsportsphotos.com
Everyone remembers this classic photo of Nolan Ryan after he was struck with a line-drive from Bo Jackson, right?
As a kid, all I remembered was watching him stay in the game and help the Texas Rangers get the win over the Kansas City Royals 2-1.
This might be bloody but this is also one of the toughest pictures I have ever seen.
19. Owen Schmitt: NFL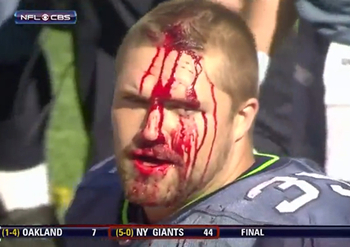 Image via draftcountdown.com
Is this guy for real? Did I just watch a video of a grown man crushing his skull until it bleeds with his own helmet?
Who does Owen Schmitt think he is? Superman?
18. Katie Glynn: Field Hockey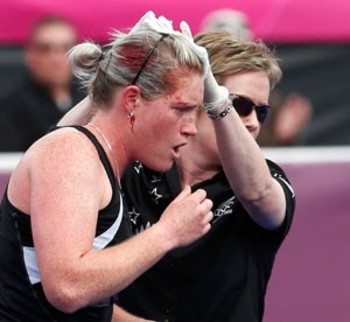 Image via athletestatus.com
Who said the Olympics didn't have enough blood? I surely didn't say that. Although I did suggest they add UFC to the Olympics in 2016, but I am just one man here.
Katie Glynn was hit in the head with a field hockey stick being swung at full strength. She only came out for a few minutes and played the entire second half and overtime of her semi-final match against the Netherlands.
I don't know about you, but I would still be in the hospital if that was me. Probably crying.
17. Ian Laperriere: NHL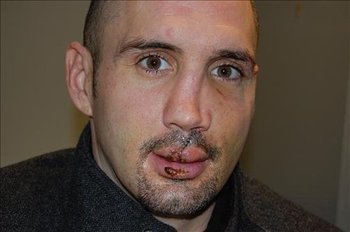 Image via crossingbroad.com
If you were curious and wanted to know what your face would look like after blocking an NHL hockey shot with your mouth, this would be it.
Ian Laperriere not only prevented the goal, he had to eventually retire because the injury was too close for comfort.
16. Brian Cushing: NFL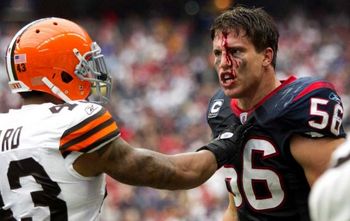 Image via yummysports.com
I am not sure if I have ever seen anything cooler than Brian Cushing headbutting another player without his helmet on.
What made that so cool?
The other guy had his on. Nice.
15. Calos Valdes: Soccer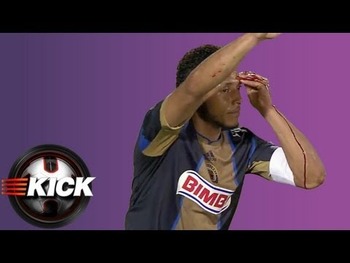 Image via article.wn.com
Since most of you have not seen the video, I will try to explain it for you.
Carlos Valdes tries to headbutt a corner kick but instead of the ball, he gets another player's head. Imagine headbutting another player in the back of the head.
Ouch.
14. Sean Sherk vs Kenny Florian: UFC 64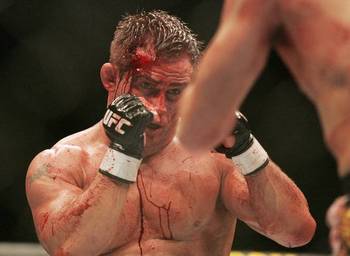 Image via lasvegassun.com
It is hard to rank UFC fights on a list of bloodiest moments in sports because almost every UFC event ends with one or two fighters soaked in blood. But this fight was different.
I watched it live and remember how both fighters, Sean Sherk and Kenny Florian, were drenched in blood. It was a mixture of each other's but it was a fight that rivaled those from Roadhouse.
13. Joe Cole: Soccer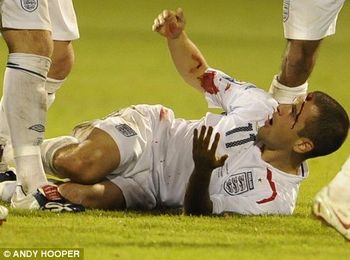 Image via dailymail.co.uk
You should watch the video to experience the event as it unfolded. And when you do, I think you will agree that you would react in the same way.
Once Joe Cole went for the header to regain possession of the ball, he was struck with an elbow that sliced him open and left him confused and weak.
12. Joe Stevenson: UFC 80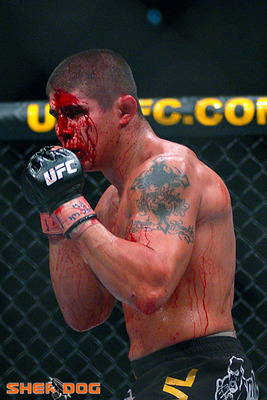 Image via thefightnerd.com
From the beginning of this match for the newly vacant Lightweight Championship belt, Joe Stevenson had a problem. He was cut pretty badly on his hairline causing him to fight in a pool of blood that dripped from his face like a demon in a Rob Zombie flick.
He lost the fight but won the title of bloodiest fight of the year, an award I gave out that year.
11. Bryce Florie: MLB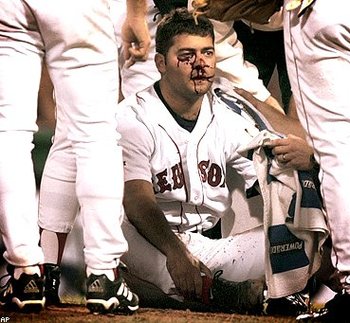 Image via sports.espn.go.com
Bryce Florie's career never took off. He was never an All-Star and he never lifted the World Series trophy. He never enjoyed a signing bonus and retired just last year.
But he will always be remember for being the guy that took a line drive to the face in 2000 at Fenway Park in Boston against the New York Yankees.
It isn't as nice, but it is still a memory.
10. Roy Jones Jr: Boxing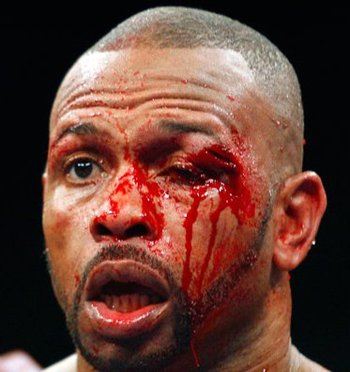 Image via chiropractoralexandria.blogspot.com
If you already hated Roy Jones Jr., that is fine with me. I am not trying to make you like the guy by feeling sorry for him. I just think this brutal eye injury should make the list as one of the bloodiest I have ever seen.
What do you think?
9. Mariela Scarone: Field Hockey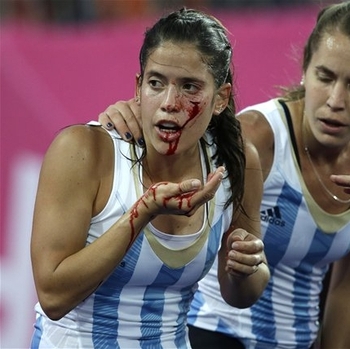 Image via sports.yahoo.com
I was talking with some friends after watching the field hockey games during the London Olympics and I told them how much fun the sport appeared to be. I thought I could enjoy it, as it seemed like a safe sport.
But then I watched the women's semi-finals and finals and thought otherwise. These chicks are crazy man. Mariela Scarone took a hit to the face that would have floored me.
8. Cain Velasquez vs Antonio Silva: UFC 146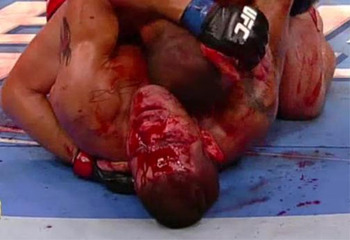 Image via covers.com
I was all set to explain my choice for Cain Velasquez and Antonio Silva making the top ten.
But then I found this picture and it is worth every single of the one thousand words.
7. Matt Howard: NCAA Basketball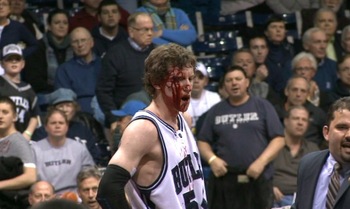 Image via fox59.com
How is it that a human elbow can cause so many injuries?
After taking an elbow from UIC's Paris Carter under the basket, Matt Howard started to look like a zombie on the run.
6. Allan Ray: NCAA Basketball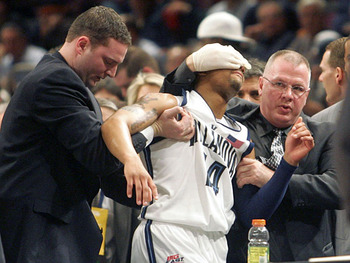 Image via kellyanncarroll.com
Why is that man covering Allan Ray's eye? Did he get punched in the face?
Nope. He had his eye poked out. Not just poked, poked out! It fell out of the eye socket and was hanging by a very thin thread.
So yeah, bloody is an understatement.
5. Steve Nash: NBA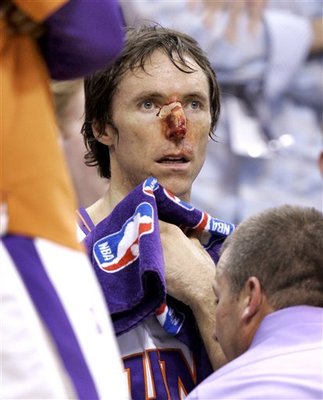 Image via shanepowers.com
Now that Steve Nash plays for the LA Lakers alongside Pau Gasol, Kobe Bryant, and Dwight Howard, I think he might finally get to enjoy an NBA title.
If not, he can always remember his career with Phoenix and that one time he busted his nose.
4. Richard Zednik: NHL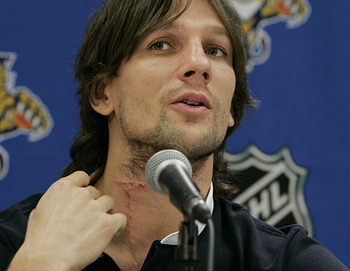 Image via mediagallery.usatoday.com
Can you believe that Richard Zednik's throat-slashing injury is not the bloodiest in NHL history?
There is one more that every sports fan should know. At least, you might have heard of it once.
Just keep on reading.
3. Jessica Dube: Figure Skating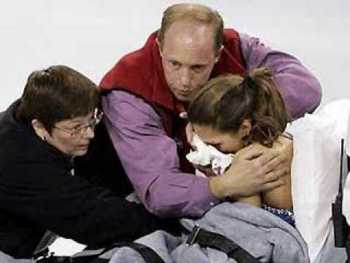 Image via article.wn.com
If I were to show you all these videos, you wouldn't be able to eat for a week. So please excuse the photos if they aren't as bloody as you had hoped.
But trust me, Jessica Dube took an ice skate to the face in 2007, and there was blood. Much of it too.
2. Ewald Lienen: Soccer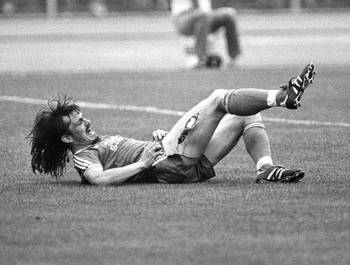 Image via wetten.betfair.com
Is that cartilage? Yep.
Wait, so is that white stuff his bone? Uh, yes, yes it is.
Can you imagine what the video would look like if I showed this one to you? Yes, yes you can.
1. Clint Malarchuk: NHL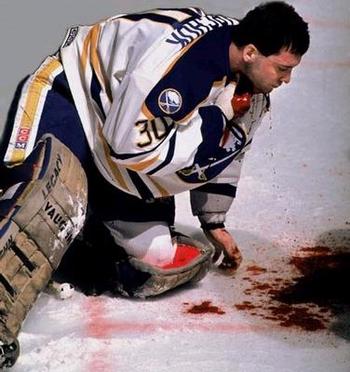 Image via newgrounds.com
I did not witness Clint Malarchuk's throat injury as it happened, but I have watched several ESPN videos of it since then and I can say one thing: there will never be anything more bloody in sports history.
It looked like something from a Wes Craven film. His jugular vein was sliced open after Steve Tuttle, of the St. Louis Blues was chasing the puck and his skate slipped up and cut him.
Thankfully, he survived.
Keep Reading