Donald Cerrone vs. Melvin Guillard: What a Win Means for Cerrone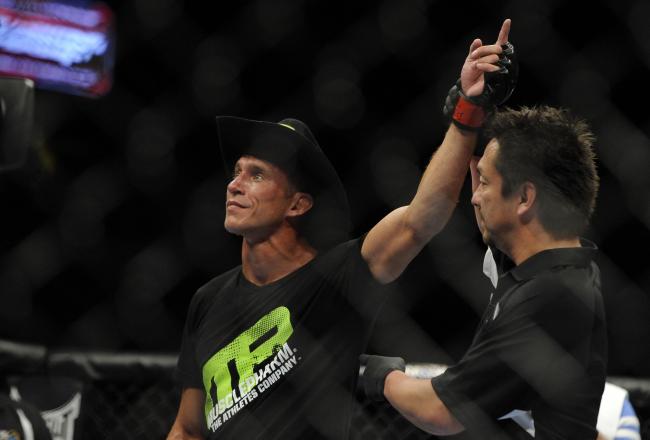 Rafael Suanes-US PRESSWIRE
Donald Cerrone is a name that has often been mentioned during discussions of "Top 10 lightweights" over the past few years. Consideration for that honor speaks volumes about his skills and successes as a mixed martial artist in both the WEC and UFC promotions, but in Cerrone's case, the accolade comes with a qualifier.
You won't hear his name mentioned in any "Top 5 lightweights" discussions, as Cerrone most often spends his time on the fringe, or just inside the double-digit-list. While that is by no means an accomplishment to scoff at, Cerrone's place at the back-end of the elite is indicative of a fighter who has come, and stayed close to the top, but has never actually been there.
While a win over Melvin Guillard won't earn Cerrone a place at the top, nor will it earn him a lightweight title shot, it may very well earn him the opportunity to break through the barrier later this year.
As a UFC fighter, Cerrone is 5-1. His sole loss with the promotion came to Nate Diaz who is currently sitting pretty as the lightweight division's number one contender. With a win over Guillard, Cerrone re-solidifies his spot as a 155-pounder on the precipice of stardom, and demands consideration for a fight against a serious title player.
Of course, winning is not always enough to propel oneself into title contention in the UFC—method of victory and level of performance always factor in. But if Cerrone is able to defeat Guillard, and defeat him decisively, it may prove to be a pivotal moment in the Cowboy's career.
An impressive showing against Guillard will likely be enough to vault Cerrone into a contest with the Jim Millers and Gray Maynards of the division, and it is through those guardians that the routes to a title fight lie. Fighting those guys is also really the only way for a fighter to make significant gains in the divisional rankings.
So Cerrone's fight with Guillard at UFC 150 is not just important in the sense that the Young Assassin is a nice feather in the cap for any lightweight competitor—it is a chance for Cerrone to finally break through and square off with the best of the best.
You could look at it like Cerrone already had that chance when he fought, and lost to, Nate Diaz in 2011, and there is some truth to that, but there is more on the line this time around. When Diaz beat Cerrone he parlayed the bout into a No. 1 contender fight, which is pretty much what Cerrone can gain by beating Guillard. But the difference lies in what Cerrone stands to lose should he fail, rather than what he gains if he wins.
Cerrone is not coming off six straight wins like he was when he fought Diaz, he is coming off one win. A loss this time around ensures that Cerrone starts near the bottom once again, which means no breaking through to the next level, and no competing for the UFC hardware he covets. At least not in the foreseeable future.
This article is
What is the duplicate article?
Why is this article offensive?
Where is this article plagiarized from?
Why is this article poorly edited?