UFC 150: Predictions for the Preliminary Card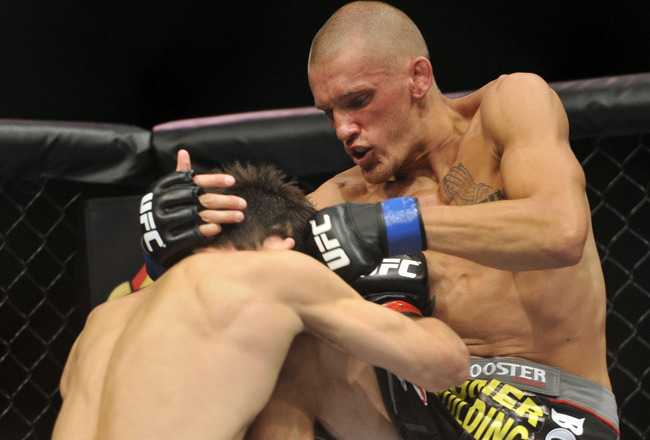 Joe Camporeale-US PRESSWIRE
This Saturday's UFC 150 will kick off with preliminary action beginning at 7:30 ET, on Facebook. So, before Ben Henderson and Frankie Edgar rekindle their budding rivalry on pay-per-view, you'll have a chance to fire up the computer, then turn to FX for a total of two-and-a-half hours of free fights.
UFC 150 preliminary action features five fights, mostly taking place in the lighter weight classes, with no shortage of competitive intrigue.
Here, we will give a brief overview of each contest and uncover how each prelim. fight is likely to go down.
Nik Lentz vs. Eiji Mitsuoka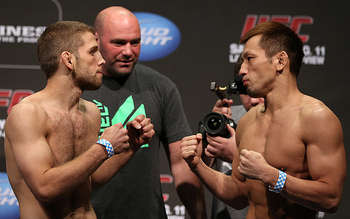 Photo by Josh Hedges/Zuffa LLC/Zuffa LLC via Getty Images
The Fighters
Eiji Mitsuoka is a 36-year-old veteran of the Japanese circuit, having competed in Pride, Dream, Sengoku and Deep. Mitsuoka most recently cut his teeth as a UFC fighter the last time Ben Henderson and Frankie Edgar faced off, dropping a TKO loss to Takanori Gomi.
Nik Lentz began his UFC career 5-0, using his wrestling to smother opponents. Recently though, he has struggled to find his footing, having dropped consecutive fights to Mark Bocek and Evan Dunham.
The Fight
Both guys are ground specialists, and the outcome of the match could very well be decided by who is able to maintain top position more often.
Striking should also factor in a bit, so Mitsuoka will have to be sure to keep his hands up. That has been an issue for him in the past, and though Lentz is by no means an elite striker, he does have enough power to make Mitsuoka pay if he makes that mistake.
But more than anything it is the experience each fighter has garnered over the past few years that is telling of the outcome; it is one thing to survive the Japanese circuit, quite another to make it in the UFC.
The Prediction
Nik Lentz defeats Eiji Mitsuoka via unanimous decision (30-27, 30-27, 30-27).
Dustin Pague vs. Chico Camus
Photo by Josh Hedges/Zuffa LLC/Zuffa LLC via Getty Images
The Fighters
Dustin Pague is an Ultimate Fighter alum looking to gain traction in the UFC. Since his time on the show, Pague has put together a 1-2 record with the promotion, most recently dropping a split-decision to Ken Stone, a fight he took on 14-days notice.
Chico Camus is a 14-fight MMA veteran, but has yet to meet a widely recognized opponent. That suggests Pague may present a challenge for him. Camus has 11 pro wins, including four by knockout, three by submission and four via decision.
The Fight
Pague will probably be comfortable anywhere the fight takes him. The Disciple's bread-and-butter is his submission game, but he has been working on utilizing his long limbs to improve in the striking realm.
Camus' best chance will be to close the distance on Pague and see what kind of damage he can do inside. If he struggles to land any significant short-shots, he may resolve to take it to the mat. There, he'll have to use solid control to prevent Pague from putting him to sleep.
The Prediction
Dustin Pague defeats Chico Camus via submission, Round 2.
Ken Stone vs. Erik Perez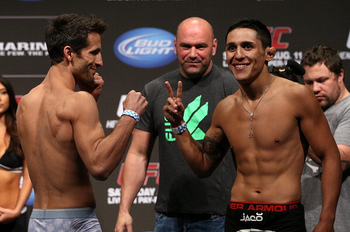 The Fighters
Ken Stone survived defeat in his UFC debut to go on on to win two straight contests. Stone is a solid wrestler with good submissions and will likely look to control his opponent this Saturday night.
Erik Perez looked good in his UFC debut, notching a first round victory by armbarring John Albert. Still just 22 years of age, Perez will look to work his ground game against Stone en route to another UFC win.
The Fight
Both guys are more comfortable on the mat than on the feet, so this one may go to whoever is the more active grappler. While I like the way Perez looked in his last fight, I think he will find it difficult to escape the clutches of Stone.
If the ground games cancel each other out, the fight could take on an interesting dimension, but it is unlikely that that will be the case.
The Prediction
Ken Stone defeats Erik Perez via unanimous decision (29-28, 29-28, 30-27).
Jared Hamman vs. Michael Kuiper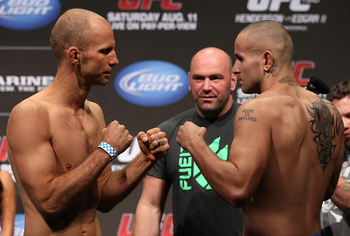 Photo by Josh Hedges/Zuffa LLC/Zuffa LLC via Getty Images
The Fighters
Jared Hamman is 2-3 in the UFC, and 1-1 since dropping from light heavyweight to middleweight. He is a striker by trade and will no doubt be eager to exchange at UFC 150.
Haling from the Netherlands, Michael Kuiper suffered the first loss of his career when he debuted in the UFC opposite of Rafael Natal earlier this year. At just 23, Kuiper is very well-rounded for his age.
The Fight
Kuiper can strike, but he'll almost certainly be looking to put Hamman on his back so he can work some ground-and-pound, a strategy responsible for several of his 11 career victories.
However, he might not have all that much time to plant Hamman on his backside, as the American gunslinger has never been shy about opening a fight by reeling off a few hay-makers.
What this one comes down to is whether or not Kuiper can shutdown the striking game of Hamman. Even if he cannot take him down, he'll have to create distance, or completely close it, to stay out of Hamman's danger zone.
While he has a number of ways to pull this one out, Kuiper will find it difficult to survive for 15 minutes against a power puncher like Hamman.
The Prediction
Jared Hamman defeats Michael Kuiper via knockout, Round 1.
Dennis Bermudez vs. Tommy Hayden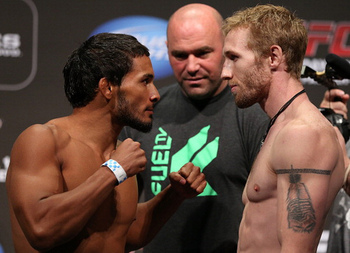 Photo by Josh Hedges/Zuffa LLC/Zuffa LLC via Getty Images
The Fighters
After coming oh so close to defeating Diego Brandao for Ultimate Fighter honors, Bermudez recovered to dominate Pablo Garza this May. Bermudez used his powerful wrestling to dominate that match and may look to do the same at UFC 150.
After putting together an 8-0 career record, Tommy Hayden finally faltered when he made his UFC debut. Hayden likes to take top position and work for submissions.
The Fight
Both guys have decent submission games, though both work more often from the top. Consequently, it will be the fighter who can avoid the takedown who will find the easiest path to victory.
If the wrestling cancels out and the fight turns into a grind on the feet, the nod goes to Bermudez, who has proven he can both take damage and dish it out.
The Prediction
Dennis Bermudez defeats Tommy Hayden via TKO, Round 3.
Keep Reading