2012 Fantasy Football Draft: Round-by-Round Analysis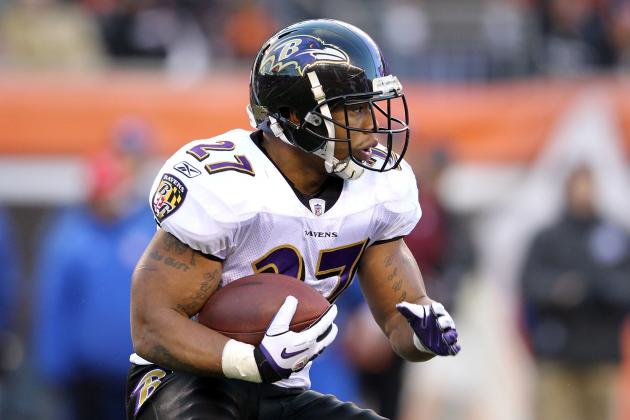 Andy Lyons/Getty Images
Baltimore Ravens RB Ray Rice will lead 'What Can Brown Do For You?' into the trenches in 2012
This evening my fantasy football league here in New Hampshire held its annual draft. I spent the last few weeks analyzing stats, scouring the news services and participating in mock drafts...and, as you might imagine, the draft went nothing like what I had expected.
Well, it did to a minimal extent—Baltimore Ravens RB Ray Rice was there for me when I selected third (of the 14 teams in my league). After that, my draft diverted from the expected course and, as a result, my team looks nothing like what I expected.
Not that that is a bad thing—as I am quite satisfied with the result.
I am a devotee of Value Based Drafting (VBD), the statistical mechanism by which you measure each player against a base line. It is not based on how many points a particular player will score during the season, rather how he performs against his peers at his position.
While I will not make selections based solely on these projections and analysis, I use VBD as a guide to help me make tougher decisions (more on that later).
As I said earlier, the draft went nothing like what I had expected. Things move more slowly in a 14-team league. Our rosters are not as star-laden as most leagues (as opposed to a 10-team league where only 150 players are selected in 10 rounds, in our league we dig deeper into NFL rosters, selecting 210 players).
Additionally, if you pick early or late in a round in a 14-team league, the character of the draft can swing wildly between picks, and the composition of your team can be greatly affected by those swings.
You will need to be flexible and make several adjustments on the fly, as I had to do tonight.
Begin Slideshow

»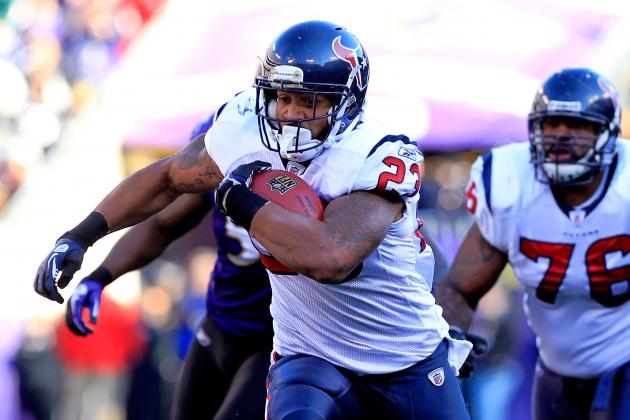 Chris Trotman/Getty Images
Houston Texans RB Arian Foster was selected first overall
I debated how to approach the first round for the last week, going back and forth between selecting a RB or a QB with the third pick. There are many ''experts'' who believe the NFL game has emphasized passing to a greater extent over the last few years, therefore they argue it's imperative that fantasy players secure a premier quarterback early.
I prepared my projections and crunched the numbers. When I completed my analysis, I decided that any one of four players could be selected with the third pick. But as draft day approached, I excluded the player who many fantasy experts consider to be the consensus No. 1 pick—Texans RB Arian Foster.
That's right, I just said that I would not have picked Foster had he fallen to No. 3. That's because of concerns about the lessening of his role in light of the ability of his backup, Ben Tate, who would be starting for most NFL teams.
Based on VBD and the above consideration, I narrowed my selections to Packers QB Aaron Rodgers (a VBD score of 141), Patriots QB Tom Brady (VBD 139) and Ravens RB Ray Rice (VBD 137).
Foster went first, as expected. Then, to my surprise, Brady went second (after all, we do live in New England). Thus the debate came down to selecting a QB or a RB. When all was said and done, I determined the pool of dependable running backs was much shallower and had been further depleted by holdouts and injuries. That is to say, the RBs you can rely on to start and carry the workload for their teams week-in and week-out are fewer in number. Thus, I drafted Rice instead of Rodgers.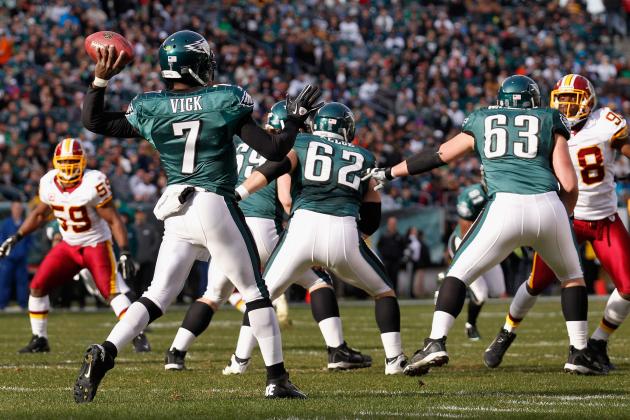 Rob Carr/Getty Images
Michael Vick was my choice at QB in the second round
When the draft started, I expected Arian Foster and Aaron Rodgers to go 1-2 in the draft, and that I would end up with Ray Rice in the first round and another RB in the second round. I had expected there would be a run on QBs and TEs in the first round and start of the second round, and that I would find the better value at RB in Round 2.
But a funny thing happened on the way to the 26th pick...
I didn't love any of the RBs enough to select one of them with my second-round pick.
Five of the first nine picks were QBs (Brady, Rodgers, Drew Brees, Matthew Stafford and Cam Newton). But then the owners turned to the RBs: LeSean McCoy, Chris Johnson, Darren McFadden, Maurice Jones-Drew, DeMarco Murray and Matt Forte all went before the end of the first round. Then, after WR Julio Jones went off the board to start the second round, six straight RBs also went off the board.
Nine of the next 10 picks were running backs (Michael Turner, Steven Jackson, Marshawn Lynch, Adrian Peterson, Trent Richardson and Ryan Mathews... Larry Fitzgerald...Ahmad Bradshaw, Fred Jackson and Jamaal Charles). I was now looking at an RB board highlighted by Frank Gore (who may lose a lot of touches to Brandon Jacobs this year), Shonn Greene (yikes!), rookie Doug Martin and Darren Sproles.
I like Sproles, but not in Round 2.
Meanwhile, I expected another run on QBs right around the corner. but there were the two stud tight ends still on the board.
Michael Vick was available. After a bad 2011, I expect him to work hard to rehabilitate his reputation in 2012, and I expect him to have a VBD of 100+ this season. After Vick, I had a group including Eli Manning, Philip Rivers, Tony Romo and Peyton Manning all at a VBD of 48-60. After that, the best remaining QB was Matt Ryan at a VBD of 31.
Based on his VBD, Vick was clearly my best option.
Thearon W. Henderson/Getty Images
I never selected a TE before round six or seven in ANY of my mock drafts
After I selected Vick, Tom Brady's owner decided he needed to pair his QB with his favorite receiver, TE Rob Gronkowski. Then, much to my surprise, the owner of the first pick selected a pair of wide receivers back to back (Greg Jennings and Wes Welker).
At that point, I determined my best option from a VBD standpoint was Saints TE Jimmy Graham (who has a VBD of 79, according to my estimates). Because of the incredible run on RBs in Round 2, I had only one RB still available with a VBD of more than 20 (Gore at 36). While I had several WRs who had VBDs in the 60s, there are a LOT of good WRs available and only a few truly impactful TEs.
Gronk's owner could have paired the two stud TEs, but instead chose Jordy Nelson. So, in spite of the fact I had never selected a TE prior to the sixth or seventh round in any of my mock drafts (usually I ended up with Jermichael Finley or Jared Cook), I chose Graham and felt myself very blessed that he had lasted until pick No. 31.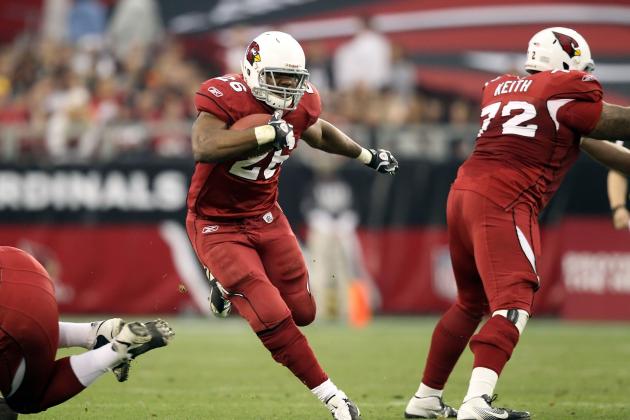 Christian Petersen/Getty Images
In spite of his knee injury, Beanie Wells had a solid 2011 campaign and I am hopeful he will be able to provide me with a repeat performance in 2012
After selecting Graham, I looked on as my co-owners went on another feeding frenzy on RBs, taking nine in the next 22 selections. While I wasn't concerned that players like Frank Gore or Darren Sproles were selected, I had hoped that Reggie Bush (MIA) or rookie Doug Martin (TB) would slide to me at pick No. 54.
No such luck.
When Willis McGahee went off the board at No. 52, I found myself staring at Beanie Wells. If he is healthy he is a steal at No. 54. But ''if'' is a big word.
The other options were not nearly as attractive: Roy Helu, James Starks and Peyton Hillis all would have been stretches at the end of the fourth round, and I had decided that I needed another RB—and now.
Beanie was the choice, with the knowledge I would need backup Ryan Williams (and that I would need to choose him earlier than he would otherwise be taken to ensure he would be on my team).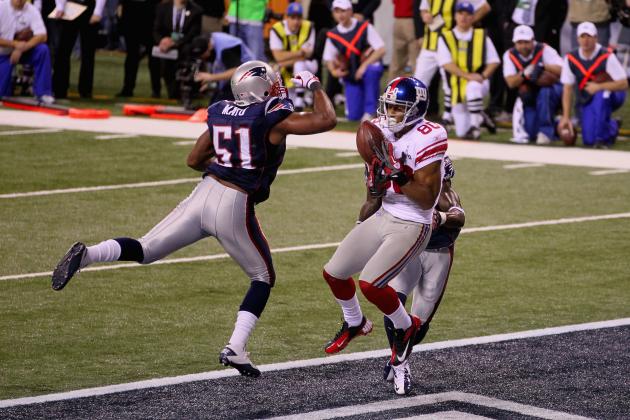 Jeff Gross/Getty Images
Round Five: Time to Look at My Wideouts
By now all of the WRs with VBD scores of 60+ had been selected, but I had a dozen WRs with values in the 35-50 range. It was time to go after two of them. The questions: which two and in what order?
I looked at a trio of receivers whose circumstances provide the opportunity to out-perform the estimates I had produced: Brandon Lloyd, Victor Cruz and Antonio Brown.
I like Lloyd because he is playing with Brady and could be on the verge of a huge season. But I dislike him for the same reason—he is playing with Brady, who is adept at spreading the ball around to his many targets (Welker, Deon Branch, Gronkowski, Hernandez, etc).
I like Cruz because he should get considerably more targets than he did last year, due to the elevation of his game and the departure of Mario Manningham.
I like Brown because of the elevation of his play, the fact teammate Mike Wallace is embroiled in a bitter contract dispute with the Steelers' front office, and the continuing reports that he and Ben Roethlisberger are developing a heightened rapport (in part because of the absence of Wallace).
But who to pick in Round 5?
There is only one ball for Brady to throw, so Lloyd is out. Wallace could sign a new contract tomorrow, so Brown is out. The choice is Cruz.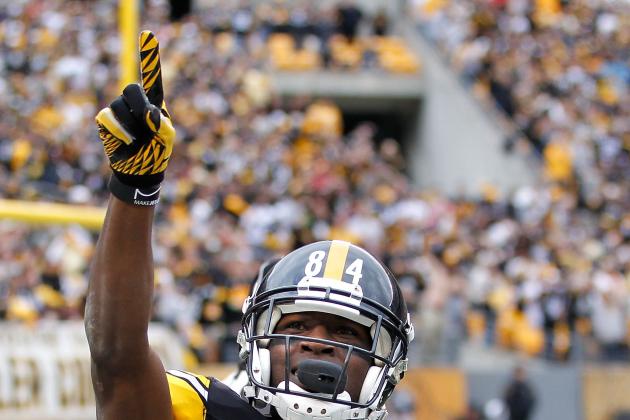 Gregory Shamus/Getty Images
It Was an Easy Decision For Me When Brown Was Still Available in Round 6
Immediately after I selected Cruz in the fifth round, there was a run on wide receivers, but the run largely consisted of guys who I had discounted for one reason or another, whether it had been a matter of the player's consistency (Jeremy Maclin), his contract status (Marques Colston), his health (Miles Austin) and/or his frame of mind (Dez Bryant).
When my turn came in the sixth round, Steelers WR Antonio Brown was still available. At this point my decision was an easy one.
After all, I needed someone named Brown on my team. "What Can Brown Do For You?"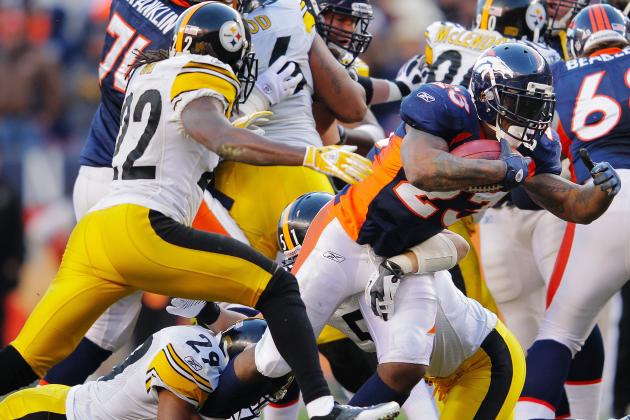 Doug Pensinger/Getty Images
The Steel Curtain
Okay, so now I have my QB, 2 RBs, 2 WRs and a TE. I need a flex, a kicker and a defense, plus six reserve slots. Umm, time to go get me a defense.
The SF 49ers and Philadelphia Eagles, my first two preferences, had both been chosen in the span of a half-dozen picks leading up to my sixth-round pick. The Chicago Bears, my third preference, were taken right after I made my sixth-round pick.
The Texans were the obvious selection based on VBD, but I don't trust them after the departure of Mario Williams. The next two best scores, according to my VBD ratings, were the Pittsburgh Steelers and the Seattle Seahawks.
They both play in divisions that are somewhat devoid of offensive powerhouses. While the Seahawks had a higher VBD score, I went with the Steelers because I expect the Pittsburgh offense to be more proficient at keeping the pressure off its defense.
Christian Petersen/Getty Images
Ryan Williams provides me with peace of mind as the backup to Beanie Wells in Phoenix
Okay, so all of the bases are now covered except one—protection against a re-occurrence of Beanie Wells' knee problems.
Simple solution. It's time to draft Ryan Williams, except he is coming off a knee injury of his own.
No matter, they are both extremely talented running backs, and I am going to draft one or two more RBs to provide further protection at the position. I lost out on obtaining my handcuff last year because I waited one round too many.
It's time to strike while the iron is hot!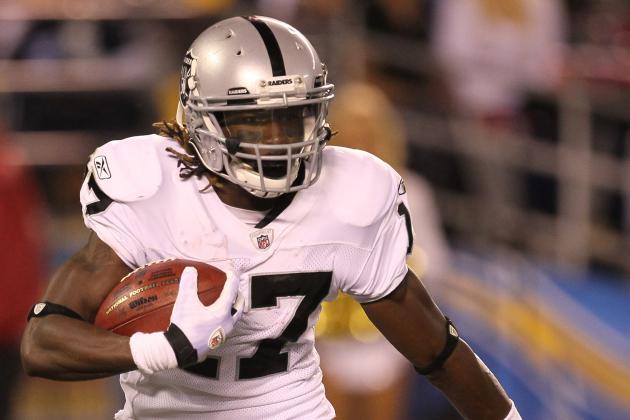 Stephen Dunn/Getty Images
With Carson Palmer behind center for an entire season, WR Denarius Moore could produce a breakout campaign
Next on the agenda is the selection of a couple of flex position players, two RB/WR/TE types who will play weekly and provide flexibility to "fill in" for starters during bye weeks.
As I had three RBs and a great TE, I determined I should add another wideout.
At this point I had only two WRs. The best choice, according to VBD. was Kenny Britt, but he is a head case who cannot be trusted to start the season in the lineup (suspension on the horizon?) or finish the season as a free man.
My next highest-rated receiver was Raiders second-year burner Denarius Moore. Interesting guy. Fast. Averaged almost 19 yards per catch as a rookie, and now he will get to play with Carson Palmer for an entire season. He'll have speedy Darius Hayward-Bey on the other side, so defenses aren't going to be able to focus on him to too great of an extent.
I believe it is likely that Moore will end up as Palmer's favorite receiver. As such, he could produce some surprisingly good fantasy stats. 1000+ yards? 6+ TDs?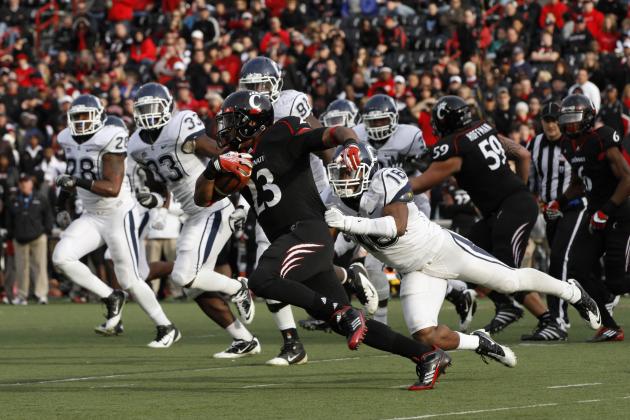 Tyler Barrick/Getty Images
Isaiah Pead has been favorably compared to RB Chris Johnson
The 10th round...time to roll the dice a little.
While you never hope for an injury, you want to have the next big thing—the guy who could be a star if he gets his shot because an injury fells the guy who is ahead of him on the depth chart, or the guy who is just so good that his coaching staff feels they have to give him some work (while simultaneously resting the team's aging veteran).
Last year I rolled the dice with DeMarco Murray. This year it is Isaiah Pead.
Pead was chosen in the second round of the 2012 NFL Draft. The former Cincinnati running back carried 545 times for 3,288 yards (6.03 ypc) and 27 touchdowns during his collegiate career. He also caught 87 passes for 721 yards. The Rams coaching staff has compared him to Titans RB Chris Johnson, which is very high praise indeed.
He might play sparingly, but he could also turn out to be the next Ben Tate...or DeMarco Murray.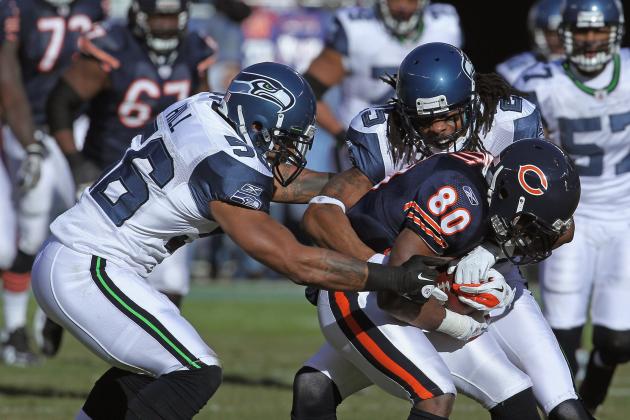 Jonathan Daniel/Getty Images
The Seahawks defense gets two shots annually at Arizona and St Louis
I mentioned earlier that I like the D/ST of both the Pittsburgh Steelers and Seattle Seahawks. I picked the Steelers as my starting D/ST for several reasons: talent, track record, division, team offense, etc.
Another reason I like them is because their bye is in Week No. 4. I can select a backup defense, hold onto them for a month, then dump them, creating space to run a backup TE and kicker onto my roster as I need to without having to cut a RB or WR who I really value.
In Week No. 4, the Seahawks play the St. Louis Rams. It's a road game, but it is still against the Rams (the Seahawks beat the Rams 24-7 in St Louis last year). I like the matchup.
A couple of weeks later, I'll need to have another TE on my roster when the Saints have their bye week (in Week No. ). A couple of weeks after that, I'll need to sign a free agent kicker to fill in for Mike Nugent.
This should work out just fine.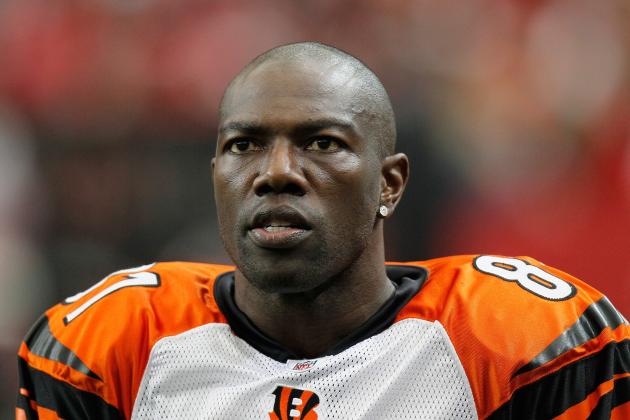 Kevin C. Cox/Getty Images
If T. O. is serious about playing football this year, he could provide me with a BIG payoff!
I typically wait until the last round to select a kicker, so the next three rounds will be focused on finding a diamond in the rough or striking gold with a ''flier.'' I think I scored across the board!
In Round 12 I went back to the running back slot. I had my two starters. I got my handcuff. And I had my star-in-the-making.
Now I needed someone who might provide me with some serious upside, someone who might turn into a weekly producer.
I think I found him in Montario Hardesty. Rookie Trent Richardson was expected to be the starter, but even then his 'touches' were reportedly going to be limited to protect him. So the backup was always going to get his share of ''touches.'' With Richardson having suffered a knee injury, the door is open even wider. Hardesty could start the first couple of games, and if Richardson proves to be fragile, he'll be the featured back.
In Round 13 I selected a guy who I really don't like very much, but he is a guy who could pay me a huge dividend if he has returned to the game with the right frame of mind.
The guy I rolled the dice on is Terrell Owens. Low risk, high reward.
According to reports, he hasn't lost a step. If he has a good attitude, he could prove to be a great gamble. If not, I'll just grab someone like Laurent Robinson off the free agent list. But in Round 13, who would you rather have—a guy with the upside of TO or Robinson?
Round 4 was time for a backup QB. The Eagles have their bye in Week 7, so rookie Ryan Tannehill wasn't an option. I really wanted Christian Ponder, but he had been selected a round earlier. So I picked Brandon Weeden.
A lot of people like him as a bit of a sleeper. I don't know about that, but I do know he is playing Indianapolis in Week 7. As with the Seahawks defense, I like the matchup.
Last pick. Kicker. Roll them onto the roster...roll them off the roster. I'll probably have three or four different kickers on my roster during the course of the season. I'll start with Mike Nugent. It's not an exciting pick, but it's not supposed to be.
It's the 15th round!