Which Patriots on the Roster Bubble Make the Team?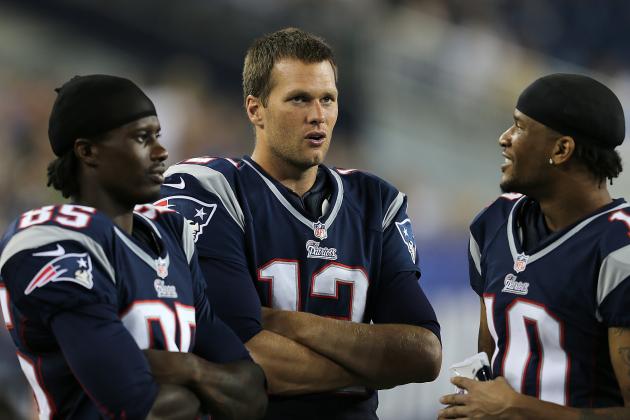 Jim Rogash/Getty Images

With the deadline for the final 53 man roster edging closer every day, Bill Belichick, Nick Caserio and co. will have to make several difficult decisions in the coming weeks.
With 90 players in camp, the Patriots front office will have three more preseason games to find the 53 men they need for the regular season.
Some players are all but guaranteed spots and some are almost guaranteed not to make the roster. There are several players however who are on the fence at the moment. A good game or good week in practice could see them make the roster or a bad game could see them cut.
In the following slides, let's examine several Patriots who are on the roster bubble.
Begin Slideshow

»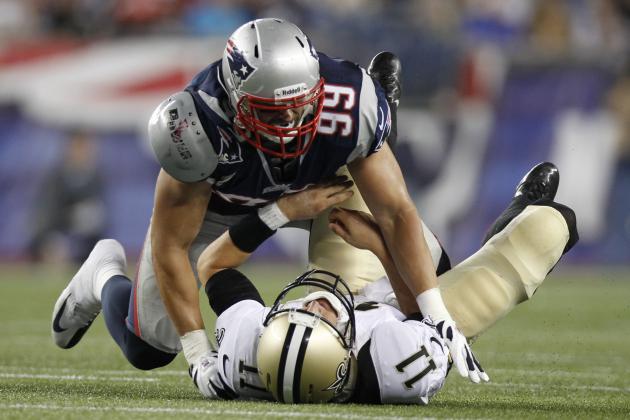 Greg M. Cooper-US PRESSWIRE

Early on in camp it seemed as if Trevor Scott was one of the biggest bargains of free agency. Scott's speed around the edge caused problems for most of the Pat's offensive linemen and he dominated in one-on-one drills.
Scott couldn't maintain his high level of play however as he has slowed down as camp progressed. To compound his dip in form, other defensive linemen and linebackers stepped up and Scott lost the first team reps he had at the start of camp.
Making a second half appearance in Thursday nights game against New Orleans, Scott applied some good pressure on the quarterback and recorded a strip sack on Luke McCown.
Will he make the roster?
No. Despite his fast start, several other linemen have passed him on the depth chart. Unless he can recapture the form his showed at the start of camp, he will likely be the odd man out.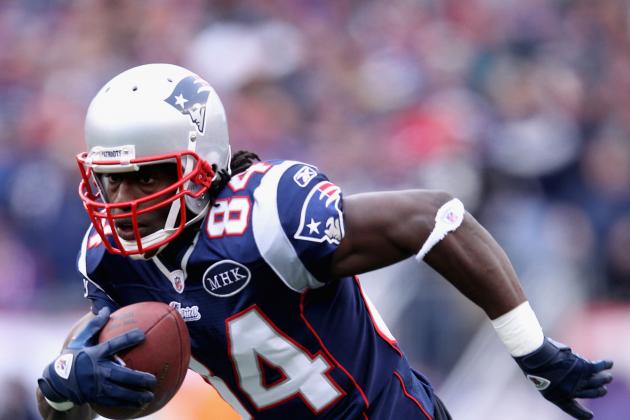 Elsa/Getty Images

At the start of camp Deion Branch was almost a guarantee to make the roster. However a combination of the intense competition at wide receiver and an unfortunate injury have left Branch on the outside looking in.
With the Patriots expected to carry six receivers and five of those already filled up, Branch could very much be the odd man out as he battles Dont'e Stallworth for that final spot.
Stallworth gives the Patriots another deep burner, while Branch doesn't provide anything that they can't get out of Wes Welker or Aaron Hernandez.
Will he make the roster?
No. Branch is a fan favorite and a personal favorite but with receiver spots filling up he remains on the wrong end of the depth chart. While his chemistry with Brady is irreplaceable, his inability to get on the field may have sealed his fate.
Jim Rogash/Getty Images

The Patriot's seventh-round draft choice Alfonzo Dennard was in my eyes the steal of the draft. A cornerback with second-round talent, Dennard's physical play is a perfect fit for New England.
Unfortunately for Dennard, he has been slowed by a hamstring injury suffered at the start of camp. While most seventh-rounders would be doomed by such fate, I believe Coach Belichick has seen enough of Dennard on film to understand what he brings to the field.
With corner spots on the roster open past the starting trio of Devin McCourty, Kyle Arrington and Ras-I Dowling, Dennard could very well fit into the slot corner position.
Will he make the roster?
Yes. Dennard's ability coupled with the lack of talent at the cornerback position should see him make the team. If he can recover in time for the last two preseason games, Belichick will be able to see the talent and skills Dennard can bring to the table.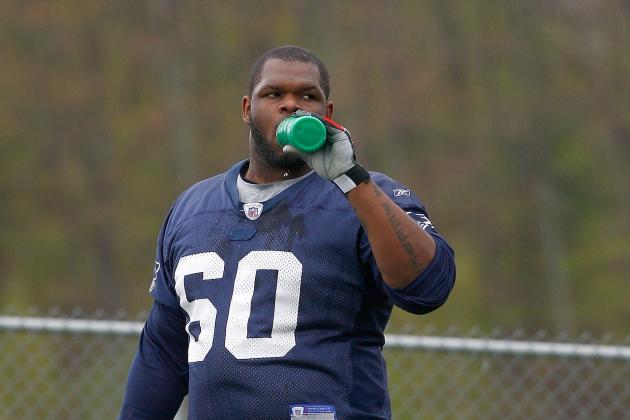 Jim Rogash/Getty Images

A second-round selection from a few years back, Ron Brace has yet to play up to his potential in a Patriots uniform.
At 6'3'', 330 pounds Brace can clog the up middle of the field with the best of them but his inability to play consistent football and remain healthy has prevented him from playing at his best.
Brace has turned heads with a strong start to camp, showing off his immense strength during drills, especially in one-on-one matchups.
Will he make the roster?
Yes. While an injury has halted the momentum he built from a strong start to camp, Brace showed enough to merit a position on the roster. With his ability to play the three technique and five technique, Brace could be a surprise contributor for the Pats.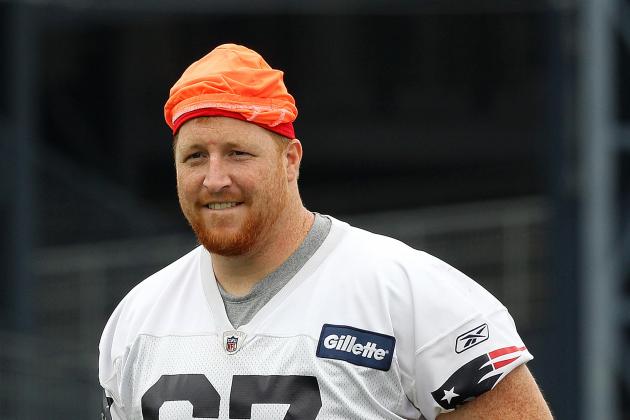 Jim Rogash/Getty Images

For years Koppen has been regarded as an automatic starter on the offensive line. One of the smartest centers in the game, Koppen also has great chemistry with quarterback Tom Brady.
A broken leg in the first game against Miami last year ended his season prematurely, but the Patriots barely missed a beat as Dan Connolly slotted into center admirably.
Despite being injury free, Koppen has not looked like the same player in camp this year, routinely getting overpowered by opposing linemen. With the Patriots favoring players with positional versatility and Koppen unable to play any position outside of center, he needs to dramatically improve his level of play before roster cuts.
Will he make the roster?
No. Unfortunately Koppen does not look like the same guy that started in a Super Bowl as a rookie. His strength seems to have abandoned him and with Dan Connolly impressing at center last year, Koppen's time at the Patriots could be coming to an end.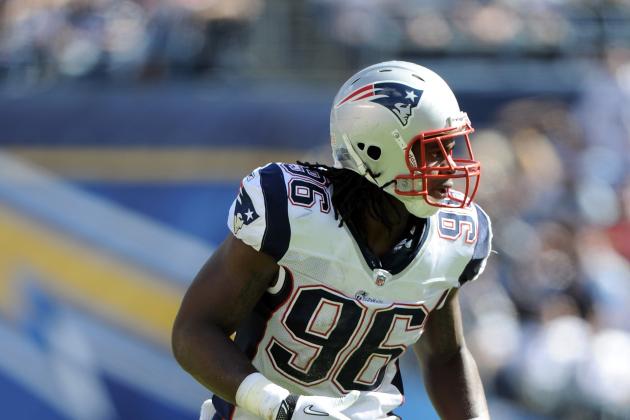 Harry How/Getty Images

The 53rd-overall selection in the 2010 NFL Draft, Jermaine Cunningham was once the Patriots' great hope at outside linebacker after a promising rookie year.
Unfortunately things didn't pan out as well in his sophomore year, as a combination of injuries and inconsistent play prevented him from seeing the field. In most games he was a healthy scratch, which is amazing considering the Patriot's pass-rush issues last year.
However things look a little different this year. After receiving an award for his hard work and dedication throughout the offseason, Cunningham has gotten of to a strong start at camp and has even received some rare kind words from Bill Belichick. Things are definitely looking up for a player who's place on the roster was very much in doubt.
Will he make the roster?
Yes. After some impressive performances early on in camp, Cunningham has slowed down a little, but his versatility on the line should bode well for him. A strong performance in the preseason games should secure him a roster position.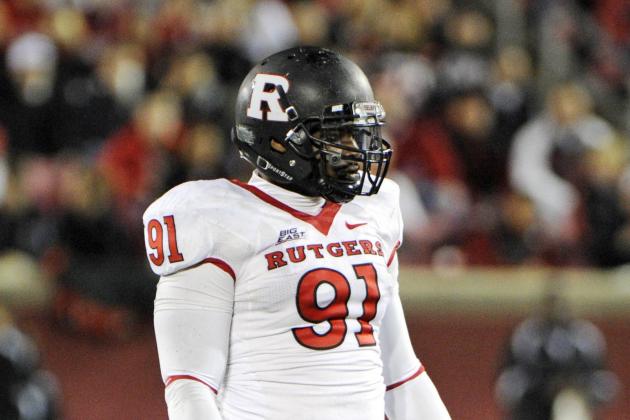 Jamie Rhodes-US PRESSWIRE

Perhaps the biggest surprise out of training camp has been the play of Justin Francis. Francis, an undrafted rookie free agent out of Rutgers has been making plays all camp long flashing an extremely high motor as well as some pass-rush moves.
Francis has lined up all over the defensive line and his versatility should pay dividends when Belichick decides on his final roster.
During Belichick's time at New England there has always one or two undrafted players that make the roster and Francis is making a serious bid to be one this year.
Will he make this roster?
Yes. With his versatility and high motor Francis should beat out Trevor Scott for the final place on the defensive line.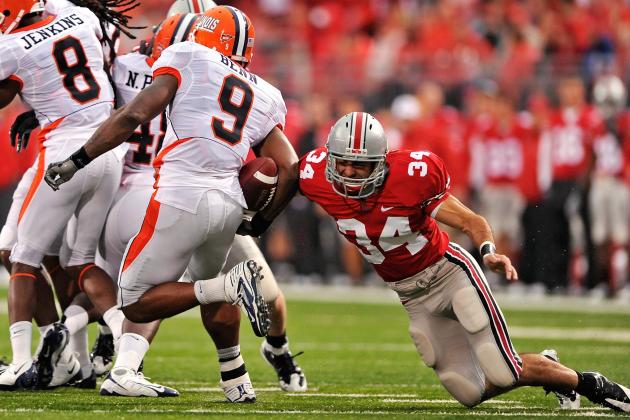 Jamie Sabau/Getty Images

With Bill Belichick always on the lookout for players who are able to play on special teams, rookie Nate Ebner could make the team as a core special teamer and part-time safety.
Ebner comes from a rugby background and is youngest player to play for the US National Rugby Union Sevens team. Ebner was a walk-on for the Ohio State Buckeyes in his final year and quickly established himself as the best special teams player on the team.
With a Mike Vrabel co-sign, Ebner has the potential to surprise with his impressive athleticism.
Will he make the roster?
No. While he could indeed by the best special teams player on the roster as well as a part-time safety, Ebner just doesn't have enough football experience to warrant a place on the roster. Hopefully he can make it to the practice squad and eventually crack the gameday roster.