16 College Football Quarterbacks Who Must Step Up Their Game in 2012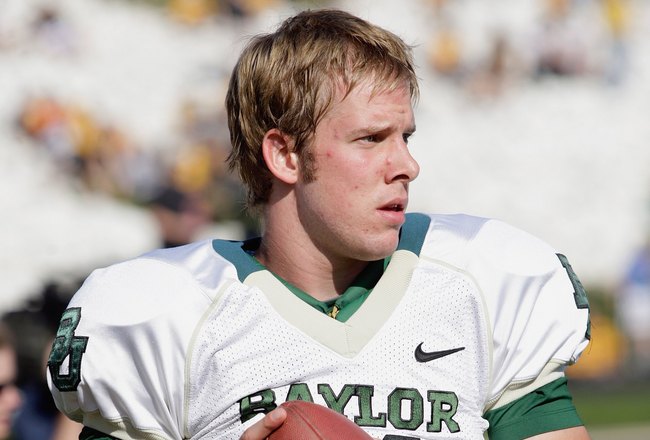 Jamie Squire/Getty Images
Any quarterback worth his salt will tell you that he's working on upping his game. Even top-notch passers like Matt Barkley or Geno Smith will say that they're trying to sharpen their skills on the field.
However, the following 16 signal-callers really need to step up their game.
It's not that these quarterbacks are bad—in fact, many of them are terrific. Nonetheless, these quarterbacks have to take their game to higher levels due to their own special set of circumstances.
Who are they? Read on.
Tyler Bray, Tennessee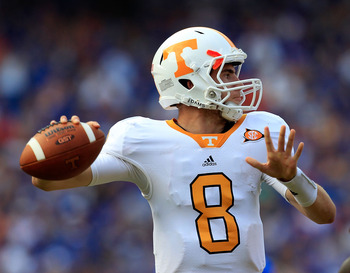 Sam Greenwood/Getty Images
Tyler Bray missed much of last season with a broken thumb, but he's got to step up and take Tennessee to a better record than 7-6. Head coach Derek Dooley's job depends on it.
However, Bray showed flashes of talent in the games he did play in. Had he kept up his average, he would have finished with 29 touchdowns.
Staying healthy will be part of stepping up for Bray, but so is enhancing his play.
Riley Nelson, BYU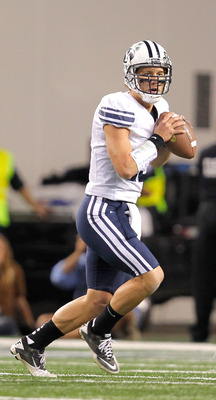 Sarah Glenn/Getty Images
Riley Nelson is already quite popular on the BYU campus, and odes have been sung about his hair.
But if BYU wants to live up to its potential, Riley Nelson must step up.
No one doubts his grit or heart. His gutsy fake spike against Tulsa proved his boldness. But he needs a better arm to go out as a top-notch product of the famed QB factory. Last season, he completed 57 percent of his passes and scored 19 touchdowns versus seven interceptions.
Those aren't bad stats, but given BYU's difficult road schedule, they'll have to be better in 2012.
Being the top QB in camp for the first time in his career at BYU will certainly help, but if he can get his passing game to match his strength of will, the Cougars will be dangerous indeed.
Tajh Boyd, Clemson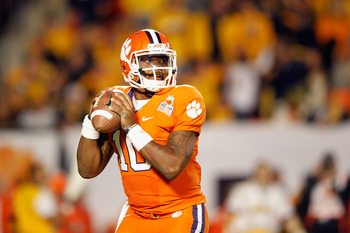 Mike Ehrmann/Getty Images
Tajh Boyd helped put Clemson back on the national map, as he passed for just over 3,800 yards and 33 touchdowns.
However, Boyd is going to be without Sammy Watkins for the first two games of the season. Plus, Boyd and the Tigers were completely embarrassed against South Carolina last season.
Boyd and Clemson still have to prove that they're a top-notch team, and there's no better time than the present.
James Franklin, Missouri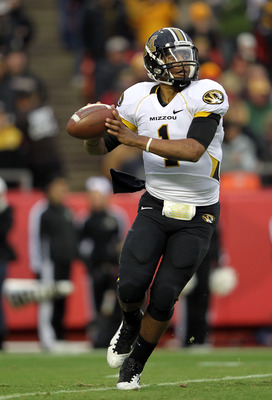 Jamie Squire/Getty Images
James Franklin did well enough in his first year as a starter. He had just under 3,000 yards passing and 21 touchdowns to 11 interceptions last season.
But the competition is about to be much more intense as Missouri leaves the Big 12 for the SEC. Franklin has to face four teams that finished in the top 25 in total defense last season, including defending national champion Alabama.
Franklin better step up, or else the defensive backs of the SEC are going to eat him alive.
Tyler Wilson, Arkansas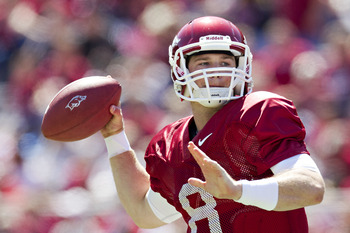 Wesley Hitt/Getty Images
Is there any quarterback out there who has to deal with more distractions than Tyler Wilson these days?
His ex-coach was busted on a motorcycle with his mistress. Several of his teammates face criminal charges ranging from burglary to drug use.
Talk about having a rough offseason.
What Arkansas needs Wilson to do is step up and help his team forget about what happened this summer. Wins are the perfect remedy for that.
And Wilson's talented enough to pull it off, too.
Danny O'Brien, Wisconsin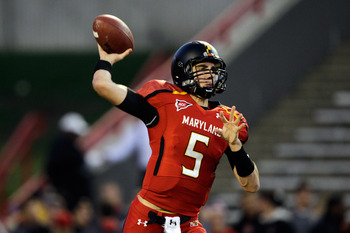 Rob Carr/Getty Images
Danny O'Brien was wise to transfer out of the sinking ship that is Maryland these days. However, many Badgers fans hope that O'Brien will be able to lead from day one like Russell Wilson did last year after transferring from North Carolina State.
News flash: Danny O'Brien isn't Russell Wilson.
Not even close.
Don't forget that O'Brien had more interceptions last year (10) than touchdowns (7). He had a grand total of one game all last season where he threw more than a single touchdown, and that was against lowly Towson.
Wilson, on the other hand, led the FBS in QB rating (191.8) and scored 33 touchdowns to only four interceptions.
O'Brien's numbers are bound to get better at Wisconsin, as the Badgers are in much better shape than the Terrapins. This transfer needs to step it up in a big way, or he'll just be an afterthought in post-Wilson Wisconsin.
Landry Jones, Oklahoma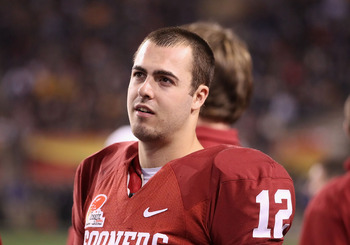 Christian Petersen/Getty Images
It's amazing to think that a quarterback who threw for almost 4,500 yards needs to step up, but it's true.
Landry Jones certainly has the potential to be a Heisman-worthy player, but his performance in the last four games of 2011 raises some serious red flags.
This, of course, corresponds with the time that his favorite target, Ryan Broyles, went down to injury. During this time, Jones threw six interceptions to just one touchdown.
Yikes.
I do believe that Jones has it in him to be an elite quarterback—even without Broyles—but he'll certainly need to step it up to prove it.
Starter at Oregon
Steve Dykes/Getty Images
It really wasn't much of a surprise when LaMichael James decided to leave early for the NFL, but it was somewhat of a surprise when Darron Thomas followed suit.
As a result, Oregon needs to find a signal-caller who will keep up the team's high-powered offense. Currently, Marcus Mariota and Bryan Bennett are still fighting over the starting position, and Chip Kelly has said that a starter might not be chosen until after the season begins.
Whichever QB does get the nod needs to ensure that he puts in a ton of push-ups in 2012.
Chase Rettig, Boston College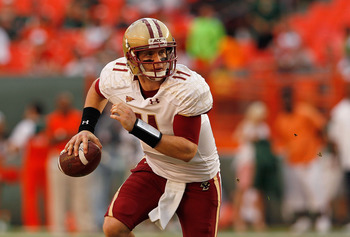 Mike Ehrmann/Getty Images
When you look at Chase Rettig's 2011 stats, you feel a little sorry for him. Rettig only had 1,960 yards and 12 touchdowns while also throwing nine interceptions and having a completion rate of only 53.6 percent.
Ouch.
However, Rettig did find a way to go out on a high note last season by throwing two touchdowns and no interceptions against Miami (Fla.). Is this a sign of better things to come, or was it just a flash in the pan?
Now, he's a junior playing in a brand new offensive scheme under new offensive coordinator Doug Martin. Regardless, he's got to make huge strides this season, or else the Eagles will miss bowl eligibility again in 2012.
Starter at Stanford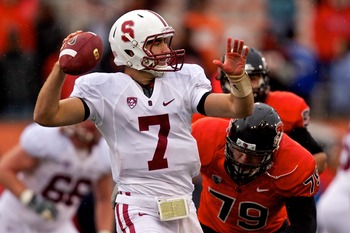 Craig Mitchelldyer/Getty Images
Stepping into the starting position for the first time is daunting, but following a once-in-a-lifetime kind of player like Andrew Luck is something I wouldn't wish on my worst enemy.
Whoever get the nod, be it Josh Nunes or Brett Nottingham (and the decision is reportedly coming this week), fans and media alike are constantly going to compare him to Luck. And let's face it: Neither one of these quarterbacks is probably going to live up to Luck's mind-blowing efficiency.
And that's OK.
After all, whichever QB gets the starting position doesn't have to be Luck. His primary task is to win games.
Stepping up, in this case, is all about remembering the primary task and accomplishing it. Both QBs would do well to remember that.
Logan Thomas, Virginia Tech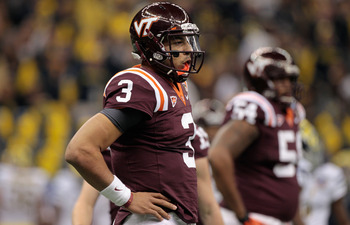 Chris Graythen/Getty Images
Logan Thomas was supposed to be the next Cam Newton, or so we were told.
In looking over Thomas' performance in 2011, Newton's name doesn't really come to mind.
In 2011, Thomas threw for slightly more yardage than Newton did in 2010 (3,013 vs. 2,854), but Newton was far more efficient. Newton had a higher completion percentage (66.1 vs. 59.8) and a higher touchdown-to-interception ratio (4.3 vs. 1.9).
And there's no comparison between Thomas and Newton on the ground. Newton had 1,473 yards and 20 touchdowns rushing, while Thomas only had 469 yards and 11 touchdowns.
To be fair, Thomas doesn't have to have Newton-like numbers to succeed. Still, if Virginia Tech wants to do more than get to a BCS bowl only to get clobbered, Thomas has to step up.
Starter at Notre Dame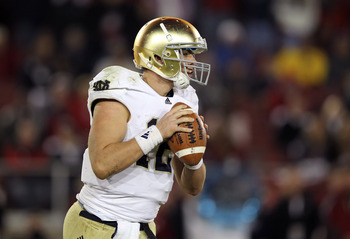 Ezra Shaw/Getty Images
The quarterback battle at Notre Dame isn't over yet, as Andrew Hendrix and Everett Golson will duke it out for the top of the depth chart.
But whoever steps into the starting position in place of the disgraced Tommy Rees will have the weight of millions of anxious Fighting Irish fans on his shoulders. Notre Dame fans have waited too long to see their team return to their former glory, and it may be too much to ask the fanbase to be patient much longer.
Notre Dame better hope that the QB battle resolves itself sooner rather than later. As the popular saying goes, if you have two starting quarterbacks, you really have none.
A.J. McCarron, Alabama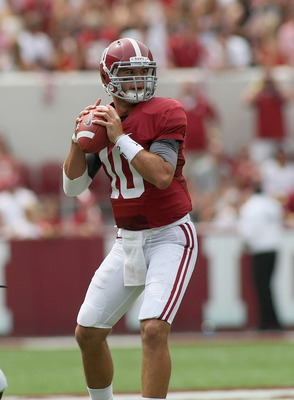 Greg McWilliams/Getty Images
Last season, A.J. McCarron had 2,634 passing yards and 16 touchdowns to only five interceptions, while completing 66.8 percent of his passes.
Those are solid numbers, to be sure, but not exactly Heisman level.
McCarron is smart and efficient, but he's not exactly known for throwing the home-run ball with the game on the line. The time may come in 2012 when Alabama is going to need him to throw a Hail Mary with the game, and maybe even national championship hopes, on the line.
However, former Washington offensive coordinator Doug Nussmeier is now coaching McCarron, so I wouldn't worry too much. McCarron just might become one of the most dangerous quarterbacks in the SEC under Nussmeier.
Joe Southwick, Boise State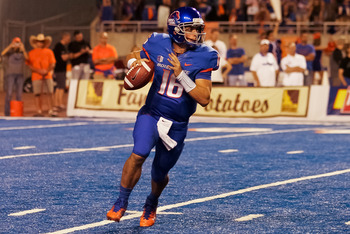 Otto Kitsinger III/Getty Images
Joe Southwick has spent most of his collegiate career backing up the amazing Kellen Moore, and he really has only seen action late in blowout games.
Now, he's the main man under center, and the first team he's facing is Michigan State. Coincidentally, the Spartans have perhaps the best defense outside of the SEC.
Southwick has done well thus far in camp. He led the Broncos offense to victory in the spring game by going 14-of-19 for 145 yards in a touchdown.
However, the Broncos' first game is undoubtedly the biggest one of the season. This means that Southwick needs to step up near Moore's level, and quickly.
Nick Florence, Baylor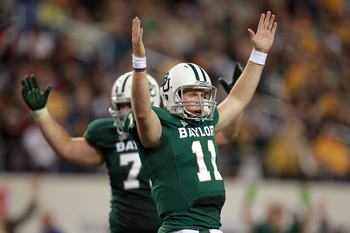 Ronald Martinez/Getty Images
Talk about having big shoes to fill.
Nick Florence has the unenviable task of filling in for Baylor's first Heisman Trophy winner. He's got to keep the Bears from falling off of a cliff.
Let's face it: Baylor doesn't have a viable defense right now, and the only way that the Bears can win games is by outgunning their opponents. That means if the Bears want to keep up their bowl streak, Florence is going to have to score a lot of points.
No pressure, Florence.
Zach Mettenberger, LSU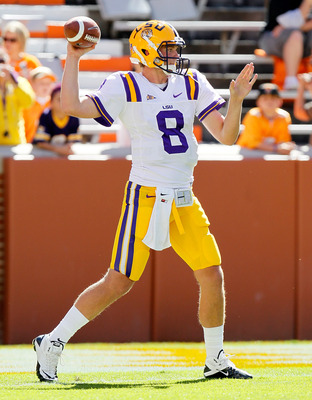 Kevin C. Cox/Getty Images
Perhaps no quarterback in college football has more riding on his shoulders than Zach Mettenberger.
LSU has serious national championship dreams in 2012, and Tigers fans won't forget who failed to perform with the 2011 title on the line: QB Jordan Jefferson.
The pressure on the offense just got that much hotter, as cornerback and punt/kick returner Tyrann "Honey Badger" Mathieu is no longer with the Tigers.
Mark my words: Mettenberger will be a hero or a heel by the end of 2012.
Keep Reading