Henderson vs Edgar: Key Takeaways from Their First Meeting at UFC 144
Image courtesy of MMAMania.com.
In their first meeting, Benson Henderson took the lightweight title by defeating Frankie Edgar in a hard fought five-round affair that had the entire MMA world talking.
Both fighters showed great heart in this back-and-forth contest and will likely put on another great show at this weekend's UFC 150.
As this huge rematch quickly approaches, let's take a look at some of the key takeaways from their first matchup at UFC 144.
Henderson Has a Huge Size Advantage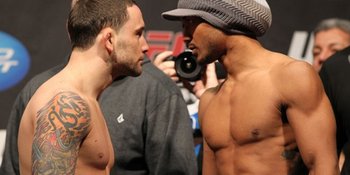 It was clear from the get go that Henderson had a huge size and strength advantage over Edgar.
UFC commentator Joe Rogan noted that they appeared to be two classes away from each other, despite the both of them weighing in within the 155 lb. limit.
Henderson utilized this to his advantage, controlling the Octagon for most the fight and just outperforming Edgar throughout the match.
Edgar Can Put "Smooth" on His Back...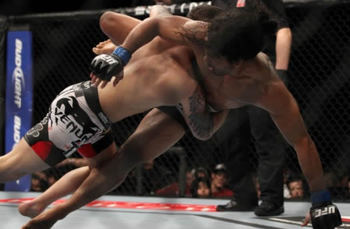 Despite the clear size disparity, Edgar was able to land a few takedowns throughout the fight.
"The Answer" was able to utilize his wrestling skills to blast in on Henderson for shots.
However, "Smooth" proved to be a difficult fighter to keep down...
,,, But Not for Long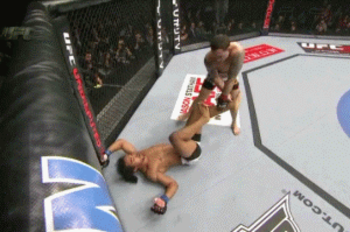 Image courtesy of BloodyElbow.com.
Henderson was taken down a handful of times by Edgar but never stayed put on his back.
"Smooth" constantly worked to stand up again and constantly attacked with submissions and strikes from his closed and open guards.
Expect a similar situation at UFC 150 if Edgar tries to put Henderson down on the mat.
There's a Reason He's Called "Smooth"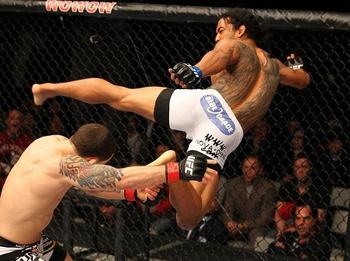 Henderson showed that his nemesis Anthony Pettis isn't the only lightweight with high flying kicks.
"Smooth" showed off his creative kicking arsenal throughout his bout with Edgar.
At one point, Henderson tried a jumping roundhouse kick while Edgar held onto his other leg. However, it would be his amazing upkick in the second round that almost knocked "the Answer's lights out.
Leave it to Henderson to still look smooth even with the funky moves.
Edgar's Still the Comeback Kid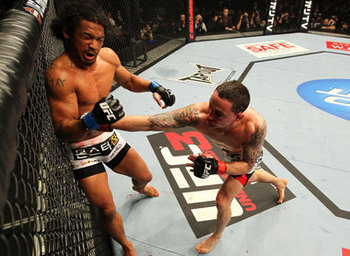 Photo by Al Bello/Zuffa LLC/Zuffa LLC via Getty Images.
It wouldn't be a Frankie Edgar fight if he wasn't coming from behind.
While Henderson controlled the majority of their first bout, Edgar once again lived up to his comeback kid persona, fighting back from an upkick that rocked him in the second round and constantly pushing the action against Henderson throughout the fight.
Win or lose, expect Edgar to fight with his heart once again Saturday night.
Be sure to like me on Facebook or follow @MattJuulMMA
Keep Reading